Thailand: 10 Unmissable Destinations When Visiting the Land of Smiles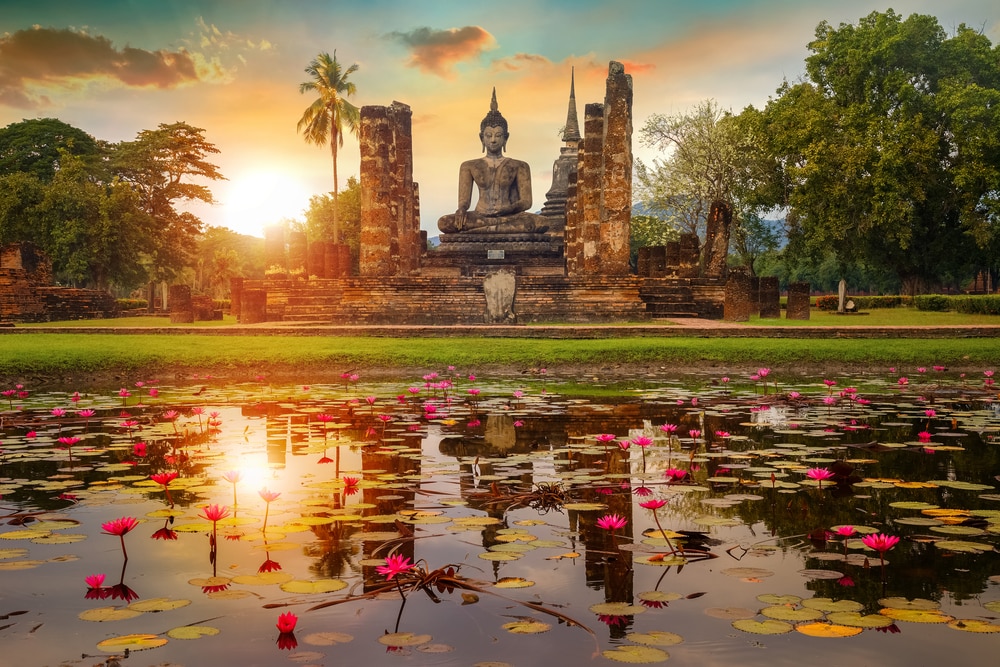 [x] close
Thailand: 10 Unmissable Destinations When Visiting the Land of Smiles:table of contents
Picture-perfect islands of paradise, breathtaking ancient ruins from Siam, incredible reserves of natural wildlife and a mouth-watering cuisine full of some of the most flavorful dishes on the planet. It's no wonder Thailand has quickly risen to become one of the world's most reputable areas for tourism. Here are ten places you absolutely have to visit in Thailand during your lifetime.
1. The Grand Palace (Bangkok)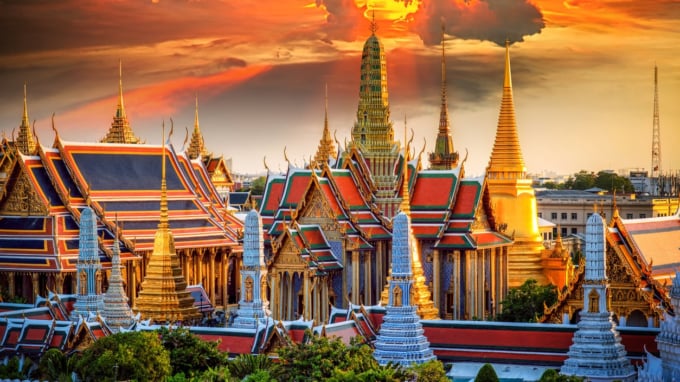 No visit to Thailand is complete without a stop at the Grand Palace. Dating back to the 17th century, this spectacular complex of Thai architecture was the residence for the Kings of Siam and is still used for royal ceremonies today. Well-known around the world for it's towering golden spires, along with showcasing some of the best of Thailand's unique buildings, the grounds also house several historic statues and antiques. The palace area lies in the historic part of Bangkok, just a stone's throw from the Chao Phraya River. After walking around the grounds, head over to Chinatown, a short tuk-tuk ride away, to another historic part of the area.
Name: The Grand Palace
Address:2 Sanamchai Road, Grand Palace Subdistrict, Pranakorn District, Bangkok 10200, Thailand
Related Site:https://www.tourismthailand.org/Attraction/The-Grand-Palace--52
2. Wat Rong Khun (Chiang Rai)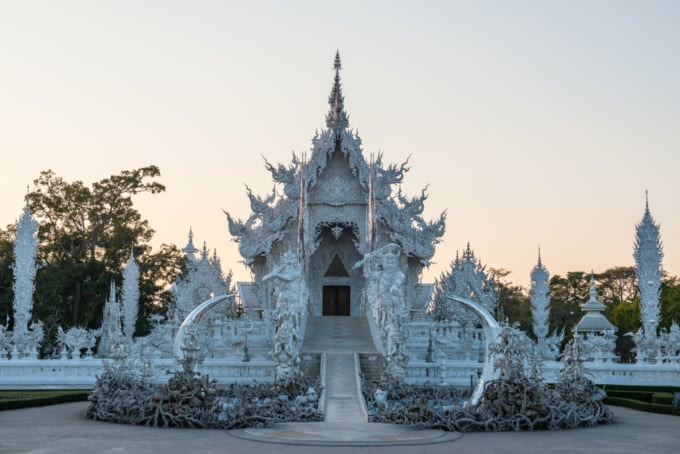 One of the most famous of all the temples or 'wat' in Thailand, Wat Rong Khun or commonly known as the White Temple is a visually-stunning modern Buddhist temple in Chiang Rai Province. Completed only recently in 1997, what the temple lacks in history it makes up for it in its strikingly beautiful design. Local artist Chalermchai Kositpipat designed and privately funded the construction of the temple with over a million dollars of his own money. Closer inspection of the structure will reveal the intense detail and artistic flair that has been invested into this exquisite architectural masterpiece.
Name:Wat Rong Khun
Address:San Sai, Mueang Chiang Rai District, Chiang Rai 57000, Thailand
Related Site:https://www.tourismthailand.org/Wat-Rong-Khun
3. Damnoen Saduak (Ratchaburi)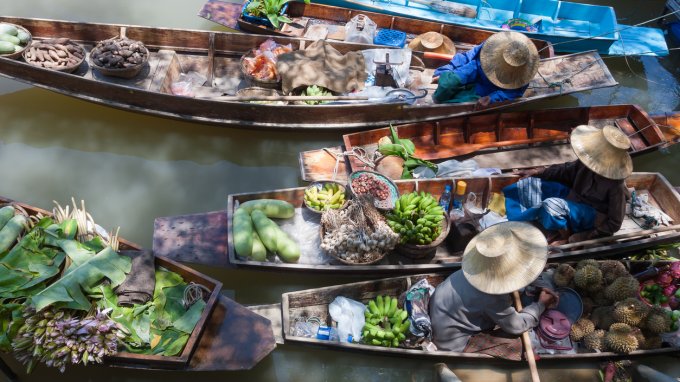 Although there are numerous floating markets dotted around Thailand, Damnoen Saduak is one of the largest in the world and warrants the hour trip from Bangkok. This lively waterway chock-a-block full of goods-laden boats is a perfect introduction to a fading way of traditional life. Be sure to try the local boat noodles (Kway Teow Reua) and Kanom Krok, a type of dessert made with coconut.
Name:Damnoen Saduak
Address:Damnoen Saduak, Damnoen Saduak District, Ratchaburi 70130, Thailand
Related Site:http://floatingmarketbangkok.com/
4. Ayutthaya (Phra Nakhon)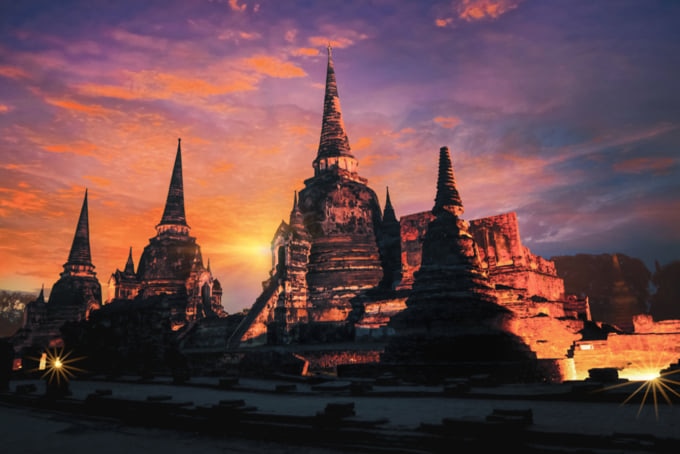 The ancient capital of the Ayutthaya kingdom, this archaic city offers a remarkable insight into the once mighty civilization commonly known as Siam. Although the city was destroyed by Burmese invaders in 1767, the site still holds numerous ruins and Buddhist statues that characterize the image of the city's past splendor. The historical park area is recognized as a UNESCO World Heritage Site and as expected from such a gourmet hot spot as Thailand is famous for a variety of foods such as river prawns and Thai cotton candy.
Name:Ayutthaya
Address:Phra Nakhon Si Ayutthaya, Thailand
Related Site:https://www.tourismthailand.org/About-Thailand/Destination/Ayutthaya
5. Doi Suthep (Chiang Mai)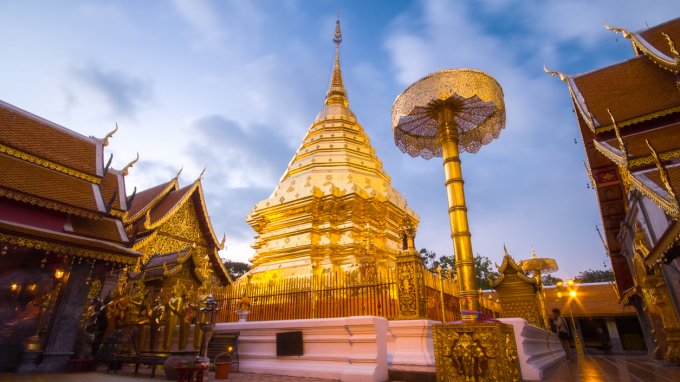 Doi Suthep is a sacred temple to the people of Thailand, and is believed to have a history of almost 700 years with various tales and myths enshrining it. Over the centuries, kings and local lords of the area expanded the temple to make it more extravagant with stunning architectural features and decorations. From the temple you'll also get expansive picturesque views over the city of Chiang Mai, particularly beautiful during nighttime.
Name:Doi Suthep
Address:Wat Phra That Doi Suthep Road Tambon Su Thep, Chiang Mai Chang Wat Chiang Mai 50200, Thailand
Related Site:https://www.tourismthailand.org/Attraction/Wat-Phra-That-Doi-Suthep--145
6. Khao Sam Roi Yot National Park (Kui Buri)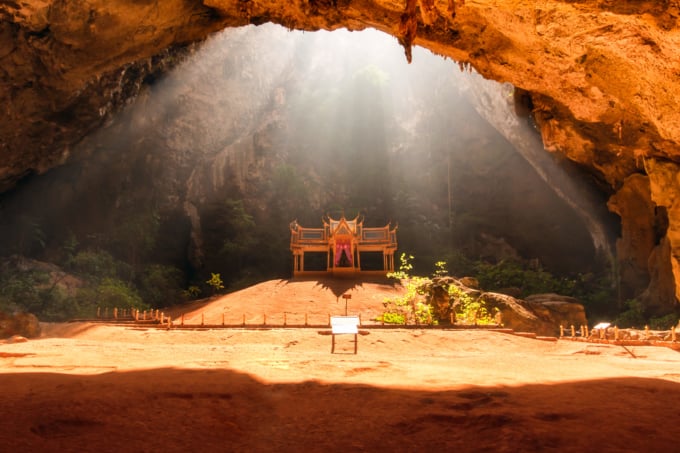 With a plethora of national parks in Thailand, visiting at least one of these wilderness paradises should be high on your list. One of our favorite of the parks is Sam Roi Yot, around an hour away from the popular coastal town of Hua Hin. Its name means 'the mountain with three hundred peaks' referring to the stunning limestone hills that reach up into the sky along the coast. The park not only offers breathtaking mountain and coastal scenery but is also exceptionally rich in wildlife, home to a huge diversity of birds, mammals and even dolphins who frequent the coastline. The most famous spot in the park is the Phraya Nakhon Cave and its royal pavilion built in the late 19th century for King Rama V. An opening in the rooftop of the cave shines sunlight down onto the pavilion, producing a mesmerizing picturesque scene, which has caused it to become a popular photo spot in recent years, despite being quite difficult to reach.
Name:Khao Sam Roi Yot National Park
Address:Kui Buri District, Prachuap Khiri Khan, Thailand
Related Site:https://www.tourismthailand.org/Attraction/Khao-Sam-Roi-Yot-National-Park--6391
7. Phu Kradueng (Isan)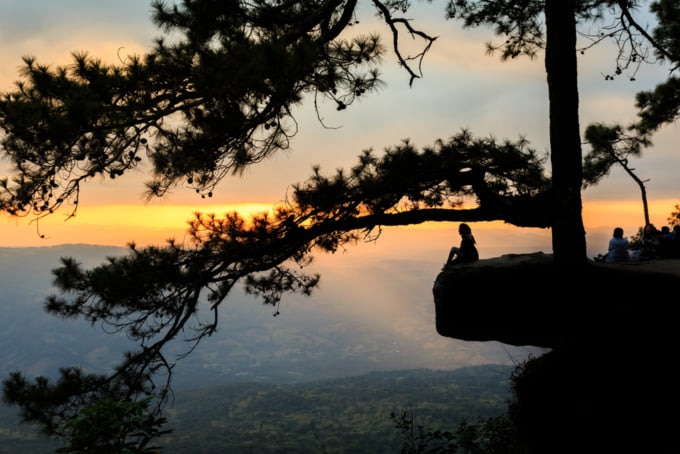 Another exceptional example of why Thailand offers so much more than just its pristine beaches and crystal clear waters, Phu Kradueng is a national park in North-east Thailand that is ripe with breathtaking scenery and thick jungles teeming with exotic wildlife. Perfect for those looking for adventure and to immerse themselves into the arms of nature, Phu Kradueng rarely sees the blight of tourism, flying low under the radar for both visitors from abroad and native Thai people.
Name:Phu Kradueng
Address:Phu Kradueng District, Loei Province, Thailand
Related Site:https://www.tourismthailand.org/Attraction/Phu-Kradueng-National-Park--6769
8. Sukhothai Historical Park (Sukothai)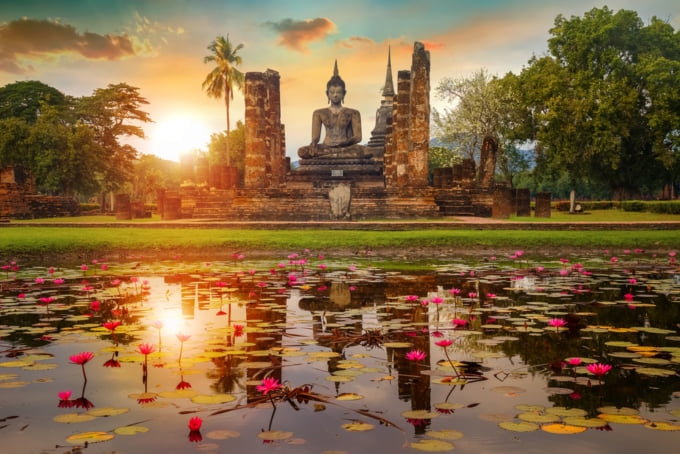 The Sukhothai Historical Park covers the ruins of the ancient city of Sukhotai, a powerful kingdom in Thailand during the 13th and 14th centuries. The ruins are made up of the city's impressive defensive walls, its main palace and a variety of Buddhist temples scattered around the site. Now its been designated as a UNESCO World Heritage Site and offers an incredible insight into the once mighty first kingdom of Siam. The lotus ponds scattered around the historic park create a particularly stunning scene that looks exceptionally impressive during sunset.
Name:Sukhothai Historical Park
Address:Mueang Kao, Mueang Sukhothai District, Sukhothai 64210, Thailand
Related Site:http://thailandforvisitors.com/north/sukhothai/historical-park/
9. Khao Sok National Park (Surat Thani)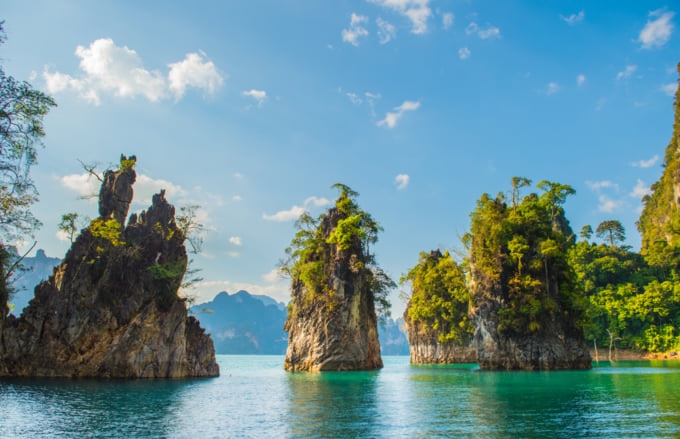 If you're looking for a perfect mix of adventure and relaxation, Thailand's Khao Sok National Park offers all that and more. Known for its uniquely stunning karst formations and thick, dense jungle scenery, the national park also features a man-made lake which hosts a number of floating bungalows where visitors can stay deep in the midst of nature. The park also hosts a hugely diverse range of wild animals including tigers, elephants, tapirs and many species of birds.
10. Phi Phi Islands (Krabi)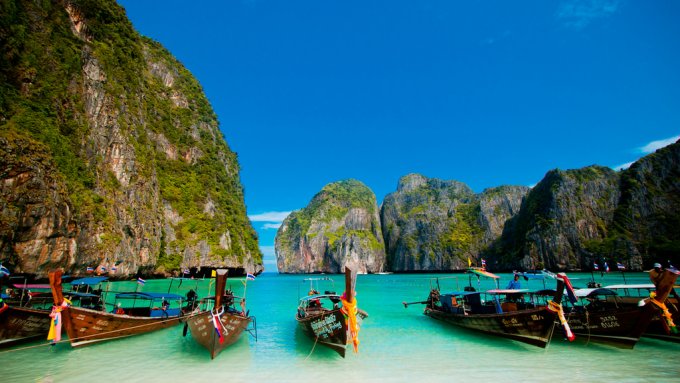 A picture-perfect example of Thai island paradise, the Phi Phi islands are a small group of islands off the west coast of southern Thailand. Known for the huge limestone rocks jutting out from crystal clear waters and perfect white sandy beaches, these islands are often viewed as the most beautiful in South-east Asia. The islands first gained fame after being used as a location for the popular movie 'The Beach' which showcased the area's stunning scenery.

Name:Phi Phi Islands
Address:Phi Phi Islands, Krabi Province, Thailand
Related Site:http://www.phiphi.phuket.com/
Conclusion
This list only begins to cover some of the amazing scenery and cultural landmarks found in the Kingdom of Thailand. The country is full of vast scenic national parks, magnificent temples and ancient ruins along with a huge array of islands of paradise and beautiful beaches perfect for spending a few days to a week or even longer to relax and soak in the sun.