Lebanon:Middle-Eastern Country which Attracts Tourists with Fascinating History and Famous Food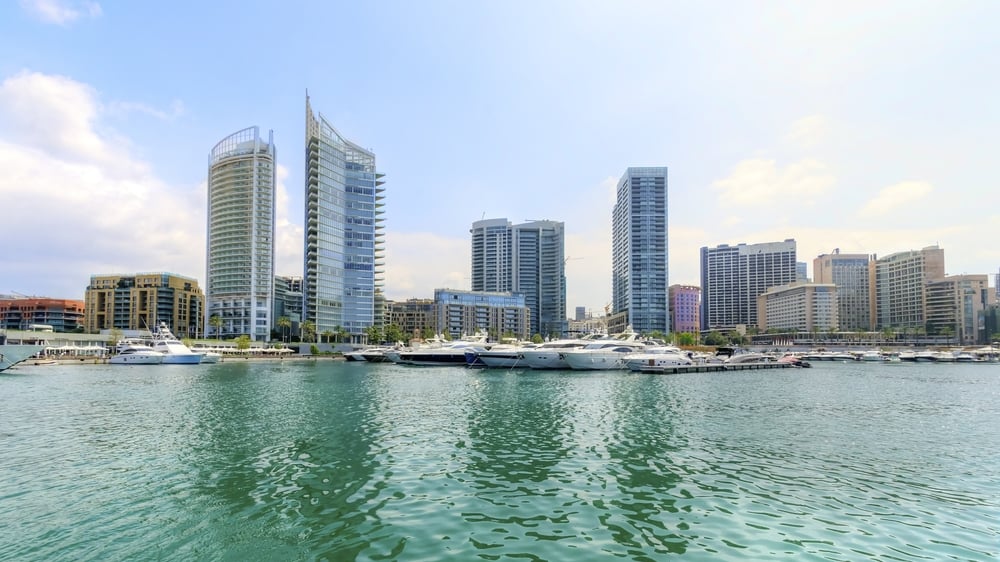 Photo by f8grapher/shutterstock
[x] close
Lebanon:Middle-Eastern Country which Attracts Tourists with Fascinating History and Famous Food:table of contents
Lebanon is a country in the Middle East, on the Mediterranean coast that is a perfect sightseeing destination. There are many interesting historic places and locations with impressive natural beauty in Lebanon. There is also a lot going on in Lebanon, such as open-air concerts or cultural festivals. In this article we recommend the best ten sightseeing experiences in the incredible Lebanon.
1. Jeita Grotto (Jitta)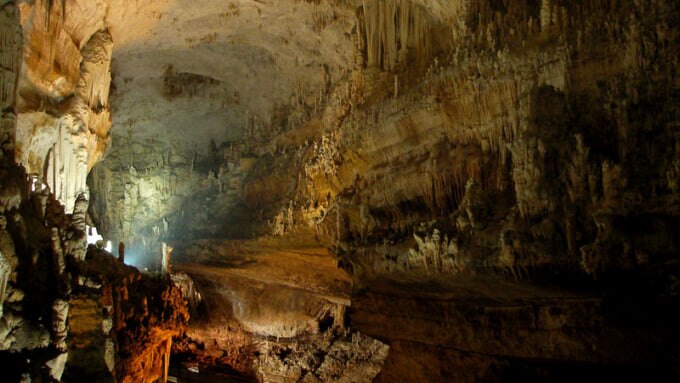 Jeita Grotto is an extensive cave system, located about 20 kilometers north of Beirut in Lebanon. Jeita Grotto is divided into the Lower Grotto and the Upper Grotto. Visitors to the Lower Grotto can conduct their sightseeing from a comfort of a rowboat. Tourists to the Upper Grotto can admire the underground rock formations, the stalagmites, stalactites and rock columns, and learn all about the Grotto's geology on an informative walking sightseeing tour. There is also a lot more for sightseeing tourist to do around Jeita Grotto, Lebanon. One of the other popular activities is to take a gondola cable car up the mountain above the Jeita Grotto and enjoy the panoramic views of Lebanon's scenery.
Name:Jeita Grotto
Address:Valley of the Dog River/Keserwan, Beirut
Related Site:http://www.jeitagrotto.com/
2. National Museum of Beirut (Beirut)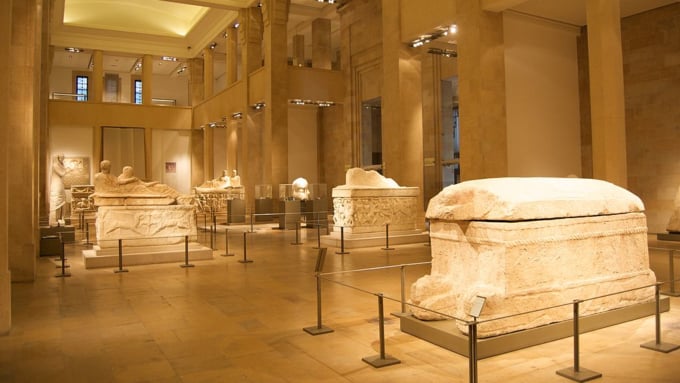 Photo by commons.wikimedia.org
National Museum of Beirut is a museum with extensive collections and well-researched exhibits on the history of Lebanon and surrounding areas. The artifacts are arranged in historical and archaeological periods of Lebanon: Prehistory, Bronze Age, Iron Age, Hellenistic period, Roman period, Byzantine period and the era of Arab Conquest. Sightseeing this museum is highly recommended. The museum has a special audio-visual room to really bring the history of Lebanon to life for sightseeing tourists. The National Museum of Beirut is open from Tuesday to Sunday from 9 AM to 5 PM. The museum is closed on Mondays and national holidays. Entrance is 5,000 Lebanese pounds per adult.
Name:National Museum of Beirut
Address:Museum Street, Beirut, Lebanon
Related Site:http://www.beirutnationalmuseum.com/
3. Baalbeck Temple (Baalbek)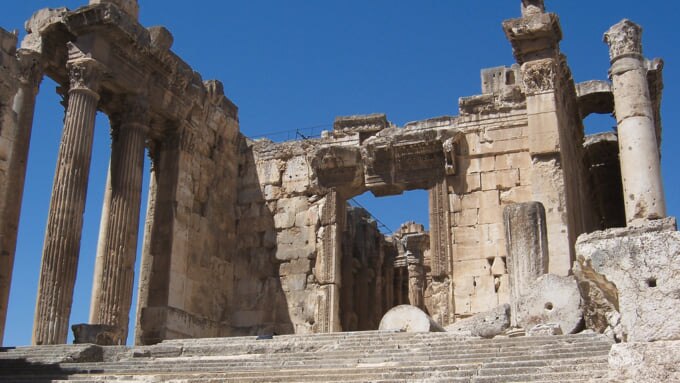 Photo by Institute for the Study of the Ancient World
Temples of Baalbek is a very impressive Roman temple ruins complex in the city of Baalbek, located 85 kilometers away from Lebanon's capital Beirut. The Temples of Baalbek are very well preserved, and the complex is extensive. A guided sightseeing is advised. We recommend tourists dedicate at least 2 hours for their sightseeing of Temples of Baalbek, Lebanon. Tourists planning a sightseeing visit to the Temples of Baalbek, could try to coincide their visit with the yearly Baalbek International Festival which is the biggest music and culture festival in Lebanon. The Festival lasts through July and August.
Name:Baalbeck Temple
Address:Baalbek, Beqaa Valley, Lebanon
Related Site:http://en.baalbak.org/?page_id=4829

4. Our Lady of Harissa (Jounieh)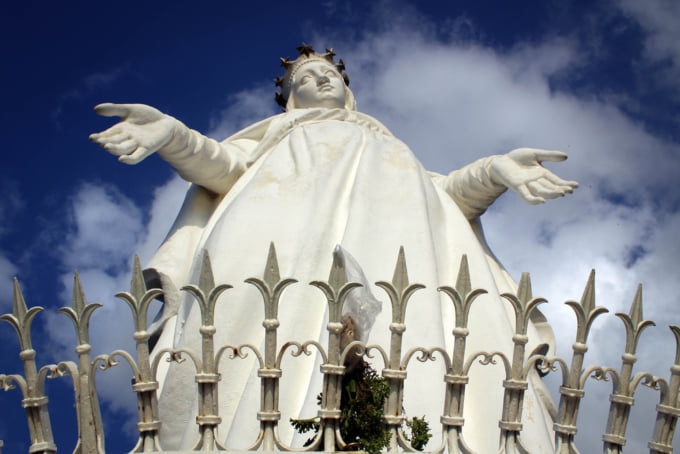 Photo by Aleksandr Stezhkin/shutterstock
Our Lady of Harissa, also known as Our Lady of Lebanon, is a sanctuary dedicated to Virgin Mary. The sanctuary is located on top of the Harissa hill, 500 meters above the sea level, in the coastal city of Jounieh in Lebanon. The sanctuary is part of the Maronite Patriarchate and operates under the patronage of the Holy See. The sanctuary is also an important pilgrimage destination in Lebanon. The sanctuary welcomes people of all faiths. While sightseeing the tourists will enjoy breath-taking views and the impressive statue of Virgin Mary above them. Sightseeing tourists can choose to hike up to see Our Lady of Harissa in Lebanon, or they can take a cable car up.
Name:Our Lady of Harissa
Address:P.O. Box 262, Jounieh, Lebanon
Related Site:http://www.ololb.org/
5. Baatara Gorge Waterfall (Tannourine)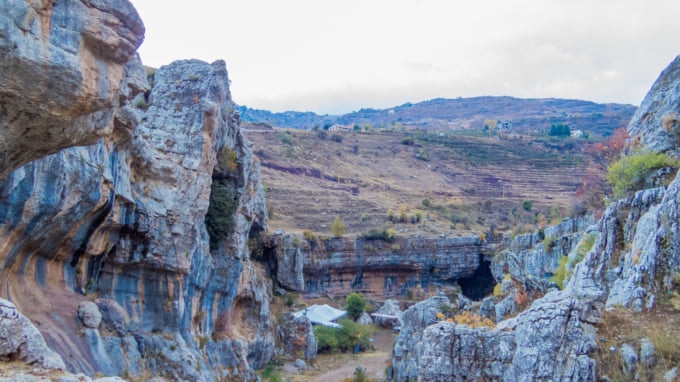 Photo by Diego Fiore/shutterstock
Baatara Gorge Waterfall, also known as the Baatara Pothole is a unique and impressive waterfall on the Lebanon Mountain Trail in Lebanon. The water of the Baatara Gorge Waterfall falls down a massive vertical cave, which was created from a huge sinkhole. The sinkhole is an impressive 255 meters deep and the water falls 90 meters down into the river at the bottom of the cave. There are three natural stone bridges dividing the vertical space of the cave. Sightseeing tourists can walk up to the sinkhole edge or to one of the stone bridges to peer into the cave and admire the waterfall. We recommend sightseeing this unique location in Lebanon and combining your sightseeing with a pleasant hike in the surrounding Tannourine Cedar Forest Nature Reserve.
Name:Baatara Gorge Waterfall
Address:Lebanon Mountain Trail, Tannourine, Lebanon
6. Zaitunay Bay (Beirut)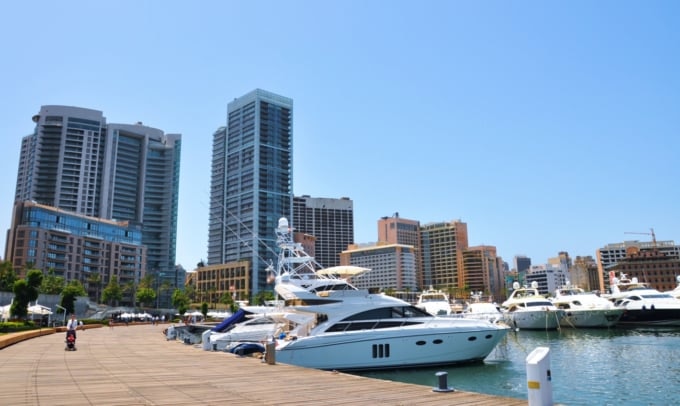 Zaitunay Bay in Beirut, the capital of Lebanon is a highly recommend sightseeing must-see destination. It is great for walks along the promenade, to do a bit of shopping, to have a beverage at a café or to try some local cuisine in one of the many restaurants in the area. There is also a beautiful beach at Zaitunay Bay, where tourists can relax after busy sightseeing. Zaitunay Bay in Lebanon is as lively and interesting place during the day as in the evenings and at night, when it is gorgeously illuminated. Zaitunay Bay in Lebanon is glitzy, luxurious and full of life.
Name:Zaitunay Bay
Address:SN Beirut Marina, Minet el Ho, Beirut Marina, Beirut, Lebanon
Related Site:http://zaitunaybay.com/
7. Mohammad Al-Amin Mosque (Beirut)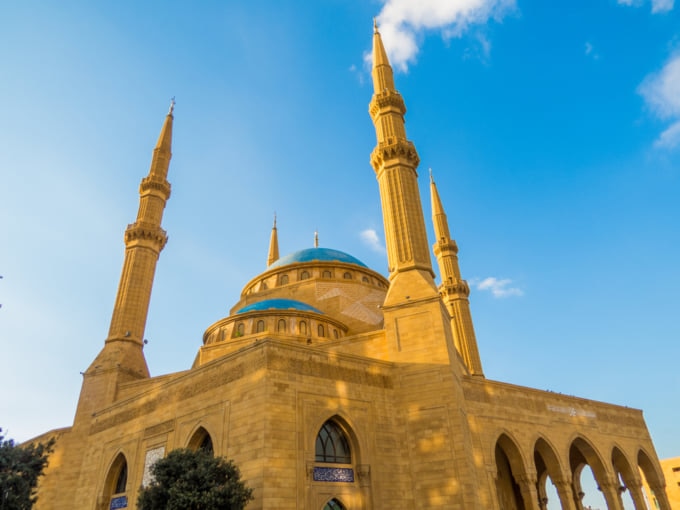 Photo by Diego Fiore/shutterstock
Mohammad Al-Amin Mosque is an imposing mosque with four towering minarets in the center of Beirut, Lebanon. This beautiful mosque in the heart of Lebanon was completed in 2007. The mosque is intricately decorated with detailed ornamentation. There are geometric patterns, wooden paneling, calligraphy, gilded motives and stone carvings. The architecture of the mosque is inspired by the Ottoman style. Sightseeing tourists will be impressed with the detail of the decoration and the grandeur of this building. While sightseeing please be mindful that this is an important place of worship in Lebanon, so please be respectful and dress accordingly.
Name:Mohammad Al-Amin Mosque
Address:Martyrs' Square, Amir Bachir, Beirut, Lebanon
Related Site:http://livelovelebanon.com/en/mohammad-al-amin-mosque
8. The Crusader Castle (Byblos)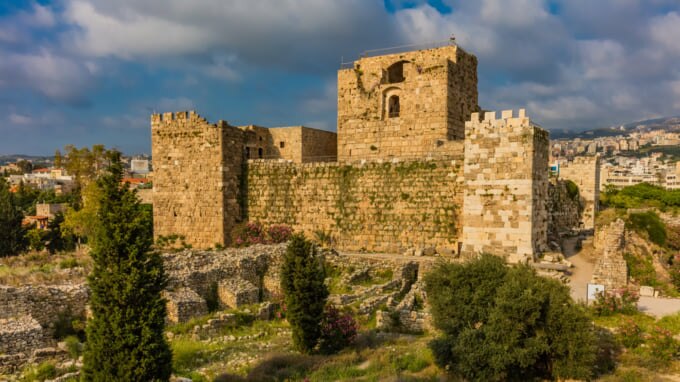 The Crusader Castle, also sometimes called the Castle of Jbeil is a highly recommended castle in Byblos, Lebanon. The castle has been constructed by the Crusaders between twelfth and thirteenth centuries. It is an impressive stone building with intriguing history that's great for sightseeing. Tourists sightseeing the Crusaders Castle will be impressed not only with the history of the Crusader Castle, but also the city in which is located. Byblos dates to 1200BC, though some scholars say the origins of the city can be as long ago as 10,000 years, is one of the oldest continuously inhabited cities in Lebanon and the rest of the world. The Crusader Castle of the Lebanon city of Byblos and indeed the whole city has been inscribed on the UNESCO World Heritage list.
Name:The Crusader Castle
Address:Byblos, Lebanon
Related Site:http://livelovelebanon.com/en/crusader-castle-0
9. Old Souk of Zouk (Zouk Mikael)
Old Souk of Zouk, also often simply referred to as The Old Souk, is an old and expansive bazaar located in a coastal town of Zouk Mikael between Beirut and Byblos in Lebanon. Zouk Mikael is a designated UNESCO City of Peace in Lebanon. Sightseeing tourists will be able to see many artisan, handmade Lebanese products. The souk's artisans specialize in fabrics and woven cloth. Sightseeing tourist will also be able to purchase a local delicacy of Lebanon, almond marzipan sweets. In the summer sightseeing tourist visiting the souk will be additionally entertained by many, open-air life concerts of traditional music.
Name:Old Souk of Zouk
Address:Zouk Mikael, Keserwan District, Mount Lebanon Governorate, Lebanon
Related Site:http://livelovelebanon.com/en/zouk-mikael
10. Pigeon Rocks (Beirut)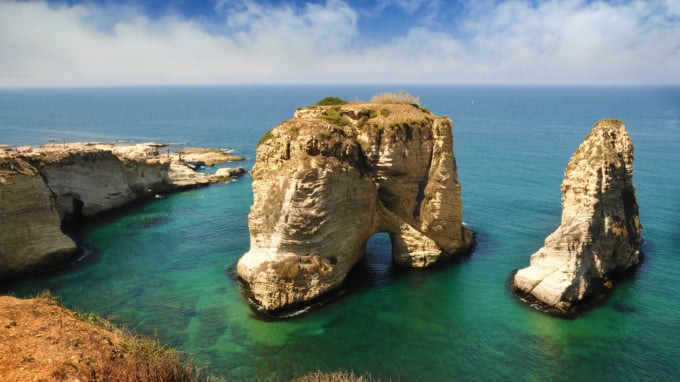 Pigeon Rocks also called the Rouché Rocks, are an iconic cluster of rocks sticking out from the Mediterranean Sea, just off the coast of Beirut, Lebanon. Tourists can easily sightsee this impressive geological formation from the coast, but boat excursions are also available. The boat tours take sightseeing tourists through an arch in one of the rocks. There is a corniche promenade on which tourists can walk to view the rocks from different angles. A popular activity is to go sightseeing in the late afternoon and admire the sunset, lights shimmering and reflecting of the surface of the sea and create a beautiful backdrop for photographic the Pigeon Rocks of Lebanon.
Name:Pigeon Rocks
Address:Raouché, Beirut, Lebanon
Related Site:http://livelovelebanon.com/en/raouche-and-corniche
◎ Closing
Lebanon has a very long and interesting history, rich and diverse culture and stunning natural beauty. Whether you are looking to go sightseeing caves, waterfalls, one of the world's oldest cities, Roman ruins or go shopping in modern malls or age-old souks then Lebanon has it all. For an unforgettable sightseeing holiday plan your next holiday in Lebanon.