Taiwan:An Island of Asian Sophistication and misty Landscape Adventures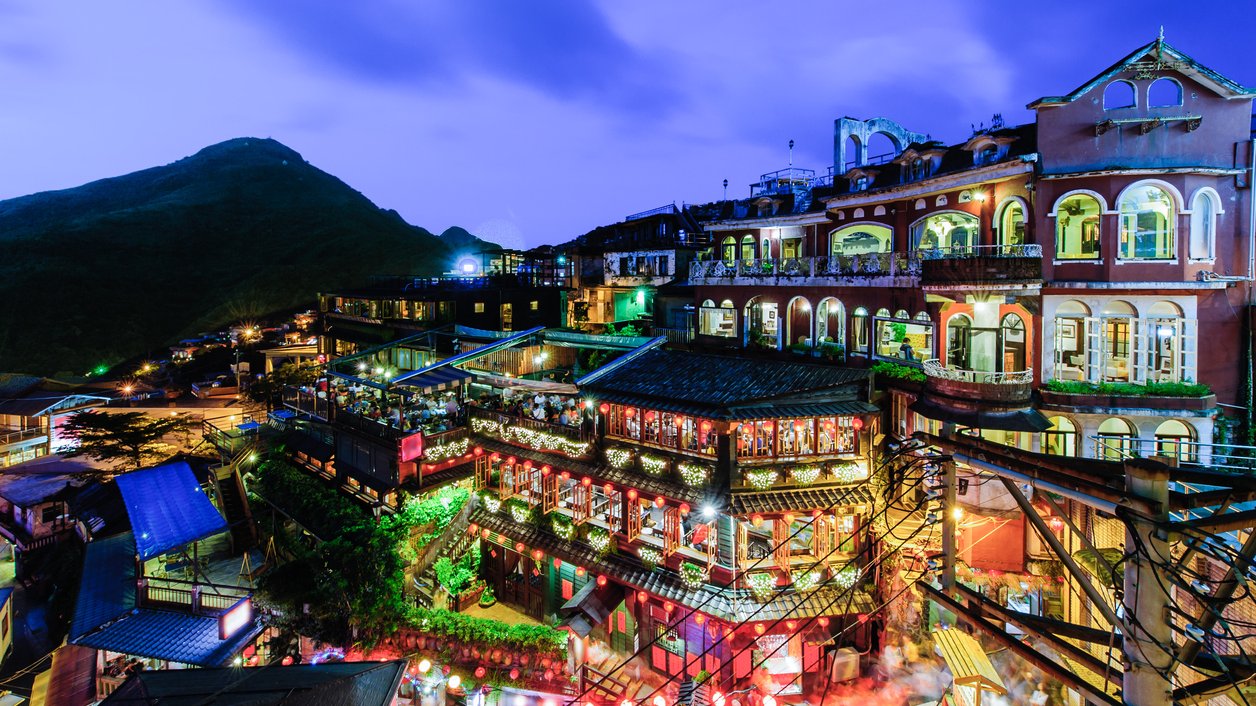 [x] close
Taiwan:An Island of Asian Sophistication and misty Landscape Adventures:table of contents
Taiwan is an island nation governed by the Republic of China.Taiwan is one of the most densely populated places in the world populated by over 23 million people.Taiwan is also known for impressive scenic sites, lush forests and steep mountains, besides its usual busy cities. Its capital, Taipei, is stocked with vibrant culture and entertainment.
1. National Palace Museum (Taipei)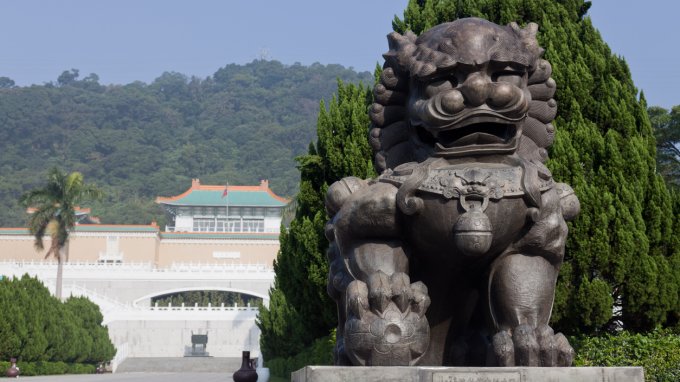 The National Palace Museum hosts the world's arguably finest and largest collection of Chinese artefacts, this broad collection contains treasures in lacquerware, painting, ceramics, jade calligraphy, statuary, bronzes and religious objects.The Famous jade cabbage is always on display. However, it is best that you check first as it might be in rotation and loaned to the southern branch of Chiayi.The historical range at The National Palace Museum is truly amazing. Free guided tours are offered by the museum in English. The tours are booked online and occur during morning and afternoon hours (10 am and 3 pm). An English headphone guide (which costs NT$200) is ideal if you would like to move at your own pace.Another thing to take into consideration is starting from the top floor and work your way down.That way you don't need to fight with other people for a good view.

Tour guides mostly start from the bottom and work their way up.There are no backpacks allowed. Because of this, they provide lockers located beside the place where you buy tickets. Girls are allowed to bring in their handbags but they can't bring any edibles or selfie sticks. These lockers require 10NT coins to lock which are returned upon re-opening the locker.There is an annexe located at the front of the museum towards the left up against the staircase, it holds regular special charged exhibitions.To reach the museum from Dazhi MRT station take bus 'brown 13'.From Shilin MRT station, head out exit 1 to Zhongzheng Rd and board minibus 18 or 19, Red 30, or bus 255, 304 or 815. It will take an average of 15 minutes to get to The National Palace Museum
Name:National Palace Museum
Address:No. 221, Sec 2, Zhi Shan Rd, Shilin District, Taipei City, Taiwan 111
Related Site:https://www.npm.gov.tw/en/
2. Chiang Kai-Shek Memorial Hall (Taipei)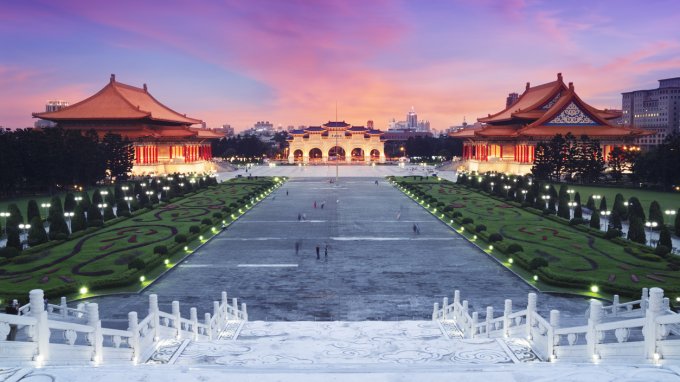 This popular grand monument is used as a tribute to authoritarian leader Chiang Kai-shek.Some neoclassical style architecture can be seen as the hall is blue roofed. A series of 89 steps which equate to the age of Chiang when he died leads the entrance towards the main hall. An artefact museum can be found inside the cavernous hall.In this museum, one can find articles from daily life, Chiang's two Cadillacs, and various documents.

The Chiang Kai Shek memorial hall has some very interesting information.One can easily spend 2-3 hours here if you are able to go through all the information. Some of the things you can get to know is the Generalissimo's road to building the Republic and all the challenges he faced. To ease one's understanding, there are English translations to almost everything and the explanations are well detailed.Apart from the information, the Chiang Kai-Shek Memorial Hall is very beautiful. Many tourists fancy taking photos at this beautiful site. Morning hours are best to have as there are fewer people. Something worth watching if you've got nothing else to do is the changing of guard ceremony held in the hall.

It's indeed a very good place to visit and a must see when you're in Taipei.
Name:Chiang Kai-Shek Memorial Hall
Address:No. 21, Zhongshan South Road, Zhongzheng District, Taipei City, Taiwan 100
Related Site:http://www.cksmh.gov.tw/
3. Longshan Temple (Taipei)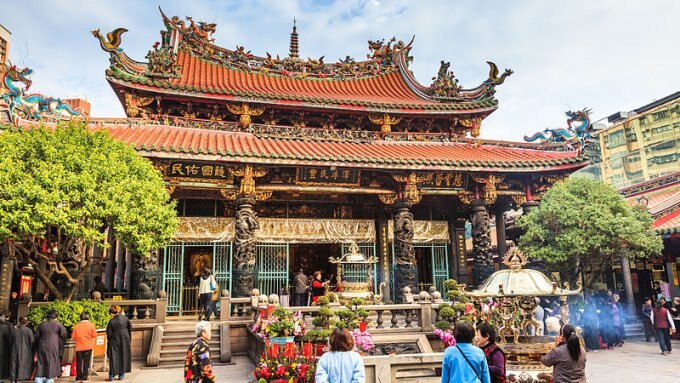 Photo by commons.wikimedia.org
The Lungshan Temple is home to hundreds of statues.The temple mixes traditional Chinese four-building courtyard with palace architecture in its design.The Longshan temple has been declared a Secondary National Heritage Site and is one of the largest and oldest temples in Taiwan. The temple has been used multi-purposely as a guild and self-defence centre, municipal, as well as a house of worship. It is currently considered as one of the city's top religious sites.It is the perfect venue to explore Taiwan's folk faith, art and architecture.

The best time to visit Longshan is when crowds of worshippers gather and engage in hypnotic chanting this is morning and evening hours. Another time to plan travel is on lunar 19 February during Guanyin's alternatively, the weeks before and during Chinese New Year can also be ideal.Entrance to the temple is free. However, donations are accepted in order to facilitate the upkeep of the temple.
Name:Longshan Temple
Address:No. 211, Guangzhou Street, Wanhua District, Taipei City, Taiwan 10853
Related Site:http://www.lungshan.org.tw/
4. Taipei 101 (Taipei)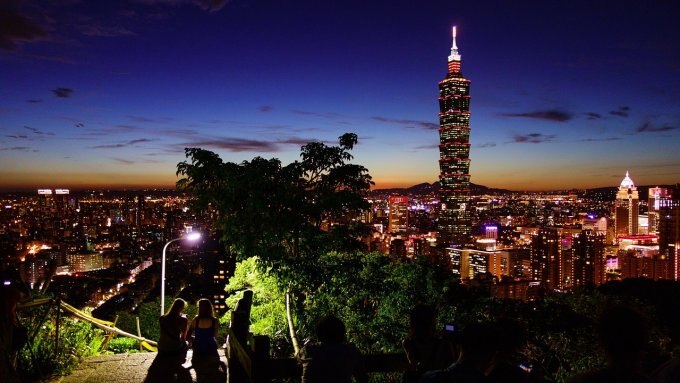 Taipei 101 is an engineering marvel and is the first tallest green building in the world resembling a giant bamboo stalk. It towers the city at 508m.

The Taipei 101 double-deck elevators travel at 1010m per minute setting a record in the year 2004. This is such an adrenaline rush covering 89 floors in just 47 seconds!A Ticket to get to the viewing floor can be purchased on the 5th floor and will cost you around NT$600 however you can reserve online from some sites and get reasonable discounts this might also save you the long queues.

Aside from the tower, a multi-level shopping mall, food court, various restaurants and stores, and an international grocery store are housed at the base of the building. You can buy some great snacks and some reasonably priced souvenirs or gifts.

A beautiful thing to sight can be the massive gold-coloured iron wind damper that keeps the tower stable through typhoons and earthquakes.For views of Taipei 101, head to WOOBAR at the W Hotel or climb Elephant Mountain.
Name:Taipei 101
Address: Xinyi District, Taipei, Taiwan
Related Site:http://www.taipei-101.com.tw/en/index.aspx
5. Chiufen (New Taipei City)
This was originally a gold mining mountain town built by the Japanese and is now a town with rich history and culture.The most convenient way to visit Jiufen is by public bus. The journey is almost 2-hour ride from Taipei, it's very comfortable and there is no traffic. Most tourist attractions are situated along Shuqi Road.

If you are looking to take some artistic photos or fully experience the culture some retro clothing such as Cheongsam or Qipao rare available for rental along these narrow alleys. Aside from its narrow alleys and stairs, a lot of tourists flock the place to try the teahouses in Jiufen making it a bit crowded during the daytime. The treehouses are a good place to try various snacks/desserts.

Many enjoy staying overnight at one of Jiufen's many boutique hotels and B&Bs, called minsu in Taiwan despite others opting for a day trip. Due to the limited amount of guesthouses and hotels in Jiufen, early reservation is recommended as it is one of Taiwan's popular destinations.
Name:Chiufen
Address:Ruifang District, New Taipei City, Taiwan.
6. Wen Wu Temple (Tuchi Township)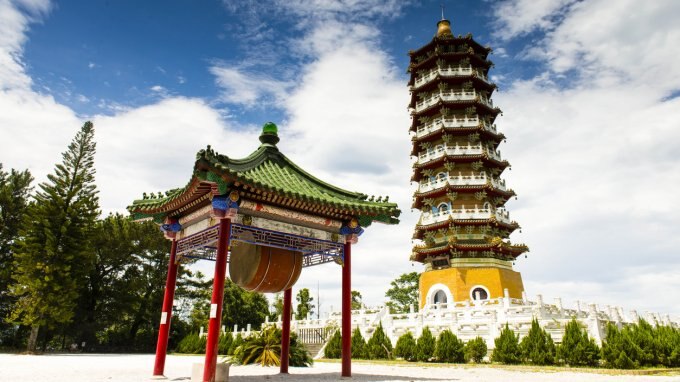 Wenwu Temple is located on a mountain facing the Sun Moon Lake and was built in honour of two deities.

When you visit the temple, try to spend some time exploring all the areas of this temple. Some of the fascinating things are "fortune-telling" machines that accept Taiwanese coin payments and they give you a small slip of paper telling you basic predictions in Mandarin and English.

Going all the way up to the top levels of the temple can be physically demanding for anyone with mobility problems.However, those able-bodied visitors can explore all the up levels of the temple where they are able to take beautiful photos of the surrounding.

Please be wary and proceed with caution when ascending/descending the stairs as they can be narrow and slippery at times. The whole place can take a maximum of 2 hours if you visit every nook and crook of the place. There are quite a number of signs put up in English (Toilets, Shop, etc). Do not hesitate to ask for help where need be as the staff can understand some basic English just try to speak slowly when initiating a conversation.
Name:Wen Wu Temple
Address:555, Taiwan, Nantou County, Yuchi Township, 中正路63號
7. Yangmingshan National Park (Taipei)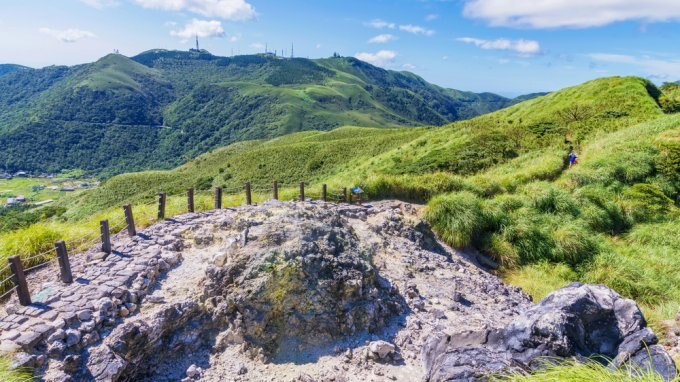 Photo by asiastock/shutterstock.com
Yangmingshan National Park is a beautiful green park located on the northern side of Taipei City. It also has some beautiful volcanic geysers.

There are different seasons where one can visit the park as they all bring a different feel. Flowering seasons in February and March, Summer season bringing occasional showers, Silver grass during autumn in October and seas of thick clouds during winter.

Different tour options are available including a hot springs trip in addition to the day trip. It takes about 45 minutes to Yangmingshan National Park. If you wish to go by bus, only one is available in front of exit 1 at Taipei Main Station.
Name:Yangmingshan National Park
Address:Taiwan
Related Site:http://english.ymsnp.gov.tw/index.php?option=com_content&view=featured&gp=0&Itemid=104
8. Ali Mountain (Alishan Township)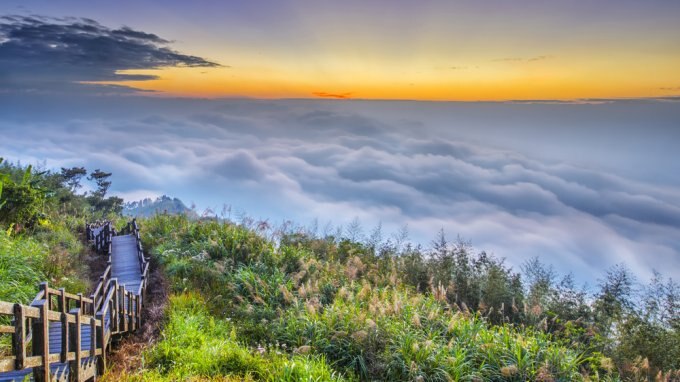 Photo by CHEN HSI FU/shutterstock.com
Ali mountain is a generalized name used for the eighteen hills and is located in the northeastern part of part of Chiayi County in Taiwan. Tower Hill is its highest peak with the height of about 8,736 feet.

Ali Mountain is famous worldwide for its 'five rare sites' including the famous Alishan Sacred Tree, the Ali Mountain Forest Railway, the Sunrise, the Flamboyant Cherry Blossom and the Grand Sea of Clouds.It is believed that one who has not been there will never know its true beauty.

Midsummer is a good time to visit if you are to avoid sunstroke.
It cost you 300 Taiwan dollars to tour Ali Mountain. This will guarantee full park entry.You can also enjoy a 50% discount from Taiwan Shuttle Bus if you chose to go there by bus.
Name:Ali Mountain
Address:605, Taiwan, Chiayi County, Alishan Township, 中正村59號
Related Site:http://recreation.forest.gov.tw/RA/RA_1_1.aspx?RA_ID=0500001
9. Danshuei (New Taipei City)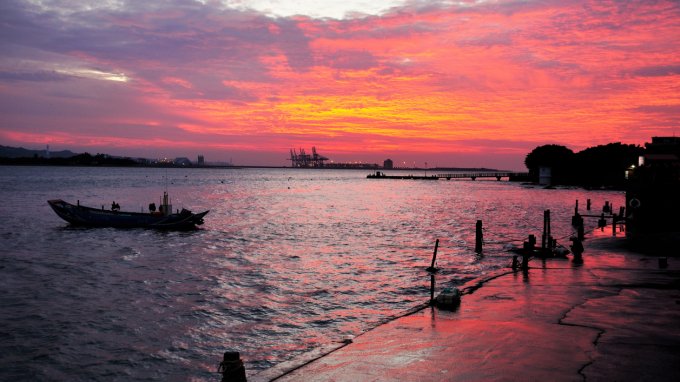 Danshui also is known as Tamsui is a seaside district located 1 hour away from Taipei downtown by MRT.

Danshuei is not a fancy town but more of an old town with places to do calming activities like biking, boating, walking and enjoying some Taiwanese snacks and street food. Other than that, there are some old buildings, such as the red brick church, that can be explored and the Chinese Love Bridge as it's called.The bridge is perfect for the sunset on a good evening at the pier.

When taking the MRT, be keen to check your train when you get on the red line as some end their journey at Beitou but you can always switch trains at the Qiyan Station.
Name:Danshuei
Address:New Taipei, Taiwan
10. Beitou Hot Spring (Taipei)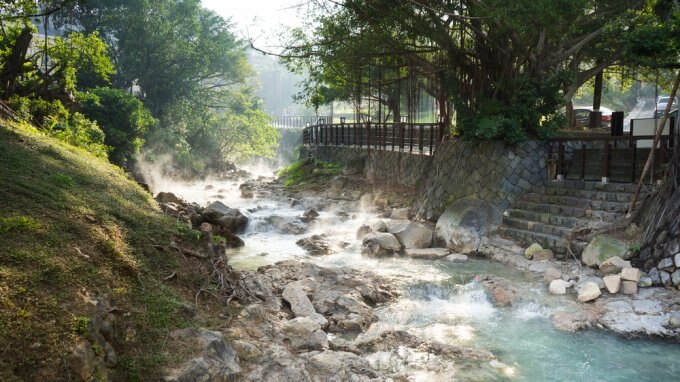 Photo by T.Dallas/shutterstock.com
Beitou, in the Taipei area, is the most convenient area for travellers visiting Taipei to enjoy authentic thermal hot springs as it houses some beautiful natural hot springs.

There are three common types of hot springs, the green sulphur, white sulphur and iron-sulphur. One can actually smell the sulfuric waters and see the steam rising from the hot spring.

It is advisable to book a private room in advance for convenience while travelling. Especially during the weekend as it is super busy as private hot springs are very popular in the Beitou area.

The area is filled with various private and public baths. Be sure to first check the rules before entering the bath as each bath may have different etiquette and general rules. Entrance to the "valley of hot springs" is absolutely free.
Name:Beitou Hot Spring
Address:Taipei, Taiwan
◎ Closing
Taiwan's immensely rich spiritual and cultural heritage, stunning scenery, amazing food, and world-class hot springs puts it on the top list as a first class tourist destination. If planning to visit Taiwan, it is wise to plan your trip during the fall season. The weather will slightly cooler, and rainfall minimal rainfall is experienced.