Bali: Indonesia's Slice of Heaven on the Island of the Gods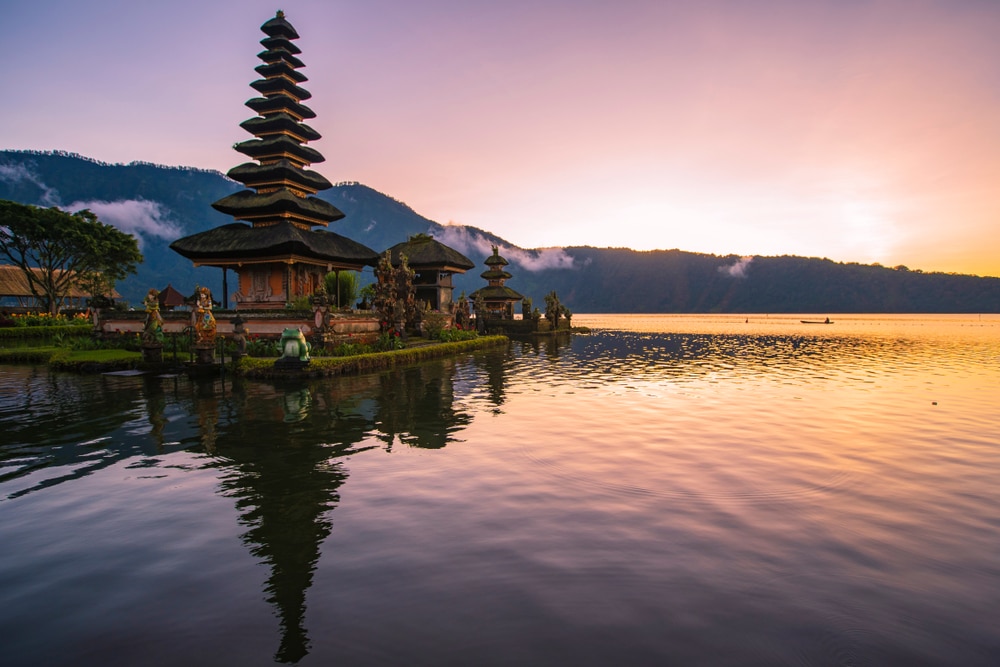 Photo by BGphotographer/shutterstock
Known as the Island of the Gods, it's fairly easy to see why Bali has earned this nickname with its sprawling mountains, gorgeous tropical beaches and mouth-watering food that's simply divine. Here are some things you have to see or do when visiting this Indonesian paradise.
[x] close
Bali: Indonesia's Slice of Heaven on the Island of the Gods:table of contents
Ubud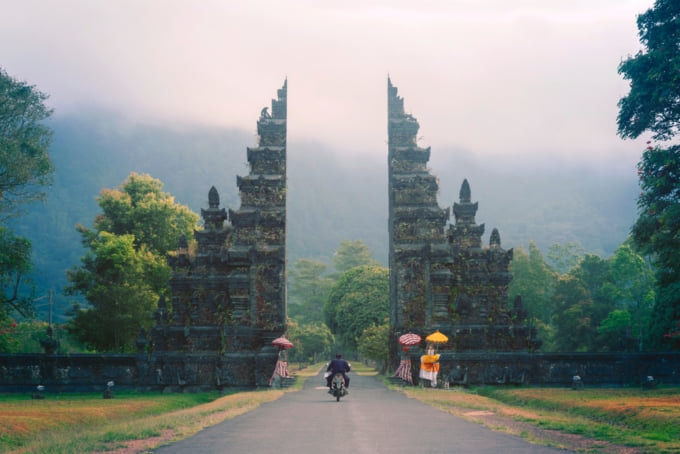 Photo by segetouch/shutterstock
A short journey north of Denpasar and you'll arrive at the cultural heart of the island. The town of Ubud is famous for its beautiful rice fields, highland scenery and temples that are abundant in the area. One of the most visited spots there, the Monkey Forest, a forest path wrought with banyan trees and stone temples making you feel like you're playing some kind of Indiana Jones game. Although the area is full of fairly aggressive monkeys, it's worth braving them for the stunning scenery. Make sure to visit the Ubud Palace, once the official residence for the royal family of Ubud.
Website: https://www.indonesia.travel/jp/en/destinations/bali-nusa-tenggara/ubud/ubud-monkey-forest
Dreamland Beach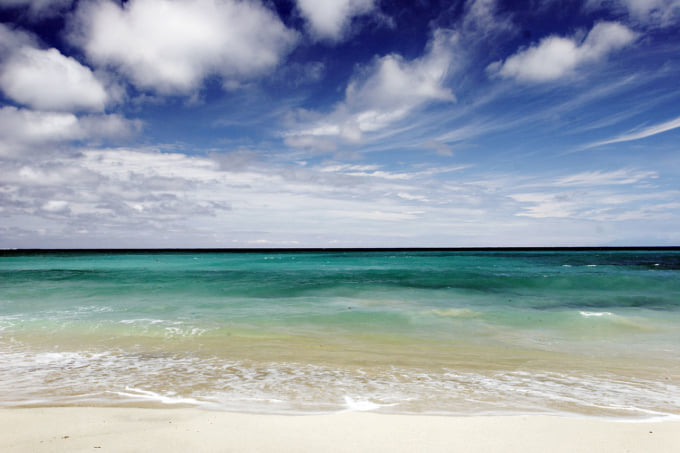 Photo by commons.wikimedia.org
Bali's southern peninsula is chock-o-block full of beach after beach, all of them equally as beautiful as the next. With the island famed for its pristine gorgeous beaches, spending a day or a few beach hopping around the area is highly recommended. One of our favorite spots to relax on Bali is Dreamland Beach, a perfect example of the picturesque paradise the island has to offer.
Ulun Danu Beratan Temple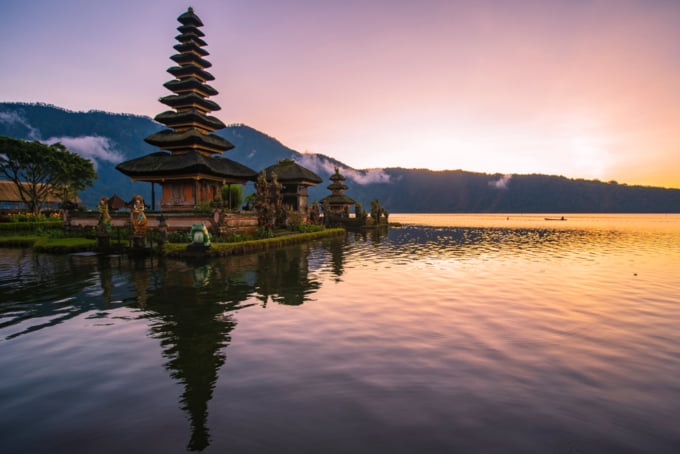 Photo by BGphotographer/shutterstock
Probably the most well-known of all the Hindu temples on the island, this water temple complex lies in the picturesque Lake Bratan and was built in 1633 to give offerings to the Balinese water goddess Dewi Danu. The temple is particularly stunning when the lake waters rise giving the appearance of it floating above.
Name: Ulun Danu Beratan Temple
Location: Danau Beratan, Tabanan Regency, Bali, Indonesia
Website: https://www.indonesia.travel/jp/en/destinations/bali-nusa-tenggara/bali/ulun-danu-beratan
Tanah Lot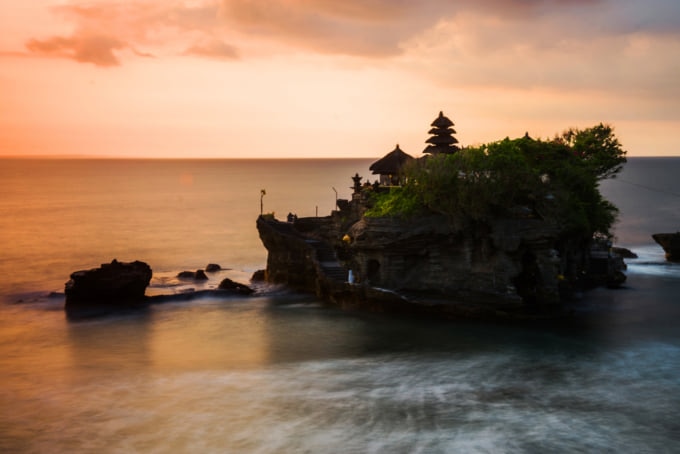 Another of Bali's attractive photo spots, this temple is believed to date back to the 16th century created to worship the Balinese sea gods. Sitting on a rock off the shore of Tabanan, the rock has been shaped by years of erosion forming the unique appearance seen today.
Address: Beraban, Kediri, Tabanan Regency, Bali
Website: https://www.indonesia.travel/jp/en/destinations/bali-nusa-tenggara/tanah-lot
Mount Batur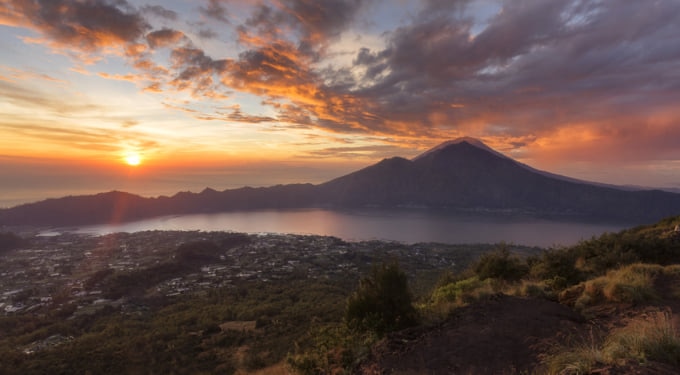 For a stunning view of Mount Agang and Agung try hiking up Mount Batur, which offers arguably the greatest scenery of the island as you peer over the valley and Lake Batur. The spot is particularly popular for viewing the sunrise as it peaks up behind the mountains, lighting the valley below. As far as mountain hikes go, Mount Batur is relatively easy and takes around two hours. If you're looking for more of a challenge then try hiking up Mount Agung, the tallest spot on the island which on clear days offers equally as beautiful views in the opposite direction looking out towards Batur.
Website: https://www.indonesia.travel/jp/en/destinations/bali-nusa-tenggara/kintamani
Jimbaran Beach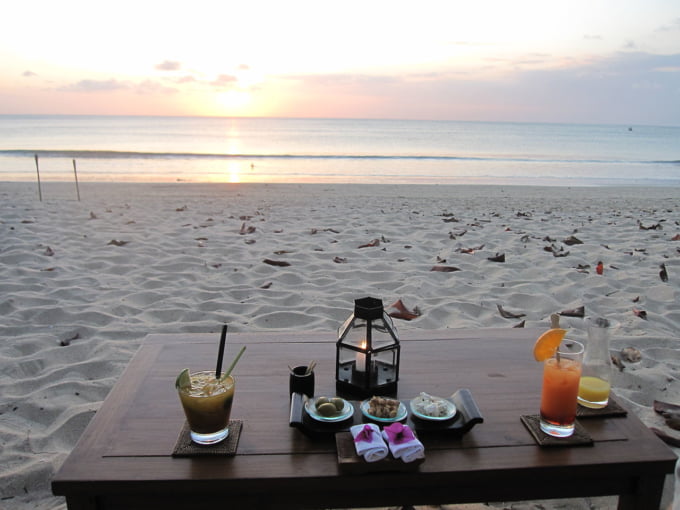 Further down the coast from Bali's nightlife spot of Kuta lies Jimbaran and its golden beach. Much less crowded than Kuta, Jimbaran is also much more picturesque and particularly beautiful during sunset. In the evening you'll find a large number of restaurants that deck out chairs and tables across the beach allowing you to dine while watching the sun fall behind the ocean.
Name: Jimbaran Beach
Address: Jimbaran, South Kuta, Badung Regency, Bali, Indonesia
Website: https://www.indonesia.travel/jp/en/destinations/bali-nusa-tenggara/jimbaran
Menjangan Island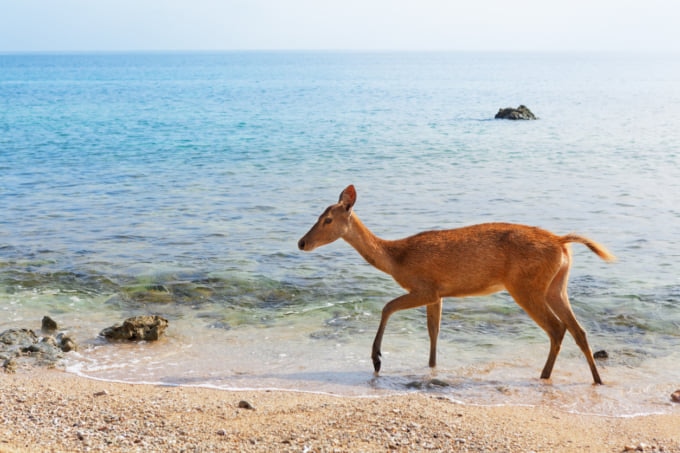 Not many make the venture out to the western part of Bali, but those who do are rewarded with a part of paradise relatively untouched by tourism. Roaming around the western part gives visitors a glimpse of how the island was before it turned into a tourism mecca. One of Bali's hidden gems, the secluded, uninhabited paradise of Menjangan Island is just a short boat ride from the mainland. The island is a haven of diving spots, full of vibrant coral, marine life along with sunken statues and treasures, easily visible in the surrounding clear waters. What makes the island particularly special however is the deer who swim from the mainland to flock to the beaches and graze around the area.
Website: https://www.indonesia.travel/jp/en/destinations/bali-nusa-tenggara/bali/menjangan-island
Balinese Food
While not a destination per say, anyone who visits this island paradise and doesn't dive in to the vibrant cuisine on offer is sorely missing out. Bali is one of the few regions in Indonesia that doesn't have a majority of Muslims living there, meaning the locals can and often love to eat pork. Therefore it's not much of a surprise many of the traditional dishes of the island tend to be of pork. A must-eat while visiting Bali is Babi guling, Balinese-style suckling pig which is stuffed with a paste of spices and roasted whole slowly over open coals. Other popular dishes include Balinese nasi campur, Sate lilit and Bebek betutu.
For a decent rendition of Babli guling:
Name: Warung Babi Guling Ibu Oka 3
Address: Jalan Tegal Sari No. 2, Ubud Tengah, Ubud, Kabupaten Gianyar, Bali
Conclusion
While the majority of people visit Bali for the beautiful beaches, most end up wishing to stay longer after seeing the vibrant culture and mouth-watering food the island has to offer.