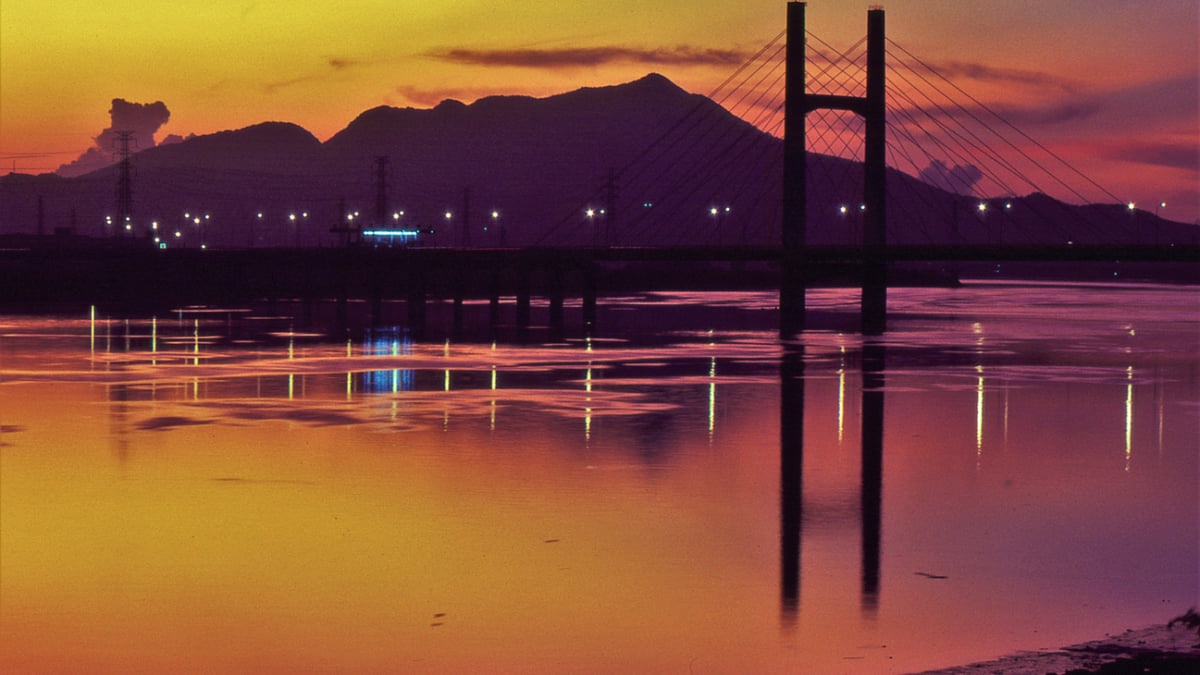 The Top 6 Things to Do in Tamsui, Taiwan
A short journey along the MRT from the center of Taipei, the seaside town of Tamsui or Danshui is an easy day trip or weekend getaway out of Taiwan's capital with plenty of things to do and see there. Whether you're visiting for the area's history, the delicious foods or just a breath of fresh sea air, here are the top things to do in Tamsui.
table of contents
[x] close
The Top 6 Things to Do in Tamsui, Taiwan
Fisherman's Wharf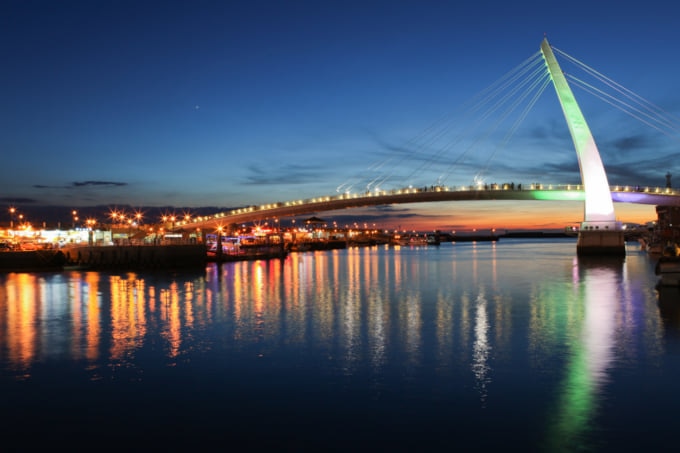 One of the most famous sights of Tamsui, the Lover's Bridge at Fisherman's Wharf is beautiful when it's lit up at night and during sunset.

The wooden boardwalk here offers beautiful views over the ocean, towards Bali and Guanyin Mountain, along with a number of places to eat and drink.

A short walk from the wharf, Shalun Beach is a long a stretch of golden sand that's worth spending a couple of hours to check out. Note that it's forbidden to swim or enter the water here due to strong currents.
Fort San Domingo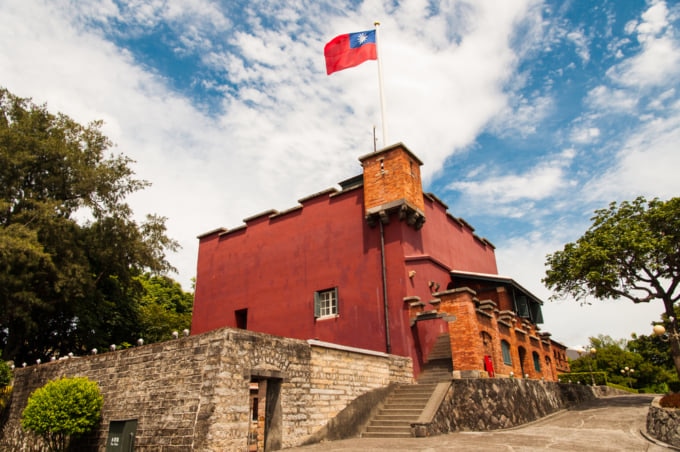 Photo by Philos Chen/Shutterstock
Due to its strategic location on the northwest coast of Taiwan, Tamsui has always been a center point for foreign powers landing in Taiwan and a major part of the island's history. The Spanish first arrived and built a settlement around Tamsui in the 17th century, later controlled by the Dutch.

While there are a few historic buildings left around Tamsui, Fort San Domingo is the most impressive. Built by the Spanish in 1628, it was later destroyed and rebuilt by the Dutch around 40 years later. During the rule of the Qing Dynasty, the fort was leased to the British government as a consulate.
Hop on the Ferry to Bali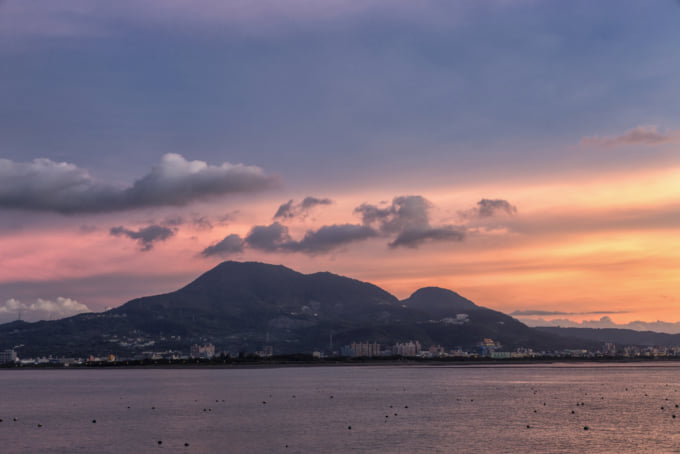 Photo by takawildcats/Shutterstock
As one of the most popular places to see around Taipei, Tamsui can get a little busy and crowded at times, especially along the main streets. If you're looking for a little piece and quiet consider taking a ferry over to the other side of the river mouth to Bali.

Ferries leave from Tamsui Wharf and Tamsui Fisherman's Wharf to Bali regularly, is cheap and only takes about ten minutes. The construction of a bridge and light rail extension across the river will make it much easier to reach Bali from Tamsui, however it's still a few years off completion.
Feast on A-Gei and Grilled Seafood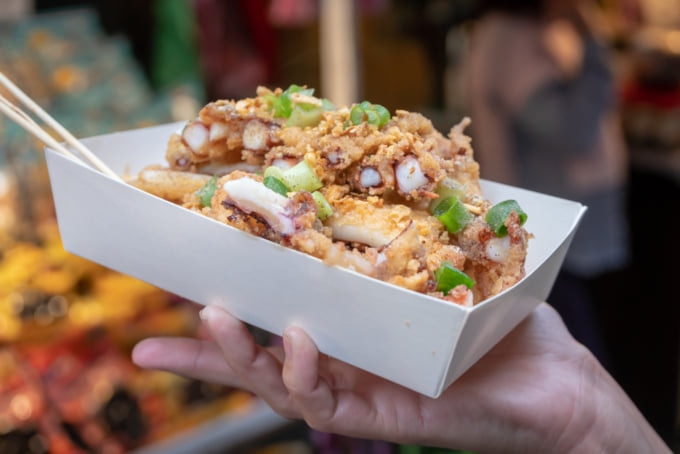 Photo by Tongchana Hongcharoen/Shutterstock
A-gei is the specialty of Tamsui and a must-eat when visiting this quaint seaside town. While plain tofu can often be quite bland, A-gei takes the flavor of tofu up a notch by deep-frying it, stuffing it with glass noodles and various extras and coating it with a delicious sauce.

As you might expect from a seaside town, you'll find seafood snacks and dishes served all over the streets of Tamsui. There are numerous street-side stalls around Tamsui Old Street along with the riverside area that offer grilled squid on sticks, fish ball soup and other delicious ocean-related snacks.
Tamsui Old Street
The historical heart of Tamsui, this lively area spans a few streets a short walk down from Tamsui Station. There's plenty of restaurants and street stalls selling all kind of snacks and Taiwanese delicacies here including the area's most famous shops selling A-gei. The old street extends into a riverside park area which is also great to explore for more food, especially squid and seafood.
Watch the Sunset
Located on the west coast of Taiwan with a view out to the sea, Tamsui is famous for its beautiful sunset views. There are numerous places that you can sit and watch the sunset from along the river, two of the most famous spots are next to the Lover's Bridge in Fisherman's Wharf and the riverside park area of Tamsui Old Street.
Getting to Tamsui from Taipei
As Taipei's MRT red line takes passengers all the way to Tamsui Station, getting to the area is easy and only takes just over 30 minutes to get there.

Getting around Tamsui has been made much easier too since the opening of the Danhai Light Rail, which currently starts at Hongshulin and finishes at Tamsui Fisherman's Wharf and Kanding. For other areas in Tamsui, you can either just walk, rent a YouBike and cycle or take one of several bus routes.