Relish in Delhi's Vibrant Culinary Scene with these 5 Must-Visit Restaurants
India
May 15, 2019
286 views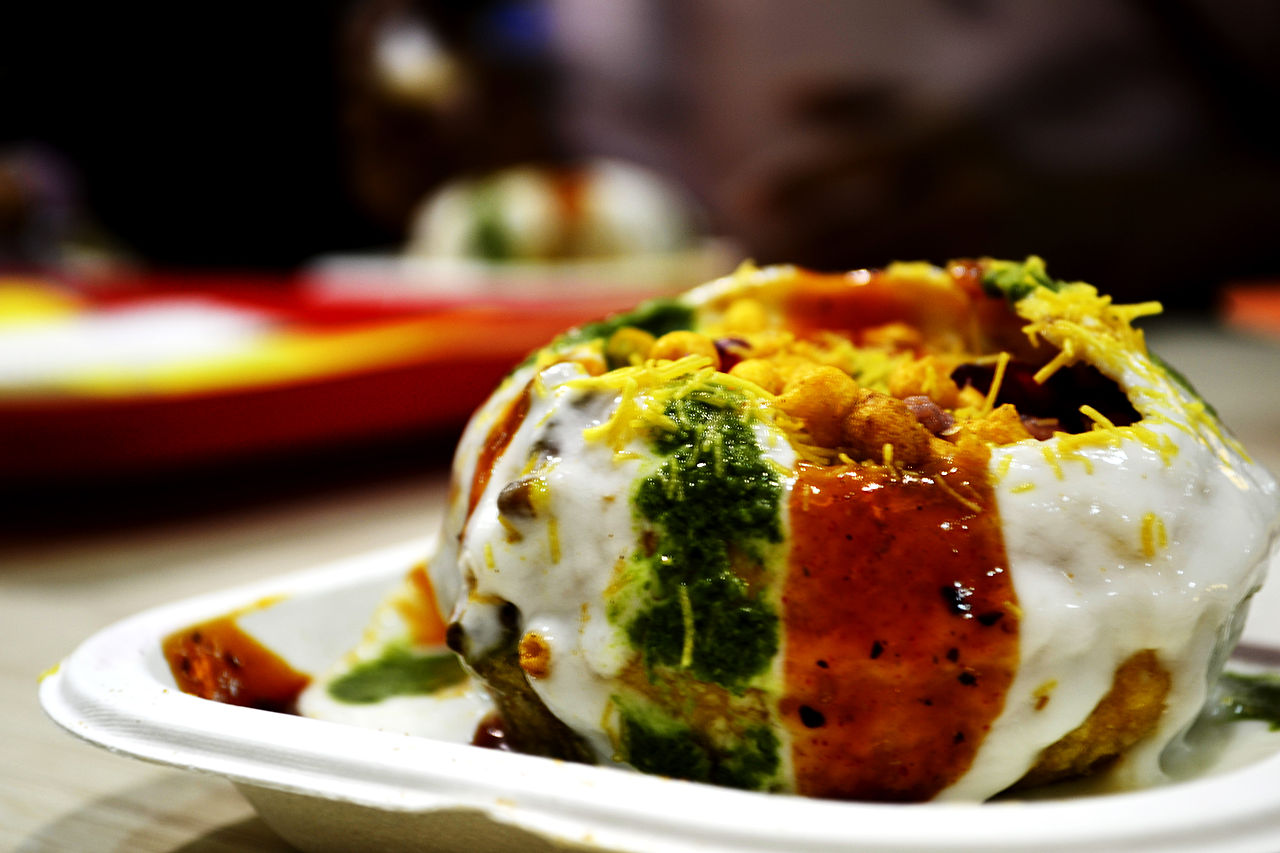 Photo by Puneet vivid/Wikipedia
To best experience the vibrancy of Delhi's food culture it's imperative to wander through its homes, streets, and the rapidly growing restaurant scene. Just as a large number of new restaurants open every week in the capital of India, there are those that fail to impress and eventually fade away from memory. Among the ups and downs of the food industry, there are success stories, some new, others old, that have not only passed the test of tastes but have transformed Delhi into one of the most inspiring food destinations in the world.
[x] close
Relish in Delhi's Vibrant Culinary Scene with these 5 Must-Visit Restaurants:table of contents
Bukhara
As iconic as restaurants can get, Bukhara at the ITC Maurya has a 40-year-old legacy that includes visits by celebrities and state heads such as Bill Clinton, Arnold Schwarzenegger, and Roger Federer.

Bukhara's appeal is in its laid-back setting. Guests get to sit on low sofas or stools and are encouraged to eat with their hands - the traditional way. Adult bibs, in place of napkins, add a sense of fun to the meal. The ambiance is heightened further by the glass window kitchen through which guests can watch chefs cook their culinary masterpieces.

Bukhara is known to keep things simple, and its two-page menu remains unchanged since the very beginning. Among the limited dishes served at this restaurant, there are three that really stand out. The naan Bukhara is a gigantic tandoori Indian bread that not only attracts attention but is filling enough for a family of four. The Sikandari raan, a whole leg of succulent lamb cooked in aromatic spices, is considered one of the best in the country. However, the pièce de résistance is the dal Bukhara. Black lentils cooked on a low flame overnight, the dal has a creamy smooth texture that makes it one of the most legendary dishes in all of India.

Address: ITC Maurya, Sardar Patel Marg, Akhaura Block, Diplomatic Enclave, Chanakyapuri, New Delhi
URL: https://www.itchotels.in/dining/iconic-brands/bukhara.html
Delhi Club House
The British introduced India to a club culture that has carried on long after the country gained its independence. It's in these clubs, spread across the length and breadth of the nation, that you can find some of the most satisfying and finger-lickingly good regional dishes. A place to meet friends and spend time with the family, food has always played an integral part in the charming quaintness that encapsulates the many clubhouses of India.

Delhi Club House is nothing short of a eureka moment, in which chef Marut Sikka took the best dishes from the legendary club menus of the country and brought them together under one roof. The restaurant also manages to walk the thin line between the casual and often subtle ambiance of the various club eateries and a hip and happening destination where patrons from different generations feel equally welcomed.

Of course the food at Delhi Club House is its greatest asset and it's hard for a local not to get nostalgic when eating the cheese souffle from Mumbai Byculla Club or the chili paneer from the Delhi Gymkhana. DCH, as it is popularly known, has a few of its own select preparations in the menu out of which the chicken tikka masala is a must try.
Address; Sangam Courtyard, Major Somnath Marg, Sector 9, Rama Krishna Puram, New Delhi
Lavaash by Saby
Indian food is often an amalgamation of different cuisines. Lavaash captures the longing associated with homemade food and combines it with a fusion of Armenian and West Bengal delicacies producing some delectable and deliciously unique offerings.

Situated in the charming Ambawatta complex, next to the imposing Qutub Minar in South Delhi, Lavaash is an eccentric and animated space with a homely feel. Their tiny balcony space is ideal for late evening meals during the crisp winter months. Inside, the colorful garden chairs bring about a wonderfully light atmosphere that helps keep the focus on the food.

Although the menu carries vegetarian options, Lavaash is quite frankly a meat-lovers delight. It features a combination of dishes from the chef's childhood and inspirational takes on traditional Armenian and Bengali food. The options are diverse in their flavor profiles and consist of items such as mutton puff, eggplant tolma, prawn clay pot casserole, and the delicious cheese Lavaash pizza. When it comes to their specialties, no visit to the restaurant is complete without devouring the juicy lamb koobideh, or the spiced bacon pide pie.

Address: H5/1, Ambawatta No.1, Kalkadass Marg, Mehrauli, New Delhi
URL: http://lavaashbysaby.com/
Haldiram's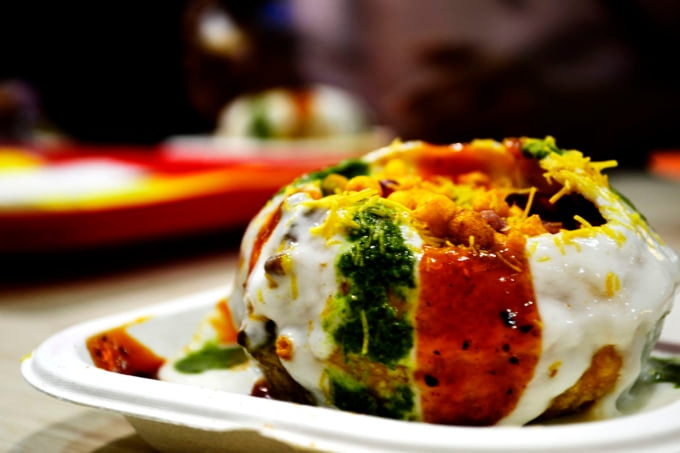 Photo by Puneet vivid/Wikipedia
One of the scariest aspects of eating food in Delhi is the notorious "Delhi Belly." No one wants an upset stomach during their holidays and as a precaution, travelers often skip over the enjoyable street-foods of the city.

To overcome this challenge, eat out at Haldiram's. A budget fast-food restaurant, it serves some of the most famous street foods from across the nation in a comfortable and hygienic location. To enjoy a medley of items, try one of their regional food platters such as the South Indian platter, Chinese platter or the kebab platter. They also have a special thali that incorporates classic North Indian cuisine.

The company is now a large conglomerate having multiple outlets in different states of India. Their food selection also consists of packaged snacks for tea-time and freshly-prepared Indian sweets. Haldiram's primary competitor, equally suitable for a quick meal, is Bikanerwala. Customers at Bikanerwala can enjoy the delicious chaat, parathas, samosas or fried snacks at any time of the day.

Address: 6, Opp Optical Palace, Road No. 6, 7, Connaught Cir, Connaught Place, New Delhi
URL: http://www.haldiram.com/restaurant-locator
The Great Kabab Factory
The Great Kabab Factory is as much about the delicious kebabs they serve as it is about the concept of the restaurant. Primarily a buffet system, guests at the restaurant first get to sample an unlimited number of vegetarian or non-vegetarian kebabs on their table.

Although the menu of this 20-year-old restaurant changes regularly, some of the favourites, such as Galauti and Burrah kebab, are always available no matter the day or time of the year. Adding to the uniqueness of the concept, the kebabs are prepared using seven different styles that include cooking them in a tandoor, on a grill, steaming them in a pot or deep frying them in a kadhai (deep cooking bowl).

With unlimited food on offer, it is recommended to visit The Great Kebab Factory on an empty stomach, and take it slow, savoring every bite that is brimming with characteristic Indian tastes.

Address: Radisson Blu Marina Hotel, G-59, Connaught Circus, Connaught Place, New Delhi
URL: http://thegreatkababfactory.com/
Indian Accent
Rated 90 in the 2018 Best Restaurants in the World list, Indian Accent is considered by many as India's top dining experience. Serving popular Indian cuisine in a contemporary form, chef Manish Mehrotra has managed to create a space that oozes sophistication and exudes culinary greatness.

On the floor and often seen mingling with guests, the presence of the chef adds a much-desired charm to any meal at Indian Accent. And it is in the chef's menu that guests get to relish some of the most exquisite flavors of the Indian subcontinent.

A laid-back dining experience, the chef's menu at Indian Accent is a two-hour love affair with food. The courses are spaced with just enough intervals to appreciate each dish and then clean up the palate for the gastronomic delights that follow. The menu carries an assortment of recipes from the street-food favorite of 'puchkas in five waters' to the velvety chicken curry and topping it off with the famously airy, sweet dish, daulat ki chaat. Indian Accent is quite simply a culinary experience you do not want to miss when in Delhi.
Address: The Lodhi, Lodhi Rd, CGO Complex, Pragati Vihar, New Delhi
URL: https://indianaccent.com/newdelhi/
Conclusion
The culinary scene in Delhi is not just limited to Indian food. World cuisines find a significant place in the kitchen of its many restaurants that range from international fast food joints such as Burger King and Pizza Hut to specialized eateries serving Italian, Japanese, Vietnamese, Korean, and American fare. So, whether it is about having pasta at Artusi Ristorante, khao suey at Burma Burma, sushi at Guppy or hot dogs at the American Diner, there is always something in Delhi to excite the most ardent of food lovers.