Food and Snacks You Have to Eat When Visiting Japan's Southern Island of Kyushu
Kyushu is the southernmost of the four main islands of Japan. Although easily reached by the country's bullet train network along with the transportation hub of Fukuoka Airport, the island is often missed out of itineraries for tourists visiting the country. It's a shame, as Kyushu has some of the best food and restaurants in Japan. From delicious pork-bone ramen to succulent cutlets of 'black pork' here are eight foods you simply have to try while touring the island of Kyushu.
table of contents
[x] close
Food and Snacks You Have to Eat When Visiting Japan's Southern Island of Kyushu
Hakata-style Ramen (Fukuoka)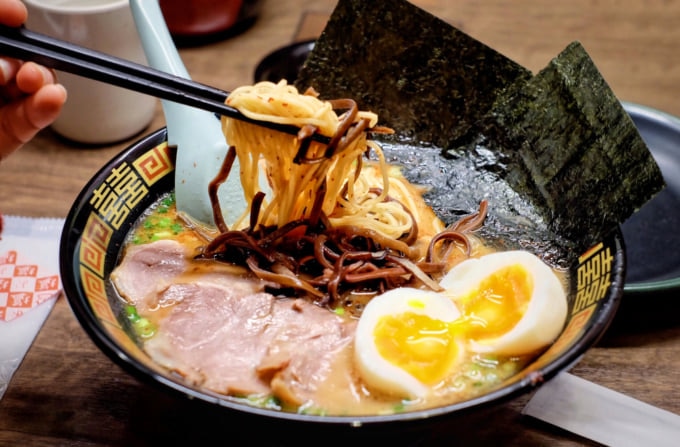 Photo by Cancer_July/Shutterstock
A foreigner favorite, ramen is usually the first dish of choice for travelers arriving in the Land of the Rising Sun. Fukuoka, also known by its old name of Hakata, is the capital of ramen. Famous around the country for its unique style of pork-bone broth known as tonkotsu, Hakata-style ramen has seen a huge boom in the last ten years or so as popular chains have spread all over Japan and even abroad. The bones are boiled until a creamy, super-flavorful broth is formed and added with a special kind of ramen noodles which are made to quickly soak up the delicious broth. Once you taste a bowl, you'll soon realize the hype and why this noodle dish has been taking the world by storm.
Ikinari Dango (Kumamoto)
A kind of sweet-filled dumpling, you'll find these in streets all over the city of Kumamoto, located around the center of the island. Chunks of sweet potato are coated with a sweet red-bean jam and wrapped in dough before steaming to make this delicious sweet treat. Although they're the proud creation of Kumamoto, you'll often find them in traditional sweet shops all over Kyushu.
Mentaiko-Flavored Snacks (Fukuoka)
Mentaiko is a proud product of Fukuoka, so much that you'll find it featured in dishes all across the city along with being a flavoring for an endless amount of snacks. A sack of pollock roe, it's mixed with various flavorings and spices to create a wonderful explosion of umami with each bite. The hit of umami and salty fish taste makes for the perfect flavoring to add to a range of different nibbles.

From mentaiko-flavored pocky sticks to dried squid, almost any snack making its way through the city seems to get a mentaiko-enhanced makeover. Be sure to try menbei, a kind of traditional rice cracker that's coated with the unique flavor, you'll find it sold all over Kyushu's capital.
Kagoshima Tonkatsu (Kagoshima)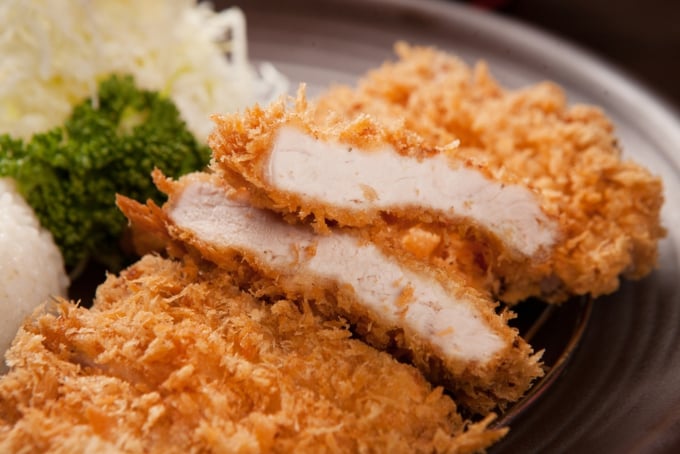 Deep fried cutlets of breaded pork, who doesn't feel their mouth watering when faced with the Japanese dish of tonkatsu. Kagoshima, nestled right on the southern point of Kyushu, is particularly famous for its delicious local breed of 'black pig' - some of the best quality pork you can find around the islands of Japan, This succulent, fatty pork gives Kagoshima's tonkatsu restaurants the edge to reigning supreme as the king of of this dish.
Champon (Nagasaki)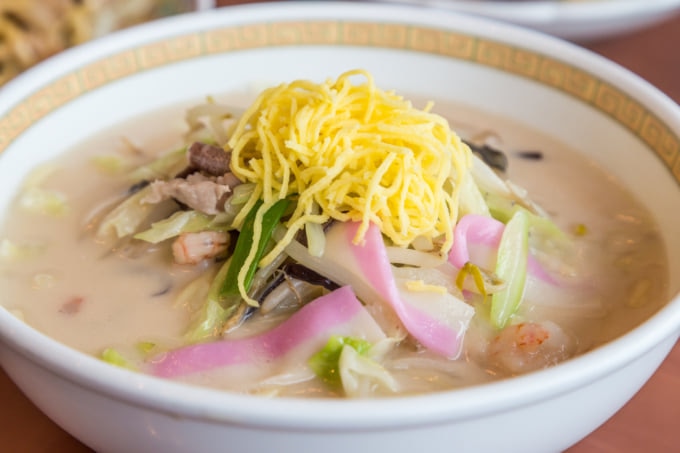 A specialty of Nagasaki, once the most major port in Japan, champon is a creation borne out of the large Chinese population that once dominated the city. The dish is made by frying pork, seafood and seasonal vegetables and adding together with ramen noodles in a pork-bone broth. Champon has since become one of the most popular noodle dishes in the country and makes for a perfect meal to try for those wanting to savor the extensive offerings of ramen that can be found across Japan.
Hakata Torimon (Fukuoka)
If there's one sweet to symbolize the city of Fukuoka, then it's Torimon. A perfect mix of western and Japanese influence, this delectable sweet dumpling is filled with a divine mixture of mashed white beans, butter and cream. The deliciously buttery filling is both rich and sweet and pairs perfectly with the soft pastry-esque bun that encases it. It pairs perfectly with a cup of tea or coffee, but be warned, once you eat one it's hard to stop cramming these delightful sweet treats into your mouth.
Motsunabe (Fukuoka)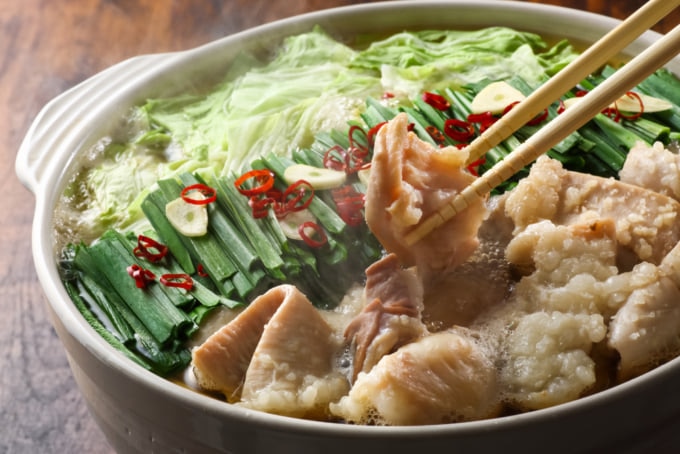 While hot pot can often be a little bland and dull, motsunabe is full of flavor. Another star dish of Fukuoka, the hot pot broth is stuffed full of fatty offal, cabbage, chives and usually flavored with miso paste, garlic and togarashi; a Japanese spice mixture. The extra fat and spices give the soup a wonderful flavor perfect for enjoying in the winter months. When you've had your fill of meat and greenery, use the leftover soup to mix with rice. The dish is called zosui, like a Japanese risotto and is especially flavorsome when the fatty soup of motsunabe is used to make it.
Chicken Nanban (Miyazaki)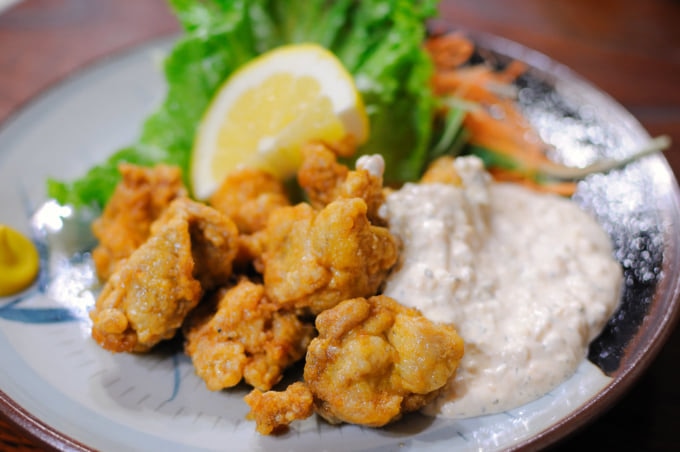 A great example of the western-influenced cuisine you'll find all over the island, chicken nanban is Miyazaki's spin on fried chicken, taking this universal dish to the next level. Japan is not a country for half measures, the chicken used is always deliciously juicy and tender and fried until perfectly crispy. The fried chicken is then dipped briefly in a sweet and sour sauce to give it that extra edge of flavor and topped with a generous helping of creamy tartar sauce. Once you've tried it this way, you won't want to go back to regular fried chicken ever again.
Conclusion
For anyone with an interest in Japanese cuisine, traveling around Kyushu is an unmissable opportunity to sample some of the country's most renowned dishes. It's not just the food either, you'll find a number of incredible sights and scenery lining its vast coastline and the mountainous regions running through the center.