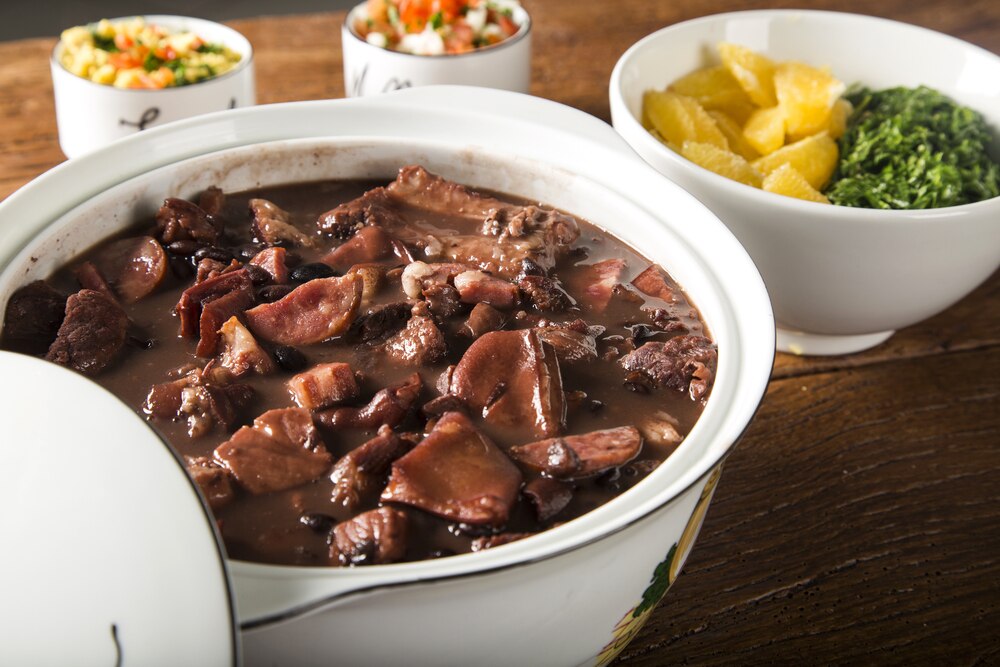 Photo by Paulo Vilela/Shutterstock
6 Delicious Foods You Have to Try on Your Next Trip to Brazil
Brazilian food is vibrant, festive and hearty, mirroring the general atmosphere of its country of origin. It has been shaped by a rich and interesting history of diversity, resulting in a delicious fusion of Native American, African and European culinary traditions. Depending on which region you visit, the style of cuisine will vary, however there are certain foods that are just so tasty, it was impossible for them to remain confined to a single area. These foods can be found all throughout Brazil, and are a must try for anyone visiting the country.
table of contents
[x] close
6 Delicious Foods You Have to Try on Your Next Trip to Brazil
Brigadeiro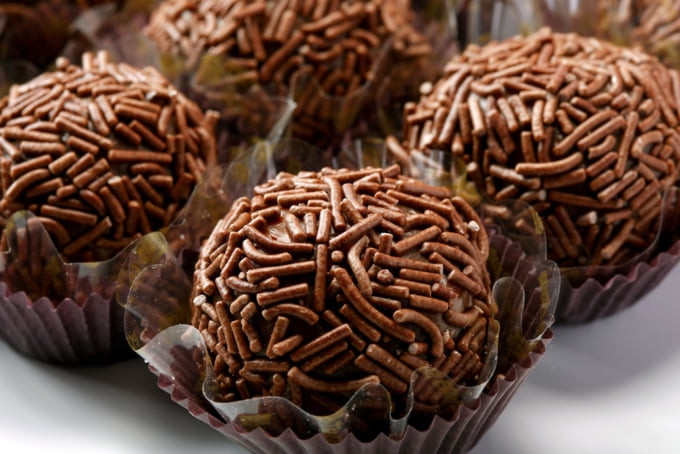 Photo by rocharibeiro/Shutterstock
It's no surprise that these bite-sized chocolate balls are a favorite across Brazil. They are simple, delightful to look at and undeniably delicious. Only three ingredients are required to make this festive treat: condensed milk, cocoa and butter. These are cooked together until they have reached a perfect consistency, allowed to cool down and then shaped into their soft, round and heavenly final form.

While Brigadeiro's were typically made at home, it is now common to find them sold at Brigadeiro shops across the country, so if you happen to be planning a trip to Brazil, you don't have to worry about gate-crashing a private party to get an authentic taste of these fudgy, little balls.
Farofa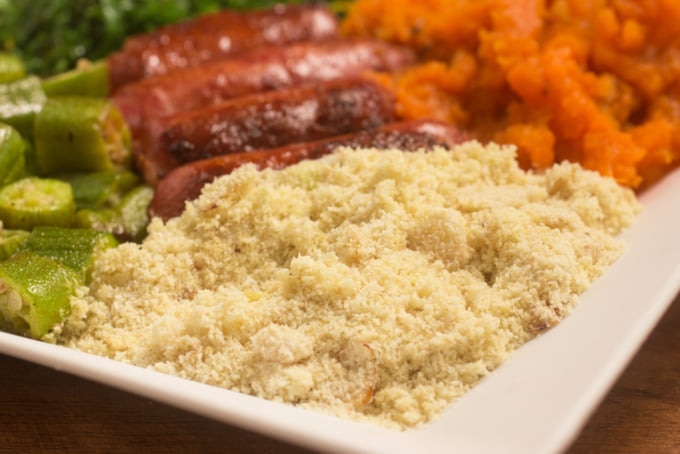 Photo by rodrigobark/Shutterstock
Farofa is a staple side dish eaten on a daily basis all throughout Brazil. It is either sprinkled, stuffed or eaten as an accompaniment alongside meats and stews, to both enhance and compliment the varying flavors and textures of the main dish. It has a light and crispy texture, and is made by seasoning and lightly toasting cassava flour until it achieves a beautiful golden hue.

It may sound a little underwhelming when described with just words, but trust us, on the palate, it's an entirely different story. If you're visiting Brazil, you definitely don't want to miss out on this beloved dish.
Feijoada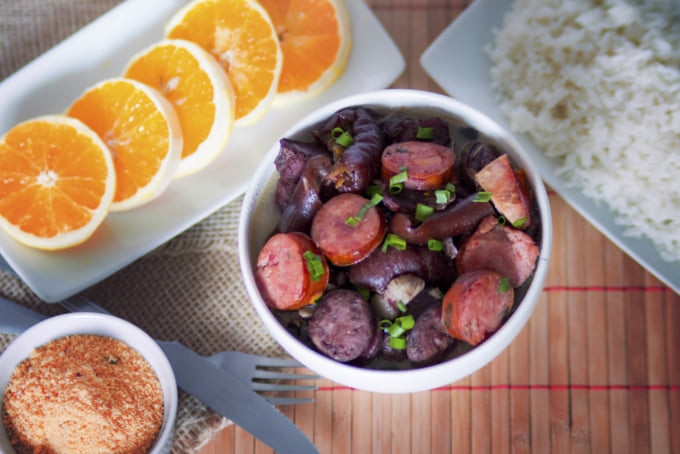 Photo by Fernando_Moreno/Shutterstock
Black beans, beef and pork delightfully come together to create Brazil's famous national dish - feijoada. A perfect fusion of native, African and Portuguese food culture, this thick and savory stew is made by simmering various cuts of salted and smoked meats, including cheaper cuts such as pig's feet, tails and ears, in a mix of fragrant herbs and spices. It is then served with sautéed collard greens, rice, orange slices and a sprinkling of farofa.

You can find Feijoada at almost every type of eatery in Brazil, from the most upscale establishment, to the tiny neighborhood bistro, so there's no excuse to not try a bowl of this Brazilian, culinary masterpiece.
Bolinho de Bacalhau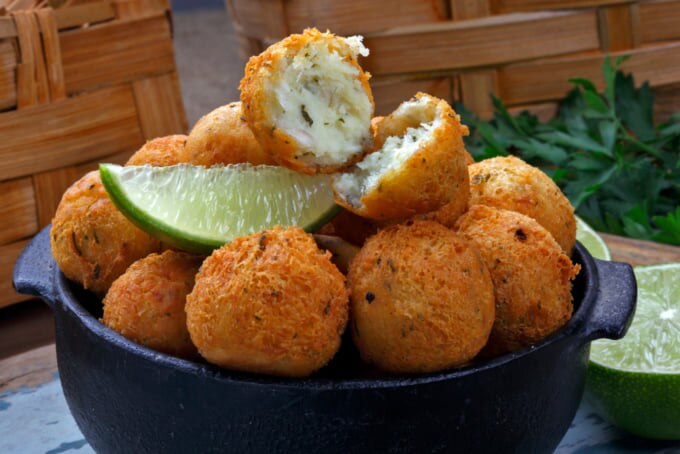 Photo by rocharibeiro/Shutterstock
These tiny, delicious codfish balls are one of the best street food dishes you can try while in Brazil. Originally a traditional Portuguese recipe, they have found an enormous and loyal fan base in Brazil over many years, and can now be found in restaurants, markets, street stalls and bars all over the country. They have a perfectly crispy exterior, and a soft, creamy interior, which is achieved by deep frying a seasoned mixture of codfish and riced potatoes.

To best enjoy these fritters, be sure to drizzle a bit of lime juice over them before you eat.




Mousse de Maracuja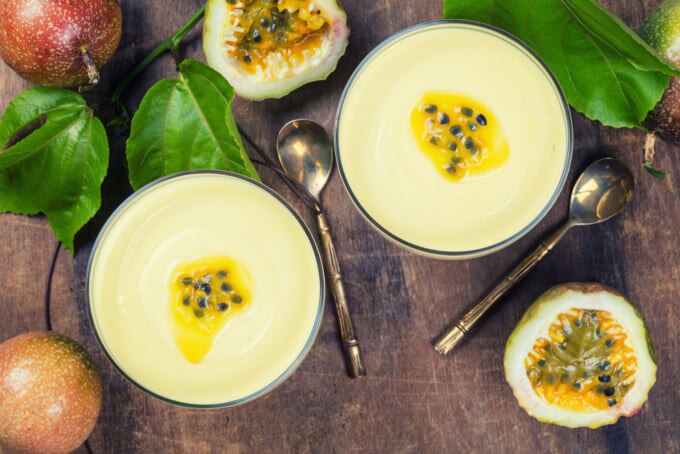 Photo by 18042011/Shutterstock
Mousse de Marcuja just might be the most beloved dessert in Brazil. Made using just three ingredients: condensed milk, thickened cream and maracuja/passion fruit, this mousse is exemplary of the age old saying, the simpler, the better! Indeed, every spoonful of this creamy mousse melts on the tongue in a perfect harmony of flavors, with the star flavor of course being the distinctly fragrant maracuja, which infuses the cream with a refreshing and indispensable burst of fruitiness.
Açai & Guaraná
If you're planning a trip to Brazil, one thing you can look forward to food-wise is the incredible array of fresh and exotic fruits available. Fruits play a central role in Brazilian cuisine, and are eaten at all times of the day, morning, noon and night. Two particularly popular fruits that you should definitely try while you're in Brazil are Açai & Guaraná. Both are native to the Amazon, and can be found in products all over Brazil ranging from ice-cream, smoothies and sodas to body creams and shampoos.

Açai isn't particularly sweet, it has more of a creamy, slightly bitter, almost chocolate like taste, which works incredibly well when mixed into smoothies and juices with other fruits. Guaraná are small and tart, they are typically found in soft drinks such as soda, and have been enjoyed by Brazilians for many years for their stimulating properties more than anything else. Each fruit packs twice the amount of caffeine that would be found in a coffee bean of the same size, perhaps the perfect ingredient to keep you fueled throughout your trip.
Conclusion
If you're looking to go on an unforgettable gastronomic adventure abroad, Brazil just might be the perfect destination for you. Here you can indulge in everything from rare and exotic fruits, to unbelievably tasty stews and snacks. So prepare your tummy, keep an open mind, and if you want to keep things budget friendly, plan your trip outside peak seasons, and away from the main tourist areas.