Amazing Hotels to Stay at on Your Next Trip to Dubai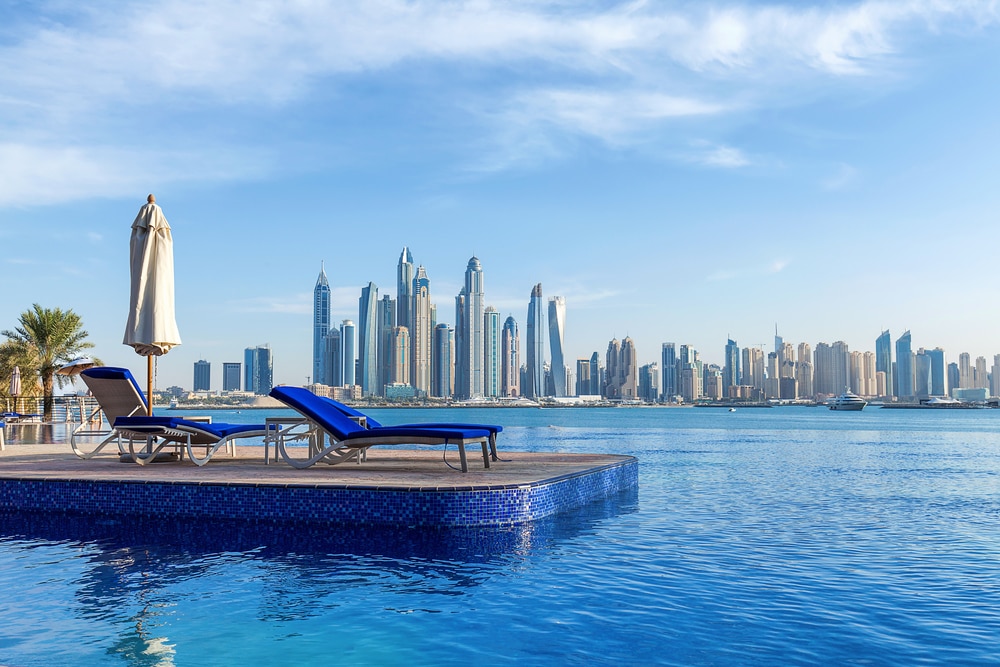 Photo by Cara-Foto/Shutterstock
Located on the eastern coast of the Arabian Peninsula is the young and glittering city of opulence and grandeur - Dubai. Small and modest are words that don't seem to exist here, almost everything is done and then outdone on such a grand and unfathomable scale, you can't help but leave this city feeling quite frankly - bedazzled. From 218-million-dollar fountains, a police fleet of Lamborghinis and Aston Martins, to a building so tall it required new methods of construction to be invented just to complete it. In Dubai if it isn't grand, then it just won't make the cut.

So if you're planning a trip here, expect to have to sift through a lineup of unbelievable hotels that will leave you just as astonished as finding out that a little over 30 years ago, this flashy metropolis was nothing more than a sandy desert. To get you started, and maybe save you a bit of time searching, here are six incredible hotels that we think are the very best of the best you can find in Dubai.
[x] close
Amazing Hotels to Stay at on Your Next Trip to Dubai:table of contents
One & Only The Palm
Located on the west crescent of the Palm Jumeirah, this stunning Andalusian inspired boutique hotel is the perfect place for anyone looking for privacy, luxury and some seriously incredible views of the city skyline. The hotel features four private beach villas, a private beach and 90 spectacular rooms and suites overlooking a large, palm fringed pool. The hotel is also home to a stylish lounge and bar overlooking the water, a Gueralin spa and an unforgettable dining experience made possible by three-Michelin-starred chef Yannick Alléno.
Address: West Crescent, Palm Jumeirah - Dubai
URL:https://www.oneandonlyresorts.com/one-and-only-the-palm-dubai
Anantara The Palm Dubai Resort
Stilted villas propped over the sea, private infinity pools overlooking sparkling blue lagoons and beautiful Thai-inspired rooms offering direct access to one of three massive pools on the property, this is the perfect resort to relax and let go of all your worries. With a prime location on the east crescent of the Palm Jumeirah, there's plenty to do in terms of water activities, and if you really want to just kick back, you can book a luxurious Thai or Hammam treatment at the highly rated hotel spa.
Address: East Crescent, Palm Jumeirah - Dubai
URL:https://www.anantara.com/en/palm-dubai
Al Maha Resort & Spa
Wake up after a night spent stargazing, step into your own private temperature-controlled infinity pool, and watch indigenous wildlife up close as you decide on whether you'll spend the day cruising over dunes, trying your hand at some falconry, horse riding, camel trekking, game driving through the Arabian desert or getting a rejuvenating spa treatment. This is what a typical morning looks like at the Al Maha Resort and Spa, a luxury desert hotel with 42 lavish and spacious suites designed to look like Bedouin tents.

Located just a 45 minute drive from the city, it's the perfect place for travelers that are tired of the typical beach, sun and cocktails, and want to try something new, different and truly unforgettable.
Address: Dubai Desert Conservation Reserve, Al Ain Rd - Dubai
URL:https://www.marriott.com/hotels/travel/dxbam-al-maha-a-luxury-collection-desert-resort-and-spa-dubai/
Atlantis The Palm
One of the most striking features of this award winning 5-star hotel, located at the apex of Palm Jumeirah, is its size. It's massive, basically a city of its own. Featuring 23 restaurants - including Gordon Ramsay's Bread Street Kitchen & Bar, an aquarium home to over 65,000 sea creatures, a 17 hectare attraction filled water park, a dolphin bay, beaches, pools and boutiques. There's just an endless amount of things to do: from thrilling water rides and swimming with dolphins to exclusive helicopter rides.

It's the perfect accommodation for travelers with children, or just anyone looking for a place where all their needs can be met in a single location. For a particularly memorable experience, consider booking one of the signature underwater suites that come with floor to ceiling windows giving you your own private view into the aquarium and its thousands of colorful inhabitants.
Address: Palm Jumeirah, Dubai
URL:https://www.atlantisthepalm.com/
Bab Al Shams Desert Resort & Spa
Modeled after a traditional Arabian fort, this rustic resort is the perfect base for anyone interested in an unforgettable desert getaway. Lush gardens, streams, fountains, narrow lanes and shady courtyards add to the tranquil and beautiful atmosphere of the resort. Along with a large pool overlooking the desert also adds its own stunning and relaxing touch. The rooms are contemporary, featuring large, plush beds, warm accents and Arabian decor, offering visitors picturesque views of either the desert or the courtyard.

In terms of leisure, there is quite a bit to do including eating at one of the award winning restaurants on site, getting a relaxing spa treatment, having drinks at the pool bar or watching the sun set in the desert from a stunning, Arabian style rooftop lounge.
Address: Al Qudra Road, Opposite Endurance City - Dubai
URL:https://www.babalshams.com/
Burj Al Arab Jumerirah
Often touted as the most luxurious hotel in the world, and occasionally as the word's first and only seven-star hotel, this iconic, billion-dollar, sail-shaped structure built on its very own island overlooking the sea takes luxury to a staggering new level. Guests arrive into this gold and marble world of decadence via either a chauffeur driven Rolls-Royce or helicopter.

The rooms are lavish and large - duplex at minimum, and even the lowest grade come with complete full-sized sets of his and her toiletries by Hermès. Every floor also has its own 24-hour butler service and the staff-to-suite ratio stands at an incredible 8:1. Then of course there are the over the top facilities: an award winning spa, exquisite restaurants, pools, gym and pretty much everything to make the high prices for a room here entirely worth it and even worth paying for again.
Address: Jumeirah St - Dubai
URL:https://www.jumeirah.com/en/hotels-resorts/dubai/burj-al-arab/
Conclusion
You don't have to entirely break the bank to have a good time in Dubai. Booking outside of peak season is a great way to get some awesome deals on even the best hotels in the emirate. That way you'll still have enough left to shop, eat and explore this fascinating desert city.