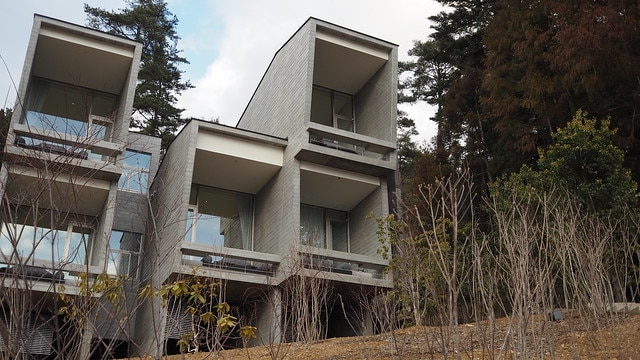 Photo by Hidetsugu Tonomura/Flickr
Innovative Hotels Around Tokyo for the Ultimate Unique Stay
For those who have traveled to Tokyo before, you've probably experienced the creative and electric pulse of the city which is made even more apparent through some of the unique styles of accommodation offered around the city. A combination of cutting-edge technology and innovative designs have helped ensure there will never be a shortage of fascinating options you can experience in the capital and here are some of our favorites.
table of contents
[x] close
Innovative Hotels Around Tokyo for the Ultimate Unique Stay
BnA Hotel Tokyo
Tokyo's Bed and Art Hotel is the latest hub for up and coming Japanese artists, traveling creatives and art lovers alike as one of the most creatively designed accommodation you can find in the city. The perfect blend of art and hospitality, BnA also has an ethical and social mission to support the sustainability of local artists. They work individually with talented artists to design and curate the rooms where a percentage of each stay in the rooms will directly go to the artists.

The first branch in Koenji saw instant success, prompting expansions with BnA Studio Akihabara and BnA Alter Museum Kyoto. The hotel's bar dubbed as the 'Front Desk' also regularly hold events frequented by contemporary artists to provide guests with a direct connection to Tokyo's underground art scene.
Address: 2 Chome-4-7 Koenjikita, Suginami City, Tokyo 166-0002
URL: https://www.bna-hotel.com/
Henn Na Hotel Tokyo
Recognized by the Guinness World Record as the world's first robot operated hotel, Henn Na Hotel which literally translates to 'weird' hotel offers you a one-of-a-kind experience that will leave visitors in awe. Japan has been long known as a forerunner in technology and here at the Hen Na Hotel all check-in procedures are conducted using facial recognition and robots. The innovative hotel chain has attracted guests from all around the world to experience this unique set up.
Address: 2 Chome-2-1 Tsukiji, Chuo City, Tokyo 104-0045
URL: https://www.hennnahotel.com/
Book and Bed Tokyo
For the bibliophiles among us, the 'Book and Bed Tokyo' chain might just be the answer to your dreams. A hybrid between a bookstore and a hostel, it provides overnight and day­time stays for book lovers. Guests are welcomed to enjoy a vast selection of books in the comfort of your own bed right within the heart of Tokyo. The relaxed atmosphere lets you to mingle with other bibliophiles or just catch some private reading time.
Address: 1 Chome−27−5 APM Building 8F, Kabukicho, Shinjuku City, Tokyo 160-0021
URL: http://bookandbedtokyo.com/en/index.html
Trunk Hotel Tokyo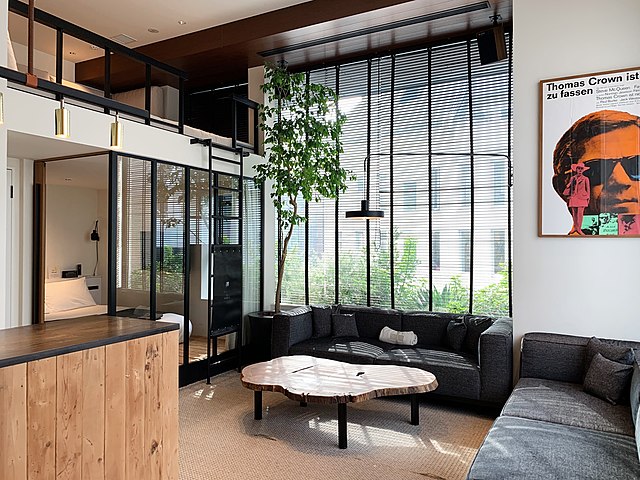 Photo by KENSINGTON PARK/Wikipedia
Situated in between two of Tokyo's fashion centers of Harajuku and Shibuya, Trunk Hotel is the prime hot spot for stylish travelers and residents of the city. The hotel goes beyond its remarkable architecture and interior, offering a one-stop destination where locals can gather, cultivate ideas and socialize. Trunk nurtures communities that are passionate in sustainability by supporting various environmental causes and at the same time constantly hosting some of the most entertaining parties that are always talk of the town.
Address: 5 Chome-31 Jingūmae, Shibuya City, Tokyo 150-0001
URL: https://trunk-hotel.com/
℃ Sleep + Sauna Tokyo
The capsule hotel popularity has seen a huge buzz worldwide, but it was Japan that was the original pioneers of this new wave of accommodation. Killing two birds with one stone, capsule hotels are efficient solutions for Tokyo's ever-reducing land while at the same time providing a one-of-a-kind experience for guests. Best of all they're super cheap. ℃ in Tokyo merges the essence of Japanese sentos (traditional bathhouses) with these modern sleeping pods and furnishing it with a sleek Finnish-style interior and sauna therapy, best suited for contemporary lifestyle seekers.
Address: 1-8-1 Ebisu, Shibuya City, Tokyo 150-0013
URL: https://do-c.jp/en/
Hoshinoya Fuji
Shying away from the hustle and bustle of the metropolitan, the Hoshinoya Fuji resort elevates highland glamping to a whole other level. The resort offers stunning views of the iconic Mount Fuji right from your own cubicle amidst the architecturally unique square-structured rooms. The minute you walk in the entrance of the hotel, you'll come to face with a wall of beautifully-decorated backpacks which are given to guests - fully equipped with a mountain climbing starter kit. Despite its steep price tag, a stay at the Hoshinoya is worth every penny.
Address: 1408 Oishi, Fujikawaguchiko, Minamitsuru District, Yamanashi 401-0305
URL: https://www.hoshinoresorts.com/en/resortsandhotels/hoshinoya/fuji.html
Shiki-Shima Train Hotel
Japan will always succeed in surprising you with innovative offerings in ways you'd never expect. One of the latest unique kinds of accommodation is a modern five-star hotel within a moving train. Japan Railways have launched the Shiki-Shima train suite that will embark on a luxurious journey around Eastern Japan for an extraordinary once-in-a-lifetime experience. The train has a total of 15 suites, a lounge and dining area and are accepting applications for April to June 2020 departures.
URL: https://www.jreast.co.jp/shiki-shima/en/
Conclusion
With the constant increase of tourists especially with the upcoming 2020 Olympics, visitors from across the globe are always on the lookout for accommodation for a stay in Tokyo. Rather than settling for regular cookie-cutter hotel rooms, now is the time to discover these up-and-coming places for the holiday of a lifetime.