Photo by Vladimir Sazonov/shutterstock
Russia: Must-see Destinations in the World's Largest Country
From the famous Moscow Kremlin, the breathtaking Catherine Palace and Park, to the impressive Cathedrals, here are some of the world's famous historical landmarks in Russia.
table of contents
[x] close
Russia: Must-see Destinations in the World's Largest Country
1. State Hermitage Museum (St. Petersburg)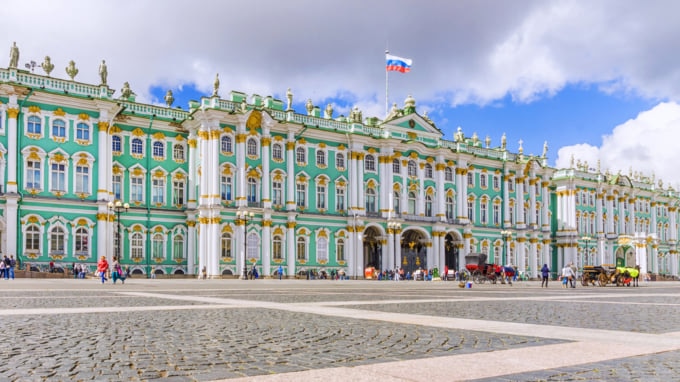 Photo by dimbar76/shutterstock
One of the largest museums in Russia and a remarkable structure, both inside and out. The museum was founded in 1764 by Empress Catherine the Great of Russia and now hosts over three million collections of paintings, classical antiquities, jewelry and decorative art as well as great works of art from Russia as well as Europe and Asia.
Name: State Hermitage Museum
Address:Palace Square, 2, St. Petersburg, Russia.
Related Site:http://www.hermitagemuseum.org/wps/portal/hermitage/?lng=ja
2. Red Square (Moscow)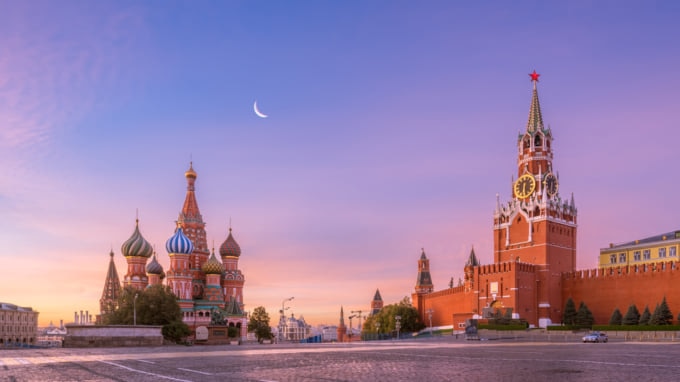 An expansive space adjacent the Kremlin, the seat of power for the government of Russia, the Red Square features a number of famous structures such as St. Basil's Cathedral, the State Historical Museum, and a mausoleum containing the embalmed body of revolutionary leader, Vladimir Lenin. For centuries, this destination has played host to many festivals, military displays and concerts in Russia.
Name:Red Square
Address:Red Square, Moscow, Russia, 109012
3. Church of the Savior on Spilled Blood (St. Petersburg)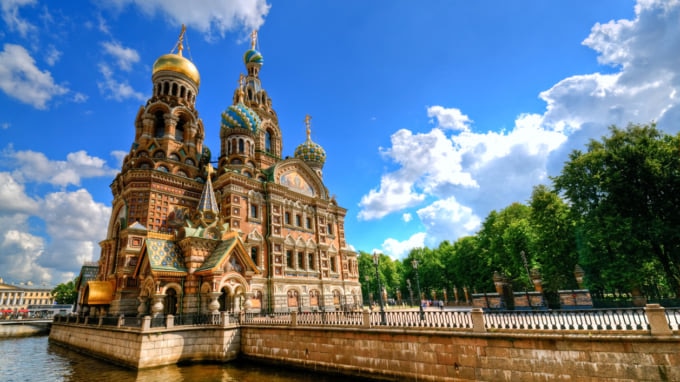 The Church of the Savior on Spilled Blood is one of the most eye-catching and iconic sites in Russia with its many vibrant colors and onion-shaped domes. The church is built on the exact spot where Emperor Alexander II of Russia was fatally wounded by political nihilists and features around 7500 sq. ft. of highly-detailed mosaic decorations, designed by talented Russian artists, on its walls and ceilings. Don't miss seeing the ornate shrine and large icon of St. Alexander Nevsky found inside the church.
Name:Church of the Savior on Spilled Blood
Address:Griboedova channel embankment, 2b, Saint-Petersburg, Russia, 191186
Related Site:http://eng.cathedral.ru/
4. Bolshoi Theater (Moscow)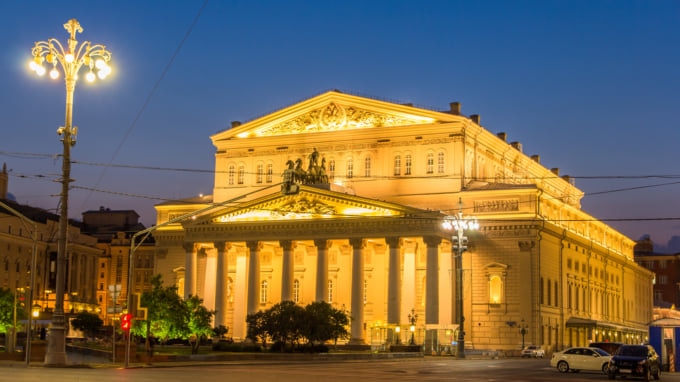 Photo by Leonid Andronov/shutterstock
A symbol of the classical architecture of Russia, this theater has contributed greatly to the history of performing arts in Russia. It's considered one of most technically equipped theater buildings in Russia and in the world too. The Bolshoi theater, with its proud traditions and serene atmosphere, should be an essential part of your tour in Russia.
Name:Bolshoi Theatre
Address:1, Teatralnaya Ploshad, Moscow, 103009, Russia
Related Site:https://www.bolshoi.ru/
5. Catherine Palace and Park (St. Petersburg)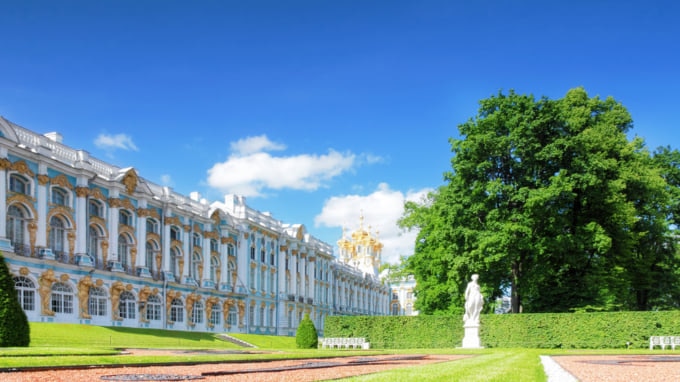 Photo by Brian Kinney/shutterstock
The Catherine Palace and park, which is located 25 kilometers south of St. Petersburg, is a set of remarkable buildings that feature the stunning Russian Baroque architectural style. Make sure to check out the incredible Amber chamber, a richly decorated luxurious room of the Tsar, decorated using thousands of shards of amber. There's also a park adjacent to the palace that has several amenities including a charming cafe. Catherine's Palace is open from noon, throughout the week except Tuesdays.
Name:Catherine Palace and Park
Address:7 Sadovaya Street, Pushkin, St Petersburg, 196601, Russia
Related Site:http://www.tzar.ru/
6. The State Tretyakov Gallery (Moscow)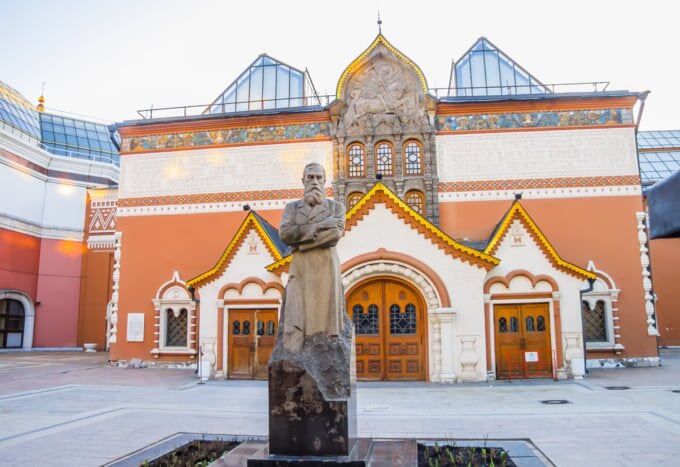 Photo by alexeyart/shutterstock
The State Tretyakov Gallery in Moscow is one of the largest and most important museums in Russia. Its history dates back to when one of the founders, Pavel Tretyakov's, purchased the Skirmish with Finnish Smugglers painting and has now grown to display over 100,000 art collections including paintings, icons, graphics, and sculptures, which mostly reflect the 19th century history of Russia. Apart from the thousands of collections, there's also a museum shop, lecture hall, and museum café.
Name:The State Tretyakov Gallery
Address:Lavrushinsky Ln, 10, Moscow, Russia, 119017
Related Site:http://www.tretyakovgallery.ru/
7. Moscow Kremlin (Moscow)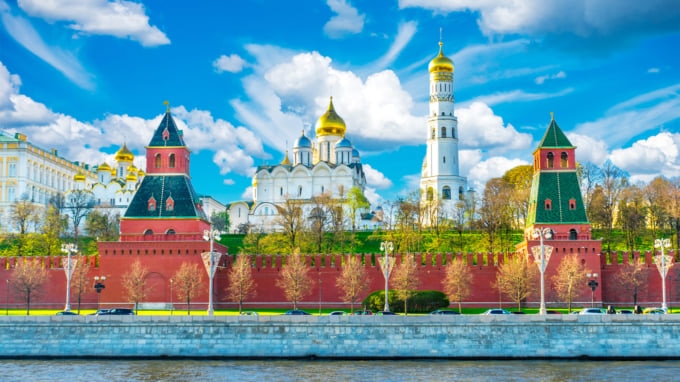 The Kremlin in Moscow, is a fortified complex that dates to hundreds of years ago and currently acts as the seat of the Russian Government and home to the President of Russia. The buildings feature a range of incredible architectural styles and hosts one of the largest and most enigmatic museums both in Russia and in the world. It's the perfect place to begin your tour of Russia and expect to be wowed by the many defensive towers along its peripheral with their distinctive features and place in history. The Savior's Tower acts as the main entrance to the Kremlin and is famous for its historic chiming clock.
Name:Moscow Kremlin
Address:Moscow, Russia, 103073
Related Site:https://www.kreml.ru/en-Us/museums-moscow-kremlin/
8. St. Sophia Cathedral (Veliky Novgorod)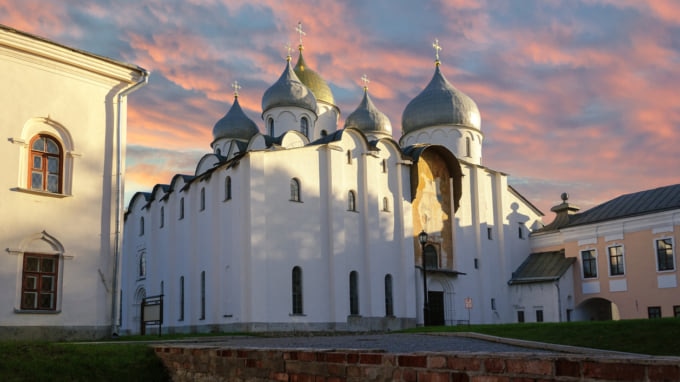 St. Sophia Cathedral is another famous destination located in Veliky Novgorod and is one of the oldest stone buildings in Russia. This magnificent cathedral is a five-domed structure that once hosted the Novgorod's treasury during the medieval times. It also acted as the ceremonial and spiritual center for Russia for many years as well as the burial site for the Novgorod Princes. Inside the cathedral are icons of The Holy Mother of Tikhvin and The Savior Enthroned which are believed to hold miraculous powers.
Name:St. Sophia Cathedral
Address:Kremlevskiy Bridge, Veliky Novgorod, Novgorodskaya oblast', Russia
Related Site:http://novgorodmuseum.ru/#
9. St. Basil's Cathedral (Moscow)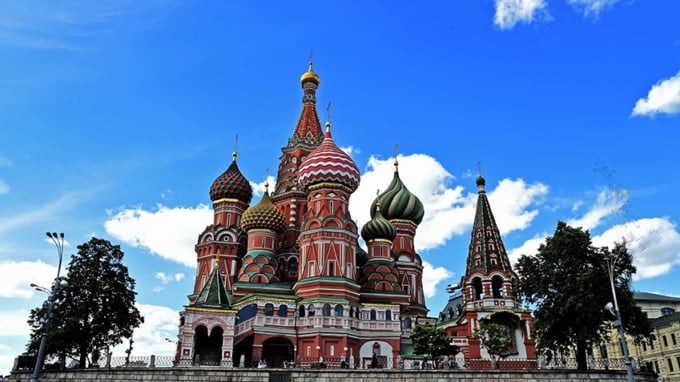 One of the most incredible and unique of any buildings found around the world, St. Basil's Cathedral was constructed under orders from Ivan the Terrible to acts as a symbol of the capture of Kazan from Mongol forces in 1552. The cathedral really is beautiful with its multi-colored and patterned onion-shaped domes, a hip-roofed bell tower, the narrow, winding gallery and a unique wooden spiral staircase.
Name:St. Basil's Cathedral
Address:Red Square, Moskva, Russia, 109012
10. Vorobyovy Gory (Moscow)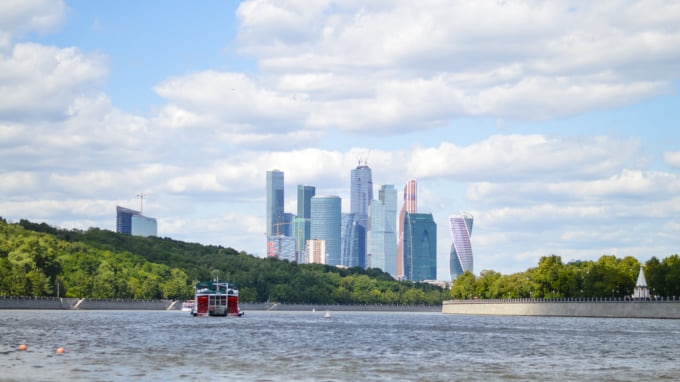 Photo by Shooreeq/shutterstock
Vorobyovy Gory, also known as Sparrow Hills, is famous for its unique flora and fauna and is located on the banks of the Moscow River. The park has a viewing platform that offers a panoramic view of Moscow's wonderful skyline filled with modern skyscrapers, the Moscow River and the famous Luzhniki Stadium.
Name:Vorobyovy Gory
Address:Luzhniki embankment, Moskva, Russia, 119270
Conclusion
With a vast range of incredible historical landmarks and architecture dotted around its magnificent cities, Russia has a unique splendor and culture you won't find anywhere else in the world.