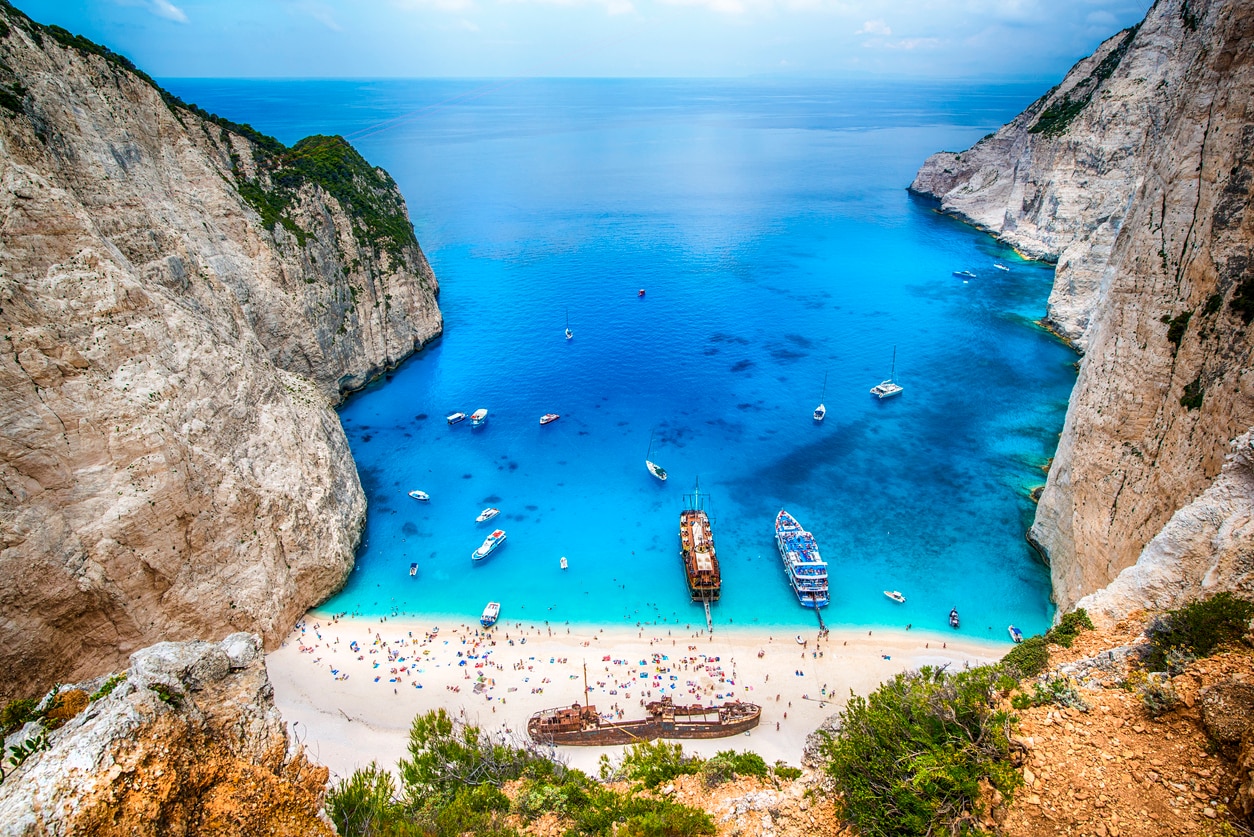 9 Beautiful Greek Islands You Need To Visit
White-sand beaches with clear, refreshing water, a rich nature, breathtaking sunsets and picturesque scenery… We're talking about the picture-perfect islands of Greece that never fail to please even the most particular of travelers! Compiling a list of the most beautiful ones has not been an easy task, but we tried to include something for every taste. Without further ado, here are nine beautiful Greek islands you need to visit this summer.
table of contents
[x] close
9 Beautiful Greek Islands You Need To Visit
Crete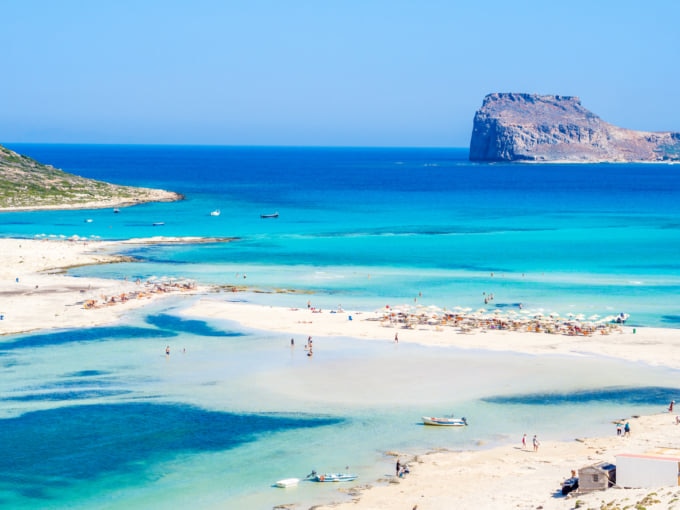 Crete is the biggest of the Greek islands, perfect for a long vacation to explore its abundant beauty. Here you'll find all kinds of stunning beaches. Shallow, crystal-clear waters with pink sand, deep green sea and rocky scenery with secluded bays. You name it, Crete has it. The island is also famous for its delicious cuisine, which is a forerunner of the Mediterranean diet. The nightlife of Crete is vibrant too, with bars and restaurants for every taste.

Feeling adventurous? Then go on an amazing, all-day excursion through Samaria gorge to admire the wild nature and the famous Cretan goat called the cri cri. Locals here are known for their lively spirit and hospitality. When they offer you the local drink "raki" after your dinner at the local restaurant, know that they won't take no for an answer!
Naxos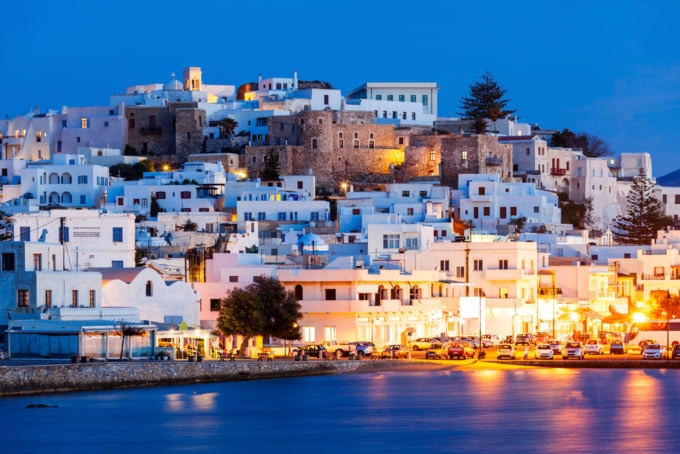 The family destination, this island welcomes you with its impressive marble gate and a glimpse over the high mountains and lavish green valleys. Enjoy the beautiful hiking and climbing routes and pay a visit to the traditional villages, monasteries and well-preserved Venetian towers. The beaches of Naxos offer an invigorating swimming experience. Imagine immersing yourself in the beautiful perfectly-clean, fresh blue waters. But we're not done yet. Naxos is also a culinary wonderland, best known and loved for its cheese, olive oil, potatoes and wine.

Santorini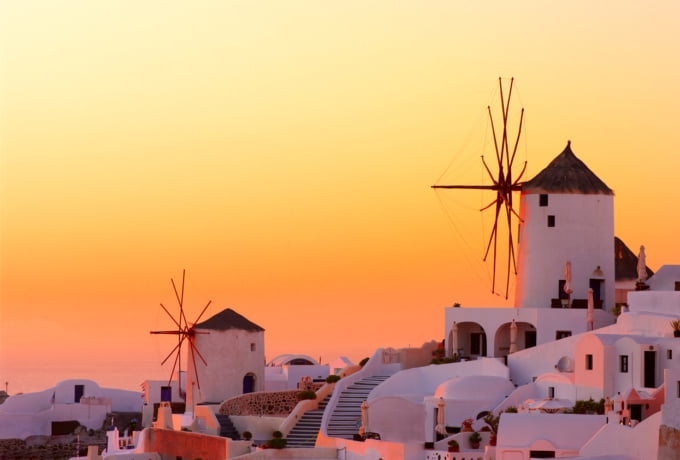 The most romantic island in Greece Santorini is a popular destination for couples and newly-weds. The island is best known for its spectacular sunset, a picture that stays with you forever. You'll find yourself wandering for hours around the whitewashed houses and precious pathways of Caldera before you make your way up to enjoy the panoramic view and the sun sinking into the deep blue Aegean Sea. The beaches of Santorini have a unique, rugged character – the result of multiple volcano eruptions. Expect no sand here, but black, white, and red pebbles. Before you go, don't forget to try the world-famous local wine, Assyrtiko.
Mykonos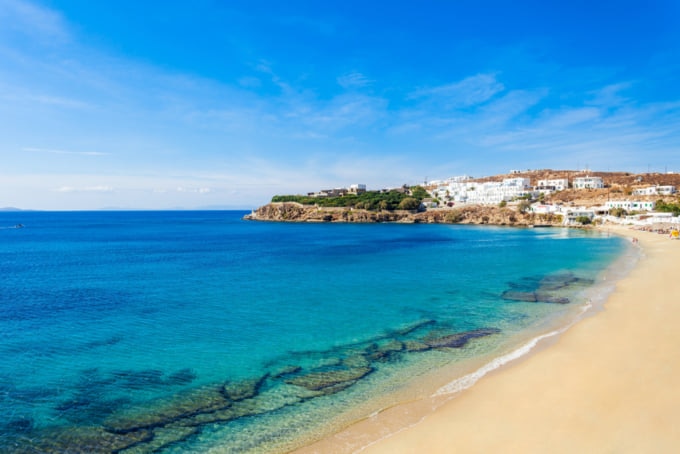 The island of the winds is famous for attracting Greek celebrities, its beautiful waters, as well as an intense nightlife and dynamic beach parties. Mykonos is equally great for relaxation though, as it's full of tranquil cobble-stoned alleys, lovely quaint churches, and lesser-known beaches waiting for you to explore. The capital is known for its luxurious restaurants, bars, and designer shops, all of which are built following the traditional Cycladic architecture in white and blue. Plus, thanks to the strong winds surrounding the island, Mykonos is also the favorite destination of windsurfing and sailing lovers.

Milos
Photo by Georgios Tsichlis/Shutterstock
Another romantic destination, Milos is ideal for couples who want to spend a few days enjoying nothing but the sun and great food. Make sure you take a boat tour to visit beaches that can't be reached by car. Like Kleftiko, a gorgeous beach that seems to appear out of nowhere with imposing stones rising from its green-blue waters.

Kefalonia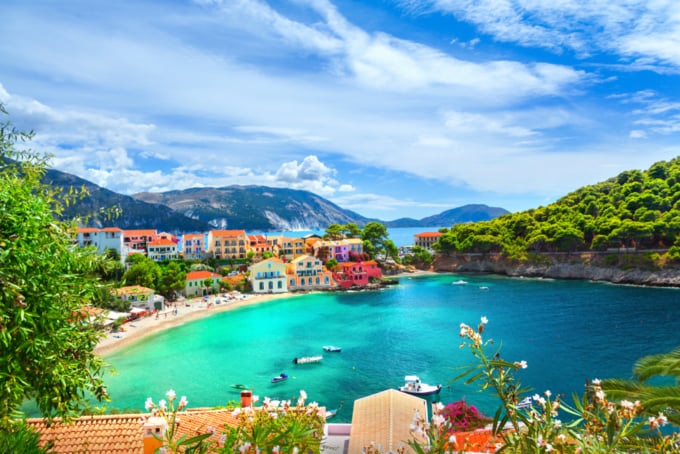 Kefalonia is best suited for long vacations, as one of the biggest Greek islands. Relax on one of its numerous beaches surrounded by green nature and admire the traditional Venetian mansions that can be found across the island. It's also worth seeking the impressive Myrtos beach with its deep, turquoise waters and white pebbles. Along with the cavern lake of Melissani. Here, a part of the roof has collapsed, letting the sun slip in and magically reflect its rays on the light blue water. It's a fairy-tale sight well worth traveling there to see. If you're lucky, you might also see the local philharmonic orchestra walking through the streets playing traditional songs. They're often performing on the streets, and are an absolute delight to watch and listen to.
Paros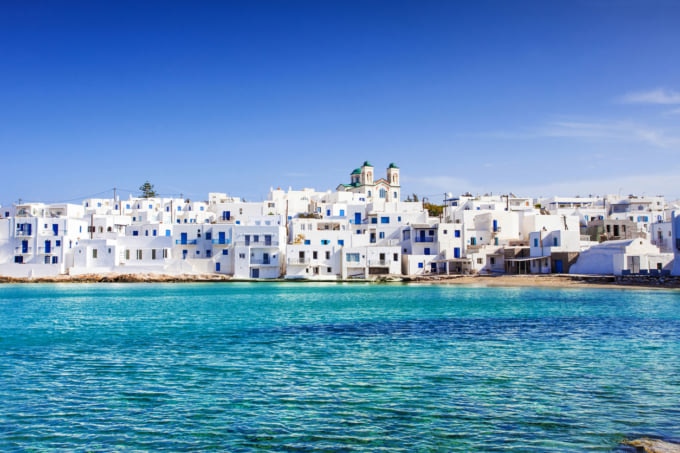 Paros is an island famous both for its nightlife along with religious festivals and celebrations, especially during Easter and August. In the capital stands an impressive Venetian castle with an amazing view. All around the island you'll find traditional whitewashed houses and churches, as well as many small villages, beaches suitable for windsurfing, and a spa. Kalogeros beach is famous for its clay, so feel free to give yourself a little beauty treatment, compliments of the island!
Koufonisia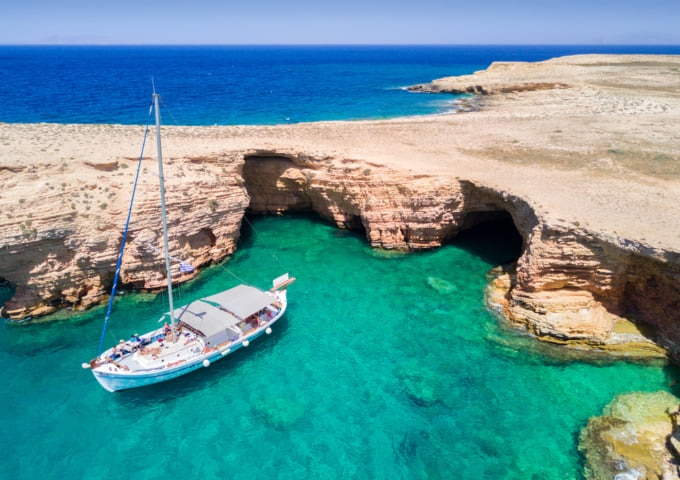 Photo by Sven Hansche/Shutterstock
The perfect place to relax and leave everything behind, Koufonisia is a group of two islets, only one of which is populated. Forget about renting a car here. Everything is within walking distance or a short bike ride away. The beaches of this island are a marvel, some of them forming little pools of turquoise waters. If you want to see more of the surrounding beauty, hop on an excursion boat to visit the nearby islets.
Ikaria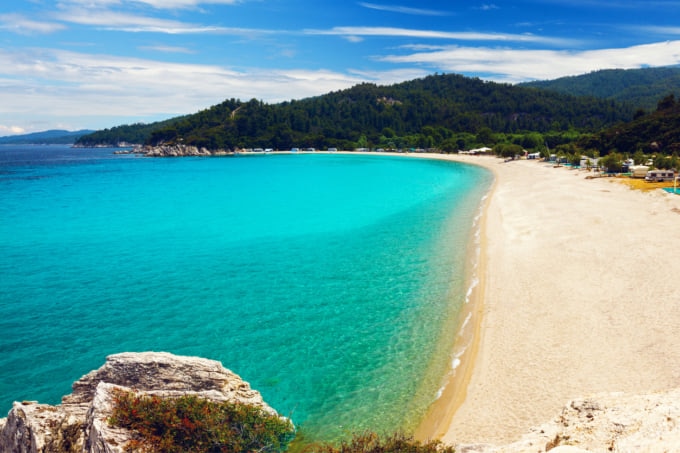 Another Greek island where you can completely let everything go and relax to the max. Ikarians are chilled-out and sociable folk, which is one of the reasons why they notoriously live well into their 90s. Follow their lead and relax in the thermal springs and exotic beaches and enjoy fresh seafood at the local taverns. The best month to visit Ikaria is in August, when several festivals of traditional music and dances are held.
Conclusion
Which one sounds like your favorite? Don't think too hard about it however, because the truth is that whichever Greek island you choose to visit, you'll have one of the best summer vacations of your life.