The Best Places to See the Great Wall of China, Without the Crowds
China
Jul 1, 2019
135 views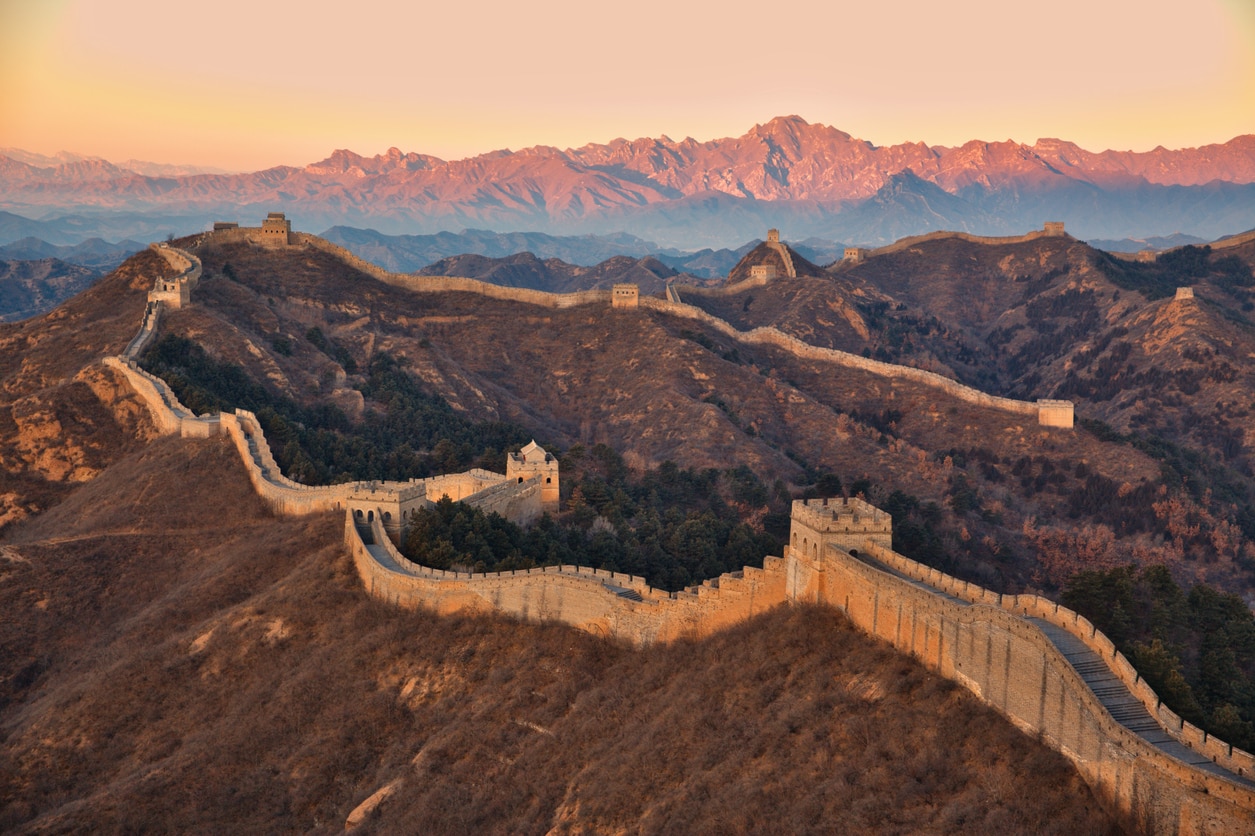 Without a doubt, this incredible historical masterpiece is one of mankind's greatest achievements. Snaking across most of northern China, the Great Wall of China was built over several dynasties to protect its land from invaders to the north. The stretch of wall built during the Ming Dynasty alone travels 8851 kilometers across the country, with all the walls combined estimated to reach over 21,000 kilometers.

Being such a popular site to see among both foreign visitors and people inside China, it's no surprise that visiting the Great Wall can often be a tedious affair, waiting in queues and stuck behind a thousand over people as you slowly clamber over a small section of the great monument. The closest section of the wall, Badaling is generally crowded all throughout the year and almost unbearably during Chinese holidays. However there are other sections that are just as beautiful.
[x] close
The Best Places to See the Great Wall of China, Without the Crowds:table of contents
Mutianyu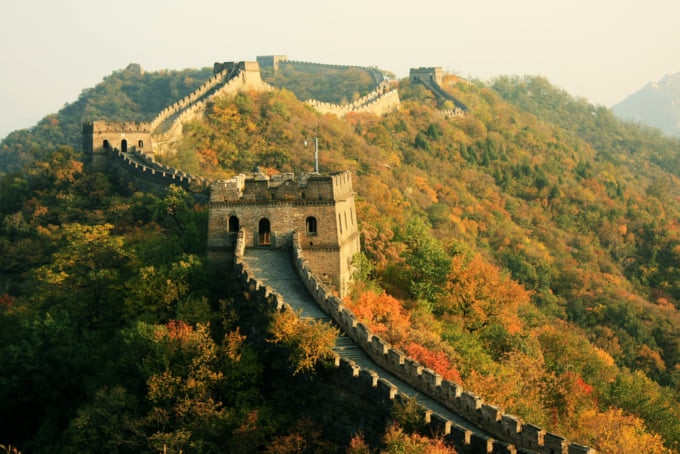 Photo by Mikhail Semenov/Shutterstock
While Mutianyu is slightly further away, with no direct train access, the lack of crowds compared to Badaling make the extra time spent well worth it. During the local holidays it can get a little more crowded but nothing compared to Badaling. Both of these sections of wall have been restored making it easy to walk along, with Muyutian having the longest stretch of renovated wall. You can get there in under two hours from Beijing by a direct tourist bus or rent a driver to take you there and back.
Simatai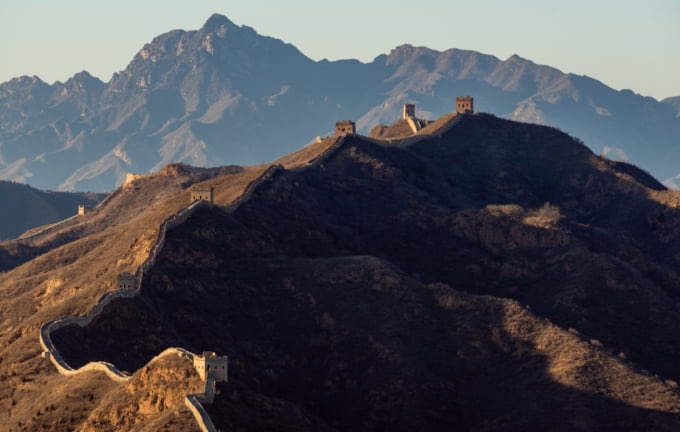 Photo by Intarapong/Shutterstock
Slightly further out of the city than Mutianyu, Simatai sees even less tourists visiting this rustic section of the wall. Simatai's draw is in its authentic, un-restored parts which allows you to witness this piece of history in its original ancient glory. The section of the Great Wall at Simatai actually has parts restored too, allowing you to see it in both styles. It's also close to Gubeikou, one of the most important passes of the wall that travelers would pass through when heading southwards to Beijing.

Unlike the other sections Simatai also allows for a night tour of the wall, where visitors can watch the sunset with incredible views over the surrounding area and flickering lights of adjacent towns.
Jiankou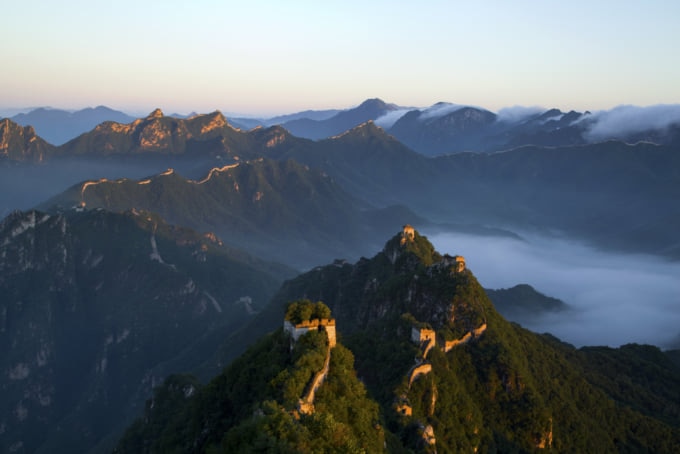 For those who want a wild, untouched version of the Great Wall, Jiankou is the perfect place to head to. Not for the faint-hearted, this area requires some serious hiking up crumbling ruins and overgrown flora as much of the ancient structure has been claimed back by nature. It's great for satisfying the inner adventurer however, giving you the feeling of discovering a long-abandoned structure to yourself. It's also not too far from Mutianyu and seeing both sections can be done in a day trip from the city.
Huanghuacheng
A hot spot among budding photographers, the Huanghuacheng section is known for its lakeside setting which makes it a picturesque alternative to the other parts. Often called the 'water wall' Huanghuacheng features both restored and untouched lengths of wall, with some parts being submerged in the reservoir that surrounds it. Apart from just climbing and admiring the ancient ruins, you can also view the wall from a boat trip around the lake.
Shanhaiguan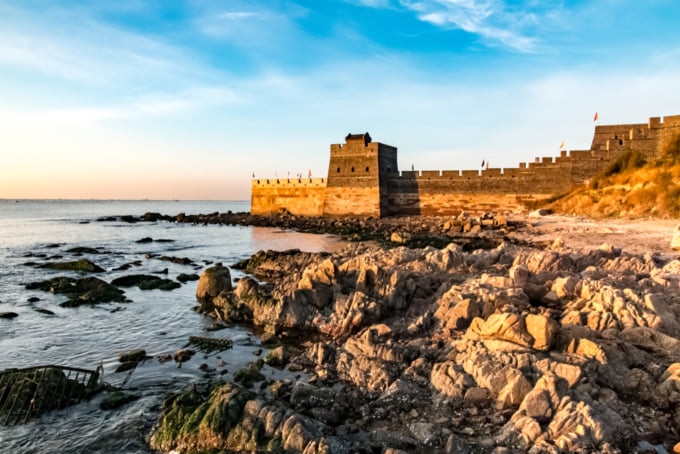 Photo by HelloRF Zcool/Shutterstock
If you've seen the stretches of the great wall passing through the mountains around Beijing, or are just looking for something different to do, then consider checking out the Shanhai Pass. This gateway through the wall is the point where this ancient structure meets the sea just outside the coastal city of Qinghuangdao. It takes a few hours by bullet train to get there from Beijing, however they're plenty of things to do there.
Conclusion
If you're really short on time, Badaling is still worth seeing and can sometimes not be so crowded if you visit during the week. It's probably not a good idea to head there during national holiday periods such as Chinese New Year and the week long vacation in October, the crowds will just be too much. If you can manage to spare a day trip to see this beautiful ancient structure, which is highly recommended, then pick from those above, depending on what your priorities are.