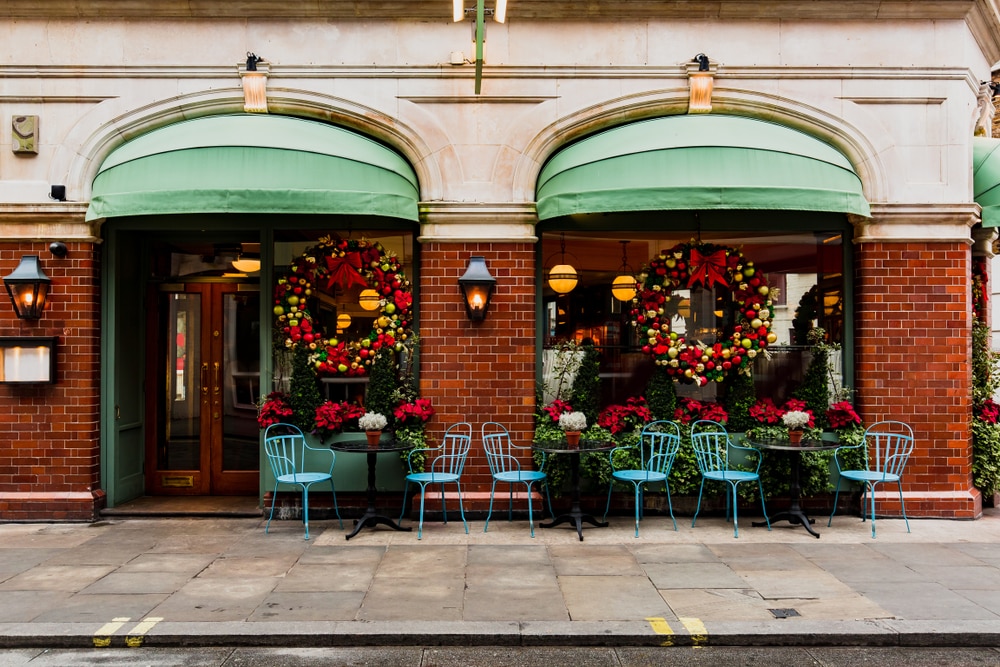 Photo by Bubble_Tea Stock/Shutterstock
Eat Your Way Around London With These 10 Amazing Restaurants
From its modern inception, London has harbored an eclectic food scene that has continued to evolve over the years. Its exponential growth as a world city has encouraged a multicultural community, transforming London's food scene into an exciting melting pot of cuisines from all over the world.

Whether you are looking for true British cuisine in a high-end restaurant or a meal of fusion Asian surprises for a reasonable price, you will find it here. Have a read of the restaurants we deem worthy of a visit, including some old-time classics as well as others that are promising big things in the future of London's food scene.
table of contents
[x] close
Eat Your Way Around London With These 10 Amazing Restaurants
St John's Bread and Wine, Shoreditch
A pioneer of the 'nose to tail' movement in London, St John's Bread and Wine is the second of Fergus Henderson's establishments in London. Two decades after opening his first restaurant, Henderson continues to redefine classic British cuisine. Hidden amongst the spectacular Welsh rarebit and suckling roast pig on the menu are more unexpected items such as deviled kidney and foie gras on sourdough toast. With a delectable twice-daily changing menu on offer and an equally as intriguing wine selection to accompany your meal, this will not be your only visit to St John's Bread and Wine.
Address: 94-96 Commercial St, Spitalfields, London E1 6LZ
The Wolseley, Piccadilly
If there is one restaurant to visit in London that provides a quintessentially British feeling, it's The Wolseley. The Wolseley opened its doors in 2003, in a bid to mimic the grand cafes seen around Europe. And, it certainly has succeeded. Walk through the double-fronted glass doors, along the immaculate geometric tiling before taking a seat in the spacious dining room, sectioned off by striking black marble pillars and elaborate chandeliers. The menu seems simple, but each and every dish is marked with an air of high-class finesse; try the caviar-laced omelette or fresh oysters for a truly decadent experience.
Address: 160 Piccadilly, St. James's, London W1J 9EB
Hoppers, Soho
Frith Street in Soho has long been the go-to street for a guaranteed tasty morsel in London. With a series of hole-in-the-wall establishments, many of which don't take bookings, you are guaranteed to find a reasonably priced meal here. One restaurant that stands out above the rest on Frith Street is Hoppers, a Sri-Lankan inspired eatery that delivers some of the best hoppers (a flaky savory pancake) you'll find outside of the country. Choose a selection of spicy curries, and chutneys to accompany your hopper and you are in for a treat. Don't forget to order their spin on a Mango Lassi, a Cold Brew Cooler, as their curries can be unforgivingly spicy.
Address: 49 Frith St, Soho, London W1D 4SG
Bao, Fitzrovia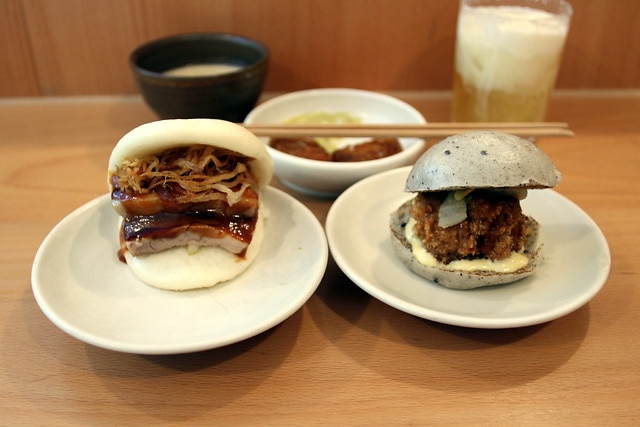 This up and coming Taiwanese restaurant has just opened its third branch in London and now has restaurants in Soho, Fitzrovia and Borough. Focusing on Taiwanese cuisine, Bao is most famous for its fluffy steamed buns, stuffed with pulled pork or fried chicken and topped with a spicy mayo or powdered peanuts. Couple these steamed buns with a plate of their xo sweet corn or oyster mushrooms and you have yourself a taste sensation. All three sites share a similar menu, however, nothing can beat the menu at its original site in Soho. Either go at an obscure time to get a table straight away or be prepared to queue for an hour or so.
Address: 31 Windmill St, Fitzrovia, London W1T 2JN
Honey & Co, Fitzrovia
Starting their careers working for Yotam Ottolenghi, the couple behind Honey & Co, have built up a vibrant café, deli and restaurant group serving delicious Middle Eastern dishes. Visit for breakfast to enjoy an Israeli-inspired mezze including your choice of spiced eggs, toasted almond granola, exotic fruit jams, tahini-filled humus and some freshly baked pittas alongside. If you don't need of a full-blown meal, pop into their deli just across the road to try one of their incredible homemade cakes. Served on ornate tiles, that match the quaint ambiance of the café, the pistachio and plum cake is a real crowd-pleaser.
Address: 25 Warren St, Fitzrovia, London W1T 5LZ
Sketch, Mayfair
We've all seen the pictures on Instagram of the elaborate dining room with its scalloped chairs, mural plastered walls and carpets adorned in pink, pink and more pink. Or, maybe you've seen the futuristic toilets, housed in large egg shaped domes. These picturesque rooms belong to Sketch, a quirky, 18th-century tearoom. Most people visit Sketch to indulge in its afternoon tea, which comes with unlimited finger sandwiches, carefully decorated pastries, and your choice of loose-leaf tea. Alternatively, visit for dinner for a table in their jungle-themed room, an equally as whimsical experience.
Address: 9 Conduit St, Mayfair, London W1S 2XG
Blacklock, Shoreditch
Back in the day London's streets were full of chophouses. Punters would pick their cut of meat from the counter, and, moments later, it would appear on their table, cooked to absolute perfection. Blacklock is what you would call a modern chophouse. With three different locations spread across London, Blacklock serves up some of the best dry-aged, grass-fed meat that you can buy in England, resulting in the most delicious and tender cuts. Head here in the week for a selection of chops served with dripping-fries and the silkiest of gravy. Even better, book a table on Sunday to experience one of the best Sunday Roasts in London, and quite possibly, the whole of the UK.
Address: 28-30 Rivington St, Hackney, London EC2A 3DZ
Dishoom
Britain's love affair with Indian cuisine has been well underway for around 200 years. It is no surprise then, that Dishoom has proved a popular haunt amongst Brits since its inception in 2010. Stepping into one of Dishoom's restaurants, with open tandoor ovens and a lingering smell of delicately spiced chai, will instantly take you to the streets of Bombay. In the evening, their well-balanced curries and marinated lamb chops are a hit, whilst early risers can take advantage of the fusion breakfast menu. Dishoom's take on a bacon roll, the bacon naan, comes complete with soft cream cheese, spicy chili jam and fresh coriander, and is the miracle combination that put Dishoom on the map.
Address: 7 Boundary Street, London E2 7JE
Claude Bosi at Bibendum, Chelsea
Opened thirty years ago by the design icon, Terence Conran, Bibendum has securely planted itself as a culinary institution in London. Located in Chelsea and awarded two Michelin stars, dining here does come at a price. However, the French fine-dining cuisine, top-notch service and stunning surroundings you receive here are well worth the hefty price tag. For the best value for money and a truly unique experience, opt for the six-course tasting menu, which celebrates the best this institution has to offer. The menu changes regularly, but you can expect to be eating anything from veal sweetbreads with a sweet black garlic glaze to Cornish cock crab served with juicy peaches.
Address: Michelin House, 81 Fulham Rd, London SW3 6RD
Kiln, Soho
Serving the best of Thai food, cooked in clay pots over an open coal fire, Kiln is one of those Soho establishments that you, undoubtedly, will have to queue for. With a wide selection of meat and fish-based sour curries, as well as surprisingly tasty, salty vegetable dishes, make sure to ask you waiters for recommendations to ensure a balanced banquet. Fresh fish is bought in daily, and the Thai vegetables and herbs are grown especially for Kiln in a farm in Cornwall. Forget the pad Thai and green curries, this is where you will find an authentic taste of Thailand.
Address: 58 Brewer St, Soho, London W1F 9TL
Conclusion
London's food scene remains an exciting place, with new restaurants constantly battling to become to new 'go-to' eatery. This list is barely exhaustive of the restaurants that London has to offer, but it is a great place to start your culinary adventure in the capital.