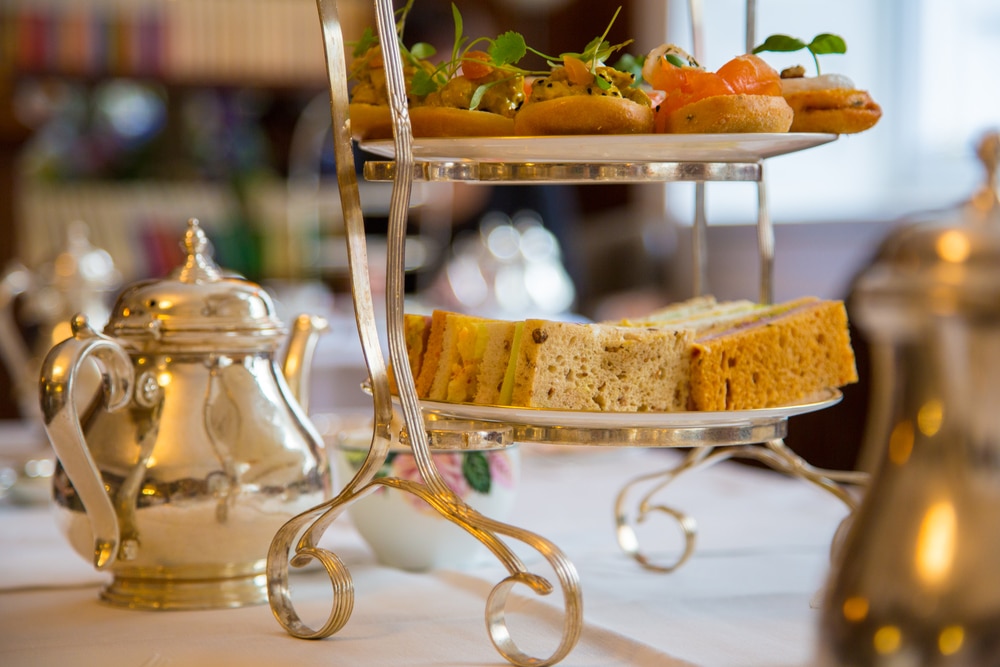 Photo by Ingus Kruklitis/Shutterstock
The Best Places For Afternoon Tea In London
Afternoon tea is a British phenomenon that has truly stood the test of time. Popular among the high society in the mid-19th century, afternoon tea has always been considered a true luxury. Today, London is blessed with an eclectic mix of hotels and restaurants offering the finest afternoon teas in England. Whether you are searching for the traditional offering of scones and jam, or something that defies the boundaries of a classic afternoon tea, you'll surely find it in the capital.
table of contents
[x] close
The Best Places For Afternoon Tea In London
The Savoy, The Strand
Housed in the world-famous Savoy Hotel, those opting for afternoon tea here will be seated in the Thames Foyer, a room filled with grandeur and topped with a striking glass dome. No expense is spared when it comes to afternoon tea at The Savoy, where each table is laid with a matching set of bone china and polished silver cutlery. Combined with the majestic hum of the grand piano in the background this is sure to be a high-society experience. Serving afternoon tea since 1889, expect picture-perfect finger sandwiches and flawlessly fluffy English muffins.
Address: 2 Savoy Ct, Strand, London WC2R 0EZ
London Bus, Covent Garden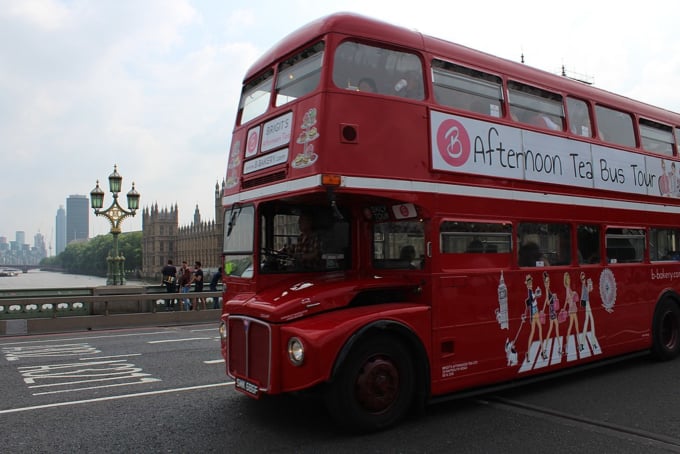 The people behind Covent Garden's B Bakery have taken afternoon tea up a notch, offering visitors the most unique experience on a classic London bus. After all, you can't possibly get more British than afternoon tea on a big red bus whilst perusing some of London's most famous landmarks. With two buses leaving daily from Trafalgar Square, visitors can step into a retro 1960s Routemaster that has been decked out with vintage decorations. Sip on loose-leaf tea, nibble on dainty lemon meringue pies and watch as Buckingham Palace, Big Ben and the London Eye whiz past your window.
Address: 6-7 Chandos Pl, Covent Garden, London WC2N 4HU
Sketch, Mayfair
Easily winning the award for the quirkiest afternoon tea in London, a visit to Sketch should not be missed on your tour around London – although you will need to book in advance, as this place is outrageously popular. Donned with a pale pink hue and hundreds of David Shrigley illustrations, afternoon tea-ers can take a seat in the famous Gallery Room. Choose from the huge array of loose leaf teas and wait for your three-tiered stand to appear, laced with egg truffle puffs, smoked salmon sandwiches and shot glasses of indulgent cheesecake. Don't be afraid to ask for top-ups of the savory items as these come included in the price.
Address: 9 Conduit St, Mayfair, London W1S 2XG
Mr Fogg's, Mayfair
As a newcomer to the high tea scene, Mr Fogg's has certainly earned its title as the best boozy afternoon tea in the capital. Originally opened as a Victorian gin house, Mr Fogg's is cladded out with mahogany bar tops, floral armchairs and emerald walls, all so reminiscent of the Victorian Era. Their afternoon tea of dainty cucumber sandwiches, just-out-the-oven scones and tandoori naan bites are delicious, but the true winning factor at Mr Fogg's is the bottomless gin and champagne tea. Once you've had it, you'll never want to an afternoon without it.
Address: 15 Bruton Ln, Mayfair, London W1J 6JD
Farmacy, Chelsea
Keeping up with the latest vegan trends is Farmacy, a plant-based eatery located in London's west end. As well as planting its self firmly in the plant-based foods niche, Farmacy is one of the first eateries in London to offer up a selection of health-boosting, CBD infused treats. Arguably, the afternoon tea here, served on a three-tiered platter and adorned with foliage, is one of the prettiest in London. Expect anything from smoked carrot and chickpea blinis to a pulled jackfruit taco. Don't be put off by its trend-following menu, the food here is excellent and even rivals some of the more established venues in London.
Address: 74-76 Westbourne Grove, London W2 5SH
The Orangery, Kensington
Despite its grand setting, The Orangery in Kensington is one of the more reasonably priced afternoon teas in London. Located in the tea-house of Kensington Palace, this afternoon tea is not just a culinary delight but is also cloaked with a rich British history. Work up an appetite with a stroll through the immaculate gardens, taking in the breath-taking views and tranquil surroundings that you so often struggle to find in London. True to its name, the tearoom is decorated with rows of orange trees and, amid the traditional offerings, is a choice of orange-based pastries, teas and jams to accompany your afternoon tea.
Address: Kensington Palace, Kensington Gardens, London W8 4PX
Momo, Mayfair
Hidden behind the busy roads of Regent Street is the Moroccan-inspired, Momo. Offering a twist on the traditional English afternoon tea, Momo fills its cake stands with date scones, spiced hummus pitas and smoky tomato aubergine bites. This beautifully presented high tea is best paired with the fresh mint tea on offer, poured from a height so to maximize its flavor. Enjoy these Moroccan treats surrounded by intricately carved wooden decorations, embellished fabrics and flints of gold throughout the room, a true Moroccan experience.
Address: 23 - 25 Heddon St, Mayfair, London W1B 4BH
The Ned
Walking into The Ned is an experience in itself. A former banking hall, the high-ceiling-ed gallery, marble pillars, and wooden cladding certainly do add an air of grandeur to this afternoon tea experience. Millie's Lounge is tucked away among other restaurants in the hall and serves afternoon tea each and every day. Waitresses wearing old-fashioned tea-maid outfits serving tea from the finest floral crockery will lead you there. Items served here are of the traditional kind, so expect ham and mustard finger sandwiches as well as the lightest Victoria sponge cake.
Address: 27 Poultry, London EC2R 8AJ
Dominique Ansel Bakery, Pimlico
Making his debut in London in 2016, the world-famous pâtissière, Dominque Ansel, has been cooking up a storm ever since. Known for his popular invention of the cronut, a perfect hybrid between a doughnut and croissant, Ansel has also worked his culinary magic on the traditional English high tea. His contemporary take on afternoon tea includes a choux bun filled with apple, crab and celery, steak tartare stuffed parcels and the world-famous frozen s'more. All this innovation comes at a price, but the unique culinary journey it takes you on is worth every penny.
Address: 17-21 Elizabeth St, Belgravia, London SW1W 9RP
Cutter and Squidge, Soho
Living up to its amusing name, Cutter and Squidge is an independent bakery determined to deliver unique and memorable afternoon tea experiences. The playful bakery first became a contender for one of the best afternoons teas in London when they launched their madly popular Hello Kitty themed High Tea. Nowadays, they have an annual rotation of themed afternoon teas, the current theme being The Potion Room. Walk through the main doors of the bakery and down the stairs to discover the hidden room. Dressed in a wizard's cloak and armed with a theatrical wand, students will be able to concoct edible and drinkable potions, all of which make up a delicious alternative to high tea. Note that you will need to book ahead to experience this whimsical afternoon tea.
Address: 20 Brewer St, Soho, London W1F 0SJ
Conclusion
Considered to be a staple of English cuisine, indulging in a spot of afternoon tea is must-do whilst you're visiting London. For first-timers, consider opting for a more traditional experience at The Savoy or The Orangery. Once accustomed to the usual fair, dare to venture into the unknown at Dominique Ansel's Bakery or Cutter and Squidge for a truly memorable experience.