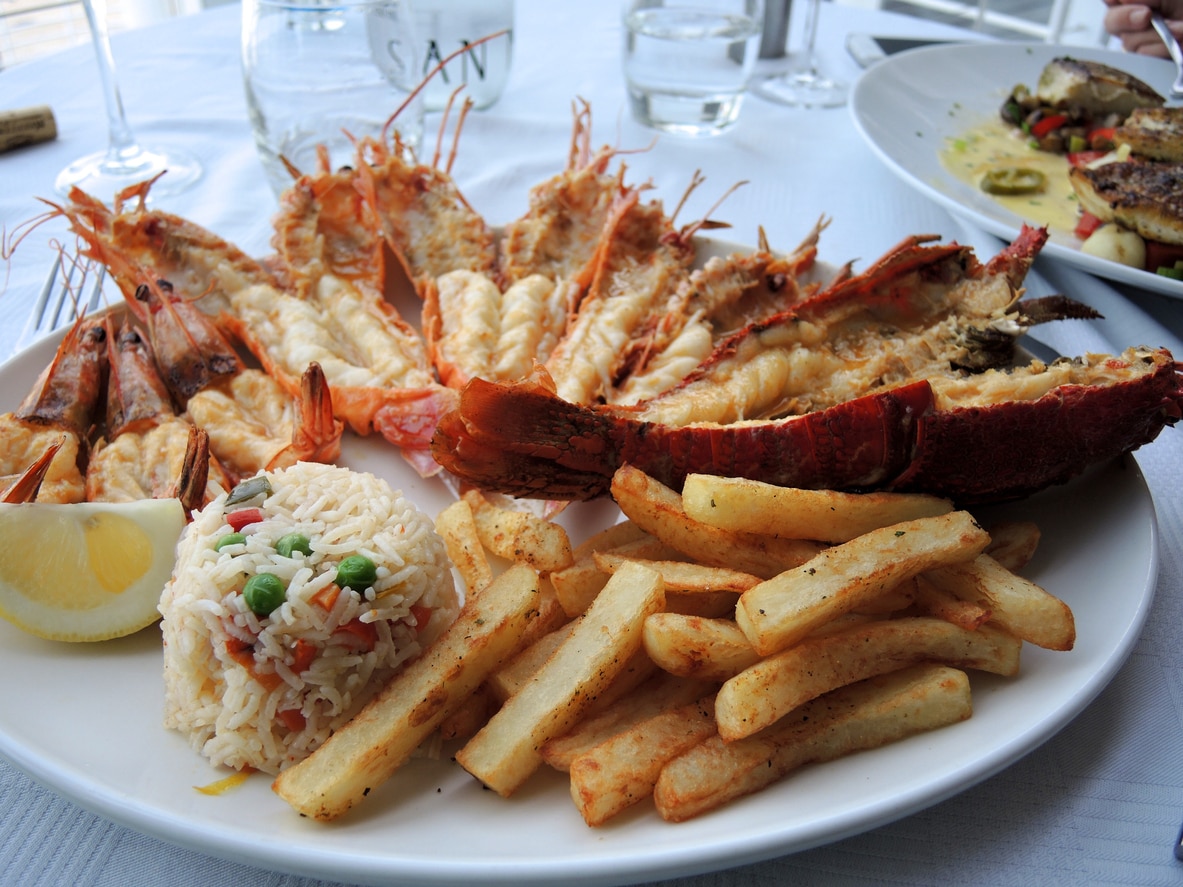 The Top Restaurants You Should Eat at in Cape Town
Cape Town is easily South Africa's best city for some quality dining, with a number of award-winning fine dining restaurants found alongside vegan specialty bakeries, Italian-run trattorias and grab-and-go fish and chips. Thanks to the diverse cultures of South Africa and Cape Town's cosmopolitan atmosphere, there really is something to suit not just every palate, but every budget too. Here's some restaurants you can't miss out on when you're in the Mother City.
table of contents
[x] close
The Top Restaurants You Should Eat at in Cape Town
Budget Eats
If you can get yourself to Kalk Bay, the fish and chips on the harbor at Kalkys are famous nationwide and won't break the bank. There are no frills here, and you may be intimidated by the long line of people waiting – but the staff here are masters of their trade and it moves lightning fast. Order at the counter, then grab a seat at one of the wooden benches and enjoy a huge plate of freshly caught fish in a light, fluffy batter paired with a side of hot chips doused in vinegar. There are calamari and platter options but the fish and chips are some of the very best in the country and aren't to be missed out on.
Hesheng is a Chinese joint with delicious noodles and dumplings that are affordable enough for even a pre-payday treat. It's authentic, no frills Asian food in generous portions and a lovely way to feed a crowd when your wallet is feeling a bit light. It's all home-cooked and made with love, so you won't have to settle for the generic and greasy menus found in many Chinese takeaway spots. We recommend you order a few dishes to share family style, but you can't go wrong with the pot stickers or feather-light steamed dumplings. For something more filling, the salt and pepper spare ribs are also delicious.
Mid-Range Restaurants
Mid-range dining isn't hard to come by in Cape Town. Simply take a stroll along any main street in the city bowl and you'll find a wide variety of options. The biggest challenge will be narrowing it down to just one or two options.

Cousins Trattoria is an incredible family-run Italian dining spot, with a heavy focus on freshly made pasta. It's a little hole in the wall place with faded wallpapers and a slightly crumbling facade, but it's got a warm atmosphere and is always lively and buzzing with conversation. The standout dish is the taglioni and mushroom which is all tossed at your table in a giant wheel of cheese.
Miller's Thumb is another option which never fails to serve up anything other than delicious food. It's garishly decorated with bright orange and green walls, but the fish-dominated menu is reliably excellent. Diners can choose from the daily menu of freshly caught fish and have it prepared in their choice of Cajun, Malay, Moroccan style or simply grilled with lemon, if you're undecided, the Malay option is locally inspired and always worth trying. Another winner on a cold Cape Town afternoon is the jambalaya.
Worth the Splurge
Chef Reuben Riffel is renowned in South Africa but especially in the Western Cape, where his signature line of Reuben's restaurants are scattered around the province. All are incredible, including the Paternoster branch and the original one in Franschhoek. In Cape Town itself, you'll find a Reuben's at the One&Only hotel at the waterfront. It's sophisticated but unpretentious, and the food is cooked to perfection. Expect refined bistro fare with dishes like miso salmon, beef tartare, perfectly seared steak and bowls of wild mushroom risotto. The wine list is extensive and a sommelier will help you choose the perfect bottle for your dinner.
For sushi, you can't beat Willoughby & Co. It's something of an institution in Cape Town, and for good reason. While the entire menu is excellent, the sushi is outstanding. It isn't the cheapest in the city, but it's freshly prepared and made by chefs who take the art of sushi rolling very seriously. The signature rolls are where you'll find the real gems, with the rainbow reloaded, hot rock 'n' roll and the bomb that all deliver a serious burst of flavor and will leave you wanting more.
Conclusion
Cape Town is full of a range of delicious restaurants to try out, perfect for anyone with a love of food. You'll find unique offerings from all over the world that have converged to form a culinary melting pot. If you're wanting to try some of the local South African food check out this list of delicious eats to try here.