The Best Brunch and Breakfast Spots in London
With one of the most exciting restaurant scenes in the world, London has long been a culinary mecca for food lovers. Unique and classic restaurants offering cuisines from all corners of the world, popular places in the British capital never fail to please the taste buds. A favorite pastime for residents of the city, brunching in London has become almost an essential activity when visiting and nowadays you're spoiled for choice.

Whether you're looking to try the best classic full English breakfast the city has to offer, or just enjoy some great brunch dishes, here are some of the best brunch and breakfast spots in London.
table of contents
[x] close
The Best Brunch and Breakfast Spots in London
Regency Cafe, Classic London Breakfast
Opened all the way back in 1946, Regency Cafe is classic breakfast spot in London that have been dishing up no-frills full English spreads for years. Seemingly unchanged throughout the ages, this old-school cafe allows you to add and omit all the classic breakfast favorites. It's a welcoming blast to the past compared to the city's endless myriad modern eateries. The food comes first here, you're not visiting Regency Cafe for the décor, unless for the nostalgia, regulars head there for a simple fry-up that's hard to beat.
Address: 17-19 Regency St, Westminster, London SW1P 4BY, United Kingdom
Hawksmoor Guildhall, Power Breakfast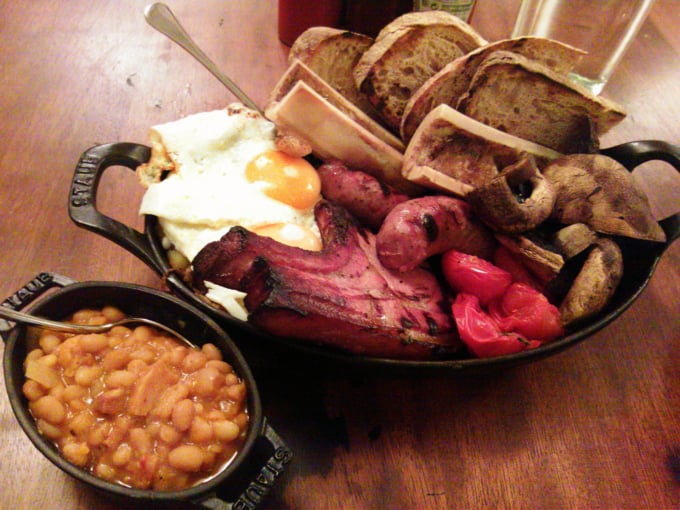 Often topping lists as one of the best restaurants in London to eat classic British dishes, the breakfast at Hawksmoor Guildhall is a platter that'll leave you feeling as satisfied as breakfast can get. At £40 for a breakfast for two, it's a little on the pricey side, but worth it if you've got a hunger for something more. Their set includes the usual classics with some delicious extras such as short-rib bubble and squeak along with bone marrow.

The restaurant boldly claims to offer the best breakfast in London and if price isn't an issue then we'd probably agree. They also have smaller breakfast platters and sandwiches for if you're not quite feeling up to the challenge of their signature breakfast set.
Address: 10 Basinghall St, London EC2V 5BQ, United Kingdom
Dishoom, Bombay Indian Breakfast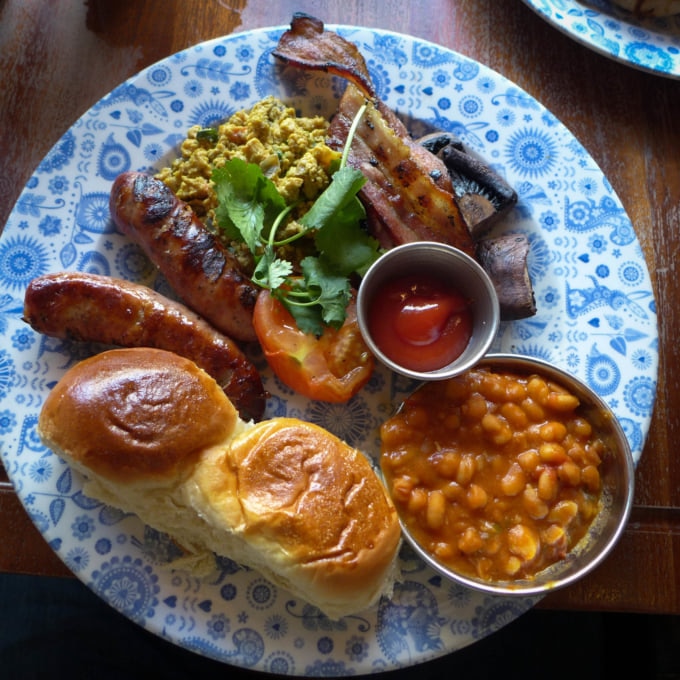 Indian cuisine is a huge part of British food culture and it's easy to notice the high density of Indian restaurants all over the UK. Keeping in line with London's identity as the trend setter of Britain, there's much more on offer than just full English breakfast here.

For the world food lovers, it's highly recommended to check out Dishoom's the Big Bombay Breakfast, a mashup of the classic full English breakfast with an Indian twist, for something lighter the bacon naan roll is an ingenious take on a British classic. Dishoom has plenty of other brunch offerings however, it's one of the city's most popular breakfast and lunch spots for a good reason. Even better the décor and atmosphere of the restaurant is gorgeous and worth seeing on its own.
Address: 7 Boundary Street, London E2 7JE
Blighty Café, The Winston
This popular London café has seen some notorious fame in recent years due to showcasing Winston Churchill memorabilia which some feel highlights a darker side to British history. We feel their food and expert coffee should be the reason for their fame however, both of which are well worth taking a trip out of the center to sample.

Blighty Café's The Winston is a full English breakfast done in the right way and one of the best breakfasts in London with all the main additions you'd expect. For those that don't eat meat, Blighty Café also offers a full English vegan breakfast with meatless and dairy-free additions.
Address: 35-37 Blackstock Rd, Finsbury Park, London N4 2JF, United Kingdom
Honey & Co, Shakshuka
Honey & Co are well known in London amongst brunch lovers in the city for their delicious Middle Eastern dishes such as shakshuka and various Israeli-inspired mezze platters. The owners trained under celebrity chef Yotam Ottolenghi, and it shows in their beautiful prepared dishes with high quality ingredients. They also have a smaller deli across the road that sells various homemade cakes, breads and sweet treats aptly named Honey & Spice. The pistachio and plum cake comes highly recommended but all of their goods are delicious.
Address: 25 Warren St, Fitzrovia, London W1T 5LZ
If you're looking for more than just a brunch, check out our list of the best restaurants in London: Top Restaurants in London

Note that restaurants may be closed or operating at reduced hours in order to prevent the spread of coronavirus (COVID-19).