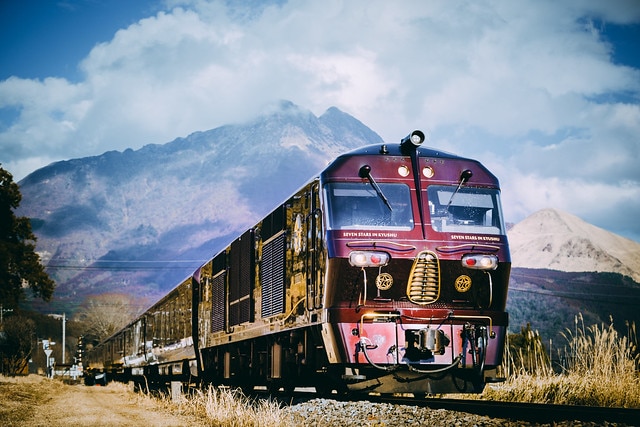 Japan's Spectacular Luxurious Train Rides For the Perfect Honeymoon
With one of the most advanced train systems in the world that connects up almost the whole country, it's not surprising that Japan has a fleet of luxury trains for those who want to travel in style. Shinkansen just not quite cutting it? Here are some super luxurious trains in Japan for those who want a trip they'll never forget.
table of contents
[x] close
Japan's Spectacular Luxurious Train Rides For the Perfect Honeymoon
Seven Stars Kyushu
If you want to feel like royalty on your trip to the Land of the Rising Sun, it doesn't get much more extravagant than the outrageous Seven Stars Kyushu, a luxury sleeper train that takes you on a tour of Japan's southern island of Kyushu. Travelers can choose from a choice of two different train tours, a short journey that traverses the north of the island over two days and one night, or a longer journey of four days three nights that takes passengers around most of the island.

The trips are usually only scheduled a few times per year and are booked up quite quickly so you'll need plan well in advance. Journeys from this year till early 2020 are already closed for applications and will allow for later 2020 applications around October this year.
URL: https://www.cruisetrain-sevenstars.jp/english/
The Royal Express
For a feel of luxury train life without completely emptying your pockets, the Royal Express offers a short one way trip from Yokohama to Shimoda, in Japan's beautiful Izu Peninsula, for just 25,000 yen. While it might be five times the price of a regular train, you're getting a three hour ride of a lifetime, that's well worth the price hike. Make sure to book tickets well in advance however as seats are limited and can sometimes book up fast.

If you're wanting more than just a short taste of the luxury life, the Royal Express also has package plans with a nights stay and round trip tickets.
URL: https://www.the-royalexpress.jp/ (booking is in Japanese only)
Twilight Express Mizukaze
The Twilight Express offers five different luxury train journeys around Japan's southern areas of Sanyo and Sanin, either starting or ending in Kyoto or Osaka. The longest route is a two night three days circular train route as it takes you from Kyoto all around the southern coast of Honshu. From the beautiful five-star suites, state-of-the-art viewing cars and extravagant fine dining by some of Japan's finest chefs, if you're looking for luxury the Twilight Express Mizukaze won't disappoint. A one night tour with a room for two starts at ¥250,000 and suite prices start at ¥750,000.
URL: https://twilightexpress-mizukaze.jp/en/
Shiki-Shima
While the Seven Stars has a more traditional luxury decor to make you feel like you're a king for a few days, the Shiki-Shima is for those looking for a more modern five-star hotel style of accommodation. The highlight of which are the two beautiful observation cars in the first and last carriages covered with glass windows that make for a spectacular view as you dart past the stunning scenery. There are various different journeys traveling in each season but all are focused on eastern Japan. The longest being a four day three night epic journey around North Japan centered around highlights of Tohoku and southern Hokkaido.

Often claimed as one of the world's most luxurious train rides, expect to pay a premium. Journeys often cost around ¥740,000 per night per person for one of the train's suites.
URL: https://www.jreast.co.jp/shiki-shima/en/
Future: Toki no Yoake Monogatari
Announced earlier this year, Japan Railways has a new luxury train journey in the works that'll traverse the lesser explored main island of Shikoku, one of Japan's most underrated destinations. Not much information about the train has been released as of yet, so it's unsure just how luxurious the interior will be. The route is set to debut in Spring 2020, so you can probably expect more details sometime in the next few months.
URL: https://www.jr-shikoku.co.jp/yoakenomonogatari/en/index.html
Conclusion
It's not just the incredible luxury interior and rooms you get with these over-the-top train rides, Japan is well known for its exceptional customer service and for these rides they even manage take it a step further. Expect to be wowed at every turn of the tracks, if you choose to ride on any of these trains you'll be in for the journey of a lifetime.