Columbus (Georgia):A City of Exceptional Cultural and Historical Tourist Attraction Sites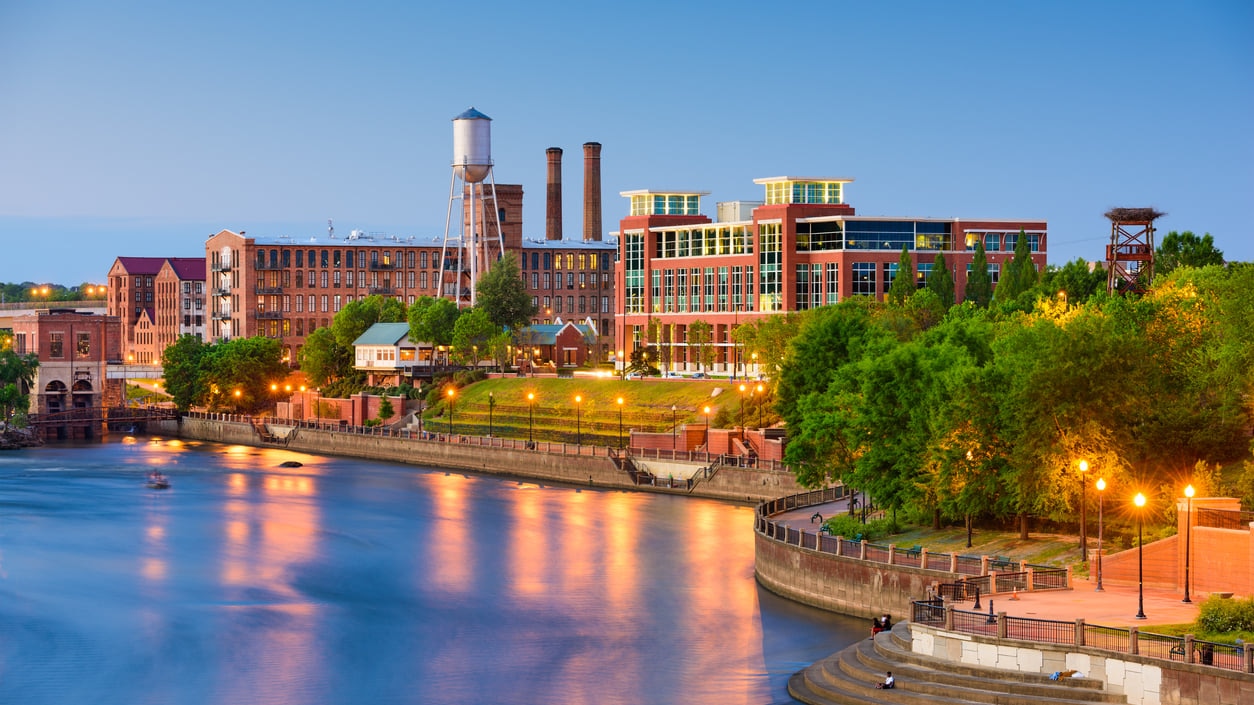 Columbus is the second largest city in the state of Georgia in the USA and is positioned 160 km southwest of Atlanta. It stands out due to its exceptional cultural and historical importance earning it the title home to museums and tourist attractions sites that include the National Infantry Museum, Chattahoochee River that cuts the city into two, offering the opportunity to a lot of fun and enjoyment activities such as Riverwalk and water rafting. In this article, see the top-ten best places you can visit while on a sightseeing tour in Columbus.
[x] close
Columbus (Georgia):A City of Exceptional Cultural and Historical Tourist Attraction Sites:table of contents
1. National Infantry Museum & Soldier Center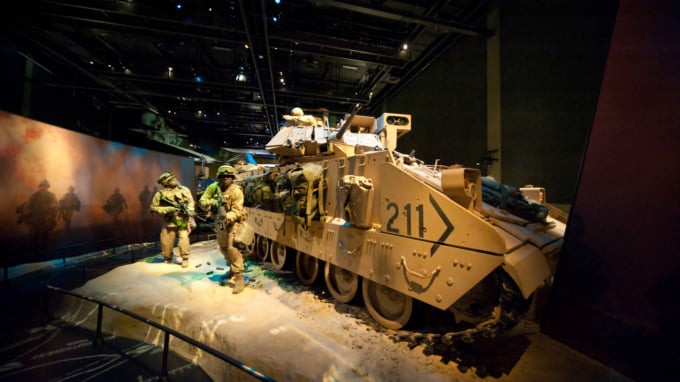 Photo by The National Infantry Museum and Soldier Center
The National Infantry Museum and Soldier Center was opened in 2009, and it is dedicated to the U.S Army Infantry branch. It is one the top best military history tourist attraction site where all ages can get firsthand information about American infantryman's struggle and dedication towards overcoming the tyranny. It has interactive galleries that contain thousands of artifacts, monuments, exhibits and video presentations to make learning fun. Also, experience immersive attractions for recreational such as documentary films in the theatre that contains giant screen and combat simulators. Get to be part of the illuminating events held in the large ground in this facility such as music extravaganza and children fun activities. You can visit Tuesday to Saturday 9 am to 5 pm and remains closed during the holidays (except federal holidays).
Name:National Infantry Museum& Soldier Center
Address:1775 Legacy Way, Columbus, GA
Related Site:http://nationalinfantrymuseum.org/
2. Columbus Riverwalk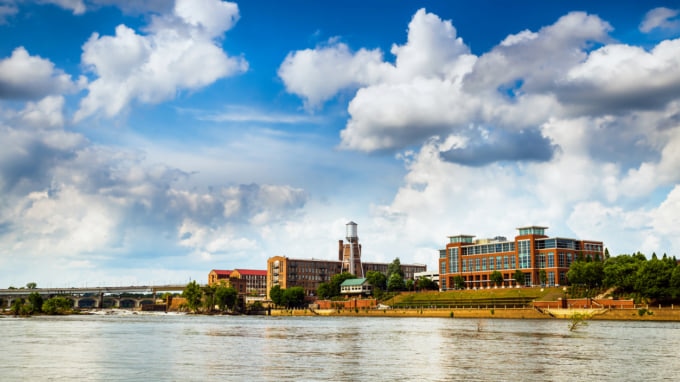 The Columbus RiverWalk covers a 15-mile extension trail and park that is near the banks of the beautiful and historical river Chattahoochee. The river dissects the Columbus into two, and the RiverWalk stretches from Bibb city all the way to the Fort Benning drill fields. The stunning RiverWalk is a paradise where one can walk, jog and do bike riding. Also, this tourist attraction offers visitors RiverWalk GeoTour that has more than twenty challenging geocaches. When you are on sightseeing visit, you get to connect to other trails and paths such Chattahoochee Valley Railroad Trail and Fall Line Trace in Columbus.
Name:Columbus Riverwalk
Address:Bay Avenue and 11th Street, Columbus, GA
3. Columbus Museum
Columbus Museum is the most extensive museum in the region with an architecturally stunning, world-class building. It is located in the Mediterranean Revival house that was constructed in 1912. As a tourist attraction site, it offers a magnificent landscape 13-acre property and on the beautiful Bradley Olmsted garden. It is famous due to its possession of showcasing both permanent and temporary exhibitions of unique dual focus on the history of both American art and Chattahoochee valley and its environments. See a costly display of the art, pictures of great leaders and iconic building in American history. Also, get to be involved in special the museum programs such creation of art and history classes that are fun to children. It is open from Tuesday to Sunday.
Name:Columbus Museum
Address:1251 Wynnton Rd, Columbus, GA
Related Site:http://www.columbusmuseum.com/
4. Coca-Cola Space Science Center
The Coca-Cola Space Science Center is a possession of the Columbia State University. It is fascinating for sightseeing for it gives one an opportunity to learn about the educational programs. It offers a fun and interactive exhibits, film and video screenings and exciting hands-on skill for visitors to get to know about the space and astronomy. It contains different rooms that offer unique fun activities such as in the Omnisphere Theatre see videos of stars, and in the Mead Observatory, you get to look at galaxies, planets, and stars using telescopes. Children have more exciting things to do in Challenger learning center where they travel to Mars, moon or comet while they do science, math and technology skills to complete an activity.
Name:Coca-Cola Space Science Center
Address:701 Front Ave, Columbus, GA
Related Site:http://www.ccssc.org/
5. Columbus Botanical Garden
The Columbus Botanical Garden covers a 22 acres land in the north of the city. It is peaceful and a beautiful tourist attraction destination to get connected to nature while on a walk, sightseeing, picnicking and photography. You can explore this beautiful place through well-manicured paths that magnificently designed making you feel at paradise. The garden is welcoming and amazing due to its widespread collection of ornamentals flowers, perennial flowers, herbs, rare plants and other greenery. It is known as home to horticultural events, shows, and seminars in Columbus for all ages. It is free and opens all days in a year and bookings are made for guided tours.
Name:Columbus Botanical Garden
Address:3603 Weems Rd, Columbus, GA
Related Site:https://columbusbotanicalgarden.org/
6. Columbus Fall Line Trace
The Columbus Fall Line Trace is a group of trails that covers a distance of 11-miles long and composed of the 12-foot-wide pathway. It offers fantastic opportunities to enjoy when on sightseeing like scenic views trails, jogging pavement, hiking areas, cycling pathways all in one. Visit the wonderful views points area see wildlife animals such as elephants and giraffes and also do bird watching from the thick canopy of trees. See the waterfalls deep in the woods and the broad historical trees coiled on each other. This line is open to visitors from Monday to Friday for strolling and engaging in fun activities.
Name:Columbus Fall Line Trace
Address:14th Street Pedestrian Bridge, Columbus, GA
7. Lunch Box Museum
The Lunch Box Museum is a lovely place located inside international Marketplace on the southern edge of the Columbus city. It boosts as the home to more than three thousand metal lunch boxes and their matching thermoses. It is an exciting and colorful place that contains a vast collection of more than 450 different designs that have been developed since 1951. Children will have the best experience and will be excited with endless choices of the lunch box in this tourist attraction site. Get to learn about different lunch boxes with cartoons that have been arranged in alphabetical order. The exhibits feature care bear cousins, and favorite vintage lunchboxes galore.
Name:Lunch Box Museum
Address:3218 Hamilton Rd, Columbus, GA
Related Site:http://therivermarketantiques.com/
8. Oxbow Meadows Environmental Learning Center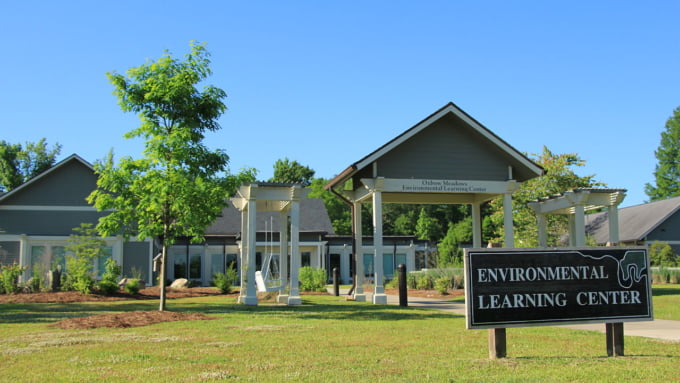 Photo by commons.wikimedia.org
The Oxbow Meadows Environmental Learning Centermost is the most pleasurable place in Columbus you can learn about the regional wildlife and ecology. It is perfect tourist attraction which offers peaceful pathways that goes through beautiful areas such as pond full of fish, wetlands and the wildlife. Participate in fun activities such as fishing, strolling, picnicking, hunting and wildlife watching. Stop by the discovery trail that shows exhibits of local natural history and offers hands-on skill fun activities. It is home to a numerous of rare and endangered animals such as snakes, tortoise, and alligators. The center is open Monday to Sunday and entry is free.
Name:Oxbow Meadows Environmental Learning Center
Address:3535 S Lumpkin Rd, Columbus, GA
Related Site:https://oxbow.columbusstate.edu/
9. The Gertrude Ma Rainey House & Blues Museum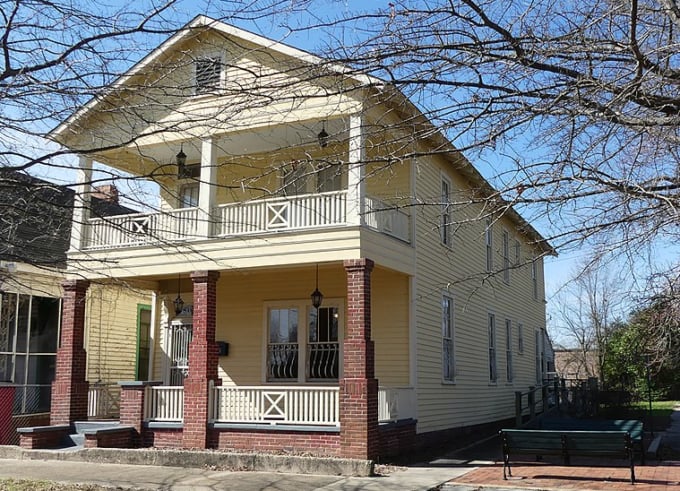 Photo by commons.wikimedia.org
The Gertrude Ma Rainey House & Blues Museum is a fantastic place to learn about the life of the famous artist in the world. It is famously known for its celebration of the Blues music and the small history of the Columbus as the place of influence for the beautiful music genre. As a tourist on a sightseeing tour, you will get learn more about the "mother of the Blues" who stayed in this museum for five years before her death in 1939. Get to see the collection of portraits for the famous legends such Louis Armstrong and Blind Blake. Also, enjoy a lively entertainment with both new and old-fashioned Jazz and Blues. It is open from Tuesday to Saturday.
Name:Gertrude Ma Rainey House & Blues Museum
Address:805 5th Ave, Columbus, GA
Related Site:https://www.columbusga.gov/parks/marainey/marainey.htm
◎ Closing
Want to get the top best historical attractions? Then, Columbus (Georgia) is your best choice. It holds an extensive collection of the museum such as National Infantry Museum and cultural preservations sites that have been ranked as world's top tourist attraction places. Columbus also boosts as home to the best entertainment theater and parks in the United States.