The Top Restaurants in Bangkok You Need to Visit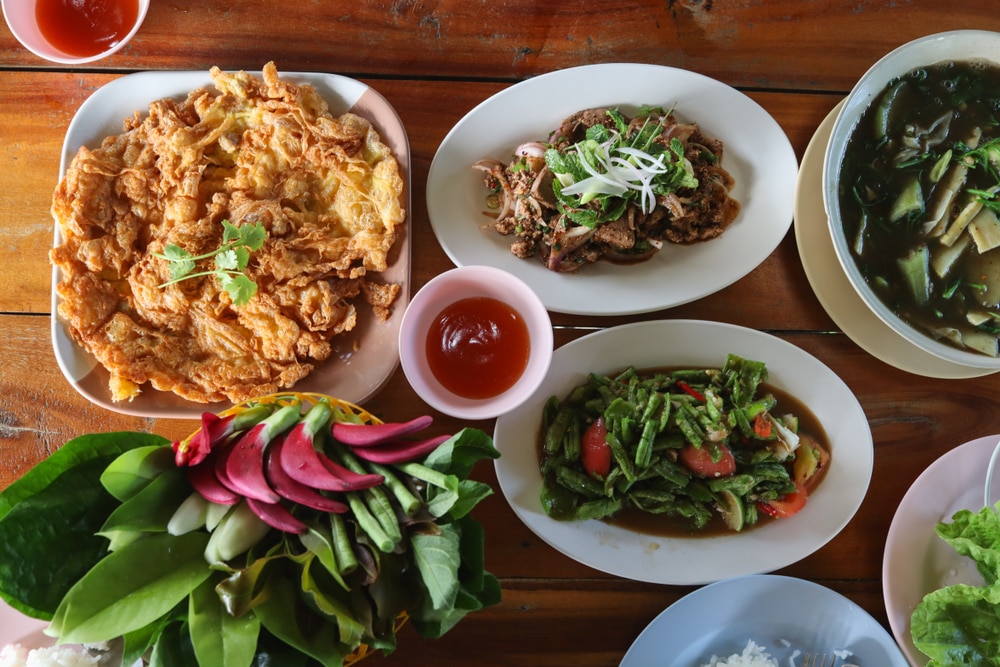 Photo by Suwit Chanaaiyarat/Shutterstock
Thai cuisine is a roller-coaster of incredible flavors, all perfectly balanced together to create some of the most delicious dishes in the world. While its vibrant street food scene is one of the most incredible in the world, the city is home to some of the best restaurants and most innovative kitchens in the world. From family-run restaurants that have been perfecting their dishes over decades, to new up-and-coming chefs giving Thai cuisine a modern face these places shouldn't be missed if you're traveling to Bangkok.
[x] close
The Top Restaurants in Bangkok You Need to Visit:table of contents
Nahm
Nahm has been a culinary institute for Thai food in the city for years, so it was no surprise that the restaurant garnered a Michelin star in 2018. A whole world apart from the city's street food, Nahm takes Thai cuisine and gives it a contemporary twist with high-quality ingredients and innovative ideas. If you're looking for some of the best Thai food with a modern spin to impress and aren't worried about the high cost, then Nahm won't disappoint you.
Si Morakot
Just outside the reaches of Bangkok's vibrant Chinatown, this hole in the wall restaurant down a non-descript side alley serves some of the best roast pork the city has to offer. Khao Moo Daeng is Chinese-Thai food, similar to the style of 'red roasted pork' you'll find in Hong Kong or China but with a slight Thai twist. Si Morakot has been a favorite among locals for years and has never failed to disappoint with its juicy flavorful pork and braised duck. It's super cheap too, a meal will hardly ever cost more than 100 baht.
Gaggan
While Indian restaurants are ubiquitous around the world, rarely does the cuisine enter high-end fine dining, with most people claiming curry and molecular gastronomy just don't fit together. Innovative chef Gaggan Anand however took the world by storm with his 25-course tasting menu of Indian-inspired cuisine, with the Bangkok restaurant often featuring in lists of the top ten restaurants in the world. Although the current location of Gaggan is closing down at the end of the month, they're expected to open a new restaurant at the end of the year.
Hom Duan
Northern Thailand is home to some of the country's most beloved dishes like khao soi and sai oua and unless you'll be visiting north while visiting, then Bangkok is the best place to sample this delicious cuisine. For some of the best in the city head to Hom Duan, they offer some of the best versions of northern staples outside of the Chiang Mai region using quality ingredients and relatively low prices.
Bo.lan
Another strong contender for the best fine-dining Thai restaurant in the city, Bo.lan dedicates themselves to perfecting Thai cuisine, sticking to classic dishes and flavors using only locally-sourced ingredients. Dinner consists of several set menus to choose from offering a range of different courses which all seem to inter-match perfectly with each other. Prices don't come cheap, but you're paying for a unique experience into Thai cuisine that you won't find anywhere else.
Restaurant Barakat
One of the city's best cheap eats, Barakat offers Thai Muslim cuisine and some of the best you'll find in the country. Make sure to order the beef curry noodles (kuay tieow gaeng neua) and the khao mok gai, a kind of Thai-style biryani, they're the true stars of the restaurant. Although if you're heading there with a few people, almost every dish they offer are all recommended and usually classic Thai Muslim dishes.
The Local
If you're looking for somewhere to try specialties from all over the country, the Local in the Sukhumvit area never fails to disappoint. A fair bit pricier than similar foods you'll get on the street, the Local makes up for it by using high-quality ingredients and beautiful presentation. Dishes here are as traditional as they get, using classic home-style recipes cooked for generations.
Conclusion
Thai people love to eat and it shows with the incredible display of delicious restaurants found around its capital. While stuffing your face with street food is a must if you're heading to the city, get off the streets and you'll find an array of incredible restaurants, some highly innovative and creative, taking Thai cuisine to a whole new level.