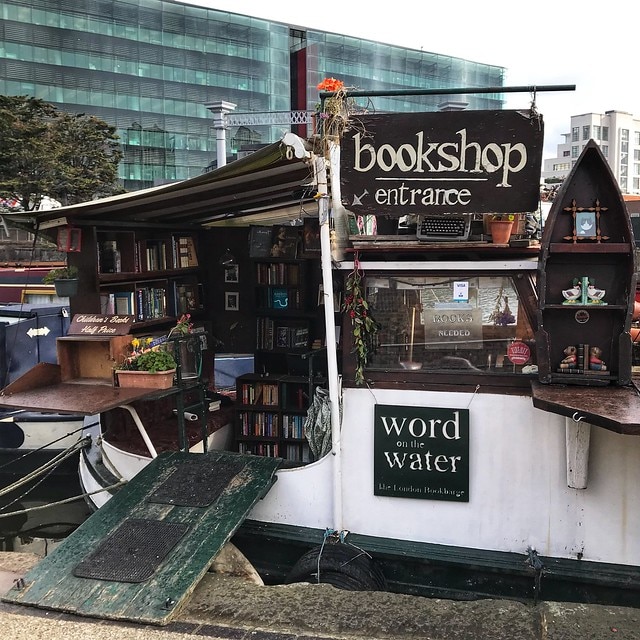 Photo by Ungry Young Man/Flickr
9 Fabulous Bookshops to Visit Around the World
There's something inherently wonderful and calming about bookshops. The smell of the pages, the stacks full of stories, each bookshop, no matter where it is in the world, creates its own identity. At times, it's the person behind the counter that gives the bookshop a personality. While at other instances, the location plays a more significant hand.

Traveling the world, you are more than likely to come across amazing bookshops that never fail to amaze. Here are nine such stores that make for an excellent place to visit irrespective of whether you love reading or not.
table of contents
[x] close
9 Fabulous Bookshops to Visit Around the World
Books Books Books - Switzerland
Although there's no shortage of bookshops in Switzerland, only a few of them carry material in English. Books Books Books is a pretty, one-room shop in the city of Lausanne that holds a diverse collection of English language books. Warm and always ready for a chat, the staff are friendly and happy to recommend something based on your reading preferences. The shop also carries a wall full of second-hand books that are sold at a discounted price. Books Books Books epitomizes independent bookstores and is a stop worth your time while wandering through the streets of Lausanne.
Address: Rue Jean-Louis Galliard 2, 1004 Lausanne, Switzerland
Cambridge Book Depot - India
Cambridge Book Depot's charm is a result of many factors. Its location on the iconic Mall Road of Mussoorie, one of the most visited hill stations in India, is one of them. There's also the fact that books are stacked from floor to almost the ceiling, making it difficult at times to maneuver through the shop but gives it a look and charm you won't find anywhere else. More than anything however, is the fact that Cambridge Book Depot is the one place where India's most beloved author, Ruskin Bond, comes every Saturday to meet his fans and sign books. Expect a long line outside the store when the famous author is visiting. However, if you want some peace while rummaging through the many books here, visit the shop on a weekday.
Address: The Mall Rd, Mussoorie, Uttarakhand 248179, India
Shakespeare and Company - France
No list of bookstores is complete without a nod to the famed Shakespeare and Company in Paris. An institution, the bookstore has a rather colorful past and continues to attract bibliophiles from around the world with its bookish allure. The first Shakespeare and Company was started by Sylvia Beach in 1919 but closed down in 1941 while the present one, owned by George Whitman, began in 1951 and continues to attract book lovers from near and far.
Address: 37 Rue de la Bûcherie, 75005 Paris, France
Strand Bookstore - USA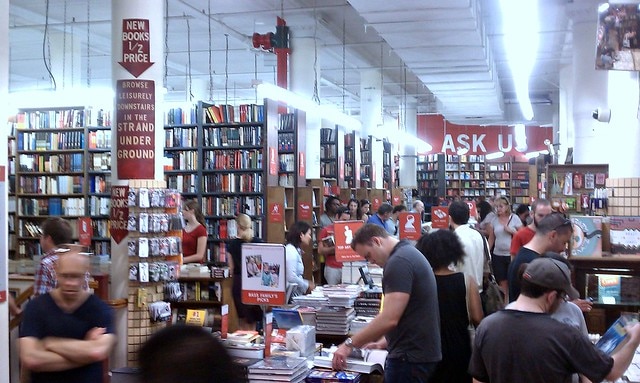 An iconic store in the heart of New York, the Strand boats of '18 miles of books.' A family legacy, this monumental bookstore first opened its doors in 1927 and has since then been an integral part of the Bass family. Featuring a massive collection of used, rare and new titles, it's easy to get lost in the 2.5 million books that are part of the bookstore. The Strand gets its individuality from the helpful staff who are always eager to discuss books with customers. Amongst the most popular attractions at the bookshop is their legendary dollar basket which often houses some fabulous finds at a throwaway price.
Address: 828 Broadway, New York, NY 10003, USA
Atlantis Books - Greece
There's a dream-like appeal to the very thought of a bookshop on an island in the Mediterranean Sea. Oia in Santorini is home to Atlantis Books, a colorful and sometimes hard to spot store that sells new and used books. Recently, they've expanded their collection by selling unique posters and self-published titles. Typically, the bookshop stocks titles in several languages, including English, Chinese and Greek. They also keep a selection of first editions that give the bookstore an authentic feel considering the ancient aura that is omnipresent in Greece.
Address: Nomikos Street, Oía 847 02, Greece
Standard Books – Japan
Osaka's most famous bookstore might not have much to offer in looks, but more than makes up for it in its eccentric ethos. Featuring primarily Japanese books along with magazines, you won't find many bestsellers on sale here. Instead, Standard Books is the perfect opportunity to discover small-press releases, independent authors, comics, and a variety of art books. The bookshop also has a café where you can sit and read a book before buying it.
Address: 2 Chome−2−12, Nishishinsaibashi, Chuo Ward, Osaka
Word on the Water - England
Traveling through the UK, you are more than likely to come across quaint bookshops in small villages and big towns. However, Word on the Water takes the cake for being a novel idea that even makes a non-reader stop and explore its beautiful setting. A floating bookshop inside a 1920's barge, Word on the Water has been operational since 2011 and presently moors at Granary Square in London. Surprisingly, for its small size, the bookshop manages to stocks quite a diverse and extensive collection of books that seems to pour out from every corner possible. More interestingly, Word on the Water regularly hosts book talks and also has a little set-up for musical performances on its deck.
Address: Regent's Canal Towpath, Kings Cross, London N1C 4BZ, UK
Gould's Book Arcade - Australia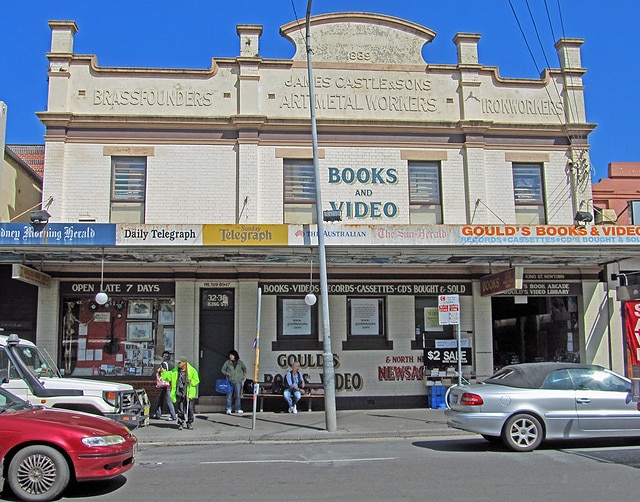 Photo by Newtown grafitti/Flickr
Sydney's most cherished book stop, Gould's Book Arcade has been operational since 1967. The bookshop is 'Australia's largest retailer of used, remaindered, out-of-print, and rare books under one roof.' Book lovers can expect an impressive assortment of books on politics, aboriginal literature, history, design, Australian Leftist pamphlets and journals, as well as, food, oceanography and the occult.
Address: 536 King St, Newtown NSW 2042, Australia
Libreria Acqua Alta – Italy
Amongst the most Insta-worthy bookstores in the world, Libreria Acqua Alta is a must-visit destination in the beautiful floating city of Venice. For lovers of fiction and nonfiction, the cat-friendly bookshop holds an unmatched assortment of rare and first-editions as well as Italian classics. Their little patio with steps fashioned out of books often features prominently on social media. However, owing to the constant flooding of the city, the books are stored in unique ways, such as inside a boat, to prevent them from getting damaged.
Address: Calle Lunga Santa Maria Formosa, 5176b, 30122 Venezia VE, Italy
Conclusion
Gateways into another world, bookstores, especially independent ones, are on a path of recovery after a decade-long battle with online stores and digital media. The ideal way to spend a few minutes or hours when touring a foreign country, bookshops offer a lovely insight into the region's culture. However, they are also undoubtedly the best place to strike up a conversation with locals who share a common love for literature with you.