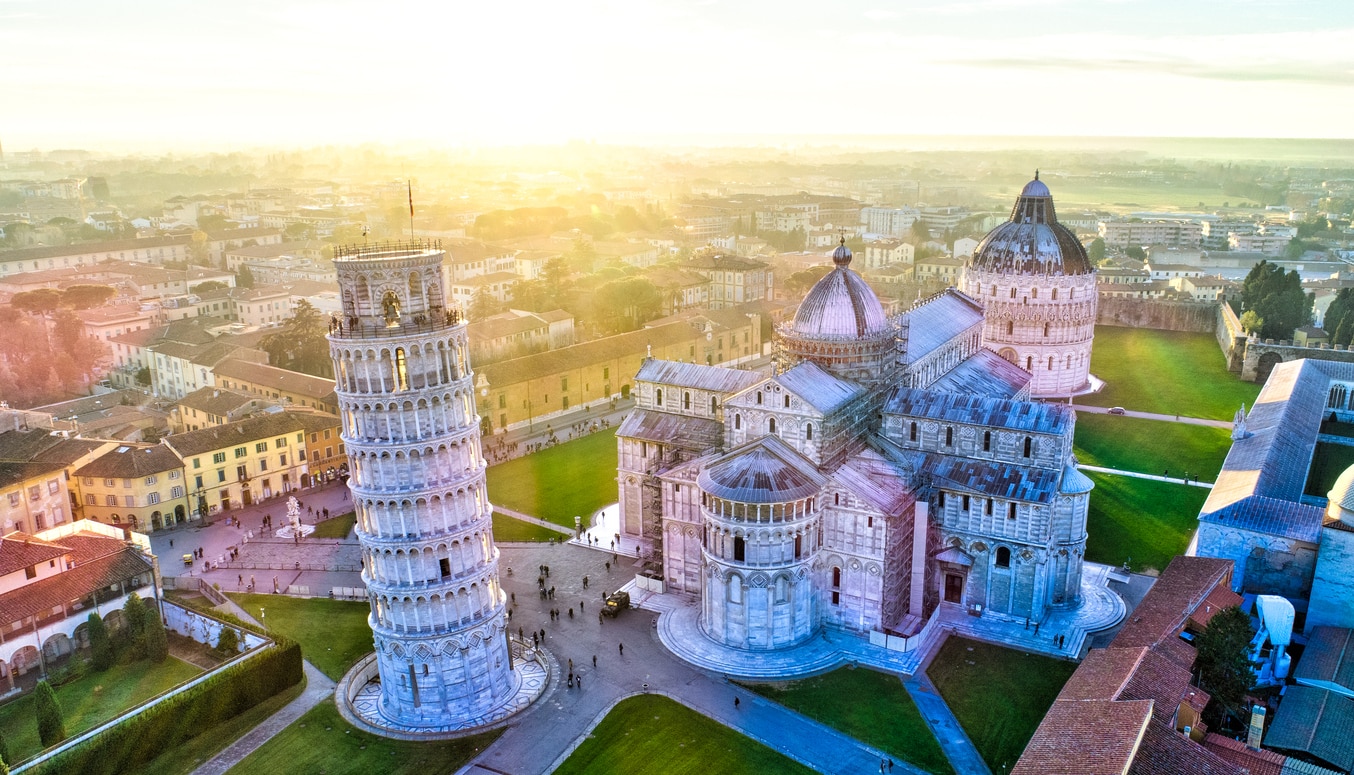 9 Things to Do in Pisa Apart From the Famous 'Leaning Tower'
Italy has a lot of fascinating cities to explore and Pisa is one of the most beautiful. Located in the popular Tuscany region, Pisa is best known for its leaning tower, one of the most photographed buildings in the world famous for being slanted to one side. However apart from the tower itself there are a number of other attractions in Pisa which are also well worth making the trip to check out. Here are some places and things to do in Pisa you just can't miss out on.
table of contents
[x] close
9 Things to Do in Pisa Apart From the Famous 'Leaning Tower'
Duomo di Pisa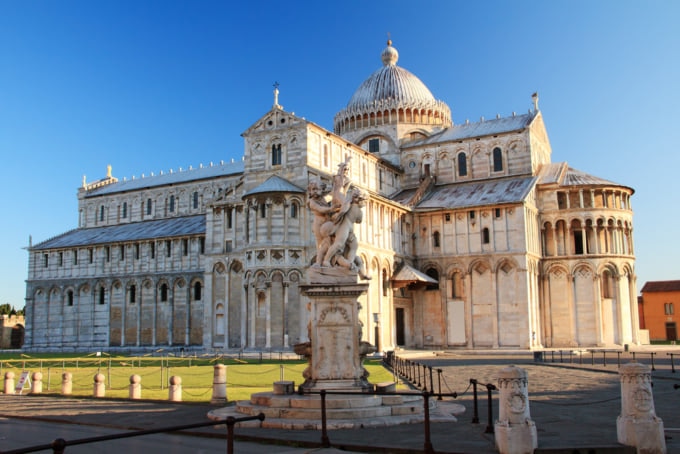 Photo by WHITE RABBIT83/shutterstock.com
On the grounds of the popular Leaning Tower of Pisa, the Duomo di Pisa's beauty is often downplayed by being next to the iconic tower. The architecture of the cathedral is just as beautiful, decorated with stunning artwork by Cimabue, Bonanno Pisano and Giovanni Pisano, all important figures in Italian history. While it might not be leaning to one side, this stunning structure offers much more to do and see than just a landmark to take a picture with.
Name:Duomo di Pisa
Address:Piazza del Duomo, 56100 Pisa, IT
Related Site:https://www.opapisa.it/
Battistero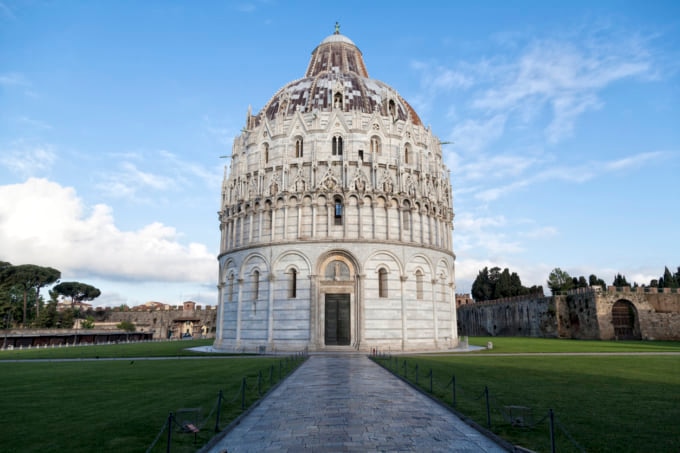 Another important structure in the vicinity of Pisa's iconic tower, this large baptistery is a Roman Catholic building designed by Diotisalvi. It's a prime example of the Romanesque architectural style found around the country, although some aspects of this ecclesiastical structure can be seen to have Gothic influences, specifically in its upper sections.
Name:Battistero
Address:Piazza dei Miracoli, 56126 Pisa, IT
Related Site:http://www.opapisa.it/visita/battistero/
Camposanto Monumentale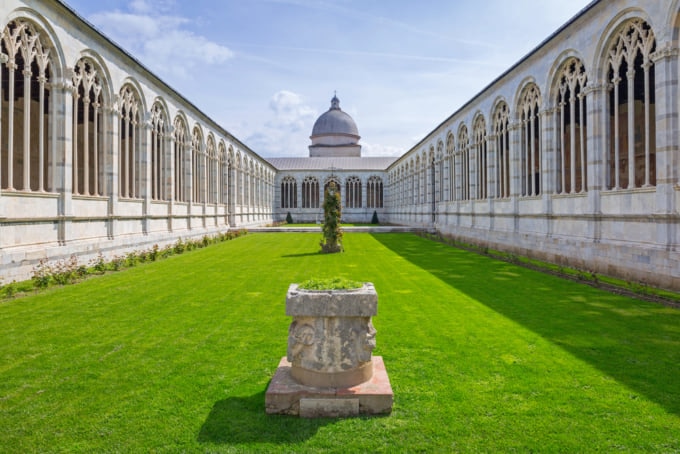 Photo by Patryk Kosmider/shutterstock.com
The Camposanto Monumentale is a historic and beautiful structure located at the northern edge of the Piazza dei Maricoli in Pisa. Established around the 12th century, the edifice is said to have been built around a shipload of sacred soil brought to Pisa from Golgotha. This burial ground lies just over the ruins of the old baptistery of the church of Santa Reparata.
Name:Camposanto Monumentale
Address:Piazza del Duomo, 17, 56126 Pisa, IT
Related Site:https://www.opapisa.it/
Palazzo della Carovana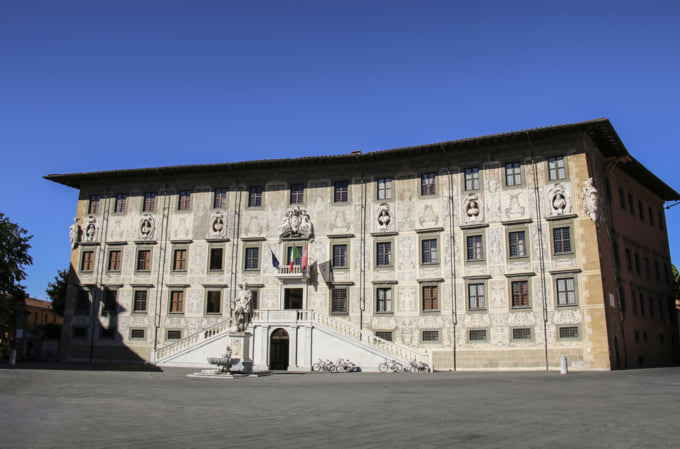 Photo by MAVRITSINA IRINA/shutterstock.com
The Palazzo della Carovana is a palace found at the Knights' Square in Pisa which currently houses the main building of the Scuola Normale Superiore di Pisa. Built around 1562 to 1564 by Giorgio Vassari, the structure served as the headquarters of the Knights of St. Stephen. The facade of the building is embellished by an intricate scheme which represents the zodiacal signs and allegorical figures.
Name:Palazzo della Carovana
Address:Piazza dei Cavalieri, 7, 56126 Pisa, IT
Related Site:https://www.sns.it/
Chiesa di Santa Maria della Spina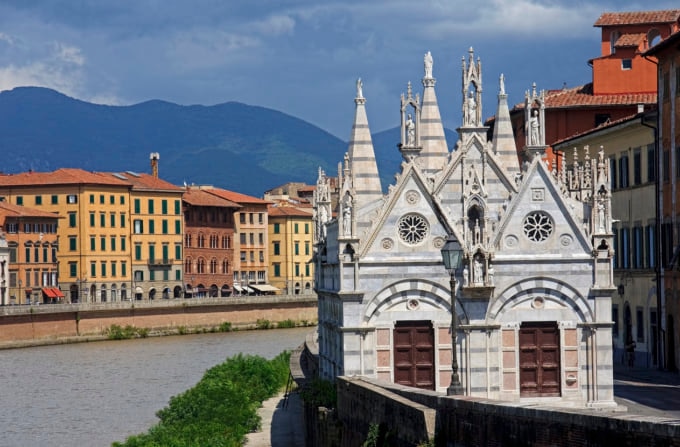 The Chiesa di Santa Maria della Spina is a small yet visually-stunning church in the city of Pisa. Erected around 1230, the church follows a distinctive Gothic style architecture that lends to its picturesque stature. The church was formerly known as Santa Maria di Pontenovo for the bridge that existed nearby. Although after the collapse of the bridge in the 15th century, it was never built again.
Name:Chiesa di Santa Maria della Spina
Address:Lungarno Gambacorti, 56100 Pisa, IT
Related Site:https://www.visittuscany.com/en/attractions/church-of-santa-maria-della-spina-in-pisa/
Ponte di Mezzo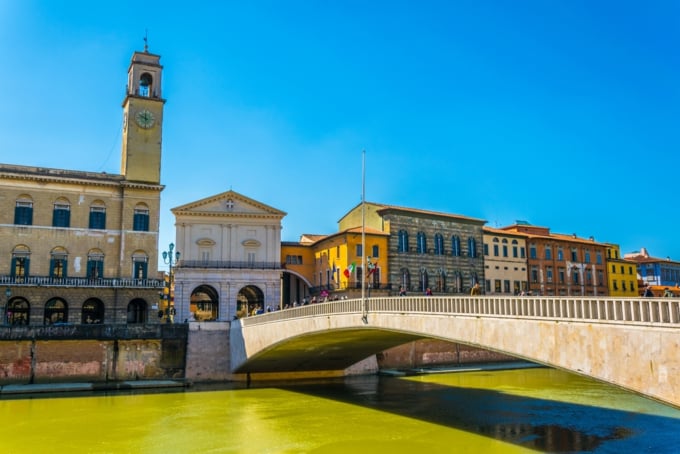 Photo by trabantos/shutterstock.com
The Ponte di Mezzo (also known as the Ponte Conte Ugolino) is a bridge over the Arno in the city of Pisa. Located in the heart of the city, the bridge connects Piazza Garibaldi and Piazza Settembre. Ponte di Mezzo is 89 meters long and has a maximum height of up to 12.50 meters. The side of this structure is covered in white Verona stone. Its surface is covered with porphyry cobblestones. Today, the mantle of the bridge is asphalted.
Name:Ponte di Mezzo
Address:Piazza XX Settembre, Piazza Garibaldi, 56125 Pisa, IT
Borgo Stretto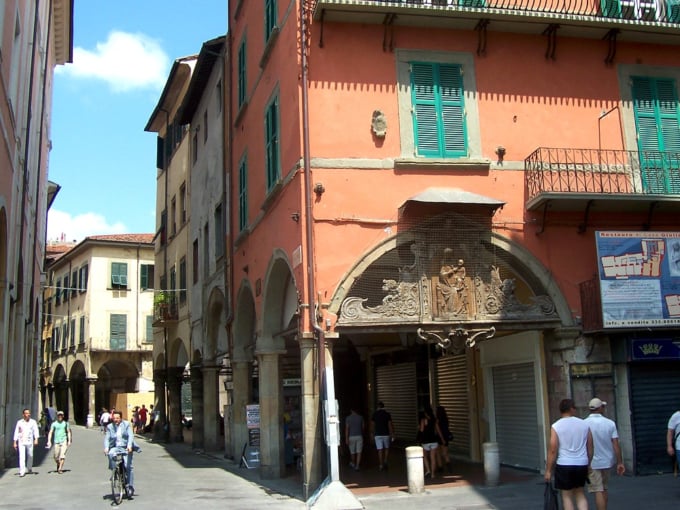 Photo by commons.wikimedia.org
For those interested in shopping but still want to feel the historic and distinct ambiance of Pisa, then make sure to check out Borgo Stretto. A popular spot in the city, Borgo Stretto is a shopping street in Pisa with a number of charming and historic buildings. Here you'll find a number of famous stores, cozy cafes and popular eateries. The street is also known for housing the birthplace of Galileo Galilei, a famous Italian astronomer, physicist and engineer.
Name:Borgo Stretto
Address:Borgo Stretto, 19, 56126 Pisa, Italy
National Museum of San Matteo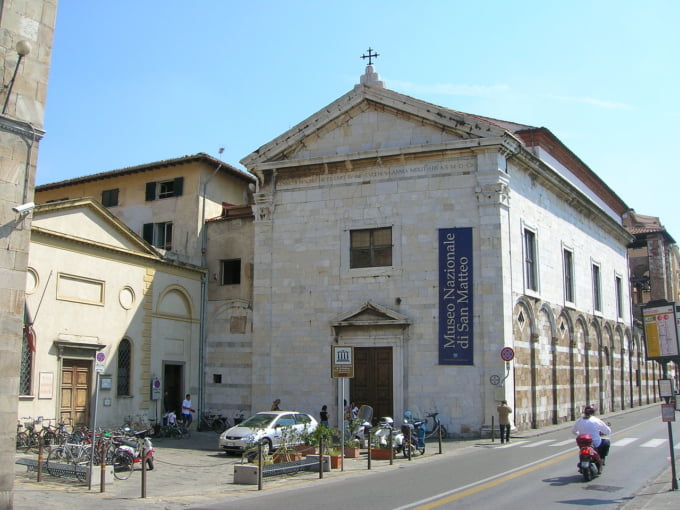 Photo by commons.wikimedia.org
One of the most fascinating museums in the city is the National Museum of San Matteo. The museum displays different works coming from the historic ecclesiastical buildings in the city. The works span from the early Medieval period to the 16th century and houses a rich collection of paintings by notable painters including Berlinghiero Volterrano, Francesco Traini, Benozzo di Lese, and Simone Martini, among others. The museum also contains a number of sculptures made by Nicola Pisano and Donatello.
Name:National Museum of San Matteo
Address:Piazza San Matteo in Soarta, Lungarno Mediceo, 56100 Pisa, IT
Related Site:http://www.turismo.pisa.it/it/cultura/dettaglio/Museo-Nazionale-di-San-Matteo-00001/
Conclusion
The city of Pisa has so much more to explore besides the leaning tower. While most tourists tend to snap the iconic photo, before heading to their next destination, Pisa offers a range of activities and places to see that warrant spending a little longer in this beautiful Italian city.