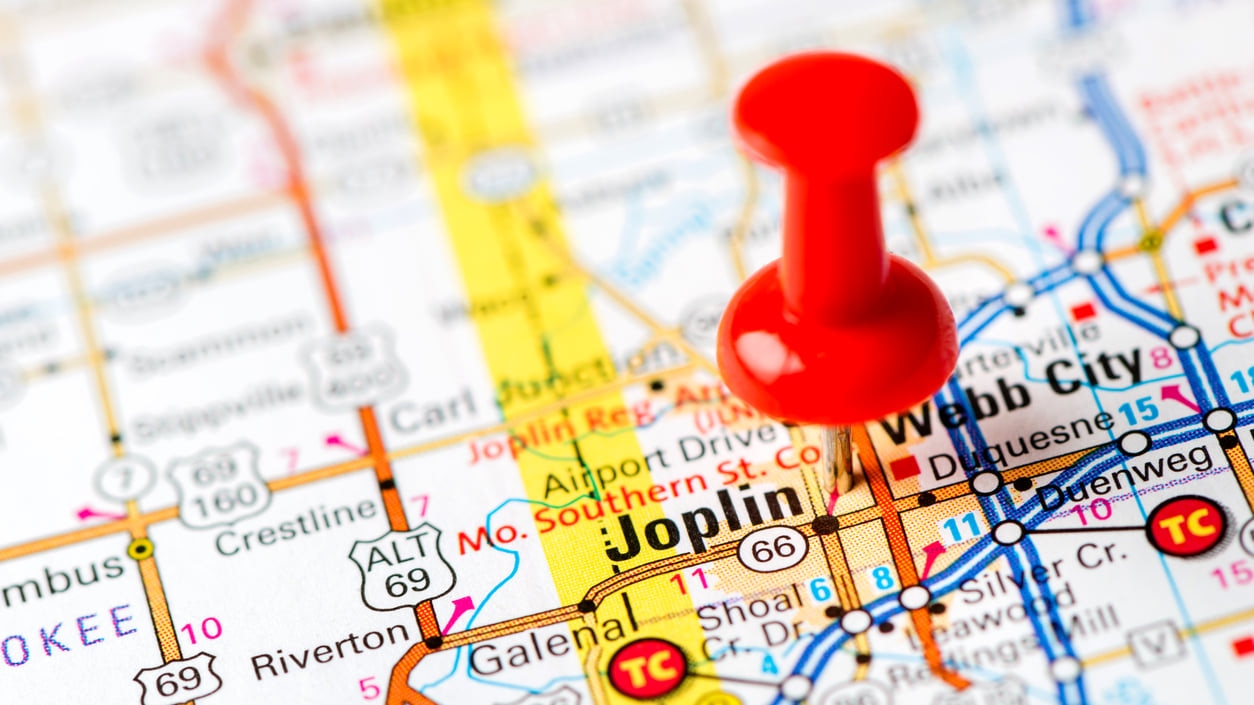 Located in the southwestern corner of US state of Missouri, Joplin is a city in the Southern Jasper County and Northern Newton County. In fact it is also the largest city in Japser City. Now if you have planned to visit this place you will not be short of options because the place is abundant for everyone. Rich in natural beauty, this place is the destination for you and your family as it comes in a complete package. And if this is not enough did you know that this place flaunts an impressive 40,000 sq. ft. showroom of Harley-Davidson. So check out the ten best things to see in Joplin.
[x] close
Joplin:table of contents
1. Candy House Gourmet
Your kids will love you for this. This place has been a favorite since several decades for the people here as well as the tourists. Candy House offers you some of the some exquisite hand-dipped chocolates, Caramel Pecan Treats, English Toffee and for the conscious souls they even have a wide variety of the sugar free selections. And we are yet to come to the real reason why you must visit the place. Their chocolate factory in downtown Joplin lets you see how these goodies are prepared through glass windows. And they have free samples for you to choose the best ones you wish to take home. All you need to be sure of is to book the factory tour beforehand for the available slots.
Name:Candy House Gourmet
Address:510 S Kentucky Ave Joplin, MO
Related Site:https://www.visitjoplinmo.com/business/candy-house
2. Grand Falls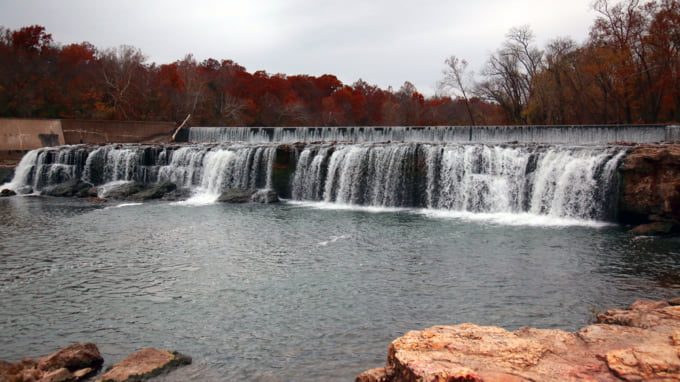 Photo by CJ Hanevy/shutterstock.com
This is the place for those who have the thirst for exploring the most scenic places. "The Falls" as it is most commonly known is a perennial waterfall in Missouri. The trails around are absolutely gorgeous so you can have little picnic by the side or bike. The height of the waterfall is around 12 feet and it falls onto a jagged creeks and rocks that add to the beauty of it. Thereafter it becomes mild further downwards. In fact you are planning to add this to your list while in Joplin then you must reach there early as the parking is pretty limited sans any extra amenities.
Name:Grand Falls
Address:5685 Riverside Dr, Joplin, MO
Related Site:https://www.visitjoplinmo.com/business/grand-falls
3. George Washington Carver National Park
This place has been preserved as a way of honoring the birth of the great American agronomist, educator and humanitarian. This was the place where he was born and brought up. This is a 240 acre national park is located about 15 minutes in the southeast of Joplin. The park is meant for all nature lovers with a walk around nature, with small streams and tall prairies for company. This also houses the Carver cemetery, museum and even a discovery center.
Name:George Washington Carver National Park
Address:5646, Carver Road Diamond, MO
Related Site:http://nps.gov/gwca
4. Hideout Harley Davidson
This is specifically meant for bike lovers. No, actually it is meant for highway bikers who either own or wish to own these legendary motor bikes. This is where Harley Davidson belongs and they deal in everything right from new to pre-owned bikes, to accessories, to test rides, to riding and street gear which is dotted with band events and lunches. There are events meant for women riders only, so you don't have to feel left out. The space they offer is as kingly as the brand which is a staggering 40,000 sq. ft.
Name:Hideout Harley Davidson
Address:5014, Hearnes Boulevard Joplin, MO
Related Site:http://hideouthd.com%20or%20facebook.com/hideouthd
5. Neosho Fish Hatchery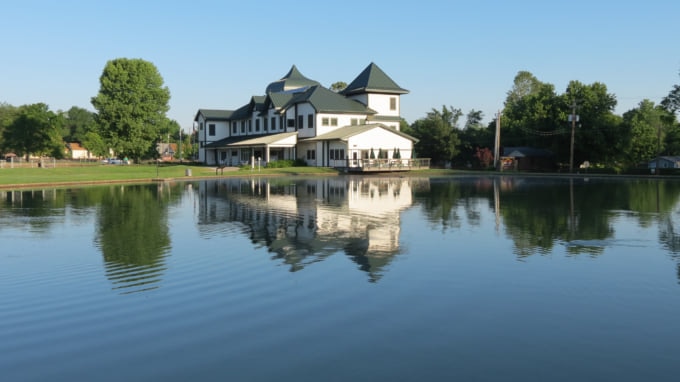 Located in the south west region of Missouri in the mountainous region of Ozark, this is the old federal fishery in US. It was established in 1888. Run by the US Fish and Wildlife Service it serves the mission of preserving the fishery resource of the nation. In fact, over the years it has done great job by not just hatching 130 different varieties of fish but also strengthening the economy. They even have a lake where they allow fishing for the purpose of recreation for tourists as well the locals. The species that they rear are rainbow trout, pallid sturgeon and Topic shiners.
Name:Neosho Fish Hatchery
Address:520 E Park St Neosho, MO
Related Site:https://www.fws.gov/midwest/neosho/about.html
6. Sandstone Garden
This is the ultimate place for those have an eclectic taste for everything. This place will ensure that the day is well spent while wandering through some of the best collections of Euro-stone and botanical. And if means a lot of walking that makes you hungry you have gourmet lunches and special handmade desserts at the exotic Bistro to pamper you.
Name:Sandstone Garden
Address:2826, Douglas Fir Road, Joplin, MO
Related Site:http://www.sandstonegardens.com/
7. Joplin Museum Complex
This is combination of two museums packed in one: Everett J. Ritchie Tri- State Mineral Museum and the Dorthea B. Hoover Historical Museum. The mineral museum has been designed like a mine shaft that tells the story of Joplin as a mining town and the historical museum is all about knowing the lustrous past of the city. Historic Route 66, Bonnie and Clyde adventures, the National Cookie Cutter Museum are some of the interesting things you get to see in the Historical Museum.
Name:Joplin Museum Complex
Address:504 S Schifferdecker Ave, Joplin, MO
Related Site:http://www.joplin-museum.org/
8. Wild Cat Glades & Audubon Centre
Some of the last cat glades have been conserved and this had become a major tourist attraction because this is one its kind all over the world. This place have abundance of biological life where you will find yourself watching migratory birds and other interesting wildlife. Walking down the Ozark stream, picnicking in nature, and miles of solemn walk down the trail is in itself an experience to remember. Also the enormous aquarium and live American Kestrel is definitely worth a look.
Name:Wild Cat Glades & Audubon Centre
Address:201 W. Riviera Drive Joplin, MO
Related Site:http://www.wildcatglades.audubon.org/
9. Keltoi Winery
Towards the Northern end of Joplin, you can find the paradise for all wine lovers. Keltoi Winery is not just a winery that makes wines but makes it an experience for its customers as you can taste some of the earthiest flavors right in the lap of nature. They have special drinks for their customers for summer and winter months. You can wither curl up next to the fireplace in winters or explore the winery with a scrumptious picnic basket in the summer enjoying the trail and the Little Northfork Creek.
Name:Keltoi Winery
Address:17705, County Road, 260 Oronogo MO
Related Site:http://www.keltoivineyard.com/
10. Precious Moments Chapel & Gift Shoppe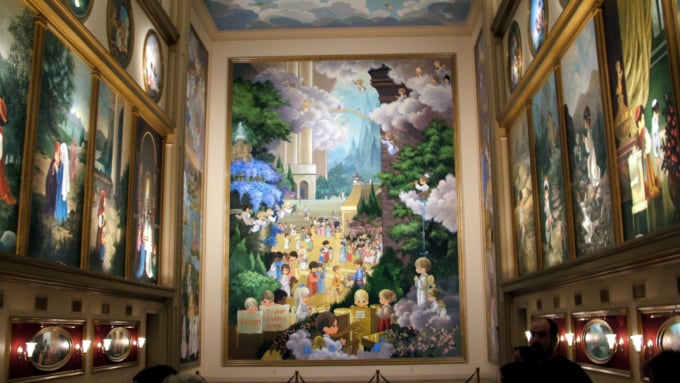 Samuel J. Butcher founded this chapel in 1989 with the most earnest intention of thanking the Lord the good things in his life. In fact the place beautiful tells some of the treasured stories from the Bible. For the love for art the chapel has 84 hand painted murals and 30 glass paintings. There is Christmas Shoppe, Women's Boutique and also a Royal Delight's Café that takes care of your hunger cravings.
Name:Precious Moments Chapel & Gift Shoppe
Address:4321 S, Chapel Road, Carthage, MO
Related Site:https://preciousmomentschapel.org/
◎ Closing
So the next time in Missouri, be sure that you do not miss this hidden gem that has its own way of celebrating life. Be ready to pack some great experiences and beautiful places that will warm your heart. Joplin is the right blend of "A little bit of county… a little bit of rock and roll".