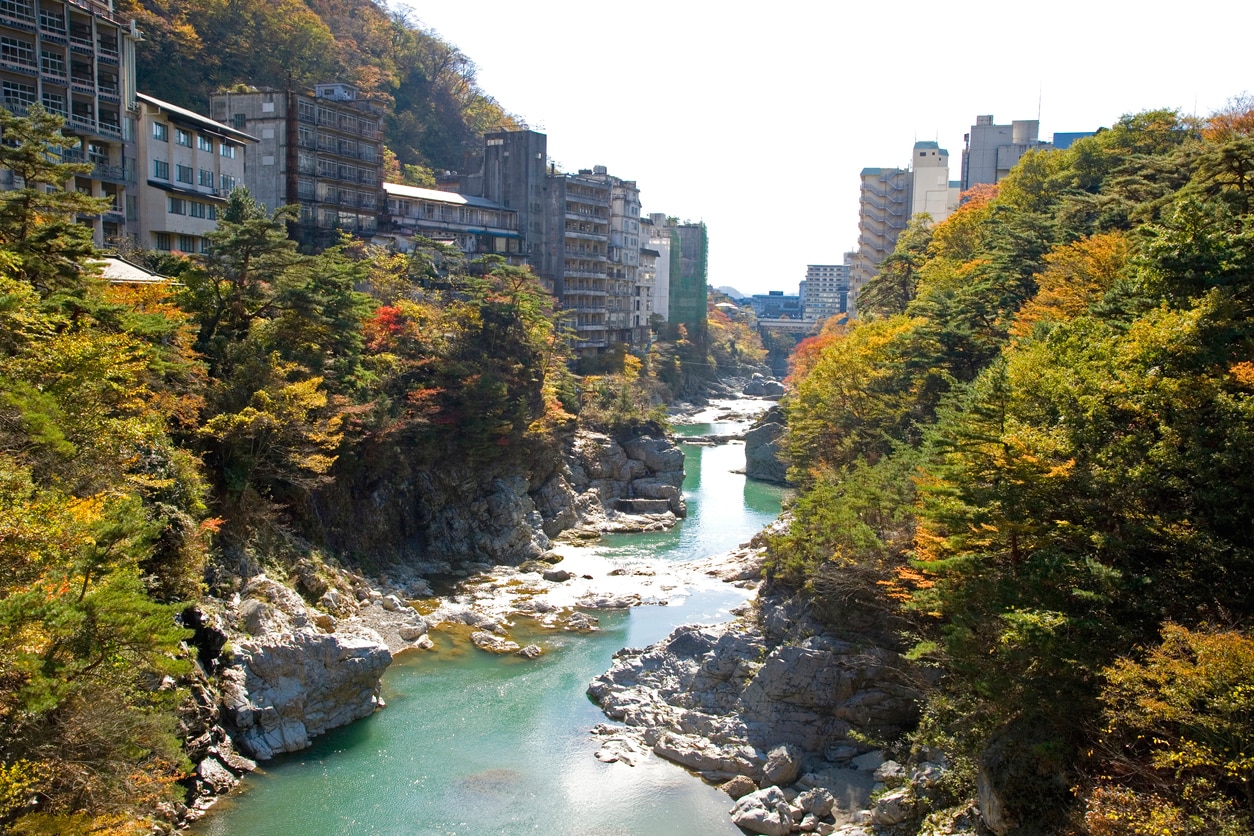 Beautiful Hot Spring Towns and Onsen Resorts Easy to Reach From Tokyo
The energetic and lively pace of Tokyo's capital can get cloying rather quickly, but luckily Japan has the perfect antidote already to offer its visitors. Onsens are hot spring resorts, usually found in rural areas up in the mountains, these places are the perfect spots for relaxation. The metropolitan area of Tokyo is surrounded by mountains and volcanoes that provide a wealth of these resorts at just a quick jaunt from the city.

Next time you're feeling a little under the weather while in Tokyo, head to one of these places to get your vigor back.
table of contents
[x] close
Beautiful Hot Spring Towns and Onsen Resorts Easy to Reach From Tokyo
Kusatsu Onsen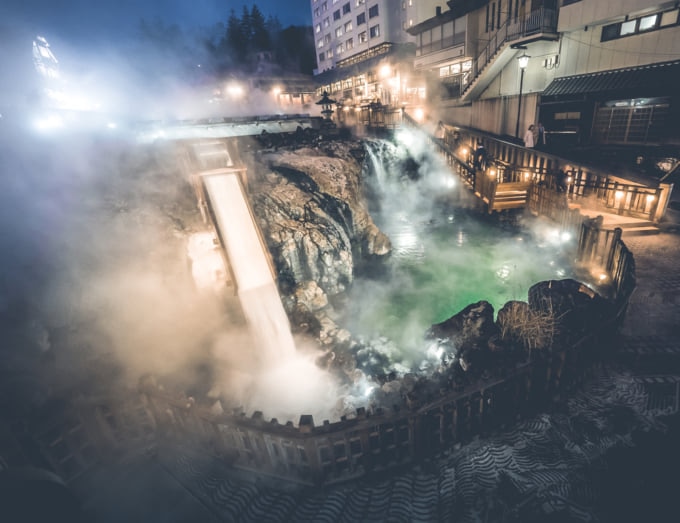 Photo by Rockzheart/Shutterstock
One of Japan's most famous onsen towns high up in the mountains of Gunma, Kusatsu is one of the perfect places to give you an introduction into Japan's hot spring culture. Here you'll find a range of interesting activities apart from the usual hot spring bathing. Make sure to watch the traditional Yunomi Performance or 'water-cooling' along with checking out the Yubatake, a reservoir of hot spring water that acts as a symbol for the town. Although this incredible town is popular among domestic tourists, it still seems to fall under the radar to most foreign tourists visiting the country.
Kamogawa Onsen
Tokyo's neighboring prefecture of Chiba is often overlooked for tourism, usually just seen as an international gateway with Narita Airport. However there's a range of things to do along its long stretch of coastline in the Boso Peninsula, including some beautiful onsens with views out over the Pacific Ocean. At under two hours drive from Tokyo, Kamogawa Onsen is a great choice for those who don't want to travel far from the city to soak their toes in.
Kinugawa Onsen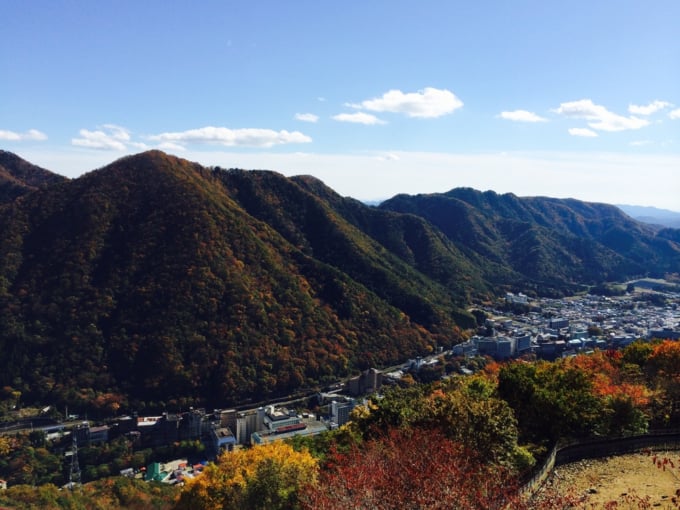 Photo by Joy Wannarat/Shutterstock
Nestled in a mountain valley north of Nikko town, Kinugawa is a popular spot for relaxing in the natural hot springs after traversing around the national park. An onsen town that was founded over 300 years ago, Kinugawa was once exclusively for monks and daimyo samurai who were visiting the region. Although there are a number of places in the mountains of Nikko to bathe in hot springs, this town has a beautiful backdrop of scenery to go with it that's incredibly picturesque during the fall season.
Shima Onsen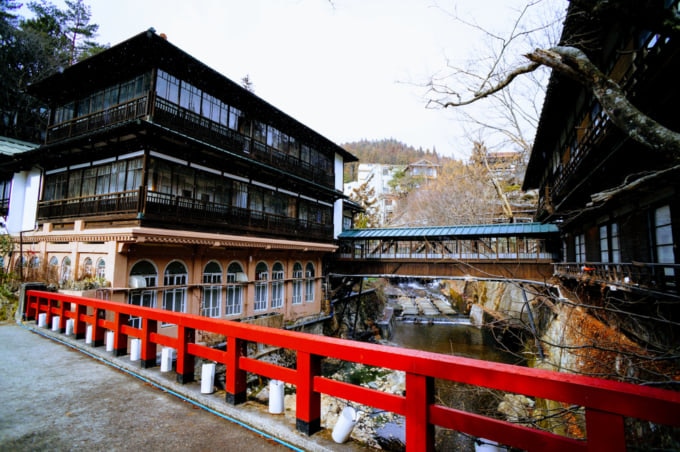 Photo by Wizard8492/Shutterstock
Another of Gunma's beautiful mountain onsen towns, Shima Onsen is said to be one of the oldest of its kind in Japan. Although it's smaller and not as popular as the nearby Kusatsu Onsen, Shima is arguably more picturesque, with the town's traditional architecture alongside the Shima River Valley providing a beautiful backdrop for hot spring bathing.
Yunessun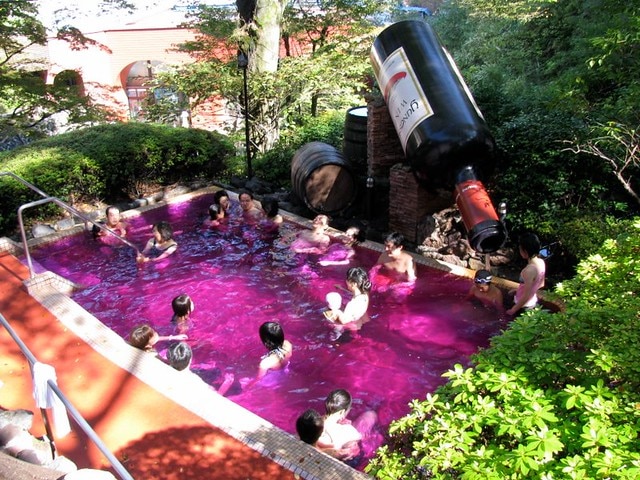 For the onsen enthusiasts that are looking for something different, or just plain alcoholics who have long dreamed of bathing in their favorite tipple, Yunessun provides a range of unconventional bathing options from red wine to coffee and tea. The resort is within the popular national park of Hakone, which offers other more standard hot springs along with some beautiful scenery that draws visitors.
Conclusion
If you want a true experience of Japanese hot spring culture, you'll need to head out of the city and into the more rural areas of the country. However if you're short on time, there are places within the city too that offer a short respite from the city and a chance to soak your tired limbs. Odaiba's Oedo Onsen Monogatari is a good example, although a little on the expensive side (almost 3,000 yen on weekends), they offer numerous baths along with some picturesque outside baths that make you feel like you're a world away from Tokyo for a brief moment.