Duluth : The Strongest Pillar in Minnesota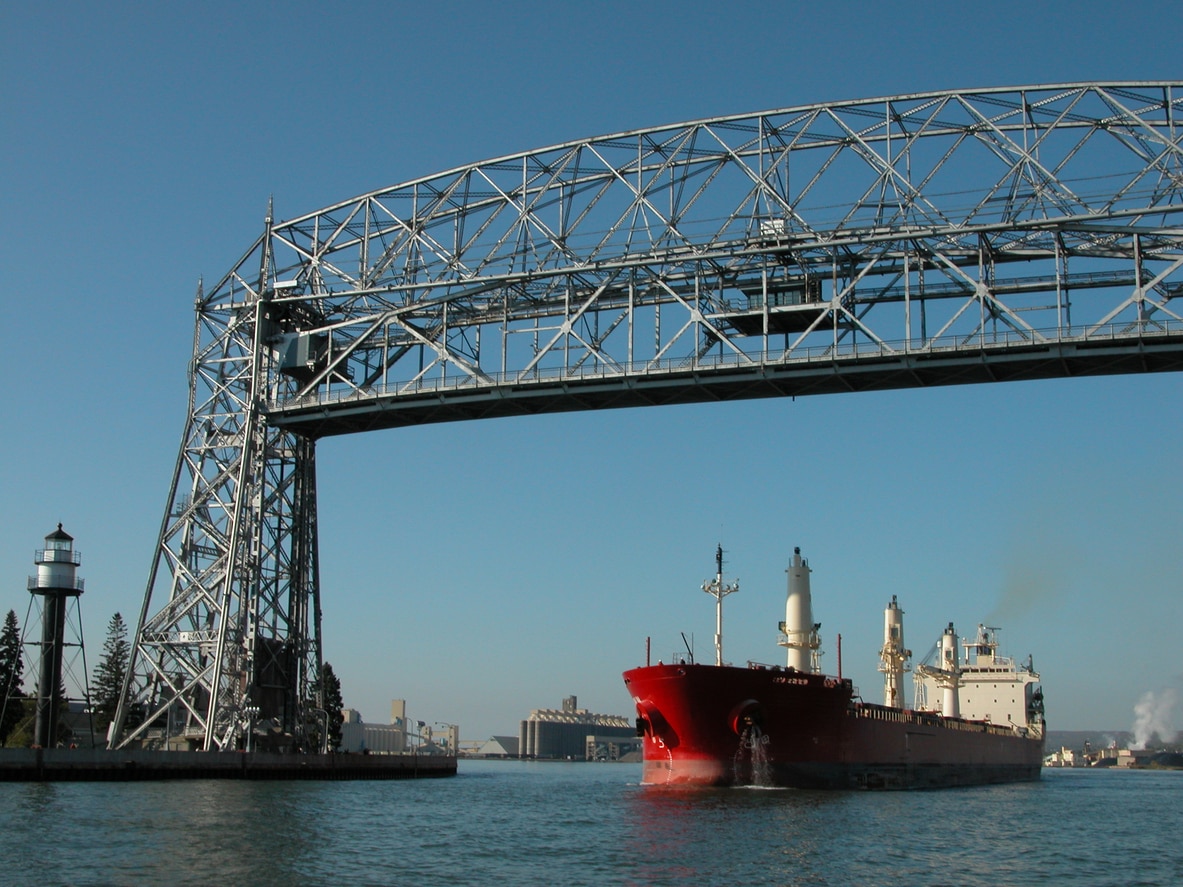 Duluth is one of the popular cities in the State of Minnesota. It serves as the county seat of the County of Saint Louis County. Situated on Lake Superior' shores, the town is easily accessible through Saint Lawrence and Great Lakes Waterways on ocean-going vessels. It shares the Duluth-Superior harbor with nearby Superior, Wisconsin. The two are commonly referred to as the twin-ports. The city of Duluth has some unique and varied attractions. They include;
[x] close
Duluth : The Strongest Pillar in Minnesota:table of contents
1. Aerial Lift Bridge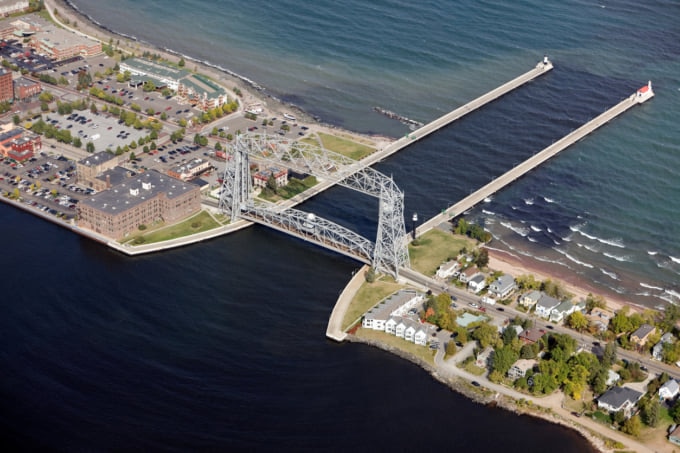 The Aerial Lift Bridge is a vertical lift bridge that spans the Duluth Ship Canal. First built in 1905, it was reconstructed in 1929. It has remained an iconic landmark ever since. It has a clearance of 180 feet when raised. With a length of 386 feet and a weight of approximately 900 tons, it is, without doubt, an engineering marvel. This, combined with its sheer beauty maybe has made it the most photographed landmark of Duluth. Watching large ships navigate through this bridge is a sight to behold.
Name:Aerial Lift Bridge
Address:601 S Lake Ave, Duluth, MN
Related Site:https://www.dot.state.mn.us/historicbridges/L6116.html
2. Glensheen Congdon Estate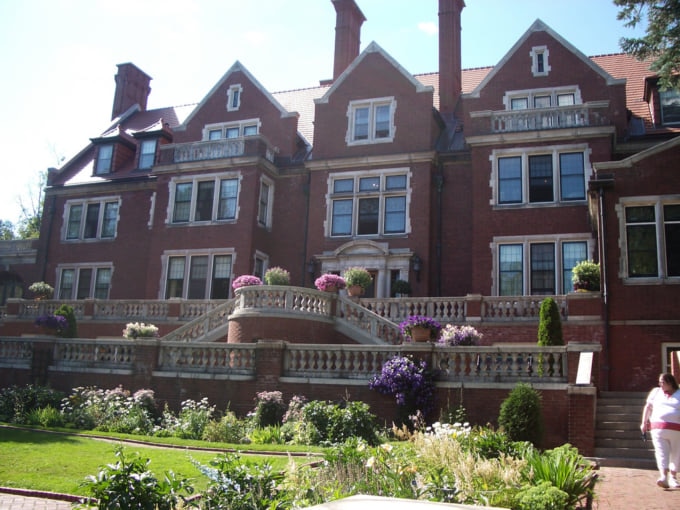 The Glensheen Congdon Estate lies on 12 acres featuring iconic gardens, bridges and the famous 39-room mansion. It was built by Chester and Clara Congdon as their family home between 1905 and 1908. The Estate was later donated to the University of Minnesota in 1979, and it has operated as a historic house museum since then. For the lovers of authenticity, this estate offers a rare glimpse into the past. The mansion is well-preserved, and every aspect of the Congdon's life is well depicted by the many memorabilia found here. From Clara's handwritten letters to Chester's hat, the collection has remained intact.
Name:Glensheen Congdon Estate
Address:3300 London Rd, Duluth, MN 55804, USA3300 London Rd, Duluth, MN 55804, USA
Related Site:http://glensheen.org/
3. Great Lakes Aquarium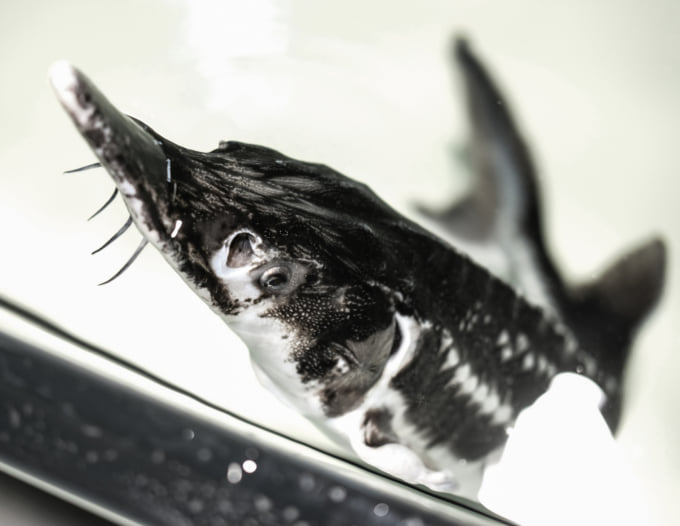 The Great Lakes Aquarium was opened in the year 2000. It was formerly known as the Lake Superior Center and is located on the Duluth waterfront. It is a not-for-profit organization with a mission to inspire exploration of people's connection to Lake Superior and other waters of the world. It has a host of attractions featuring animal habitats from the basin of the Great Lakes, freshwater based ecosystems such as the River Amazon. With over 200 different fish species, reptiles, mammals, birds, and amphibians, it is a worthy treat.
Name:Great Lakes Aquarium
Address:353 Harbor Dr, Duluth, MN
Related Site:https://glaquarium.org/
4. Maritime Visitor Center, Lake Superior
Located near Aerial Lift Bridge in the Canal Park is the Maritime Visitor Center, a museum with exhibits on display depicting the history of the bridge, and operations of the region's commercial shipping. The museum is a property of the U.S. federal government, and it offers free admission to all visitors. There is a variety of exhibits on show including replica cabins of cabin ships that plowed Lake Superior in years past. One can also enjoy the view of large ships passing through the Aerial Lift Bridge that is nearby.
Name:Maritime Visitor Center, Lake Superior
Address:600 South Lake Avenue, Duluth, Minnesota
Related Site:https://lsmma.com/
5. Lake Superior Railroad Museum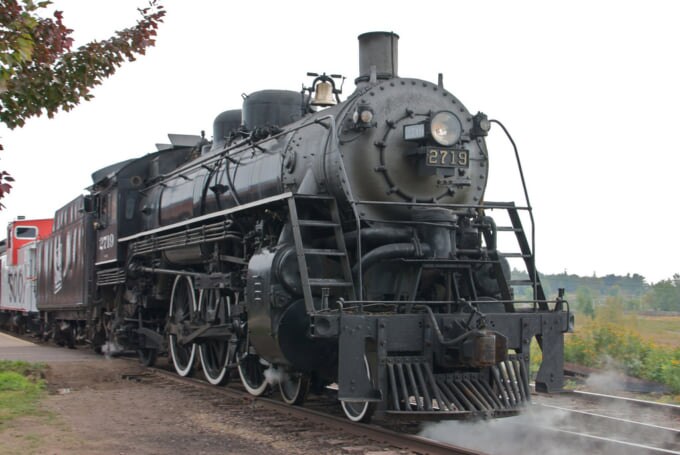 The Historic Union Depot, built in 1892 in the downtown area of Duluth, houses the Museum. It is housed in the Historic Duluth Union Depot built in 1892. It has an enviable collection of locomotives and other railway equipment exhibits offering the richest historical experiences in railroading anywhere. The museum's North Shore Scenic Railroad offers train rides in the summer and fall months using historical rail equipment from the museum collection. For a completely immersive experience, a ride on the historic Lakefront Line along the shores of Lake Superior is a must.
Name:Lake Superior Railroad Museum
Address:506 W Michigan St, Duluth, MN
Related Site:http://lsrm.org/
6. Lake Superior Zoo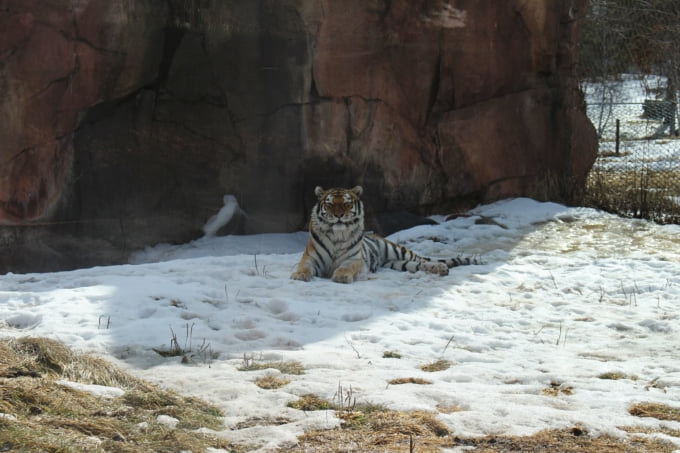 Lake Superior Zoo dates back to 1923 and has been a top destination in Duluth since its inception. The zoo has been for a long time home to a variety of wild animals from all over the world. Some are natives of the region while others are from as far away as Africa, Asia, and Australia. There are up to eight animal exhibits each hosting species. Some of these animals include an African lion, Amur tiger, green tree python, llama, blue and gold macaw, and many more. It is an exhilarating experience to meet these adorable animals and learn more about nature.
Name:Lake Superior Zoo
Address:7210 Fremont St, Duluth, MN
Related Site:https://www.lszooduluth.org/
7. Enger Park and Tower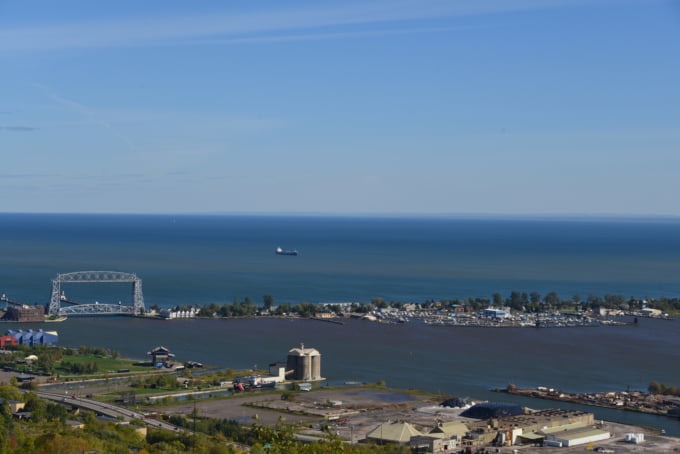 The Enger Tower was built in 1939. It stands 531 feet (162 m) above Lake Superior. It is a five-story structure offering a panoramic view of the Duluth Harbor and the St. Louis Bay. It was named after Bert Enger, an immigrant Norwegian who was both a successful businessman and a renowned philanthropist. The Tower is part of the estate of Enger that he donated to Duluth City at the point of his death. It was two-thirds of his estate and includes the land known as Engel Hill, a park, and a golf course.
Name:Enger Park and Tower
Address:16th Avenue West & Skyline Parkway, Duluth, MN
Related Site:http://www.duluthmn.gov/parks/parks-listing/enger-park/
8. Canal Park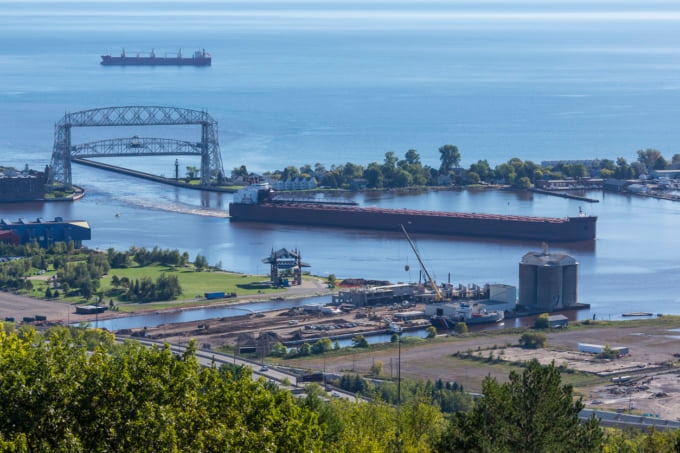 Canal Park is a must visit while in Duluth. The area is regarded as the state's most popular tourist and recreational district. The restaurants, shops, and attractions found here are a conversion of an old warehouse that started in the eighties in a bid to revive the economy of the area which was in decline at the time. Recognition of the potential of the area as a tourist destination due to its rich historical past was the main motivation behind its establishment. As such, every area of this park is tailored to meet visitor's expectations. From lodging, dining to shopping, the park leaves a lasting impression on every visitor. There is also a host of family attractions in the park including a cinema, playground and an adventure zone making fun a wholesome family experience.
Name:Canal Park
Address:Duluth, Minnesota.
Related Site:https://canalpark.com/
9. Leif Erikson Park
The larger Duluth metropolitan area is home to many parks offering a myriad of recreational activities and relaxation. Among these parks, one stands out; the Leif Erikson Park. The park has two stone towers and a stage as its most identifiable landmarks. It also features a large open field for various events all year round, hiking and biking trails, and benches all near the shores of Lake Superior. Whether alone or traveling in a group, the park is one of the best places to enjoy the outdoors in the city.
Name:Leif Erikson Park
Address:1301 London Rd, Duluth, MN
Related Site:http://www.duluthmn.gov/parks/parks-listing/leif-erikson-park/
10. Lakewalk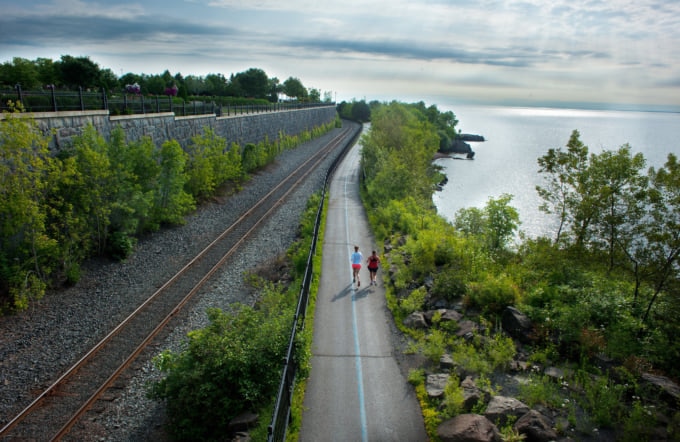 Photo by University of Minnesota Duluth
The Lakewalk is a 4.2-mile pathway stretching from 27th Avenue East to Bayfront Festival Park along the shores of Lake Superior. Taking a walk on this pathway is a fascinating way to take in the view of the lake in all its beauty. Shipping vessels are also visible as they traverse these waters. For the lovers of skating or even cycling, it also serves as a breathtaking route; be mindful of the pedestrians though.
Name:Lakewalk
Address:Brighton Beach Rd, Duluth, MN
Related Site:http://www.duluthmn.gov/parks/parks-listing/lakewalk/
◎ Closing
While in Duluth, check out the North Shore Scenic drive, a spectacular stretch of road ideal for scenic driving. Running between Duluth and the Canadian border, the 154-mile stretch has earned recognition as one of the most beautiful places to visit. It offers stunning views of Lake Superior, a mountain backdrop, and raw wilderness. Duluth offers myriads of attractions and recreation sites making it a top destination.