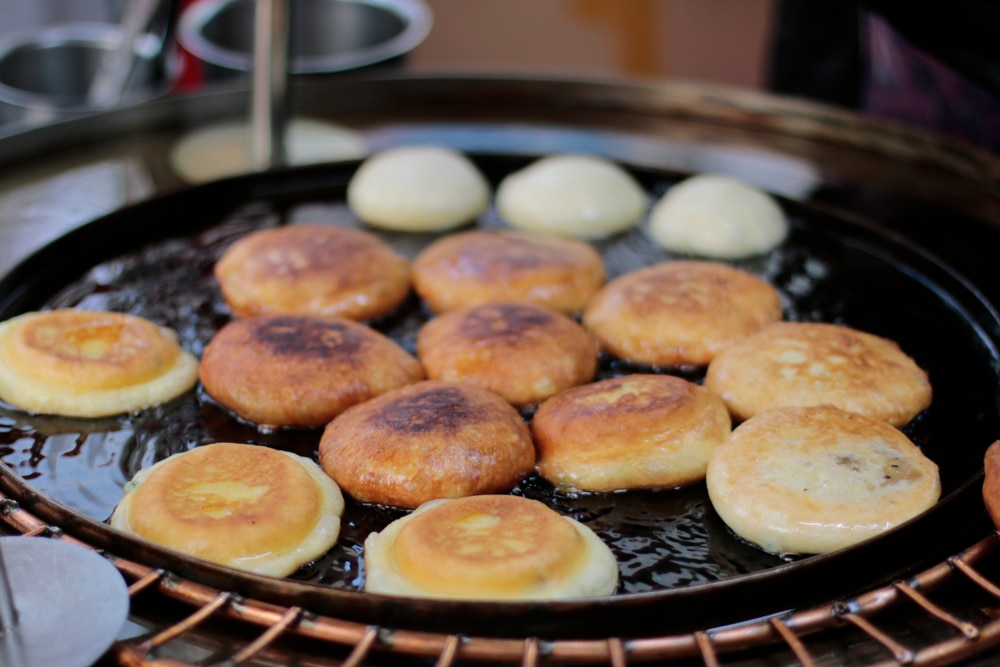 Photo by hyotographics/Shutterstock
8 Korean Street Foods You Need to Eat in Seoul
With food carts and street markets found in all corners of the city, Seoul is a food lover's all-you-can-eat paradise. From its bustling food markets, crammed with street vendors and food stalls to the many carts around the city selling all kinds of vibrant street food, Seoul is a smorgasbord of street eats. Here are some of the things you absolutely have to try when visiting the city.
table of contents
[x] close
8 Korean Street Foods You Need to Eat in Seoul
Kimchi Dumplings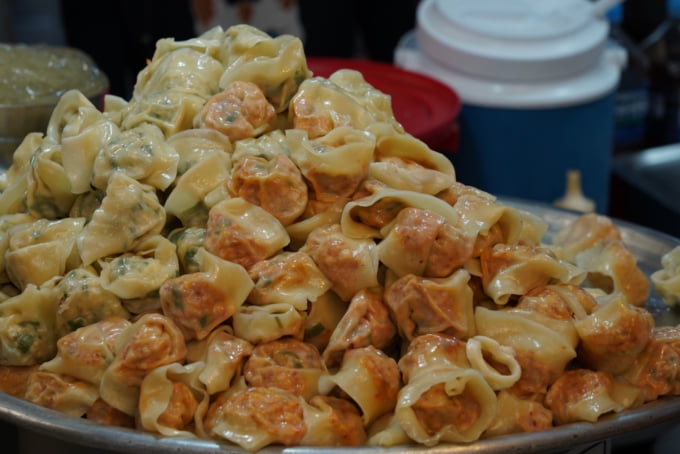 Photo by stossi mammutto/Shutterstock
Dumplings are ubiquitous around Asia and every country has its own spin on one of the continent's favorite snacks. As you might expect, Korea's version, known as mandu, often come stuffed with kimchi inside. It's a welcome respite from the generally similar fillings of minced pork you'll find all over East Asia, the kimchi adds an extra kick and blast of flavor to it.
Pajeon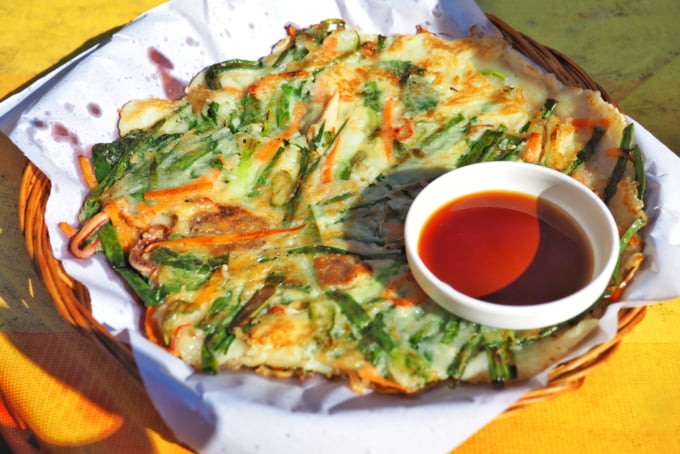 Photo by NavyBank/Shutterstock
Korean savory pancakes, Pajeon are found in all variety of flavors with the most popular being both the kimchi and seafood versions. Like many great Korean foods, they're often stuffed with cheese too, taking it to the next level.
Hotteok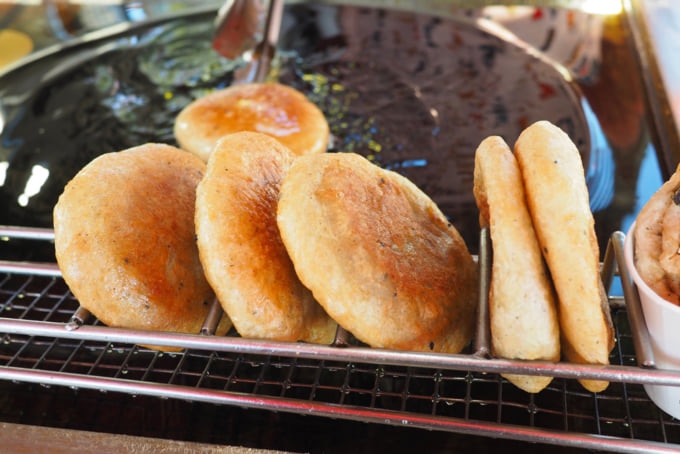 Photo by NavyBank/Shutterstock
Usually featuring a sweet molten hot filling of honey or brown sugar, these crispy deep-fried pancakes make for the perfect winter snack to warm you up in Seoul's cold weather. You'll find them all over the city, especially in winter, nowadays with a range of different fillings including savory ones too.
Twigim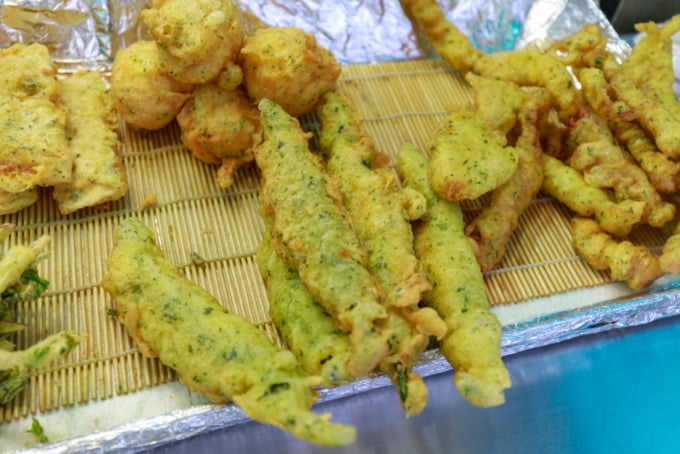 Photo by ARTYOORAN/Shutterstock
Like Japanese tempura on steroids, twigim often feature a much thicker batter, resulting in an extra layer of crunch. Unlike their cousins across the water, these deep-fried treats are found all over the streets, making the perfect snack to munch on as you wade through the vibrant markets and streets.
Sundae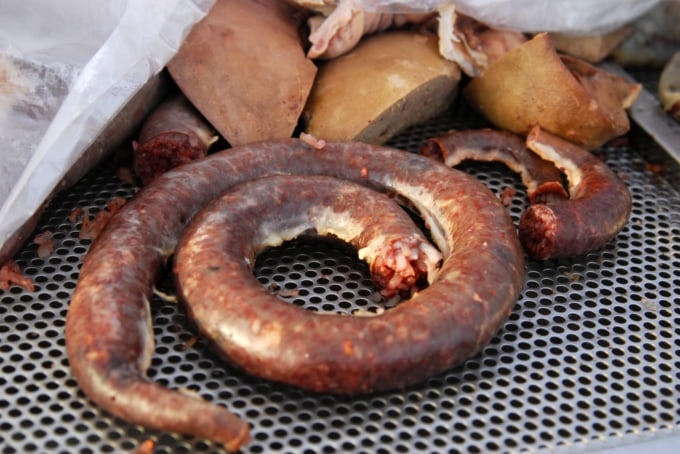 Photo by Johnathan21/Shutterstock
Once you get past the fact that its filled with blood (not ice cream, sorry), Korean sundaes are a tasty treat that you'll be craving in no time. Found in almost every street market in the city, these blood sausages are a local favorite, often not too popular with the foreign crowd. It's a shame however as these bites are super flavorful and succulent.
Tteok-galbi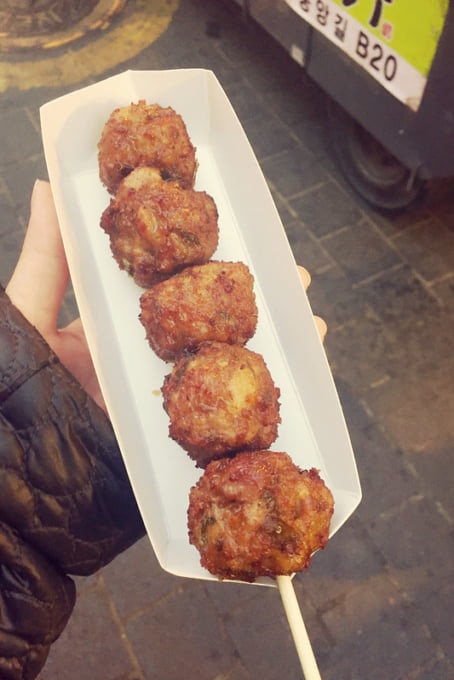 The ultimate form of the ubiquitous street skewer, tteok-galbi's street-side form is minced short rib that's formed into meatballs and shoved on a stick, brushed with sauce before being grilled. Also make sure to try the chicken skewers, known as dakkkochi, for those that need a little meat variation.
Bindaetteok
Adding to the seemingly never-ending list of Korean savory pancakes, these are made from mung beans and vegetables that are blended, formed into a flat patty and fried on a griddle. Along with sundae, they're one of the most famous eats to try at Seoul's food stall mecca of Gwangjang Market.
Tokkebi Dog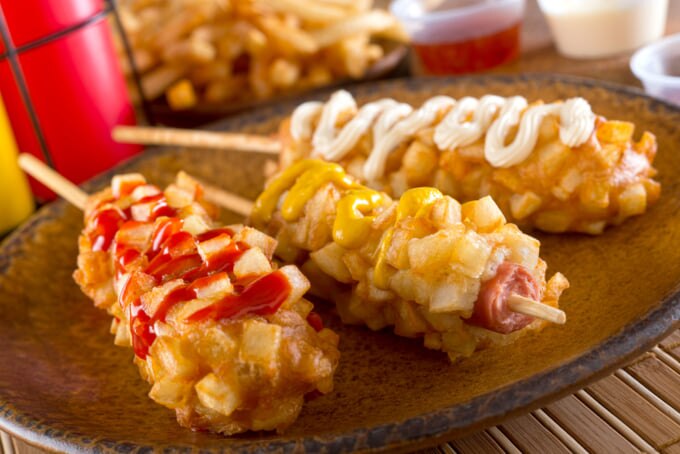 The Koreans are well known for their sensational fusion foods (think Korean fried chicken if you're lost), but none more ingenious than the french fry coated corn dog also known as tokkebi. The pinnacle of junk food, it's simply an American corn dog that has a fistful of french fries shoved into the batter.
Conclusion
Along with Gwangjang Market, Myeongdong Food Street and Dongdaemun Market are some of the best places around the city center to grab a few bites to eat. However most areas will often see street carts selling various Korean foods, especially towards the later hours of the day.