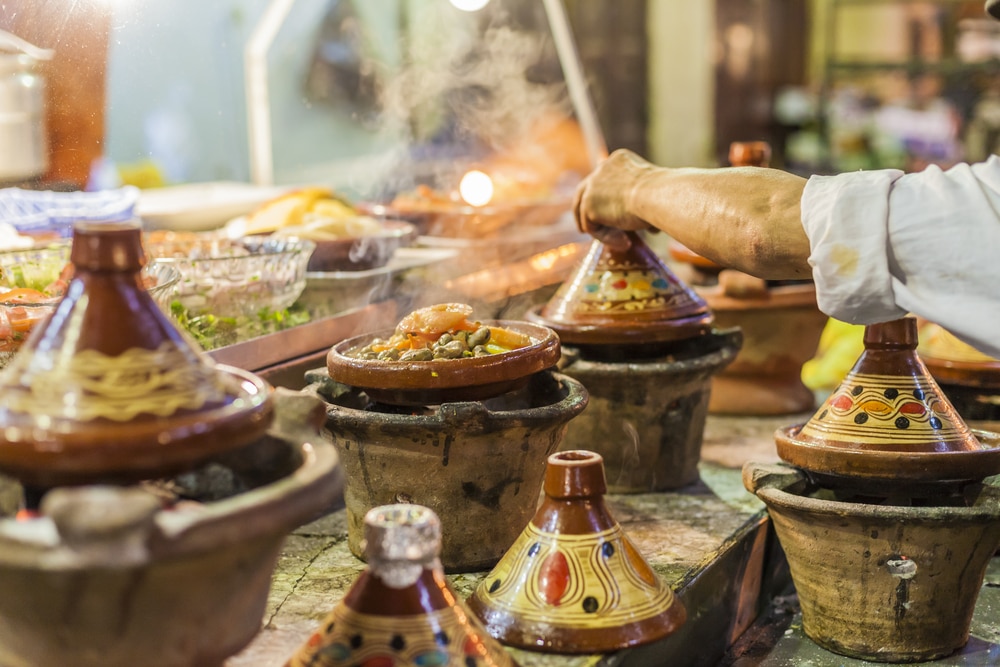 6 Dishes You Need to Try When Visiting Morocco
A mix of exotic flavors blending spices and herbs from Africa, the Middle East and Europe, Moroccan cuisine is an overload for the senses. Here are five dishes you just have to try if you're visiting the tourism mecca of North Africa.
table of contents
[x] close
Zaalouk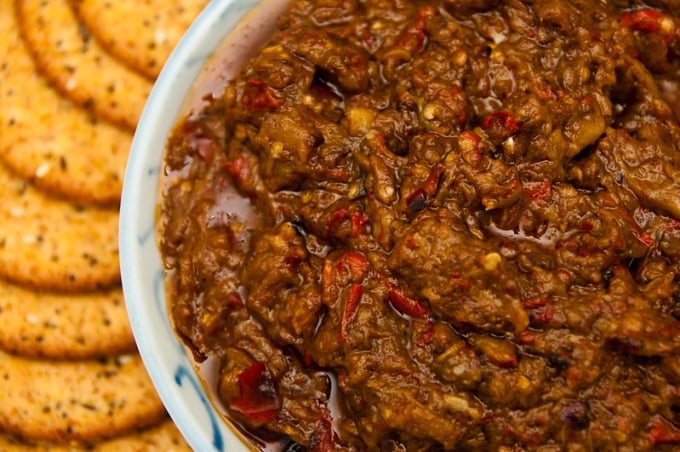 A delicious eggplant and tomato based dip originating from Morocco, zaalouk is usually served with local flatbread to scoop up this flavorsome dish. It's made by cooking eggplant and tomato with parsley and spices until soft enough to gently mash it together. Not just relegated to a dip however, you'll often find zaalouk accompanying grilled meats or fish, giving the dish an extra kick of flavor.
Pastilla
Photo by picturepartners/Shutterstock
A hearty Moroccan meat pie, Pastilla is the region's comfort food at its best. Featuring crispy layers of thin flaky pastry, the pies are usually stuffed full of meat like chicken or pigeon that's slow-cooked in spices. Cooks will often also add a layer of leftover broth cooked with egg into the pie too to give it a separate texture and flavor to it.
Harcha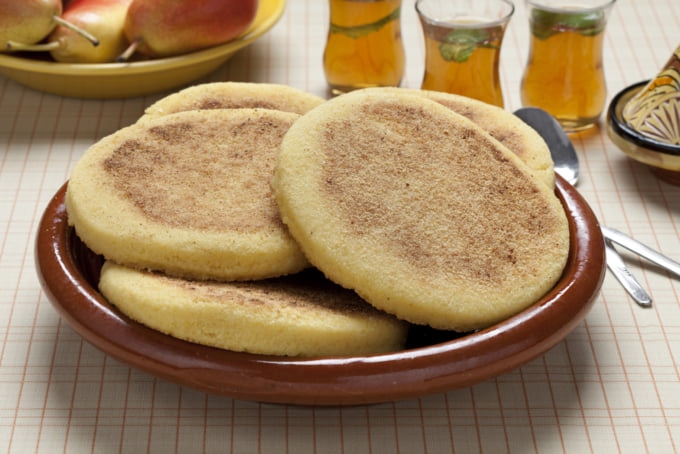 Photo by picturepartners/Shutterstock
A kind of bread you can't miss out on trying when visiting Morocco, harcha uses semolina instead of flour along with butter to make its dough, giving it a unique and delicious flavor. The flatbread is fried on a griddle until crispy on the outside and often cut in half and filled with sweet or savory fillings. Try it with a cup of Moroccan mint tea or coffee for the ultimate breakfast.
Tagine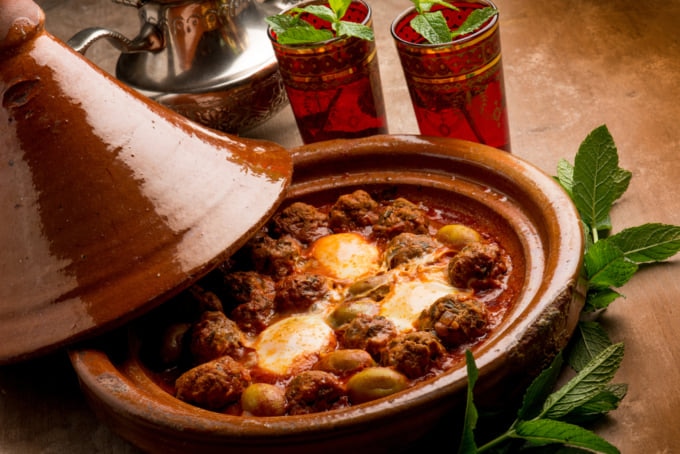 Photo by marco mayer/Shutterstock
Often seen as the national dish of Morocco, you'll find almost all local restaurants around the country serving some form of tagine, made with their own secret recipes. The name actually refers to the unique pottery dish that's used to cook this North African stew. There are countless varieties of tagines all over Morocco, but most tend to feature some kind of meat, often lamb, beef or chicken, slow-cooked for hours with various vegetables and occasionally fruits. It's usually cooked with a blend of spices known as ras el hanout, which contains at least a dozen different spices and often many more, giving the stew a wonderfully fragrant flavor.
Harira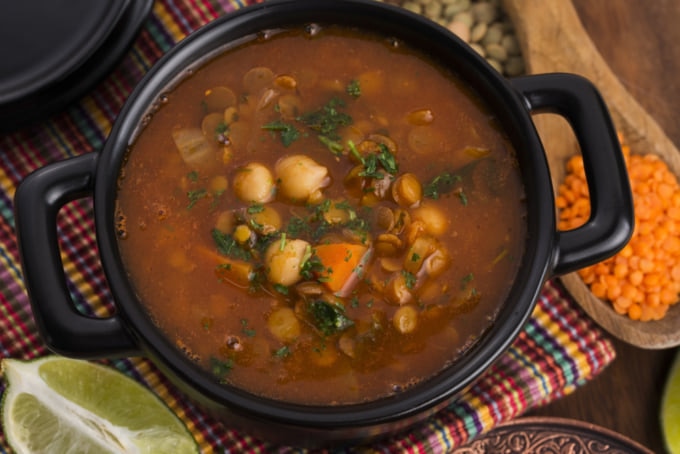 Photo by joanna wnuk/Shutterstock
Perfect for if you're visiting the country in the colder months of the year, Harira is a spiced vegetable soup that uses lentils, tomatoes, chickpeas and onions cooked in a variety of herbs and spices. Although it's highly comforting in the winter, it's always served during Ramadan, often used as one of the first dishes to break the fasting.
Briouat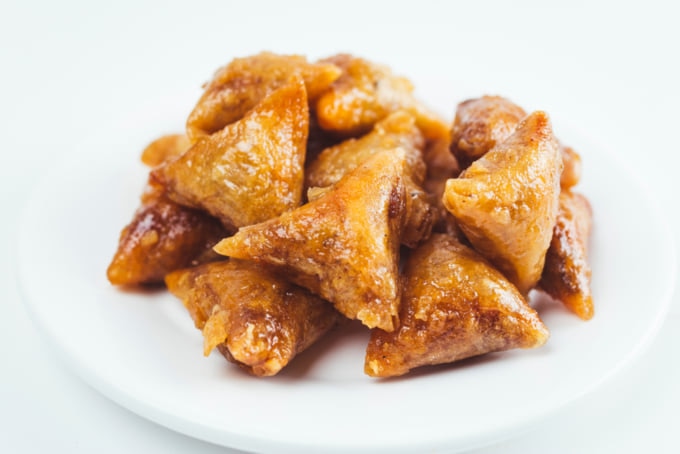 Traversing through Moroccan souks, the local traditional markets, you'll be sure to come across vendors selling a variety of different sugar-infused treats, from candied fruits to sugar coma-inducing pastries, it's a paradise for anyone with a sweet tooth. One of our favorites however are briouat, you'll find them with a range of fillings sometimes savory, but the sweet ones filled with almond paste are particularly delicious.
Conclusion
Blending ingredients from Africa, the Middle East and Europe, Moroccan cuisine is perfect for those looking for a kick of flavor, unique to anything you'll find elsewhere on the continent. Along with the classic Moroccan dishes, you'll find a number of common Middle Eastern dishes, such as baklava and hummus, are popular here too, albeit often with a slight local twist.