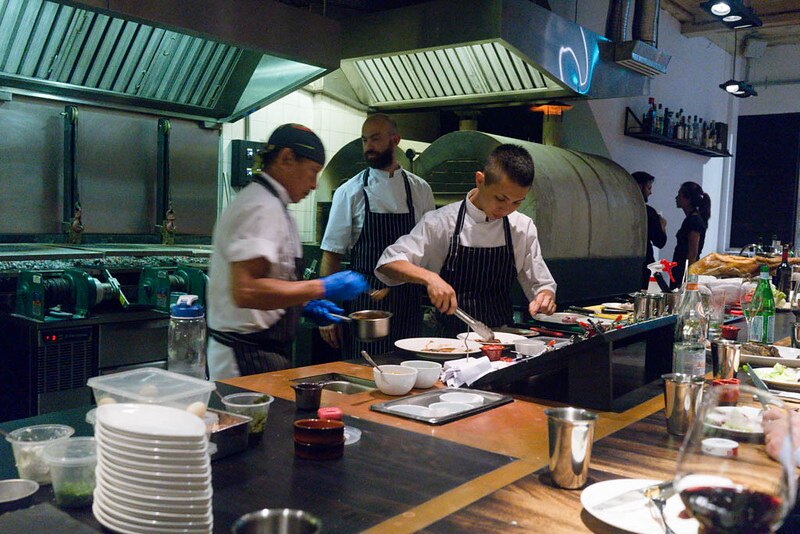 Photo by Charles Haynes/Flickr
Eat Your Way Through These 6 Must-Visit Restaurants in Singapore
It's incredible how a tiny nation like Singapore can hold so much within its boundaries. From being one of the cleanest countries in the world to having a wealth of fantastic attractions for the whole family, Singapore is a cultural melting pot of traditions and new-age architecture that never fails to impress.

Boasting of fabulous hotels, beautiful parks and one of the most lively airports in the world, Singapore is also a remarkable and incomparable culinary destination. An amalgamation of techniques and ingredients from across South East Asia form the basis of Singapore's local dishes, giving them an exceptional character. Although there are hundreds of places in the country to grab a delicious meal, a few stand out for being excellent in more ways than one.

table of contents
[x] close
Eat Your Way Through These 6 Must-Visit Restaurants in Singapore
Odette
2019 was a special year for Odette, one of Singapore's finest restaurants, situated inside the National Gallery. After successfully being honored with two Michelin stars for three years, it was in 2019 that the restaurant received the much-coveted third star. On top of that, Odette was awarded the top spot among Asia's 50 Best Restaurants.

Serving modern French cuisine, Odette is named after chef Julien Royer's grandmother. The restaurant is a beautiful collaboration between artists that extends out of the kitchen and incorporates the art and interior design of the space. Each one of these elements complements each other elegantly. A feast at Odette promises a riveting culinary escapade enhanced by the visual brilliance of its glass kitchen that allows guests to observe the chefs in action.

Must try: Dinner at Odette is an ever-changing eight-course extravaganza that never ceases to surprise the palate. Reservation is recommended as the restaurant typically gets booked up a month in advance.

Address: 1 St Andrew's Rd, #01-04 National Gallery, Singapore
Jaan
Jaan epitomizes Singapore more than any other restaurant in the country. The brainchild of Chef Kirk Westaway, Jaan gets its name from the Cambodian word for 'bowl,' but also means 'life' in Hindi. The menu is equally eccentric and features typical British recipes in modern-day avatars.

A meal at Jaan is an astounding experience for all the senses. While the food tickles the taste buds with its sensitivity and smell, the panoramic city views from the restaurant are quite simply, to die for. It comes as no surprise then that Jaan is the recipient of one Michelin star and is included as one of the top 50 restaurants in Asia.

Must-try: Featuring a collection of seasonal dishes, Jaan offers set-course menus during lunch and dinner. Inspired by the chef's British heritage, diners can expect familiar creations such as grilled scallops, baked pigeon, and ivory caramel chocolate. The restaurant also boasts of an extensive wine list comprising of over 500 different labels.
Address: 2 Stamford Road, Swissôtel Level 70, Singapore
Burnt Ends
The open kitchen at the Australian cuisine restaurant Burnt Ends makes every meal here a spectacular event. Guests have front row seats to all the drama that unfolds in the kitchen, like a theatrical gastronomic performance packed with delicious smells and tempting sights.

The soul of the restaurant, though, is its custom-made grills and ovens that give every dish an exclusive character. Meat, fish, and vegetables, are all treated in some way or another to the coal and wood fires burning inside, bringing out the nuanced complexities of every ingredient. As a result of its exceptional cooking methods, Burnt Ends is considered as one of the best restaurants in Asia. Its owner and chef, Dave Pynt, recently also won the Chef's Choice Award from his peers.

Must try: For the slightly adventurous, the Chef's Select menu is the perfect way to experiment with the best of what Burnt Ends has to offer. For others, recurring favorites include smoked quail eggs and caviar, king crab with garlic brown butter, and tenderloin with burnt onion and bone marrow.
Address: 20 Teck Lim Rd, Singapore
Hashida Sushi
Bringing the authentic taste of Japan to Singapore, Chef Kenjiro Hatch Hashida offers guests a sophisticated sushi experience in a sublime atmosphere. A second-generation master, Chef Hatch has spent over 20 years fine-tuning his Japanese culinary skills. At Hashida Sushi Singapore, Chef Yuji Sato is at the helm, overlooking the day to day operations, having spent many years traveling and working under Chef Hatch.

Situated at Mohamad Sultan, Hashida Sushi serves its patrons the freshest of seasonal ingredients omakase-style. An evening at the restaurant is an opportunity to witness, up close, the masters at work, weaving their magic into every piece of sushi, served from behind the counter.

Must try: Although dinner time is exclusively for omakase (a set meal chosen by the chef), customers can choose from a six to nine-course menu, featuring sushi, rice bowls, soup, sashimi, and dessert during lunchtime.

Address: 25 Mohamed Sultan Rd, Singapore
Open Farm Community
Open Farm Community brings to Singapore the concept of farm to table, by serving an array of dishes inspired by locally produced ingredients. Collaborating with farmers, the restaurant, situated in a scenic green and open space, highlights the importance of sustainability in and around the food we eat.

OFC takes the idea of community a step further by creating a menu that's shareable among friends and family. Moreover, the restaurant hosts events, featuring guest chefs and local producers, to facilitate interaction among guests.

Must try: The menu at the Open Farm Community is as vibrant as their philosophy, and comprises of beautiful renditions of the Caesar salad and classic egg dishes. The 'Red Army' baked eggs and the brioche crab rolls are both must-try comfort eats at the OFC.
Address: 130E Minden Rd, Singapore
The White Rabbit
There's a charming cleverness to The White Rabbit, situated inside a renovated 1930s colonial chapel. The interior features a soothing and rustic atmosphere, with a dash of color brought about by the stained-glass windows. Guests also have the chance to sit outside in the patio at the Rabbit Hole bar, for a casual time.

The serenity of the space captivates anyone entering the restaurant, further accentuated by the innovative dishes that reflects definitive European cooking ethos. Each dish arriving on the table is a feast for the eyes, delicately assembled to highlight every ingredient used.

Must try: Although The White Rabbit is also vegan and vegetarian-friendly, its wagyu steak, lobster bisque and roasted black truffle chicken are all delicious.

Address: 39C Harding Rd, Singapore
Conclusion
Whether it's eating at a Michelin-starred restaurant or indulging in one of the local hawkers center stalls, Singapore's epicurean offerings showcase a passion for cooking through its mouth-watering dishes, brimming with an assortment of fresh ingredients and intense flavors.