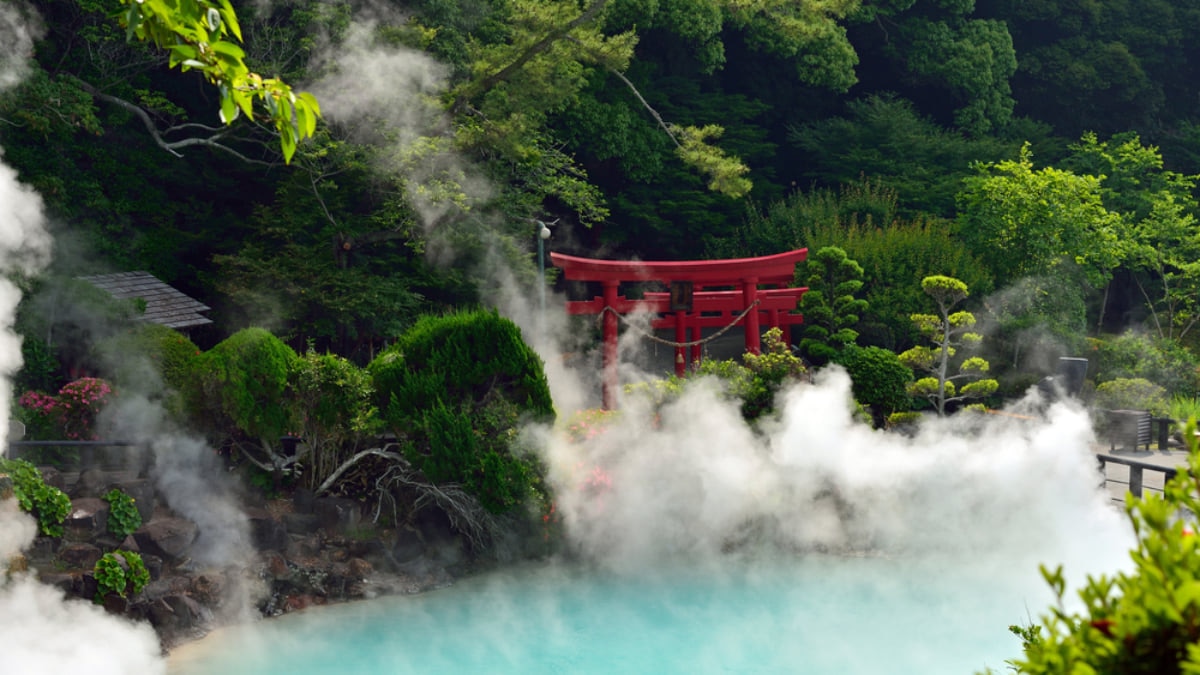 Photo by buttchi 3 Sha Life/Shutterstock
The Top Things to Do in Oita Prefecture
Straddling the coast of Japan's southern island of Kyushu, Oita is known in particular for its abundance of hot springs. For those who like to put an emphasis on relaxation while traveling, there's no better place than Oita. There's plenty of things to do here in between chilling out in hot springs however, here are some of the best.
table of contents
[x] close
The Top Things to Do in Oita Prefecture
Kitsuki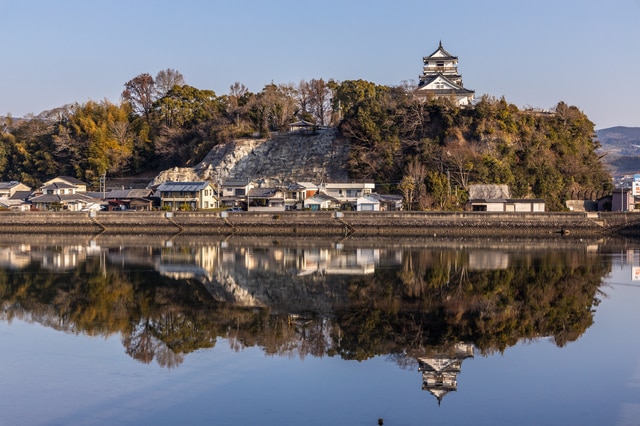 A picturesque castle town dotted with samurai residences and traditional Edo-era buildings, Kitsuki is a window into the past. Due to its age-old aesthetics it's a popular place to rent a kimono, the traditional gown, and walk around the impressive buildings taking photos. For more of an insight into the town's history, head to The Kitsuki Castle Town Historical Museum. Kitsuki Castle is actually the smallest castle in Japan, however you wouldn't have thought so from its location towering over the town on a standalone hill.
Yabakei Gorge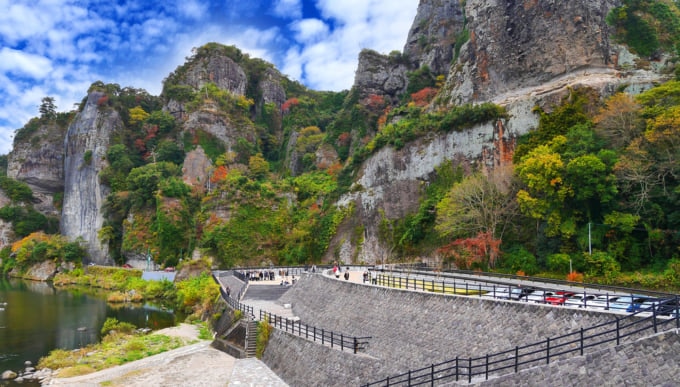 Towering over the small town of Honyabakei in Nakatsu, the impressive rock formations here offer a stunning backdrop to explore, complemented by the Yamakuni River and its historical bridges. Make sure to check out the nearby Yabakei Bridge to the north of the town. It's the longest arched stone bridge in Japan, and also makes for a picturesque sight. Shinyaba Gorge is also a short drive from the town with similar landscape that's particularly stunning in the autumn with its fall colors.
Beppu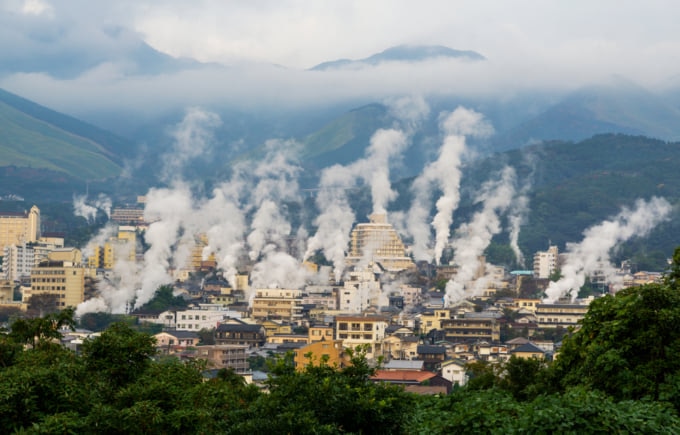 Photo by Journey is bliss/Shutterstock
One of Oita's most famous towns, if onsens and hot springs are your thing, then Beppu should be high on your list. There are hundreds of hot spring baths all around the town, most of them conventional with a number of different mineral properties, some of them unique and an experience in itself.
Kuju Flower Park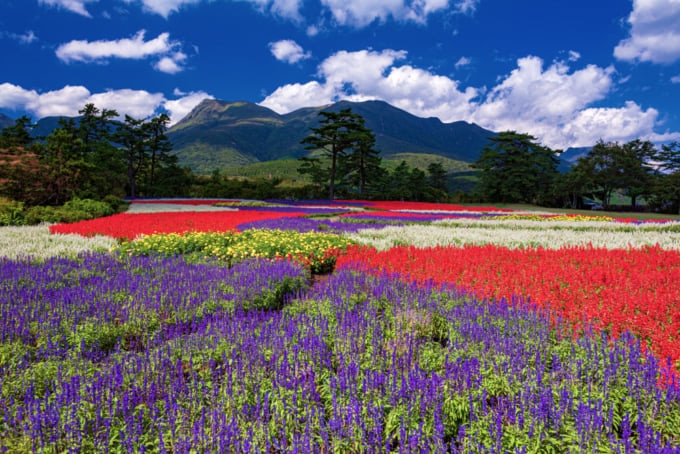 With the impressive Kuju mountains looming in the background and fields of beautiful flowers throughout the season, Kuju Flower Park is a must for anyone seeking some of Oita's best scenery. The flower gardens change every month so be sure to check on their website to see what's currently blooming. Unfortunately it's in Japanese, however you can check the photos to see which flowers are on show. The park is normally closed throughout the winter, from early December to the end of February.
Yufuin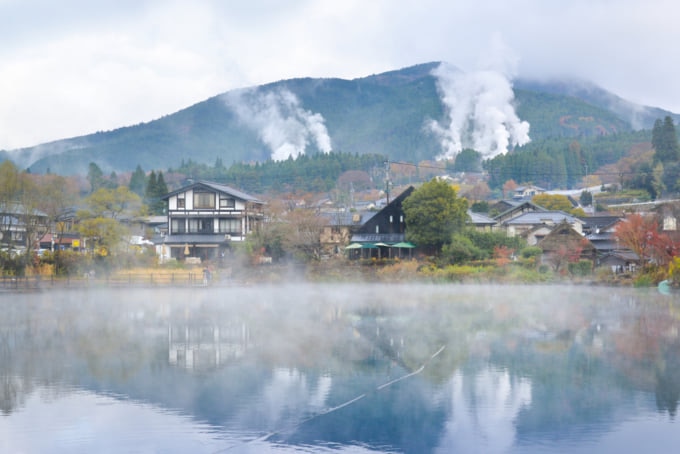 A short journey from the onsen hotspot of Beppu, Yufuin is another popular hot spring resort known in particular for its scenic views and quaint houses.

If you're trying to choose between Beppu and Yufuin, the former is best for the hardcore onsen enthusiasts. There's nowhere quite as densely full of baths and hot springs as Beppu, which offers a number of unconventional bathing choices too, such as sand and mud baths. Yufuin on the other hand offers plenty of scenic spots and places to see outside of the hot springs. The town is much smaller but there's plenty to do there.
Himejima Island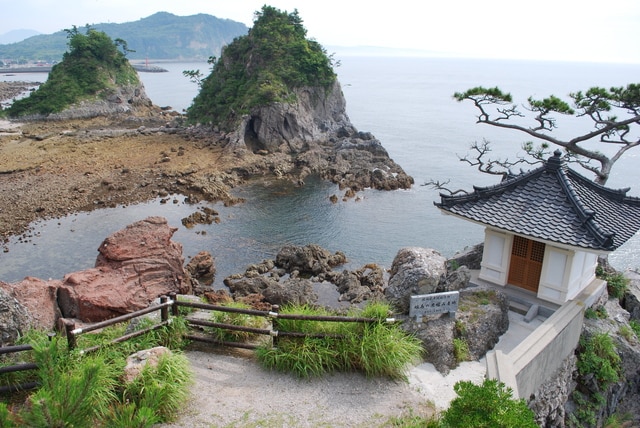 A tranquil island off the coast of the Kinusaki Peninsula, Himejima or Hime Island makes for a wonderful day trip, exploring the island and searching for its numerous scenic spots. One of which is Sennin-do Temple, a short walk from the port, which looks beautiful with the Japanese pine tree in the background. Along with other picturesque spots along the island's coastline, Himejima is known for its kurama ebi, a rare variety of prawn that's known to be extra delicious.
Conclusion
While many people travel here for the hot springs of Beppu, passing through to head to their next destination, there's plenty of incredible things to do in Oita Prefecture that makes an extended trip here well worth your while.