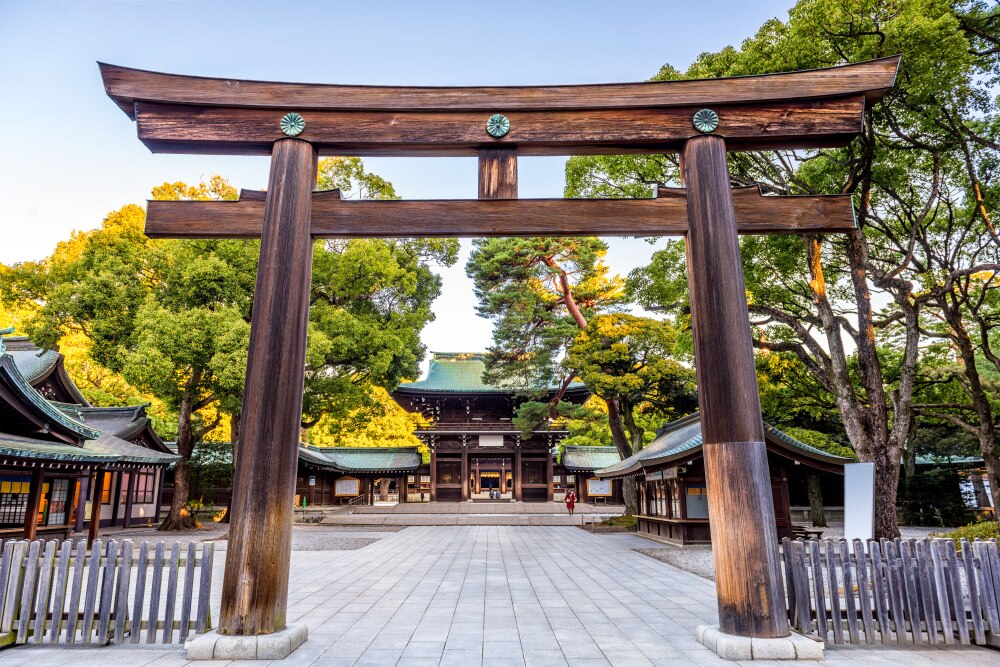 Photo by Sean Pavone/Shutterstock
The Top Temples and Shrines in and Around Tokyo
A modern, bustling megalopolis, Tokyo is also an old city with a fascinating past. Many of the region's temples and shrines have been around for over a millennium, and now draw in millions of curious visitors from around the world each year. This summary of Tokyo's top Buddhist temples and Shinto shrines is here to help you plan your pilgrimage in and around Japan's capital city.
table of contents
[x] close
The Top Temples and Shrines in and Around Tokyo
Yakuoin Temple, Mount Takao, Tokyo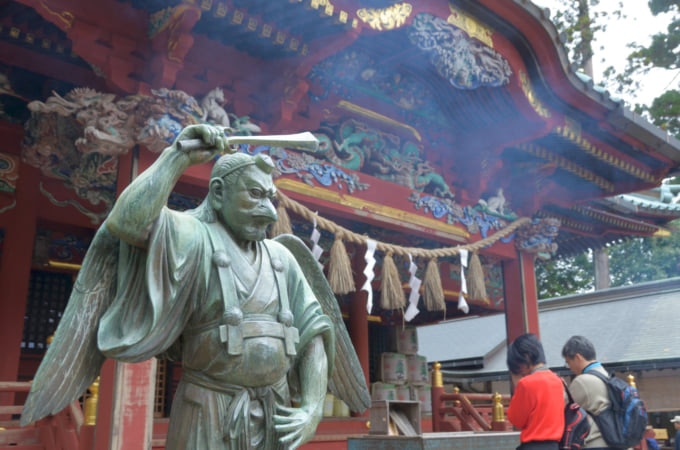 Established on the orders of Emperor Shomu in 744, the ancient temple Yakuoin can be found on Mount Takao west of Tokyo. Yakuoin combines both Shinto and Buddhist aesthetics in its design. The temple and Mount Takao are associated with tengu, Japanese demons with red skin, black feathered wings and long pointed noses. Using the cable car to speed things up, a hike to Yakuoin and on to the mountain's peak can be made into a half-day trip from central Tokyo.
Tsurugaoka Hachimangu Shrine, Kamakura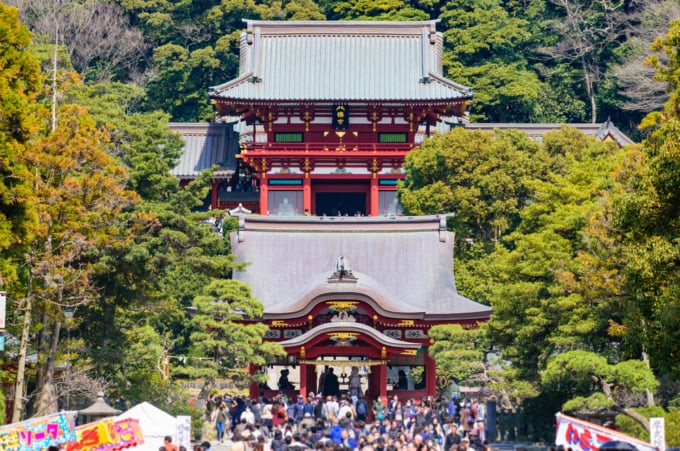 Photo by CaptainHook/Shutterstock
The beautiful seaside town of Kamakura in Kanagawa Prefecture is a temple town filled with some of eastern Japan's most spectacular architecture. Just over an hour from Shinjuku by train, Kamakura makes for the perfect day trip destination from Tokyo. Tsurugaoka Hachimangu is known as Kamakura's most important and oldest Shinto shrines. Moved to its current location in 1180, the large shrine complex that stands today is just a portion of its original size.
Kotokuin Temple, Kamakura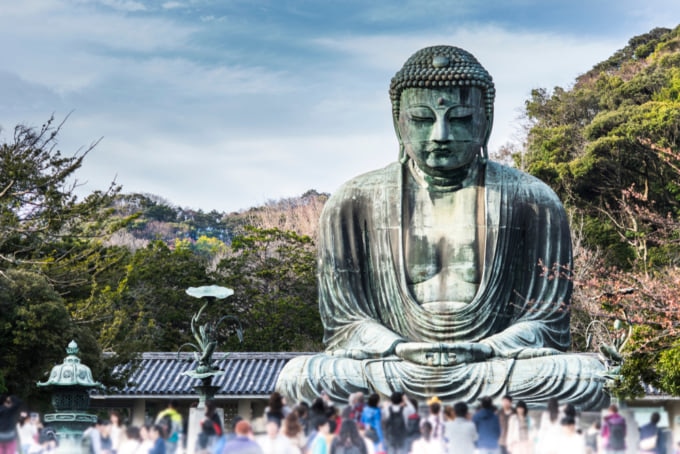 Photo by Nithid Memanee/Shutterstock
Kotokuin Temple is known as the home of Kamakura Daibutsu or the Great Buddha of Kamakura, which has become a symbol of the town. This bronze statue of Amida Buddha is the second-largest in Japan, and is nearly one thousand years old, dating back to 1252. Kotokuin is a temple of the Jodo-shu, the most commonly practiced denomination of Buddhism in Japan.
Meiji Jingu Shrine, Tokyo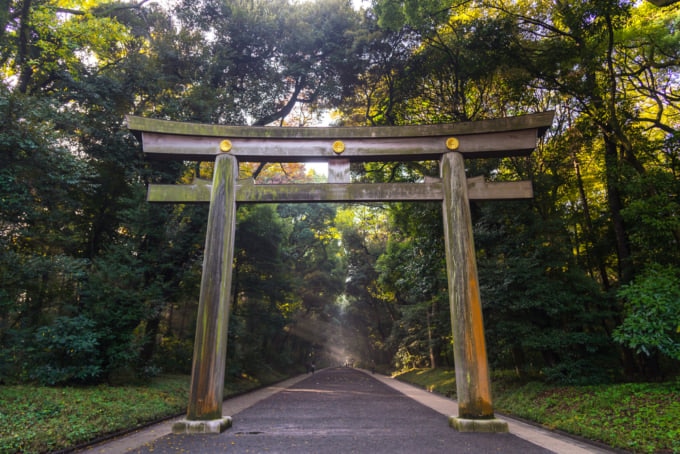 Photo by iamlukyeee/Shutterstock
This impressive shrine, established in 1920 and located inside a forested section of Yoyogi Park, houses the spirits of Emperor Meiji and Empress Shoken. The grounds are extremely spacious and peaceful, and the walk through the mature forest, over streams and past the shrine's own manicured iris garden, is a surprising treat, given that just beyond the precinct is the bustling Harajuku Station and busy shopping streets around Omotesando.
Jindaiji Temple, Tokyo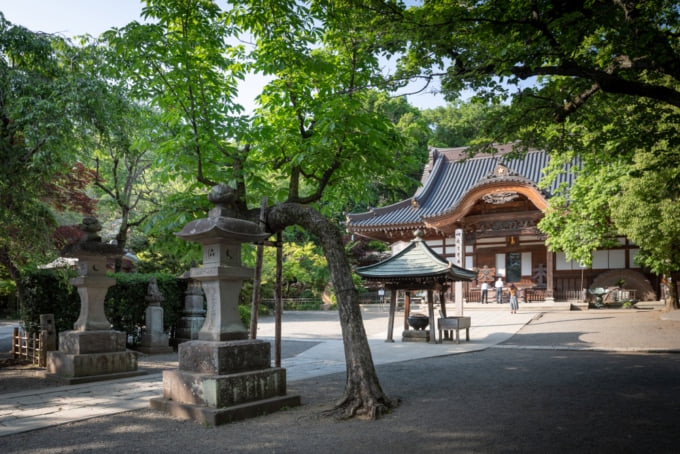 Photo by TapisOlant/Shutterstock
Jindaiji is one of the oldest temples in Tokyo. The temple complex is surrounded by the beautiful Jindai Botanical Gardens, as well as a busy shopping street of souvenir shops and soba restaurants, visitors can easily spend a couple of hours exploring the area. Jindaiji hosts one of Japan's three largest daruma markets each year at winter's end.
Kanda Myojin Shrine, Tokyo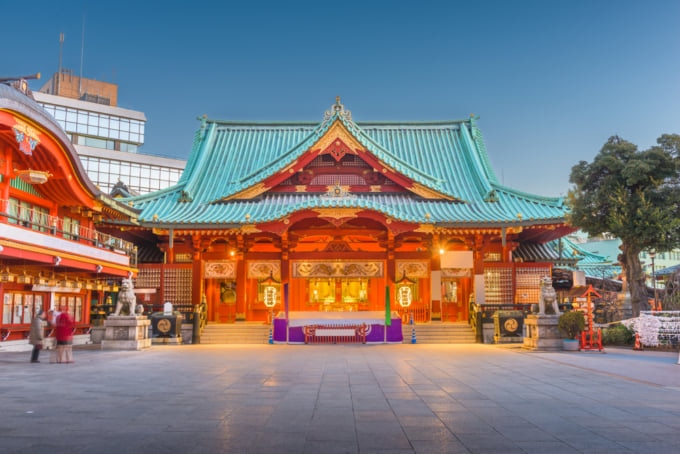 Photo by Sean Pavone/Shutterstock
Kanda Myojin, also known as the Kanda Shrine, is popular with locals as a place to pray for success in business ventures, partly due to its prime real estate location in Chiyoda Ward. The shrine has also become popular with the tech-loving crowd in recent years due to its proximity to Akihabara 'Electric Town'. The Kanda Shrine's annual Kanda Matsuri is also one of Tokyo's three major Shinto festivals.
Sensoji Temple, Tokyo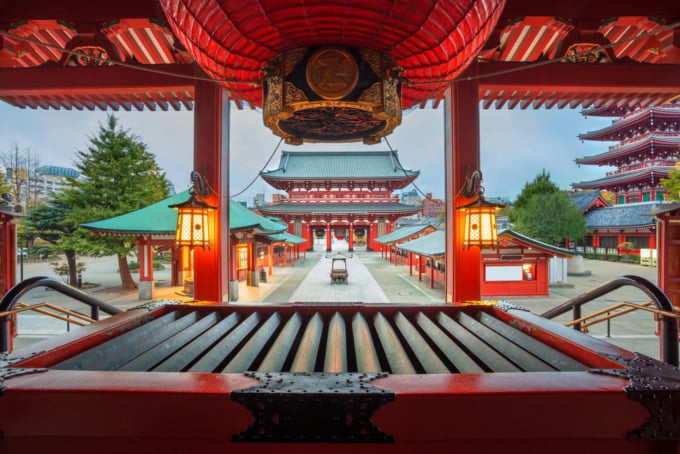 Photo by Rudy Balasko/Shutterstock
The oldest temple in Tokyo, Sensoji is also the busiest. This Buddhist temple's large red chochin (lantern) and Kaminarimon gate marking the entrance to the busy Nakamise shopping street are the symbols of Asakusa, and one of the city's most-visited attractions. The neighborhood surrounding the temple is full of traditional restaurants and architecture, further boosting the area's popularity.
Naritasan Shinshoji Temple, Chiba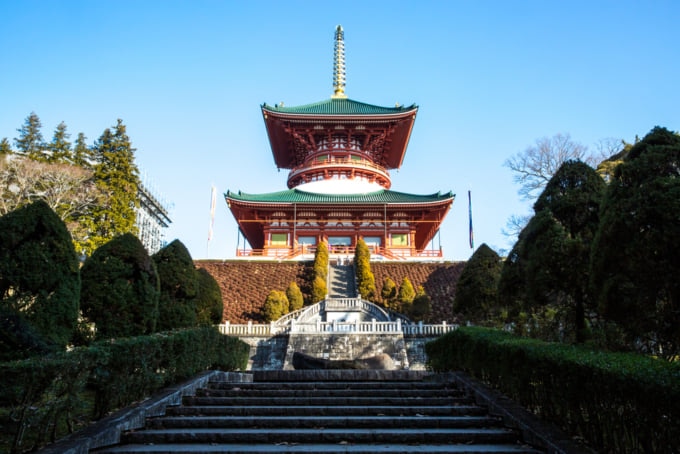 Photo by Suthikait Teerawattanaphan/Shutterstock
Naritasan Shinshoji is an extremely spacious and impressive temple complex not far from Narita International Airport, and is worth leaving the city a few hours earlier to see. The temple's history stretches back over one thousand years, and it is now the most-visited Buddhist temple in Japan. The temple's iconic three-story pagoda is surrounded by scenic gardens and green landscapes.
Hie Shrine, Tokyo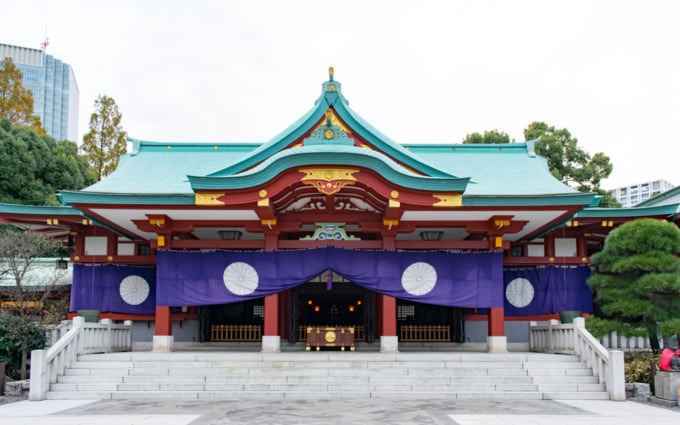 Photo by cross2vision/Shutterstock
Hie Shrine is one of the few places in Japan which is designated to host rituals and festivals for the Imperial family. This culturally significant shrine is located in upscale Akasaka near the National Diet Building and Imperial Palace, but is a bit of a detour from the main tourist areas. Despite this, the number of visitors has been increasing due to the shrine's photogenic stairway of red torii gates.
Zojoji Temple, Tokyo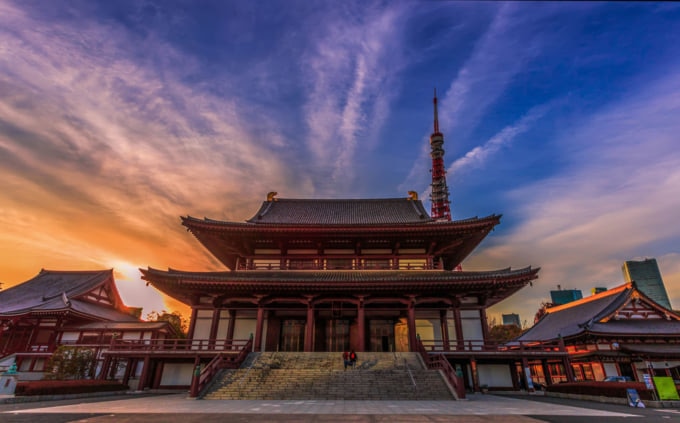 Photo by Zen S Prarom/Shutterstock
It's nearly impossible to look at the main hall of Zojoji and not notice the iconic Tokyo Tower looming in the background - the two come as a pair. Located inside Shiba Park not far from the lively areas of Roppongi and Ginza, Zojoji is also known as the final resting place of the Tokugawa family, powerful members of the shogunate which once ruled over Japan.
In Conclusion
Home to Japan's most-visited Shinto shrine and Buddhist temple, Meiji Shrine and Naritasan, Tokyo and the surrounding Kanto Region are full of cultural treasures for visitors to discover. From mountainside retreats to ancient wonders by the sea, these top ten shrines and temples in and around Tokyo are a worthy addition to your sightseeing itinerary.