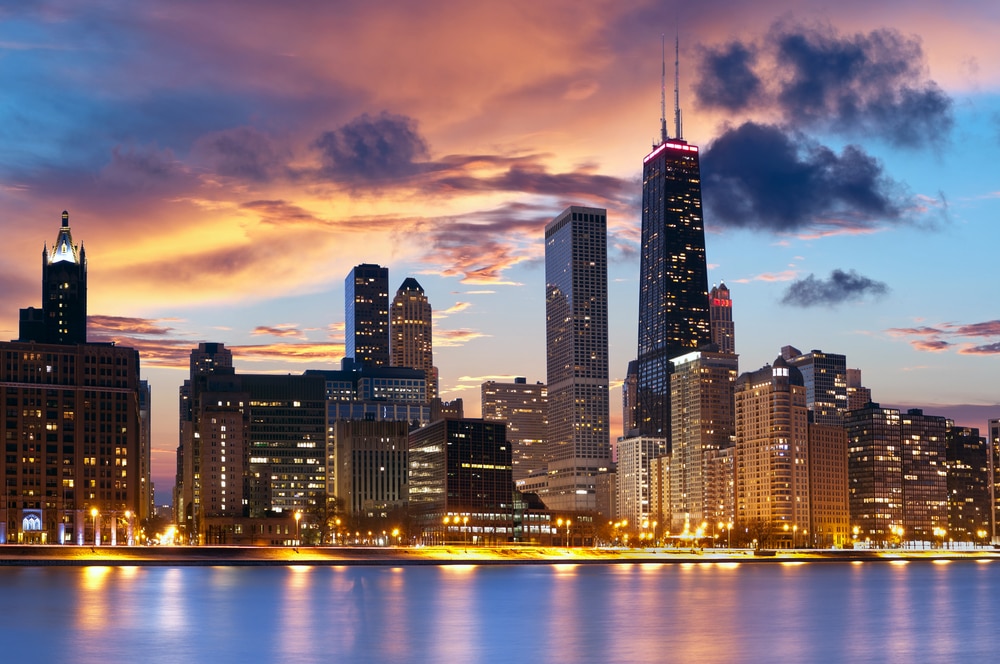 Photo by Rudy Balasko/Shutterstock
6 Unique Hotels to Stay at in Chicago
Behind the business-like facade of Chicago is a city bursting with eccentricities. From a diverse food culture to attractions that appeal to all ages, Chicago has a subtle allure to it that makes it a fascinating city to discover. Among its many surprises is a collection of amazing places to stay that cater to a range of different budgets. From luxurious hotels to one-of-a-kind boutique stays these lodgings are the perfect starting point to an incredible time in the Windy City.
table of contents
[x] close
6 Unique Hotels to Stay at in Chicago
ACME Hotel
It's easy for first-time visitors to be a little intimidated by the uber chic and hip ACME Hotel, but there is a warmth to the place that makes it one of the best hotels in Chicago. Located a short hop away from the Magnificent Mile, guests of the hotel are in close proximity to fashionable boutiques, trendy restaurants, the Lincoln Park Zoo and the Millennium Park.

ACME takes a lot of pride in its art meets tech rooms. These abodes not only give a personality to the hotel but also makes every stay here, no matter how short, a truly magnificent affair. Instagram savvy guests should opt for the city-view rooms, and influencers will love that every day starts with a free Morning Joe® coffee delivery.

Point to note: Standard features in ACME rooms include super fast 100 MB Wi-Fi, a Bowers and Wilkens sound system, Amazon Alexa, and ergonomic desk chairs.

Address: 15 E Ohio St, Chicago, IL
The Publishing House Bed and Breakfast
Bohemian chic meets vintage grandeur at the Publishing House Bed and Breakfast situated inside a 110-year-old building in Chicago's West Loop neighborhood. The spacious atmosphere of the loft residence reflects beautifully in the common areas, comprising of the dining and living spaces, as well as in the eleven en-suite rooms named after famous writers. While the setup of the bed and breakfast might make it seem like a hotel, the presence of the owners on site is a quick reminder that the Publishing House is very much a personal affair.

Each room of the B&B has a distinctive style, with comfortable beds, luxurious bathrooms having tubs, walk-in showers, and a host of convenient amenities to make every sojourn as opulent as possible.

Point to note: The Publishing House does not accommodate children between the ages of one to twelve.
Address: 108 N May St, Chicago, IL
Moxy Chicago Downtown
Moxy Downtown fits in splendidly with its surroundings in the River North district of Chicago, known for having 'America's largest concentration of art galleries.' The hotel's black and bright pink front is unmissable, but staying at the Moxy is all about immersing yourself into everything extraordinary that it has to offer.

Even before you make it to your room, the fashionable interiors of the lobby are sure to catch your eye. However, what's even more fascinating is the free-to-use podcast booth and vinyl library that gives Moxy the right kind of attitude, everyone searches for in their stay. The hotel also has an eclectic game room where guests can enjoy classic arcade games, foosball, and shuffleboard.

While the rooms at the Moxy comprise of all modern-day indulgences, it is one place where you might want to choose the 'inner circle' rooms over the city view ones. The inside courtyard of the hotel is a modern art gallery, with room windows overlooking some truly conversational pieces of art, worth a share or few on social media.

Point to note: Among Moxy's many exclusive highlights is Zombie Taco, a Mexican fast-food outlet with a '24x7 taco counter' to help guests with any late-night cravings.

Address: 530 N LaSalle Dr, Chicago, IL
Hotel Versey
The perfect way to immerse yourself in everything Chicago, Hotel Versey is a quirky residence that guarantees a halt full of surprises and comfort. Situated in the Lincoln Park neighborhood, it's conveniently located in one of Chicago's most happening areas. The hotel also doubles up as a contemporary art gallery with works from various local artists prominently displayed in the common areas as well as the rooms.

The 1920s building Hotel Versey calls home has welcomed famous musicians like Dave Mathews, Sheryl Crowe, Curt Cobain, and Louis Armstrong. Now, music forms an integral part of the hotel's decor, giving it a genuinely unparalleled disposition.

Point to note: Rooms at Hotel Versey boast of luxuries such as Nespresso machines, 50" TVs, SoniCast Live Streaming, and free Wi-Fi.

Address: 644 W Diversey Pkwy, Chicago, IL
The Hoxton
Oozing underrated sophisticated elegance, The Hoxton is a 182-room boutique hotel in the Fulton Market District of Chicago. Situated inside a standout industrial building, Hoxton's colorful interiors are in complete contrast to its greyish-black exterior. The rooms at the hotel are separated into three categories – snug, cosy and roomy. They are all dog-friendly and come with little add-ons such as free milk and water, free Wi-Fi, and late checkout at a minimal price.

A noteworthy characteristic of the hotel is its floor-to-ceiling windows that not only allow an abundance of natural light to seep inside the rooms but are also a gateway to spectacular city panoramas. Food enthusiasts staying at The Hoxton will love their in-house Peruvian restaurant, Cabra Cevicheria by Chef Stephanie Izard, situated on the roof, alongside the hotel's swimming pool.

Point to note: Every Hoxton room comes with a specially curated selection of books, a small breakfast bag, and free international calls to anywhere in the world.

Address: 200 N Green St, Chicago, IL
Freehand Chicago
A hotel bursting with character, Freehand Chicago bombards its visitors with a myriad of tones and textures through its inimitable decor, furniture pieces and overall ambiance. There's an omnipresent hipster vibe to the place that carries in from the red and white frontage all the way to the en-suite rooms designed by Roman and Williams.

The choice of rooms at Freehand Chicago is quite extensive and features a stunning penthouse, king rooms with city views, and quad bedrooms with bunk beds. The hotel also has 'female-only' room options and is ideal for both the business and leisure traveler.

Point to note: Freehand's award-winning in-house bar, Broken Shaker, guarantees some of the best cocktails in town along with a 'diverse street food inspired menu.'
Address: 19 E Ohio St, Chicago, IL
Conclusion
Relaxed, arty, architecturally brilliant and lavish, hotels in Chicago are destinations in themselves, assuring their guests a memorable time packed with modern-day amenities in a vibrant environment.