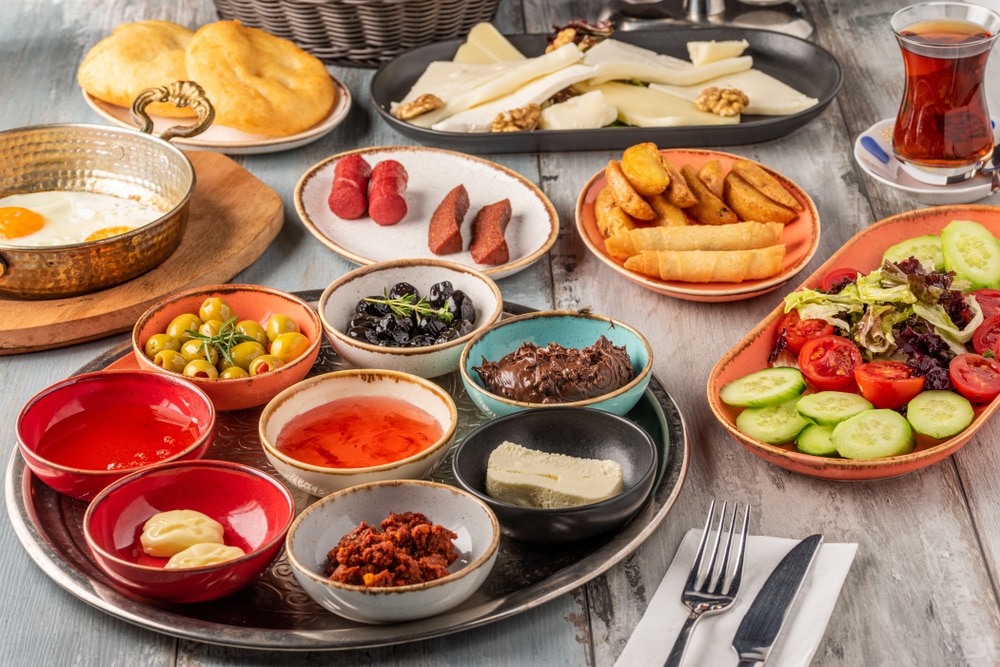 Photo by Yalcin Sonat/Shutterstock
Cafes and Restaurants to Have an Iconic Turkish Breakfast in Istanbul
Famous for the lavish and extravagant breakfast spreads with a myriad of dishes like morning-themed tapas, skipping the first meal of the day in Turkey is simply not done. For many coming back to Istanbul, it's breakfast that gets the most anticipation and around the city you'll find hundreds of cafes and restaurant serving it.

Almost all cafes and restaurants tend to have a breakfast set for two or smaller portion with the same offerings for one. Featuring a number of small plates, they'll usually be filled with olives, different cheeses, sucuk (a spicy beef sausage), cured meats, jam and kaymak, a delicious clotted cream made from buffalo milk that's usually drowned in honey. Make sure to also try menemen, a kind of Turkish scrambled eggs that's mixed with tomatoes, peppers, spices and sometimes cheese.

table of contents
[x] close
Cafes and Restaurants to Have an Iconic Turkish Breakfast in Istanbul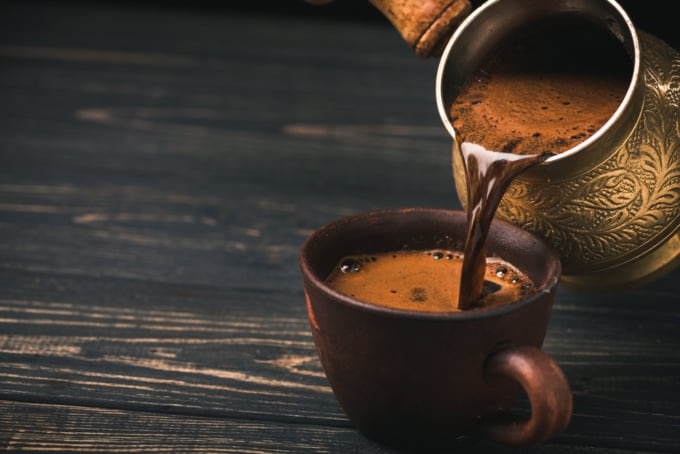 Photo by Dima Sobko/Shutterstock
Turks always eat breakfast with tea often finishing the meal by ordering coffee afterwards. In fact, the word for breakfast, kahvalti, actually means 'before coffee'. However you won't get strange looks if you ask for a classic Turkish coffee to drink while you eat.
Rumeli Kale Cafe & Restaurant
Long a favorite among locals, Kale isn't exactly a secret to tourists either and waiting for a table isn't uncommon. Luckily despite the surge of popularity, the food has never wavered, with all the classic breakfast foods being delicious. Go for the breakfast platter along with the menemen and spinach-filled pastry if you're feeling peckish. The mouth-watering food is only accentuated by the beautiful views over the Bosphorus.
Karaköy Özsüt
Despite its central location in the tourist heavy area of Galata, Karaköy Özsüt still shines as one of the city's best breakfast joints. The heavenly-creamy kaymak with honey is a must-order and anything with sucuk, made with buffalo here, is recommended. If you don't mind something slightly unusual, the shop is also famous for a kind of milk pudding made with chicken breast known as tavuk göğsü. Prices are a little high due to its location, but there's certainly no compromise in taste.
Address: Sahkulu Mahallesi, Istiklal Cd. No: 261, Istanbul
Emirgan Sütiş
A breakfast institute in Istanbul, Emirgan is a must when visiting the city and a great place to grab your first Turkish breakfast. The prices are a little higher than local joints due to its fame, but you're also getting a gorgeous view over the Bosphorus that comes complimentary.
Address: Arnavutkoy Bebek Cad. No: 101 Arnavutkoy-Istanbul, Istanbul
Namlı Gurme
Actually more of a deli counter selling all kinds of Turkish meats, dairy products, meze and other delights, they allow patrons to select what they want at the counter and have it served at your table. With locals coming in to buy products to take home, patrons can be assured dishes are fresh and most importantly, delicious. Ordering anything dairy based such as the kaymak is a good choice here. Apart from breakfast foods they do a variety of Turkish dishes, which makes it a great brunch choice for those wanting a well-rounded taste of the city.
Address: Kemankeş Karamustafa Paşa, Rıhtım Cad. Katotopark 1/1, Beyoğlu, Istanbul
Van Kahvaltı Evi
With the owners hailing from the eastern province of Van, this restaurant focuses on breakfast foods and specialties from the region. In a country where breakfast is already important, there's an even higher significance to this meal in Van, and locals will often have a breakfast spread for lunch or dinner. Although it's in the center not far from Taksim Square, the prices are low and you get a huge amount of food for your money, to make sure you're well and truly stuffed.
Address: Kılıçali Paşa, Defterdar Ykş. 52/A, Beyoğlu
Dogaciyiz Gourmet
Offering local foods and produce from Antakya in the south of Turkey, Doğacıyız Gourmet has one of the most vibrant and varied spreads in the city. The region is known for its blend of cultures and spices used in cooking resulting in some delicious dishes you won't find as commonly around Istanbul.
Address: Kilicali Pasa Mah. Kasatura Sk. No: 16/A, Beyoglu, Cihangir, Istanbul
Conclusion
Although most places to stay in Istanbul will offer breakfast included in the room rate, they're usually rather mediocre and not such a focus for the hotel. For the best tasting morning spreads you'll want to head out of our hotel and roam the streets to discover some of these delicious restaurants and cafes.