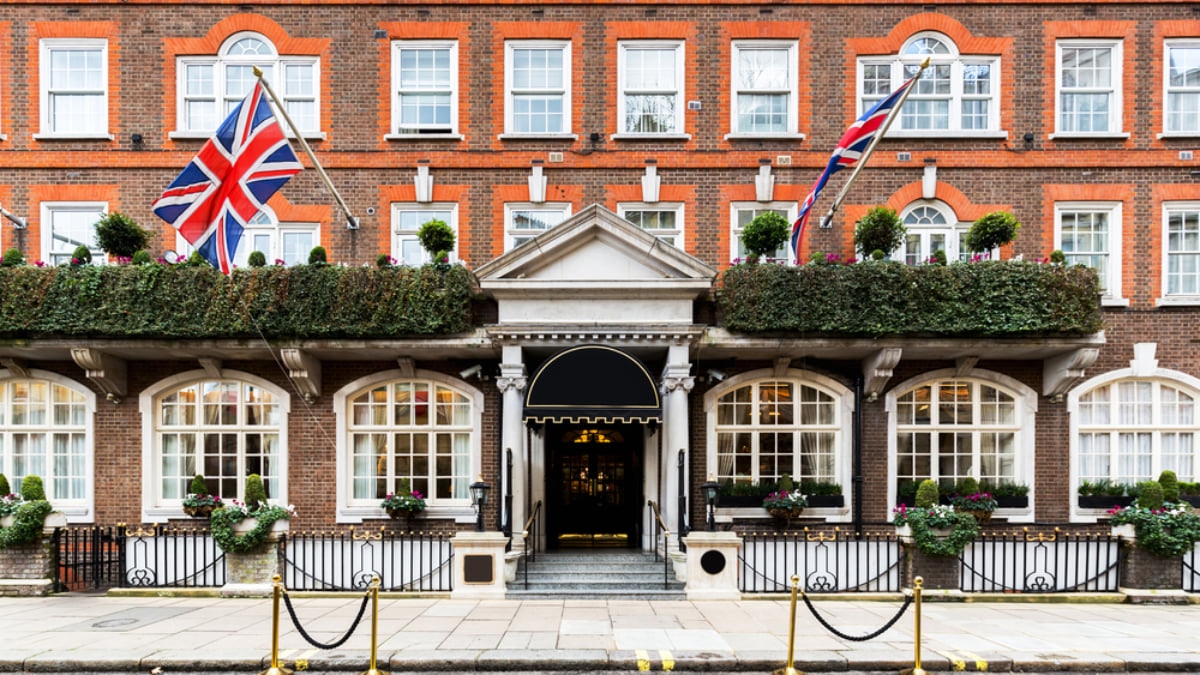 Photo by Bubble_Tea Stock/Shutterstock
5 Iconic London Hotels for all Budgets
As one of the largest capitals on the planet, London is always a hive of activity. It's an ever-popular city that promises some of the world's best food, fantastic art galleries, exciting family-friendly excursions, and a host of opportunities to be stunned by fascinating British culture, heritage, and of course the royal family. The hotels in London are no different. They bring a sense of exclusivity and English sophistication to the scene with ample indulgence and cheekiness thrown in for good measure.
table of contents
[x] close
5 Iconic London Hotels for all Budgets
40 Winks
A decade old, it's possible you won't want to get a wink of sleep inside this tiny boutique hotel, simply because of all the fashionable and interesting paraphernalia that graces its interior. Situated close to a tube station in London's East End, the location is central enough to be within easy reach of most tourist spots of the city. Inside, every item that finds a place in 40 Winks is carefully selected and adds a unique personality to the already trendy ambiance of the 'guesthouse.' The two-room 'micro hotel' is run by designer David Carter who is sure to bring about joy and richness to your stay with his idiosyncratic nature. The rooms and living spaces are as vivid as the owner, comfortable, and brimming with international touches, ranging from Egyptian bed linen to a pom-pom chandelier and wallpaper with a Japanese garden imprint.

40 Winks is often used as a backdrop for many a fashion shoot, so book early to avoid disappointment. On the bright side, you might even bump into a supermodel during your stay.

Address: 109 Mile End Rd, Bethnal Green, London E1 4UJ
Gir Lion Lodge
A magnificent experiential stay in the heart of the city, Gir Lion Lodge is situated right inside London Zoo. The cabins take inspiration from Gujrati huts found around the Gir forest in India and accommodate two adults each. The entire area though takes on the theme of an Indian village with temple ruins and a bicycle shop adding authenticity to this unique adventure. Located near the enclosures that house the zoo's Asiatic lions, expect melodic animal and bird sounds throughout your stay while you make the most of this encounter by learning more about the creatures that inhabit our planet along with us. The rooms are modest, consisting of the very basic in furniture and come with a small en-suite toilet and shower. It's one of the few captivating London escapes that many are unaware of, and is perfect for those travelling with kids.

The seven zoo lodges remain closed in January. The price per person is just under £200 but includes a host of benefits such as three guided after-hour tours of the Zoo, buffet dinner and a full English breakfast, free entry to the Zoo during the stay, discounts at paid excursions and free car parking.
Address: ZSL London Zoo, Outer Cir, London NW1 4RY
Shangri-La at the Shard
It's not every day that a person gets to stay in such an iconic building while travelling around the world. In London, there are quite a few noticeable architectural landmarks, out of which, the Shard is the latest. Shangri-La is a brand that needs no introduction, having several high-end hotels across continents. At the Shard, it offers 202 rooms, jealously-inducing city panoramas, and London's highest infinity pool on the 52nd floor. The rooms at Shangri-La are extravagant, to say the least, and feature floor to ceiling sun-shielding windows. They showcase the very best in international design and furnishings with a hint of the eastern-style running throughout the hotel as a common theme. The mattresses at the hotel are patented with a technology that takes the shape of your body, promising the best sleep you'll ever have.

If city views are what tickles your fancy, opt for Shangri-La's Iconic City View room, or otherwise splurge a little more and pick one of their richly decorated signature suites.
Address: 31 St Thomas St, The Shard, London SE1 9QU
Crashpads
In contrast to most London rooms, Crashpads allows visitors to enjoy the city's many delights while staying in sizable, informal, and individually designed apartments at various prominent locations. Crashpads is a brilliant concept that at present consists of nine studio-like lofts and flats in the Brick Lane and Shoreditch area. Each residence is decorated in a different theme and appeals to a diverse range of travelers. Whether you are in London for business, a family vacation, or a long summer holiday, Crashpads has all the basics one needs for a relaxing stay, including a kitchen, modern bathrooms, TV with Netflix subscription, books and board games. The interiors of the apartments highlight the hipster London lifestyle with brick exposed walls and tons of vintage furniture.

The staff takes extra care of every guest's need at Crashpads. Tiny additions such as earplugs for road-facing apartments give a personal and homely touch to every stay. The pads are all centrally located with bars, restaurants, and shopping districts only a few minutes away.
Address: 4 Woodseer Street, Tower Hamlets, London, E1 5HD
Qbic Hotel
Bold colored walls, quirky artifacts, vibrant interiors, and a spot in up and coming East London, Qbic promises to attach intensity and comfort to your London vacation. The rooms at this boutique establishment come in different sizes, each one as unusual as the other. From the no window 'smart room' to the spacious 'fun rooms,' Qbic's bedrooms are genuine mood elevators with their dazzling decor and contemporary furnishings. Moreover, Qbic claims to be the 'greenest hotel in town,' and has features like eco-friendly showers, organic toiletries and solar panels on the roof. They further reward guests who opt out of room service after their first night with a free drink at the hotel bar. If sustainable living is of importance to you, Qbic is without a doubt, the place to stay in London. Best of all, Qbic is one of the few residences in London that promises all modern-day extravagances at hard to believe low prices.

The hotel's resident restaurant, Motley, takes the idea of sustainable living a step further by including 'waste not' dishes in addition to its enticing collection of craft beers and a bar menu full of signature cocktails.

Address: 42 Adler St, Whitechapel, London E1 1EE
Conclusion
Hotels in London are notorious for being unbearably expensive with tiny rooms. However that's quite simply the price for staying in one of the world's top capital cities. Still, many of London's famous hotels are the perfect examples of panache and finesse through a unique set of features that makes every penny you spend on them, absolutely worth it.