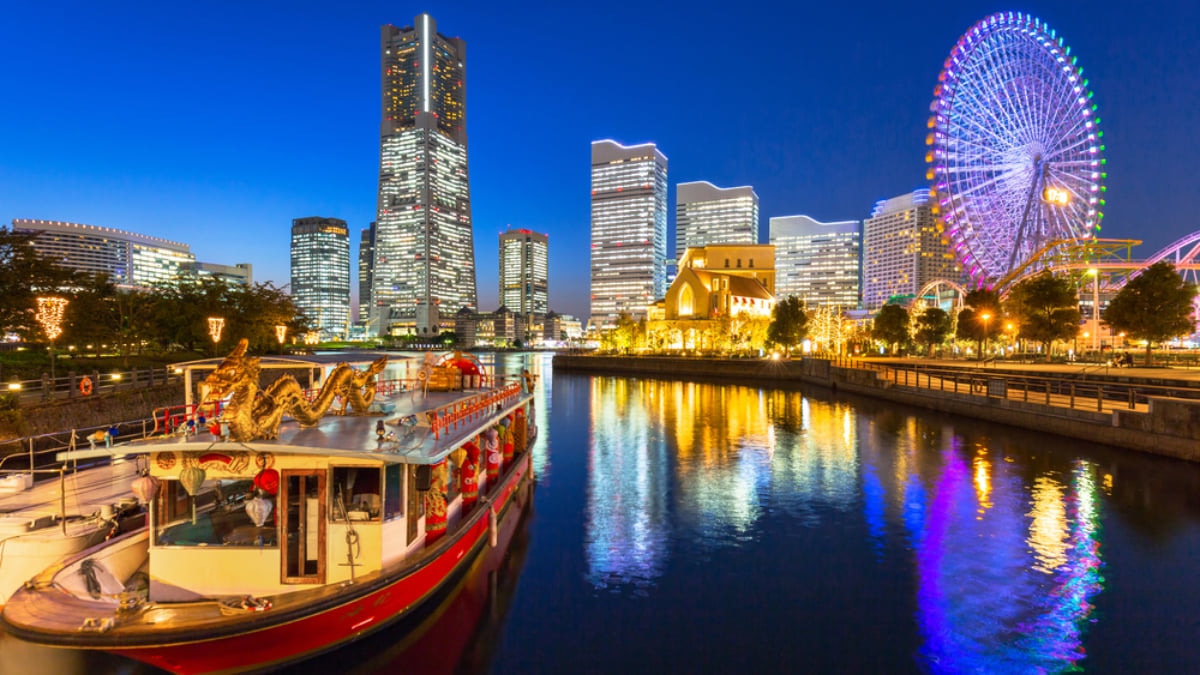 Photo by Patryck Kosmider/Shutterstock
The Top 5 Things to Do in Yokohama
Japan's second most-populated city, Yokohama is just thirty minutes from central Tokyo by train, making it a popular choice for commuters to set up home base. The city is fascinating in its own right, however, serving as the capital of Kanagawa Prefecture and with a certain international flair thanks to its long history as a merchant town. Yokohama's must-see sights include the nation's biggest Chinatown, the iconic downtown waterfront district and not one but two impressive ramen museums.
table of contents
[x] close
The Top 5 Things to Do in Yokohama
Yokohama Chinatown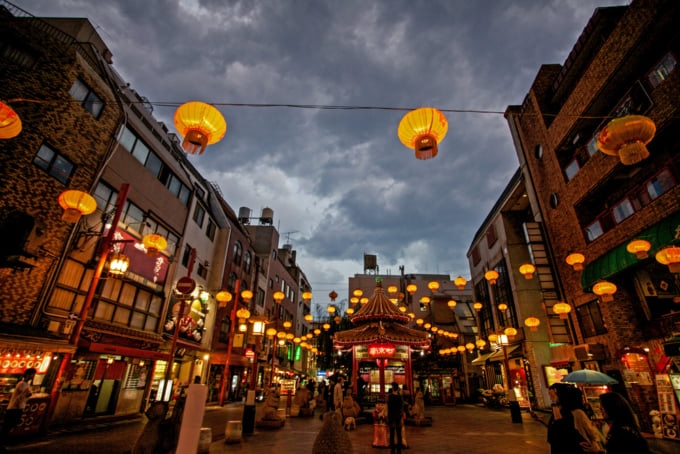 Photo by julianne.hide/Shutterstock
Yokohama Chinatown is the largest in Japan. Its origins date back to the Edo Period, when Chinese merchants chose to settle in the area. The neighborhood is conveniently located in central Yokohama near other attractions, and is a popular place to shop, eat and soak up the lively and colorful atmosphere. The best time to visit is during Chinese cultural events, such as the Lunar New Year along with the Spring and Autumn Festivals. While exploring Yokohama's Chinatown, the eye-catching Kanteibyo Temple and a localized version of the Chinese steamed bun called chukaman (Chinese steamed bun) are popular stops on the tour.
Sankeien Garden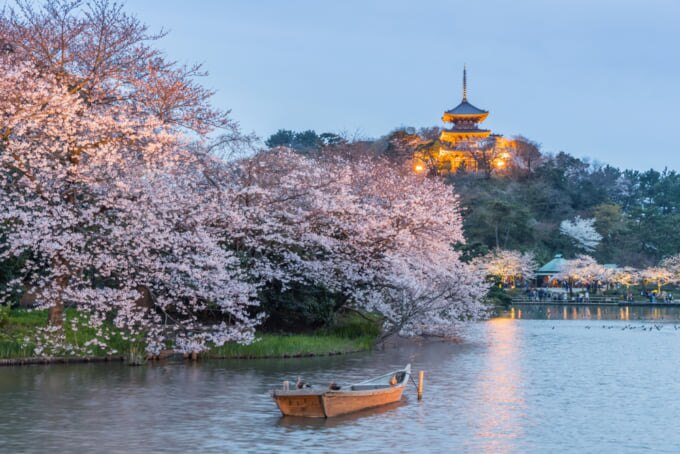 Photo by Sakarin Sawasdinaka/Shutterstock
Sankeien is a traditional Japanese landscape garden established in 1906. Its name means 'Garden of Three Creeks', and is taken from founder Sankei Hara's name rather than describing qualities of the garden itself. This historic garden is dotted with heritage buildings from around the country, including a three-story pagoda from Kyoto and a thatched-roof farmhouse from Shirakawa-go, a traditional mountain village and UNESCO World Heritage Site in Gifu Prefecture. While strolling through the spacious gardens, be sure to stop for traditional Japanese delicacies at one of the teahouses or restaurants, such as dango (skewered dumplings), soba (buckwheat noodles) or authentic matcha.
Minato Mirai 21 Waterfront District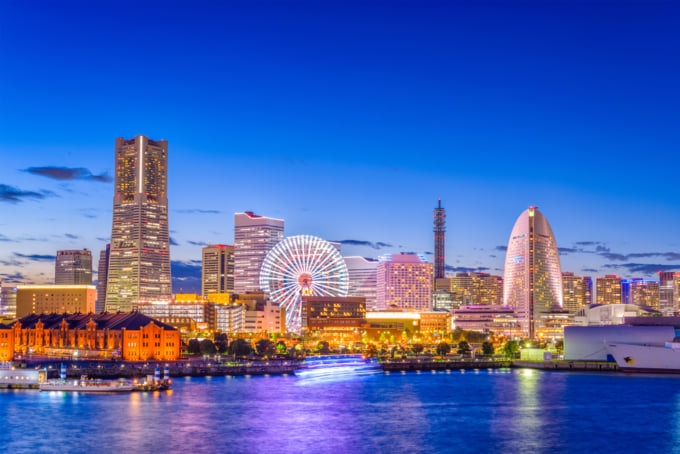 Photo by Sean Pavone/Shutterstock
The soaring towers and brightly colored Ferris Wheel of the downtown waterfront district known as Minato Mirai 21 make up the iconic nighttime landscape of Yokohama. Aside from the elegant scenery and boat cruises along the harbor, the area is also home to a cluster of the city's most popular attractions, including Yokohama Red Brick Warehouse, a converted storage facility that now houses a wealth of unique artisanal shops and cafes, and Cup Noodles Museum, where visitors can discover the history and creativity behind the popular snack and design their own cup and flavor combinations to take home. The iconic Ferris Wheel belongs to Yokohama Cosmoworld, a popular amusement park offering rides and entertainment along the bay.
Shin-Yokohama Ramen Museum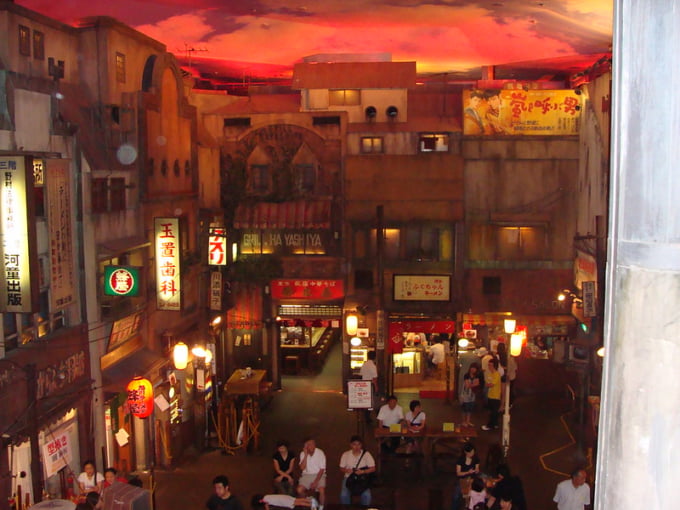 The Shin-Yokohama Ramen Museum pays tribute to regional variants of the beloved comfort food with clusters of vendors representing every corner of Japan. Really more of a food court than a museum, the historic atmosphere and actors in costume take visitors back in time to experience Japan's Taisho and Showa Periods, around one century ago. There are also small galleries and exhibition rooms to really delve into the history of this quintessential Japanese dish. And with everything from vegetarian ramen to gluten free noodles on the menu, Shin-Yokohama Ramen Museum has something for everyone to enjoy.
Yamate District and Motomachi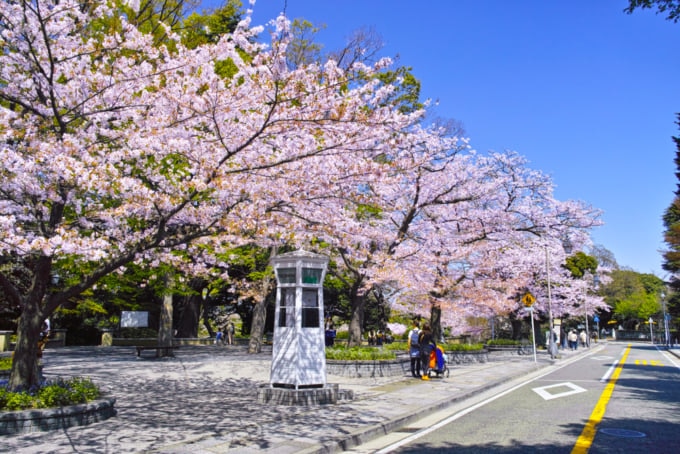 Yokohama was one of the first ports in Japan to welcome foreign trade, a decision that brought about big changes throughout the city that can still be felt to this day. The Yamate area was a favorite of European merchants and traders, and they quickly established a sizable merchant quarter there. Today, the area is known for its many pleasant parks, many of which house the historic merchant residences and are open to the public. Motomachi is a cobbled shopping street located between the hills of Yamate and Yokohama Chinatown, and is one of the best places in Yokohama to spend a few hours leisurely browsing the shops and checking out the cafes.
In Conclusion
Yokohama is a melting pot of cultures from around the world, from the European feel of Motomachi to the bustling streets of Chinatown. The city is also just minutes from other well-known sightseeing spots, like the historic city of Kamakura and the beaches of Enoshima, making it the perfect place to stay overnight for more thorough explorations of the region. While many know Yokohama simply as Tokyo's most happening neighbor, this fascinating city is a destination in its own right and worthy of the attention.