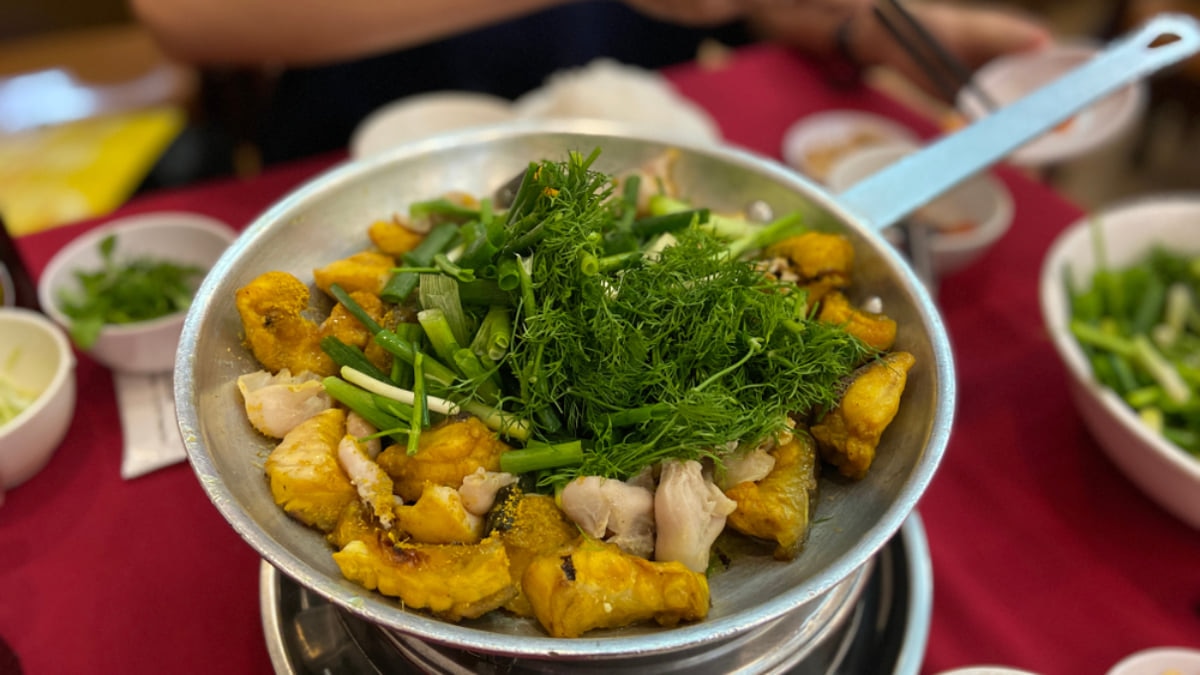 Photo by Emily Ku/Shutterstock
Must-Visit Restaurants in Hanoi For a Taste of Authentic Vietnamese Cuisine
Culturally significant, aesthetically beautiful, and traditionally captivating, Vietnam and its capital, Hanoi, have come up on the tourist map significantly over the past few years. A country with unbreakable ties with the US, its location in South East Asia, along with French and Chinese influences, give it an unimaginable and distinct character. Like most countries in the region, food is an integral part of Hanoi's charm, and here are eight restaurants that highlight its diverse and flavor-filled culinary indulgences.
table of contents
[x] close
Must-Visit Restaurants in Hanoi For a Taste of Authentic Vietnamese Cuisine
Banh Mi 25
The quintessential Vietnamese street food, any trip to Vietnam, is incomplete without experiencing this simple baguette sandwich that comes with a wide range of fillings. A symbol of French colonialism's impact on the country, banh mi incorporates local tastes to transform something western into a much-loved specialty.

While you can pick one up from a street stall, Banh Mi 25 is a couple-owned establishment in the city's Old Quarter where you'll find the best sandwiches in town. To make the experience authentic, pick up the barbecued pork filling with or without pate, and sit on one of the plastic stools alongside the road. If that's too rustic for you, there's also the option to sit in a cafe-like setting next door.
Address: 25 Hàng Cá, P, Hoàn Kiếm, Hà Nội
Pho Thin
A dish so pure and flavorful that it will warm up the cockles of your heart with every slurp. Vietnamese pho is a noodle soup that comes with a bunch of vegetarian or non-vegetarian ingredients, in addition to an array of refreshing herbs. Pho Thin serves what is probably the best and most distinct pho in Hanoi. Operational for the past 40 years, the pho recipe here consists of stir-frying the beef with garlic, which gives it a crunchy texture, further adding to the exquisiteness of the standard pho available elsewhere. Popular locally, and pocket-friendly, Pho Thin is a no-fuss eatery where pho is the one and only champion. Considering the restaurant's fame, expect to wait a good few minutes if you come during lunch or dinner time.
Address: 13 Lò Đúc, Ngô Thì Nhậm, Hai Bà Trưng, Hà Nội
Hung Snake Restaurant
Not one for the faint-hearted, and a controversial topic in a world growing conscious about animal rights, eating at the Hung Snake Restaurant is reserved only for brave and eccentric culinary adventurists. Situated in the nearby district of Le Mat, the restaurant serves multiple snake dishes wherein customers can pick the type of snake they want to consume. The cobra is a favorite, but the real test of gastronomic boldness is in eating a freshly cut snake's heart. The "Snake Village" is known for breeding and eating snakes for over 200 years, and Hung Snake is the ideal place to discover more about these supposedly delicious slippery reptiles.
Address: 33 Phố Lệ Mật, Việt Hưng, Long Biên, Hà Nội
Cau Go
Overlooking Hoan Kiem Lake, Cau Go celebrates the authentic and myriad tastes of Vietnam in a sophisticated and inviting setting. Situated on the fifth and sixth floor of a building in the Old Quarter, it offers unmatched views of the city along with preparations that leave food lovers in awe of Vietnam's culinary diversity. Impeccable service and the use of technology, the menu is on iPads, further adds to the charm of Cau Go. When eating at the restaurant, remember to make a reservation for a patio table and do try the crispy pork ribs and the somewhat unconventional concoction ca phe trung, which is coffee with egg white in it.
Address: 7 Đinh Tiên Hoàng, Hàng Trống, Hoàn Kiếm, Hà Nội
Tung's Kitchen
If you take cooking seriously and want your Vietnamese foodie experience to go a notch higher, opt for Tung's Kitchen, a popular restaurant, and a well-respected cooking school. There's a wide variety of both meaty and vegan dishes available at Tung's, but to appreciate the beauty of Hanoi's gastronomic extravagance, take the Tung's cooking class. During the course, guests get the opportunity to visit the local market with the owner to buy fresh ingredients. Afterwards, they can choose which of the classic Vietnamese dishes, such as spring rolls, bun cha, or pho, they want to learn how to make.
Address: 20 Hàng Nón, Hoàn Kiếm, Hà Nội
Cha Ca Thang Long
Another one of Hanoi's popular eats is cha ca. Fish, marinated in turmeric, and then fried on the table, along with shrimp paste and a side of fresh herbs, especially dill, it's a wholesome meal that never fails to satisfy the soul. Although there are a few different restaurants that serve only this dish, like the century-old Cha Ca La Vong, a hidden gem worth visiting is Cha Ca Thang Long. As one of Hanoi's most customer-friendly eateries, unlike some of the other cha ca restaurants, it even allows visitors to share a plate of Hanoi's most famous fish dish. Moreover, the staff are more than happy to cook the food for you if it is your first time trying this delightful and must-have specialty.
Address: 21 - 31 Đường Thành, Cửa Đông, Hoàn Kiếm, Hà Nội
Quan An Ngon
The ideal place to relish Vietnamese street food from across the country and not roam its streets, Quan An Ngon, is a large restaurant with an extensive menu comprising of trusted Hanoi favorites. The idea behind the establishment is to give different street vendor individual counters, thus creating an ambiance that is casual and cafeteria-like for the customers. Equally popular with Hanoi residents and tourists alike, there's always a mad rush here, but the table turnaround time is quite fast. There's plenty to try, but get there a little earlier during the day as some stalls run out of ingredients by night.
Address: Số 18 Phan Bội Châu, Cửa Nam, Hoàn Kiếm, Hà Nội
ERA Restaurant
ERA takes a novel approach towards traditional food by capturing its essence and serving it in a contemporary fashion. The interiors of the restaurant mimic the menu, with an air of sophisticated elegance mixed with vibrant presentations that highlight the very best that Vietnam has to offer. First-time visitors are encouraged to go with their set menu, which includes pho, chargrilled pork, and mango pudding or a banana spring roll. The restaurant also holds cooking classes twice daily, which consists of a trip to the market.
Address: 8 Phố Mã Mây, Hàng Buồm, Hoàn Kiếm, Hà Nội
Conclusion
Tasty, bursting with exotic flavors, and with an emphasis on fresh ingredients, Vietnamese food is both enriching and healthy. Eating at one of the city's independent eateries is a beautiful experience packed with good food and the opportunity to mingle with locals to understand better the love and passion they hold towards cooking.