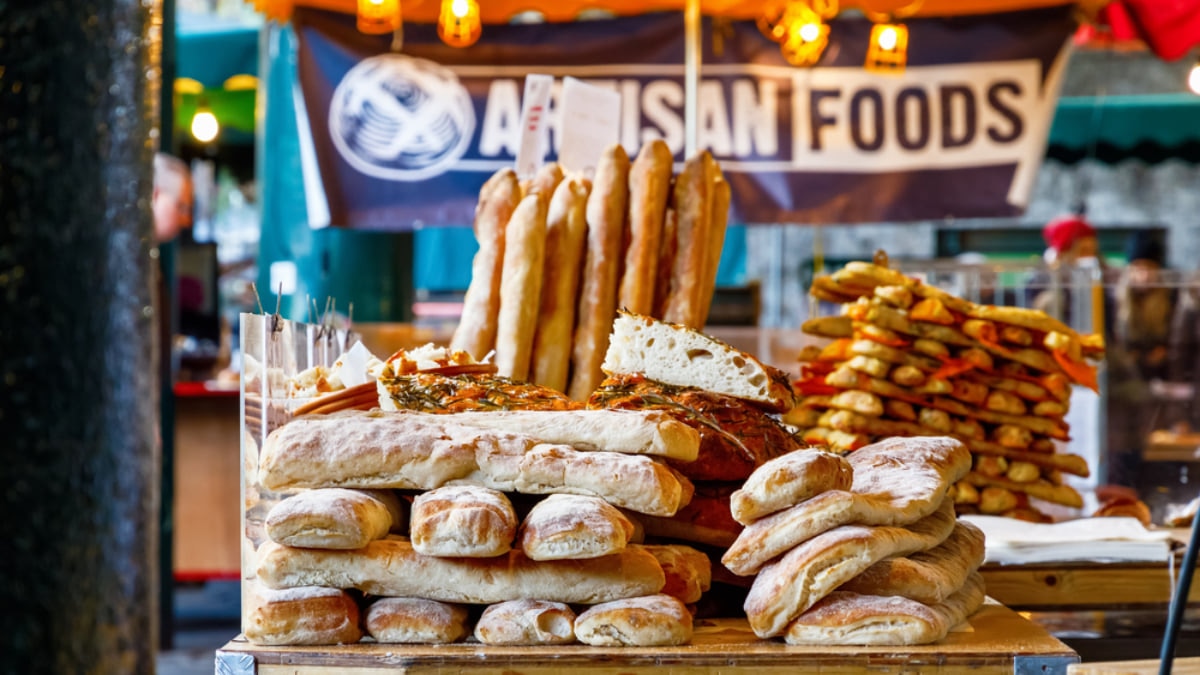 Photo by I Wei Huang/Shutterstock
5 Food Markets You Need to Check Out in London
A melting pot of cultures from Europe and beyond, London has long been known for its unique and flourishing markets, offering produce from all over the world. With sites like Borough Market dating back as far as the 11th century, these microcosms of local life offer much more than just delicious food and produce. Britain gets a bad reputation for its food, but anyone who has visited the vibrant street markets of London will know different, here are some of the best places to check out.
table of contents
[x] close
5 Food Markets You Need to Check Out in London
Greenwich Market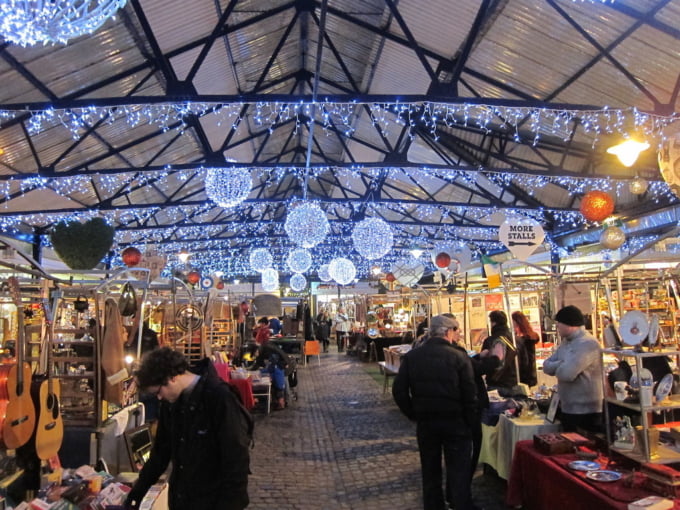 Photo by Oast House Archive/Geograph
Set in the UNESCO World Heritage Site of Greenwich, the market first started around 300 years ago. Selling all kinds of trinkets, antiques and vintage fashion items, it's also home to 47 delicious food and drink vendors, making classic dishes from all around the world, including some modern creations. If you're looking for one stall in particular, make sure to check the days they set up at the market in advance, some vendors only sell here during the weekend or other days in the week.
Address: 5B Greenwich Market, Greenwich Peninsula, London
Nearest Station: Cutty Sark (DLR Light Rail)
https://www.greenwichmarket.london/guide/category/market-food
Maltby Street Market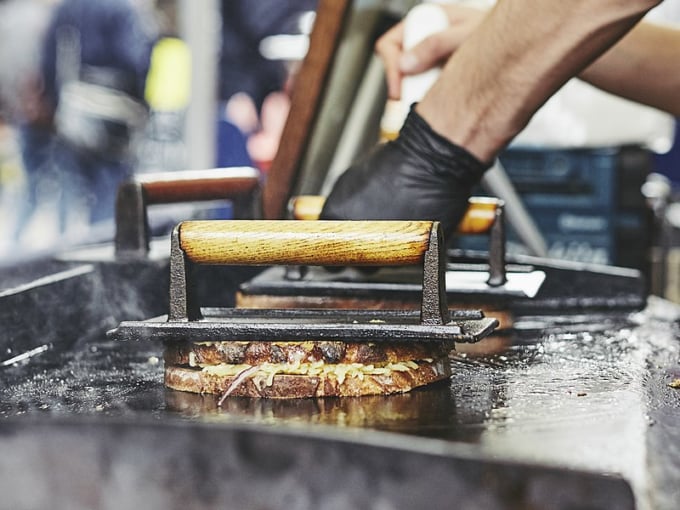 Photo by commons.wikimedia.org
A paradise of street food in the center of London, Maltby just focuses on food and drink and does it wonderfully. The market is many a Londoner's favorite spot to grab a bite to eat, with some of the city's best stalls and not as many tourists as you'll often find at Greenwich or Borough Market.

Like most food markets in London, you'll find foods from all over the world, recommended vendors include the Raclette Brothers, for delicious cheese-covered Alpine dishes and the hot-sauce-soaked burgers at African Volcano. The market is closed Monday to Thursday, with most vendors opening on Saturday and Sunday.
Address: 37 Maltby St, London
Nearest Station: London Bridge (10 minutes walk)

Brixton Village Market
In South London, Brixton is worth taking out some time to visit for its markets alone. There are a number of great markets to explore located right outside Brixton Station, one of the best being Brixton Village Market. Dotted with craft shops and multi-cultured food stalls, the market is open till 11:30 PM everyday apart from Mondays when it shuts at 6 PM.


If you're a fan of or interested in Caribbean culture, head to the nearby Electric Avenue Market which is full of Caribbean shops and places to eat.
Address: Unit 74, Brixton Village, Coldharbour Ln, Brixton, London
Nearest Station: Brixton Station
Borough Market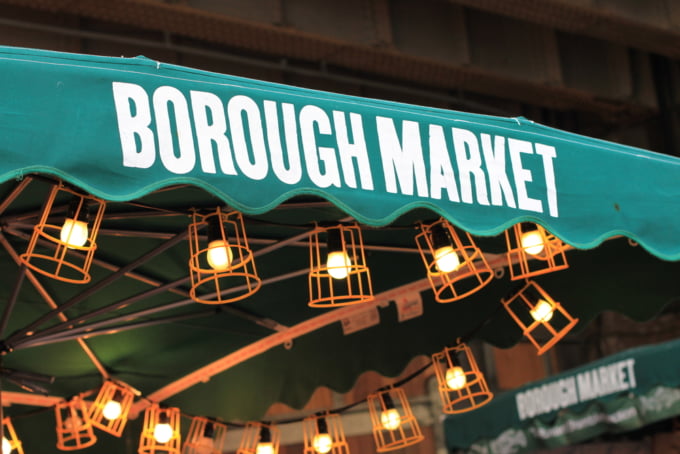 Photo by Yana Yushkevich/Shutterstock
London's most famous market dates all the way back to 1014, celebrating it's 1000-year-old birthday back in 2014. Along with its incredible history, the company managing the market has done well to bring some of the city's best vendors and artisanal produce sellers here. From hand-made fresh pasta to regional street food from India, even if you can't eat everything here, the stands make for some beautiful photo opportunities.
Address: 8 Southwark St, London
Nearest Station: London Bridge
Camden Market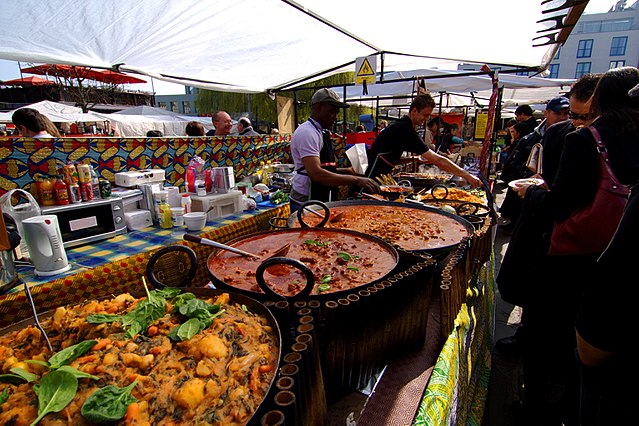 Photo by commons.wikimedia.org
The quirky and historic Camden Market is a must-visit for anyone visiting London for the first time. However make sure to check out the food vendors here too, for some of London's best such as those around West Yard.

For a new modern twist on classic British cuisine, head to Yorkshire Burrito. This ingenious stall takes a traditional British Sunday roast dinner and wraps it in one of Britain's favorite comfort foods, the Yorkshire pudding.
Address: Camden Lock Pl, Camden Town, London
Nearest Station: Camden Town
Conclusion
London's street markets offer incredibly unique food, some of which are creations you won't find outside of the market itself. The markets are a throw back to the city's fascinating history, each of them having seen new makeovers to ensure both cleanliness and modern decorations.