Surabaya:A Home Away from Home Give You Warm Experience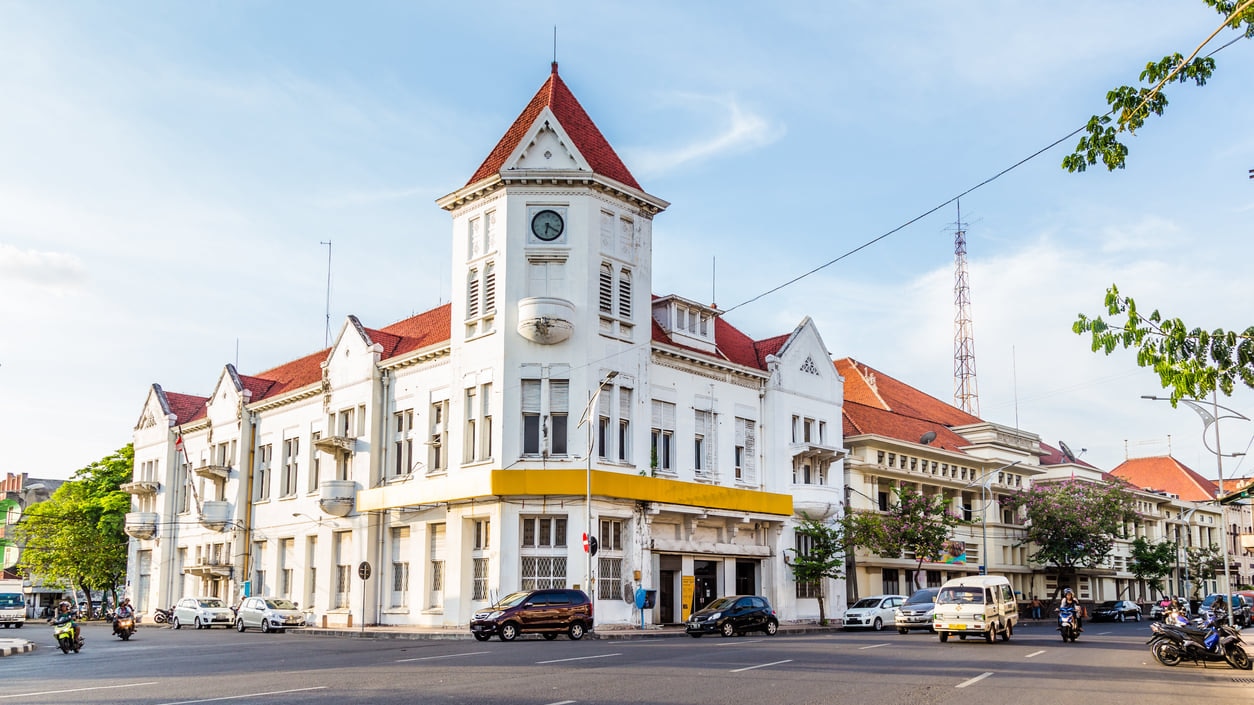 The second largest city of Indonesia, Surabaya is a developing tourist destination, despite being a busy industrial city like any other metropolitan city. While Surabaya doesn't seem perfect for tourism, people miss out the fact it was one of the largest cities during the 18th and 19th centuries as well. It is one city that has extreme historical relevance and exciting attractions related to Javanese culture. Apart from being the significant financial hub of Indonesia, Surabaya is also a port city that serves as the capital of East Java. Though renowned as a popular tourist destination among locals, the city is gradually positioning as an attractive tourist spot among international travelers.
[x] close
Surabaya:A Home Away from Home Give You Warm Experience:table of contents
1. Monkasel (Monumen Kapal Selam)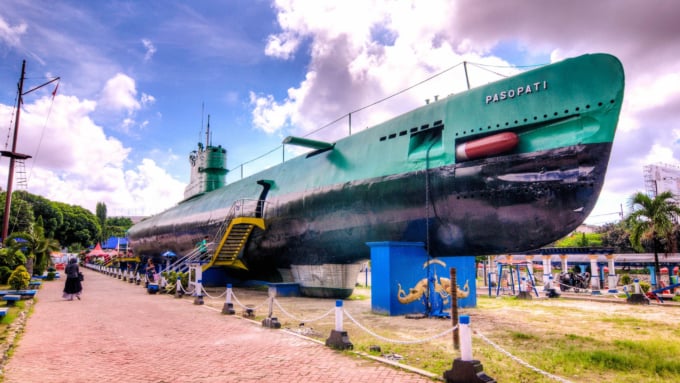 Being the naval hub of Java, Surabaya is home to a submarine monument called Monkasel (Monumen Kapal Selam) built by Navy veterans. It is located on the riverside of Kalimas, Surabaya is a Soviet-made whiskey class submarine. The submarine used for the liberation of West Papua from Dutch during Operation Trikora. The monument is a significant reminder of Indonesia's fight for freedom and preserved as a commemorative icon. The place has various facilities like water tourism, swimming pool for kids, live music, video Rama playing movies, etc.

Name:Monkasel (Monumen Kapal Selam)
Address:Jalalam Pemuda No 39, Embong Kaliasin, Genteng Kota, Jawa Timur, Raya Gubeng 60100, Indonesia
Related SIte:http://monkasel.id/
2. Tugu Pahlawan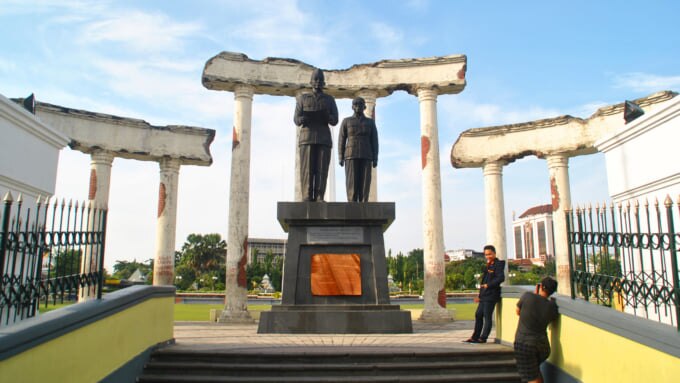 Photo by Everyone Sinks Starco
Tugu Pahlawan is precisely what it sounds is a memorial symbolizing the reminiscence of the martyrs who died in the Surabaya battle in 1945. The memorial of heroes has tall white columns, statues arches that talk about the battle and the independence of Surabaya. It has 2 floors with several exhibition galleries symbolizing the spirit of the people who fought for Surabaya's freedom. Tugu Pahlawan is a typical landmark memorial in the city center in memory of independence fighters who fell in the Surabaya battle. It has political and historical significance and visiting Tugu Pahlawan is an opportunity to under the struggle of the real heroes, who sacrificed their lives for freedom.
Name:Tugu Pahlawan
Address:Jln. Pahlawan, Surabaya 60174, Indonesia
Related SIte:https://tugupahlawan.com/
3. Kenjeran Beach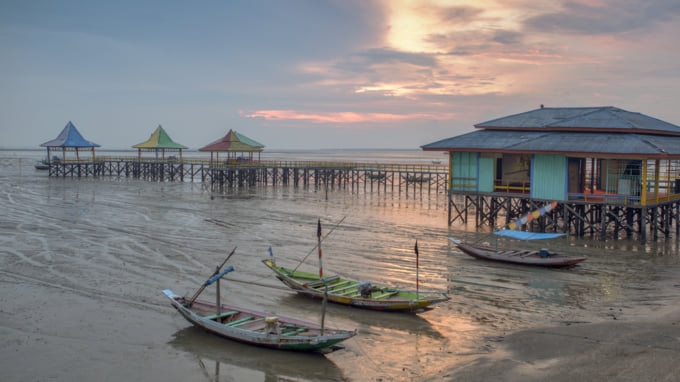 Photo by Andreas H/shutterstock.com
Pantai Kenjeran or Kenjeran beach is a popular fun beach located in the East, 9 km from Surabaya. The beach has two divisions, the Lama (old) and Baru (new) and the old section is perfect for beach activities like a swing in the big waves, watch the skillful fishing activities and taking part to experience and enjoy the fishing, enjoying the sunset in the beach, etc. Whereas, in the new beach, all types of modern beach activities like fishing, motorbike racing, horseracing and other hot events. On the background of the horizon, the modern engineering marvel Suramadu Bridge stands like a beautiful experience.
Name:Kenjeran Beach
Address:Jl. Raya Pantai Lama No 2-9, Kenjeran, Bulak, Kota SBY, Jawa Timur 60123, Indonesia
4. Suramadu National Bridge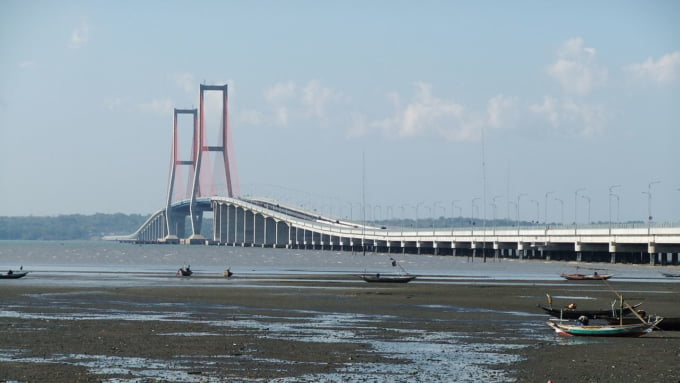 Suramadu National Bridge the landmark showcasing the 21st-century engineering is the longest in Indonesia. With a length of 5438 m, it connects Madura and Java Island. The cable-stayed bridge is gorgeous when lit up at night. While traversing the bridge, is worth having a stop at Madura. You can explore many small and colorful batiks on the way for half of the price. The bridge constructed, centuries back, for developing the economic structure of Madura which was relatively inferior when compared to other regions of East Java. The Suramadu Bridge has three sections - the causeway, the approach bride, and the main bridge.
Name:Suramadu National Bridge
Address:Jalan Tol Suramadu, Tambak Wedi, Kenjeran, Kota SBY, Jawa Timur 60126, Indonesia
5. Bungkul Park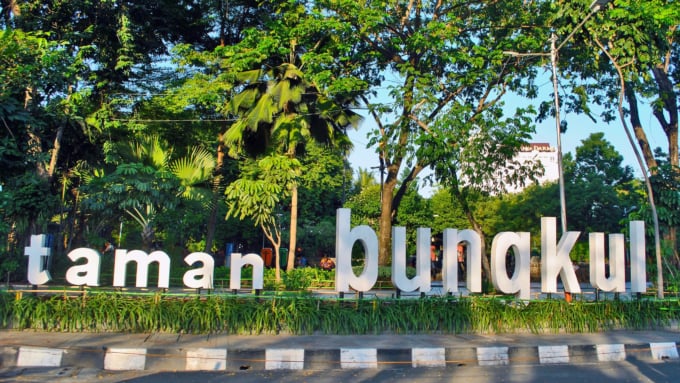 Photo by Everyone Sinks Starco
Surabaya, the second largest city in Indonesia, is rich with many parks across the city. One among those is the Bungkul Park, located on Jalan Raya Darmo Surabaya, Darmo Street, named after Mbah Bungkul, the man who developed the park. The park is sprawling over 900 square meters and is one of Best City Park in Asia winner of the year 2013. The park is a cozy and fun place to spend a relaxing day with your friends and family. The entry is free for all but you need to pay for parking your vehicle. Jogging area, a few amusing ride, children's playground, free Wi-Fi are some of the great things about Bungkul Park.
Name:Bungkul Park
Address:Jl. Taman Bungkul, Darmo, Wonokromo, Darmo, Wonokromo, Kota SBY, Jawa Timur 60241, Indonesia
6. Suroboyo Carnival Park
While Surabaya is an industrial city, it isn't boring as you might think. Business and shopping are not only the things you can do here; check out Surabaya's Suroboyo Carnival Park to see its fun side. It is the first-ever theme park in Surabaya, and it opens in the night. The carnival park has a mix of traditional and modern entertainments at just $6 on weekdays. There are around 25 attractions and activities you may enjoy, and the top ones include magic house, fun rides, and family fun house. The park is not the one meant for kids alone; it has a large range of adult-friendly games and activities. It also has many sites spread across for you to explore the extravagant Surabaya cuisine. We recommended you to engage a taxi to reach here, instead of driving by yourself as it is hard to find a parking space.
Name:Suroboyo Carnival Park
Address:Jalan Frontage Ahmad Yani Siwalankerto No.333, Dukuh Menanggal, Gayungan, Dukuh Menanggal, Gayungan, Kota SBY, Jawa Timur 60234, Indonesia
Related SIte:http://www.suroboyocarnivalpark.com/
7. Sanggar Agung Temple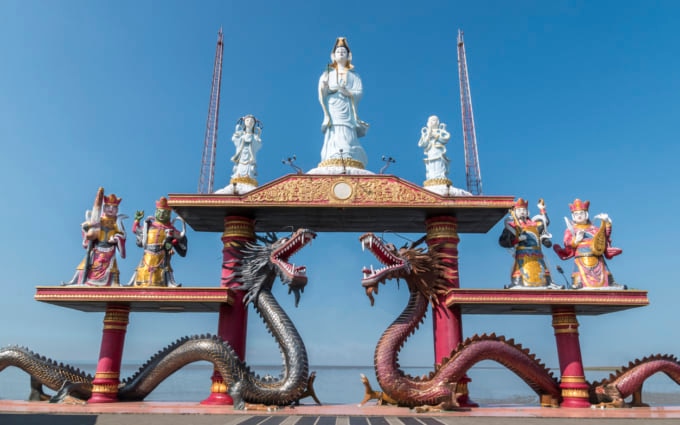 Hong San Tang or Sanggar Agung Temple is a Chinese shrine, located in Kenjeran beach, Surabaya dedicated to Asian and Chinese deities. However, the main followers are Tao and Buddhist and Kong Hu Cu communities. The temple is inside the Pantai Ria amusement park and is famous for the 20 m statue of Guan Yin. The visitors to this temple are not only devotees but people who want to enjoy the beautiful architecture of the temple. The architectural work is lavish, and as you can see in many temples in this part of the country, it has a giant goddess statue, Kwan Im Pouw Sat, surrounded by for guardians. Apart from this, two dragon statues, which is about 6-meter long guard the dieties. The temple one of most active tourist spot in recent time.
Name:Sanggar Agung Temple
Address:JL. Sukolilo, No. 100, Kenpark (Pantai Ria) Kenjeran, Sukolilo Baru, Bulak, Kota SBY, Jawa Timur 60122, Indonesia
8. Ciputra Waterpark
Are you heading to a water theme park? Ciputra Waterpark is the most significant waterparks in Southeast Asia, located on the west side of Surabaya. Spread over 5 acres, it is a large ecotourism park with a large number of exciting and thrilling rides. Many of its water rides have the inspiration of Adventures of Sinbad, a popular fairy tale. The park is a family recreation area and has both land and water rides. Ciputra Waterpark is an exciting place to spend your weekend with your family and friends indulging in leisure activities.
Name:Ciputra Waterpark
Address:Kawasan Waterpark Boulevard Citraland, Sambikerep, Made, Sambikerep, Made, Sambikerep, Kota SBY, Jawa Timur 60219, Indonesia.
Related SIte:http://www.ciputrawaterparksurabaya.com/new2/
9. Bromo Volcano Mountain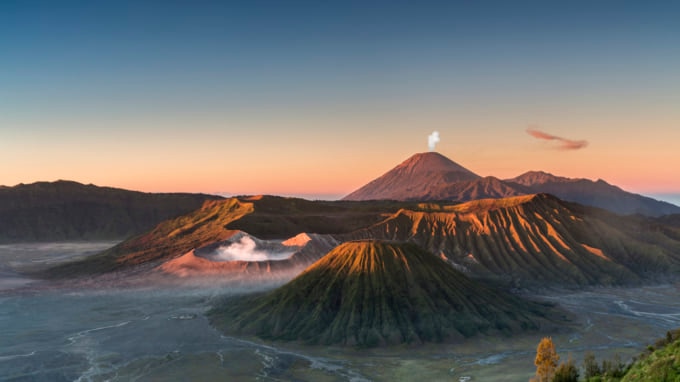 Bromo Volcano Mountain is the most iconic and hiked mountain ranges in Indonesia. The volcano stand at the height of 2,329m from the sea level has its top blown off leaving a crater inside emitting fumes all the time. It is one among the most live volcanoes in the world and most of its areas are not open to visitors due to the danger of explosion. An adventurous hike to mountains exploring the ethereal landscape is a popular activity here.
Name:Bromo Volcano Mountain
Address:Tengger massif, East Java, Indonesia
10. Masjid Al Akbar Mosque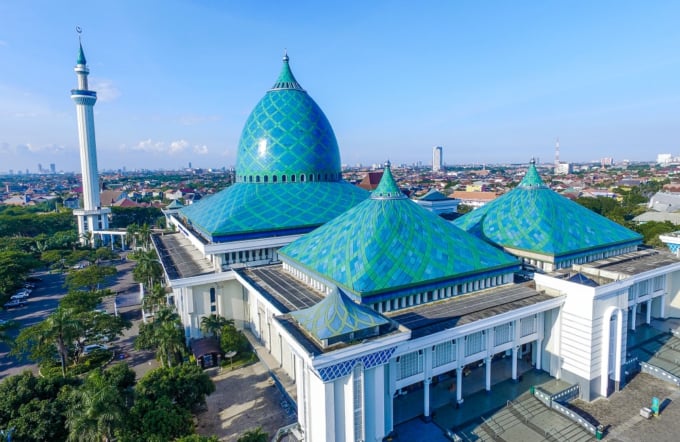 Photo by raditya/shutterstock.com
It will be a fantastic experience visiting the popular mosque, built in a blend of modern and contemporary style. The mosque is famous due to the distinctive style of a huge vertical dome, accompanied by 4 other blue domes. Al Akbar Mosque, popularly known as the Great Mosque of Surabaya is the second largest mosque of Indonesia located in Surabaya. Visitors can climb up to the minaret to enjoy the fantastic panoramic view of Surabaya. Do you want to leave the area without tasting the local cuisine? It will be one of the most beautiful moments in life, to enjoy the delicacies from the food stalls opened around the mosque.
Name:Masjid Al Akbar Mosque
Address:Jalan Masjid Al Akbar Timur No.1, Pagesangan, Jambangan, Pagesangan, Jambangan, Kota SBY, Jawa Timur 60274, Indonesia
Related Site:http://www.masjidalakbar.or.id/
◎ Closing
Situated on the banks of the Brantas River, Surabaya is a modern metropolitan city, which is the trading center of East Java. Fast-paced modernization is transforming mostpaced of its heritage, yet the city has not lost its traditional charms completely. Surabaya makes a perfect destination for a relaxing holiday and to get lost in serene scenic attractions.