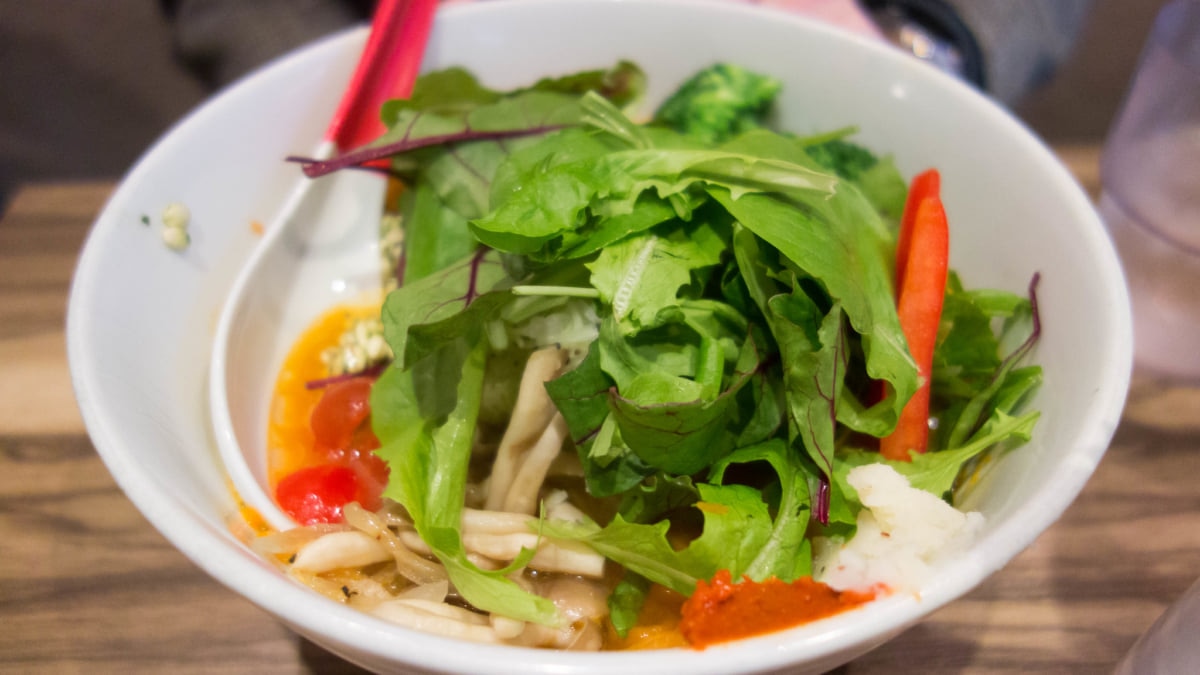 5 Delicious Vegan Ramen Restaurants in Tokyo
While Japan might not exactly be a vegan paradise, with grilled meat, chicken skewer restaurants seemingly on every street, recent years have seen a vast improvement in vegan-friendly restaurants and eateries in Tokyo. Nowadays you'll find a range of vegan cafes and restaurants located around the city, along with a number of places serving Japan's most delicious noodle dish. For a memorable meal in Tokyo here are the city's best vegan ramen restaurants.
table of contents
[x] close
5 Delicious Vegan Ramen Restaurants in Tokyo
Soranoiro NIPPON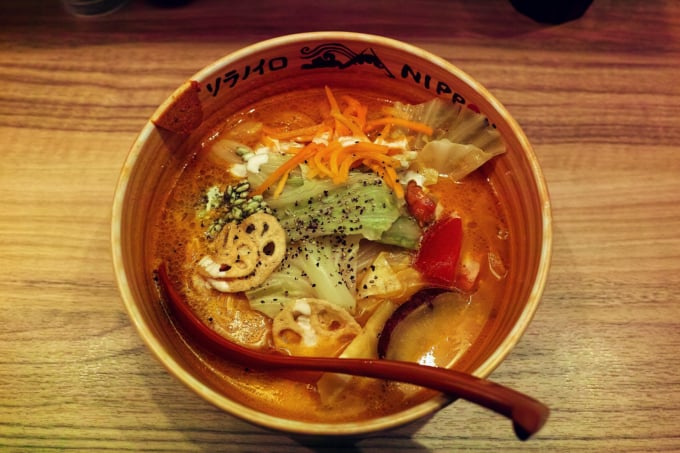 Full of delicious high-quality vegetables and a rich soy-milk based broth, Soranoiro offers a classic ramen experience without the meat. The shop also received a bib gourmand Michelin award for its ramen in 2015 and 2016 and while you might not be able to visit the three Michelin-starred ramen restaurants in Tokyo, Soranoiro NIPPON is also incredibly tasty. The shop also offers gluten-free noodles.
Address: Tokyo Station Ichiban-machi B1F 1-9-1 Marunouchi, Chiyoda-ku, Tokyo
Phone: 03-3211-7555
Opening hours: 10AM - 9:30PM
T's Tantan
Photo by Pete Birkinshaw/Flickr
Located within the busy hub of Tokyo Station, T's Tantan is a solid choice to stop and eat at while transferring at one of Japan's largest stations. Their signature tantanmen is delicious, using fake meat and various spices to make it taste like the real thing. It pays off, as even non-vegans make this restaurant a regular top, it's one of the best noodle dishes in the city.

Even better the shop also sells its own brand of vegan instant ramen noodles, which make for the perfect souvenir to bring back home or snack on at your hotel.
Address: 1F JR Tokyo Station, Marunouchi 1-9-1, Chiyoda, Tokyo
Phone: 03-3218-8040
Website: http://ts-restaurant.jp/tantan/
Opening hours: Mon-Sun 8:00AM - 10:00PM
Gluten Free T's Kitchen
While the focus here is clearly on their huge range of gluten free dishes, you'll find T's Kitchen has a number of delicious vegan dishes too. Both vegan ramen and gyoza are offered here, along with vegan tempura, Japanese curry and even pancakes.

Note that the restaurant used to be called Gluten Free 61 Cafe and Bar and may still be labeled as such online.
Address: 7 Chome-8-5-2F Roppongi, Minato City, Tokyo 106-0032, Japan
Phone: 03-6874-7719
Website: https://glutenfree.co.jp/
Opening Hours: 12 – 10PM
Afuri
A popular chain in Japan, even with stores around the world, Afuri is famous for their yuzu-infused ramen soup. Apart from classic pork and egg dishes, they also offer a fully vegan vegetable ramen along with gluten free ramen noodles made from konnyaku.
Address. 1-1-7 Ebisu, Shibuya-ku, Tokyo
Phone: 03-5795-0750
Opening hours: 11AM - 10PM
Website: https://afuri.com/
Food Therapy Diner Chabuzen
Probably the closest vegan version of tonkotsu ramen you'll find in Asia, Chabuzen has ingeniously made this pork-bone based noodle dish vegan while still absolutely delicious.

The owner uses soy milk, soy sauce, miso, mirin charred garlic and brown rice yeast to form a complex and hearty broth that's just as flavorsome and rich as its meat-filled counterpart. The restaurant places a heavy importance on organic and additive-free dishes.

You'll also find some other Japanese noodles classics on the menu such as vegan tantanmen and curry noodles along with vegan gyoza.