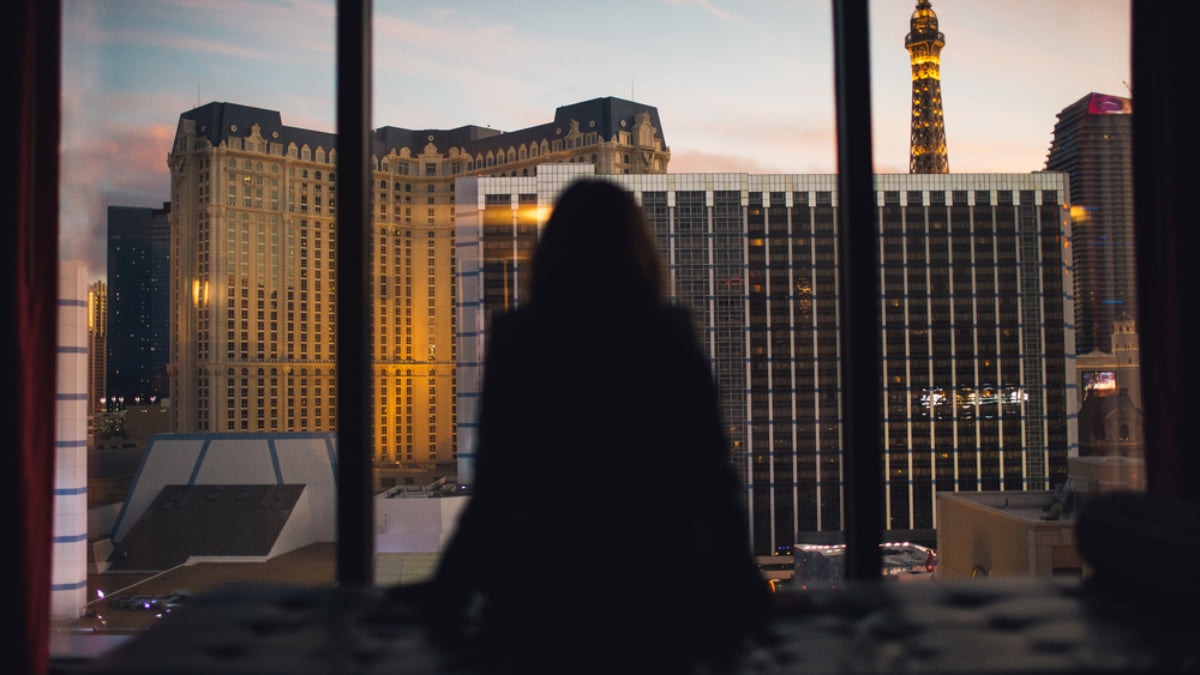 Photo by Personal Belongings/Shutterstock
5 Unique Hotels to Stay at in Las Vegas
Las Vegas, the original "Sin City" of the world, projects a grand, over the top, larger than life experience, which this US city undoubtedly delivers. Flashy, bright-eyed, and a place where money talks, any vacation in Vegas is an adventure that you'll never forget. Here you'll find surprises around every corner, activities for the entire family, and some of the most exclusive hotels in the world. However outside of the glitzy casino resorts, there are some smaller, more private hotel choices in Las Vegas that let you enjoy the spirit of the city, but also give you time away from its blinding lights.
table of contents
[x] close
5 Unique Hotels to Stay at in Las Vegas
Flamingo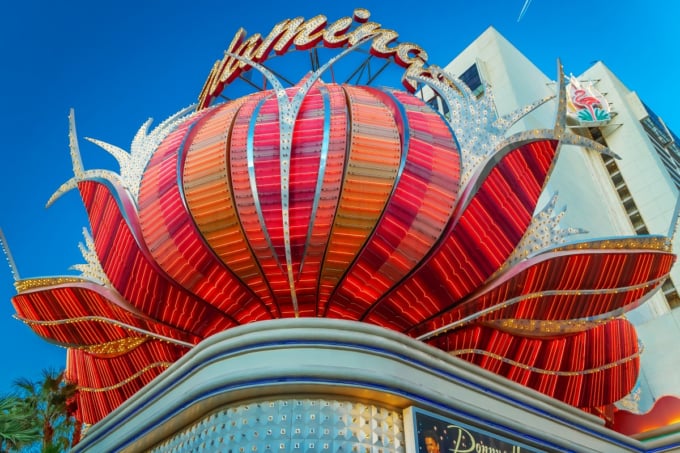 There are plenty of resorts in Las Vegas, but Flamingo stands out among them for creating an environment that has an island-like nature-friendly approach to it. One of the biggest attractions at Flamingo is its 15-acre Wildlife Habitat featuring exotic flora and fauna. In addition to that, it has an outdoor pool that has a separate adults-only area, thus appealing to both families and couples. Moreover, like any good hotel in Las Vegas, Flamingo has not one but two casinos, multiple dining options, including Margaritaville, and regular shows by some of the biggest celebrities in the world.

While Flamingo might be one of the original hotels of Las Vegas, it is also continually upgrading itself to cater to current preferences. They now have the option of self-check-in for US citizens, and some of their newer rooms are truly magnificent in every way possible. Besides the trademark pop of bright colors that gives the rooms a lively disposition, guests get to enjoy en-suite bathrooms, 55" TVs, USB ports, rain showers, and separate vanity areas.

Keeping in mind the growing popularity of Flamingo with families and large groups, the hotel recently introduced rooms with bunk beds. If you want to enjoy the showy side of Vegas, opt for one of the "high-roller view" rooms that are indeed out of this world.
Address: 3555 S Las Vegas Blvd, Las Vegas, NV 89109
Artisan Hotel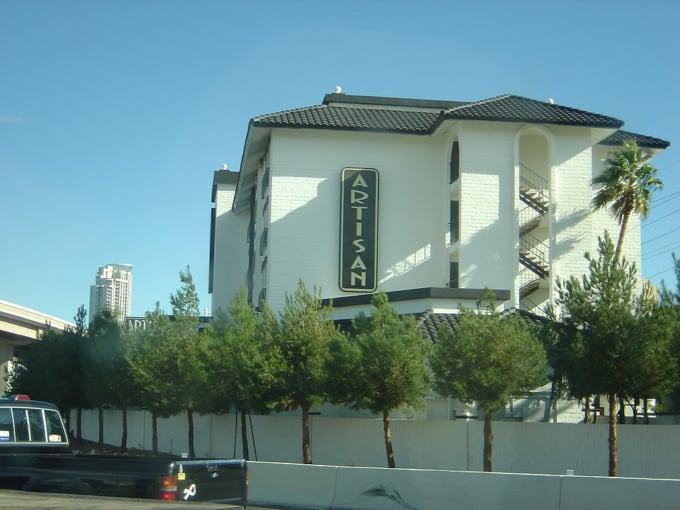 Artisan is probably Vegas' only proper 'boutique hotel.' What makes it unique is that it is an adults-only property, has no casino attached to it, and has an art-theme that runs through the hotel's common areas and into its lavishly furnished rooms. A genuinely secret spot, situated half-a-mile away from the Strip, the Artisan offers its guests a much-needed peace after enduring the glittering lights and crowds of all the tourist attractions in Vegas. The rooms here are comfortable with art-filled walls and retro furniture and an old-world Vegas vibe. However, modern-day features, such as iPod docks and cable television in the rooms, keep things up-to-date and convenient.

One of the highlights of staying at Artisan is its private European-styled pool known for its parties and romantic ambience. The in-house Barcelona Tapas restaurant is ideal for when you want to be lazy and stay in for the day. Artisan is also an exquisite wedding location in Vegas with ample poolside space and a colorful events room that features some hip wall art.
Address: 1501 W Sahara Ave, Las Vegas, NV 89102
Nobu Hotel at Caesars Palace
A growing trend amongst the hotels in Las Vegas is the opening of smaller residences inside already established hotel complexes. This is a move to give visitors the option of staying in boutique properties that carry the luxury of Vegas hotels but have a more personalized atmosphere.

Nobu Hotel is the first by the famed Japanese restaurateur and takes up an entire tower inside Caesars Palace. The interiors are expectedly influenced by Japanese art and design, with the kind of class and attention to detail one would expect at the chef's award-winning restaurant. The rooms at the Nobu Hotel are packed with contemporary comforts and come with concierge service and preferential booking, as well as in-room dining, from Nobu restaurant.

However, if you still want a taste of the Vegas lifestyle, pick either the Nobu Villa, which promises Strip views or the Nobu Penthouse, that includes a billiards table, for a remarkable once-in-a-lifetime hotel experience.
Address: 3570 S Las Vegas Blvd, Las Vegas, NV 89109

Serene
Previously known as Rumour, Serene is a boutique Vegas resort situated opposite the famous Hard Rock Hotel. A pleasant change from the high-rises, this three-star, 150-room hotel has a great location close to the Strip but at the same time is in a world of its own. Extras at the pet-friendly hotel include an outdoor pool, which unfortunately stays closed during the winter months, cabanas, an outdoor hot tub, a spa, and a white, soothing Mediterranean feel that is in complete contrast to the fluorescent lights Vegas is famous for.

The rooms at Serene have a fashionable appeal to them that accentuates the overall theme of the resort by keeping things simple and relaxing. The bathrooms here only have showers, but the guestrooms are spacious with large beds, cable television, and free WIFI. Although Serene has an all-day restaurant on its property, there are plenty of dining options, such as Nobu, Mr. Lucky's, and Dunkin Donuts, at the next-door Hard Rock Hotel.
Address: 455 E Harmon Ave, Las Vegas, NV 89169
Skylofts at MGM Grand
Skylofts takes up space on the top two floors of the MGM Grand and holds a prime position in the southern part of Las Vegas' iconic Strip. Staying at this exclusive hotel is all about enjoying the best of both worlds. Guests have private access to the lofts but get to enjoy all the resort facilities such as the pool and the casino.

The residences at Skylofts are among the best in Las Vegas. All of the 51-rooms are duplexes giving the impression of an apartment rather than a hotel bedroom. With space comes indulgences like no other. If the panoramic views of the Strip won't impress you, the plunge pools, personal butler service, and deck space to host your private party surely will.

In-room services include blackout curtains, a pillow menu, universal touch-screen remote to control everything from the TV to the lighting, and iPod docks to help you create the perfect mood. Bathrooms at Skylofts are equally chic with infinity tubs and TVs. Add to that the multiple dining and entertainment options at the MGM and staying at Skylofts becomes a truly immersive Vegas adventure.
Address: 3799 S Las Vegas Blvd, Las Vegas, NV 89109

Conclusion
A lot of first-time visitors to Las Vegas are surprised to find that some of its most exclusive hotels have rooms at extremely low prices. Although these five-star properties have floors where the high-rollers and celebrities can live in private residences, standard rooms cater to modest budgets, in the hope that guests will spend more on the casino floor or by indulging at Vegas' many entertainment venues.