Ballina : Soak into the Historical Essence of the Gorgeous Town
Photo by Camila Se/shutterstock.com
Australia is a gorgeous and vivid tropical destination. Ballina is one fine offbeat up the coast of Byron Bay where you can play your next vacation. Soak your soul in the less touristy scenic coastline of Ballina. It is very close to Byron Bay and is a great place to escape for a day or two. There are tons of activities to do and enjoy in the place. The idyllic landscapes, boisterous mountains and cobalt blue oceanic water bring ultimate sense of joy and refreshment. Here are the top nine places to explore in Ballina:
[x] close
Ballina : Soak into the Historical Essence of the Gorgeous Town:table of contents
1. Big Prawn
Photo by kellyocs/shutterstock.com
Do you like whacky and weird things? If that's what defines you, Big Prawn is the perfect place to be for sight-seeing. It is close to the Bunnings car park and is signature architecture. It is renovated by Bunnings and is well maintained making it a fair tourist attraction. It is an iconic structure that has stood since a decade and marks a significant importance in Ballina. It is easily accessible and built in 1989 adjacent to the Bunnings warehouse. It was restored by Bunnings for a whooping amount of $400,000 and stands 9 meters tall.
Name:Big Prawn
Address:507 River St, Ballina, New South Wales 2478, Australia
Related Site:https://www.discoverballina.com.au/visit/big-prawn
2. Killen Falls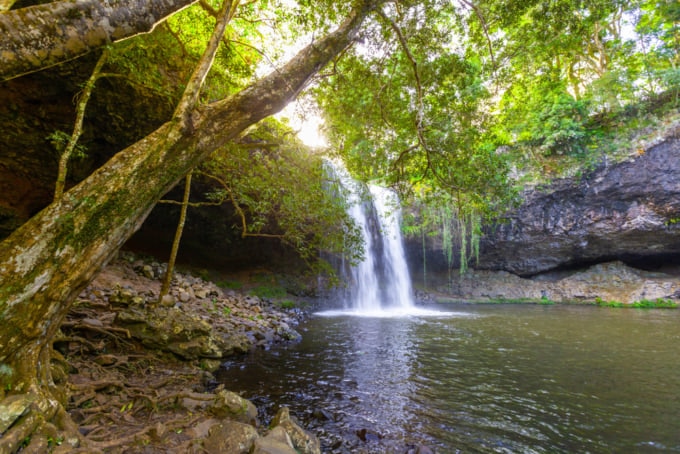 Photo by Greg Brave/shutterstock.com
The gorgeous waterfall takes you through off the beat trail and after walking through a steep route, climbing some rocky terrains, you get the joy of its view. It not usually falls under the tourist radar due to its remote location. It is one of the remains of the scrub rain-forests that once housed the Northern Rivers. It is a great place to enjoy and organize picnics as you enjoy the view of the waterfall from the cliff. It is close to the picnic famous Rous Reserve spot.
Name:Killen Falls
Address:Killen Falls Drive, Tintenbar 2478, New South Wales, Australia
Related Site:https://www.discoverballina.com.au/visit/killen-falls?s=96
3. Ballina Historic Waterfront Trail
This is a beautiful place for sight-seeing if you are looking for some peace and serenity. It is made of 19 plaques that stretch along the walkway showing the historical riches. It starts from Fawcett Park in CDB to the North wall. It gives us an insight about the rich history of European settlers, Richmond River, etc. It is a vantage dolphin watching point and is also a haven for anglers with variety fishes available. There are some areas that are popular for surfing. It is a solitary place that you are seeking for.
Name:Ballina Historic Waterfront Trail
Address:Ballina 2478, New South Wales, Australia
Related Site:https://www.discoverballina.com.au/visit/historic-ballina-waterfront-trail
4. Classic Aero Adventure Flights
Experience the exceptionally gorgeous coastline and drool over the spectacular countryside jewels of the place as you take a thrilling aircraft ride. It is a next level experience seeing the water from the sky. This is a part of Ballina experience that you must not miss. A classic aero flight is customized depending on if you need a thrilling experience or prefers a relaxed ride. The flight ride is experienced in the fully restored and iconic Winjeel which is the last Australian designed flight that served the RAAF.
Name:Classic Aero Adventure Flights
Address:Hangar 3 (General Aviation), Southern Cross Drive, Ballina NSW 2478, Australia
Related Site:https://www.classicaero.com.au/
5. Crystal Castle and Shambala Gardens
This place gives you the pleasure of witnessing the largest and the most beautiful crystals in the world. It is surrounded the bountiful grace of nature and gives an impeccable peace of mind experience. The natural surrounding is beautiful and is perfect for taking a peaceful stroll. There is an enchanted cave which holds the largest amethyst in the world along with the tallest geode pair in the world. It is one of the largest places for Buddhism in Australia. The Kalachakra World Peace Stupa is the only one and only present across the southern Hemisphere.
Name:Crystal Castle and Shambala Gardens
Address:81 Monet Drive, Mullumbimby 2482, New South Wales, Australia
Related Site:https://www.crystalcastle.com.au/
6. Northern Rivers Community Gallery
It previously housed the Ballina Municipal Council Chambers which was built in the year 1927 but it was later renovated by Ballina Shire council in 2007. The building is one of the biggest iconic places that conduct many exhibitions and public programs. It encourages the participation by local artisans and audiences to preserve the essence of culture and native. It is a place where the artistic brains meet and provides space for many touring exhibitions, cultural events, showcases work made by local artisans and is a part of the historic chambers.
Name:Northern Rivers Community Gallery
Address:44 Cherry St., Ballina NSW 2478, Australia
Related Site:http://www.nrcgballina.com.au/v1/
7. Lighthouse Beach
Photo by OZBEACHES/shutterstock.com
The spectacular view of the coastline and the less crowded beach makes it a very scenic sight-seeing place. It is a place to relax and unwind all the worries as you soak your soul into the white washed sand. The balmy air makes the experience of visiting the beach a great one. The lovely sand, turquoise green water and the cobalt skies makes a splendid combination. The beach also houses an old lighthouse which is one of the major attractions of the place.
Name:Lighthouse Beach
Address:Lighthouse Parade, Ballina, New South Wales 2478, Australia
Related Site:https://www.visitnsw.com/destinations/north-coast/byron-bay-area/ballina/attractions/lighthouse-beach-ballina
8. Summerland House Farm
This place is very close to Ballina and can be done along with the other sight-seeing places. It is a gorgeous and absolutely gorgeous Macadamia and Avocado farm located in the hills of Alstonville Plateau. It has number of farming attractions like tours with tractors of the farm, water-park, playground, mini golf place. There is also a nursery inside the farms. It also houses a museum adding to more extended attraction.
Name:Summerland House Farm
Address:253 Wardell Road, Alstonville, NSW, 2477, Australia
Related Site:http://www.summerlandhousefarm.com.au/
9. Ballina Naval and Maritime Museum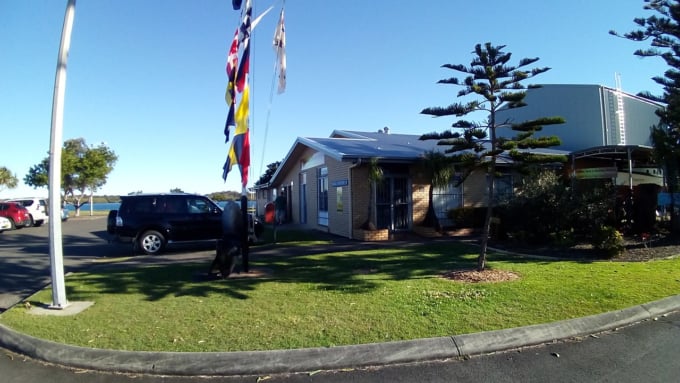 Photo by commons.wikimedia.org
This is a great place for all the historian buff and gives you an exploration of maritime history in Ballina. It is a local museum that has some interesting and exquisite displays. It has the largest collection of merchant and naval ships in Australia for display. Apart from that is the original Las Balsas Raft, working steam engine, Ballina river boats, etc. to display. It also houses a souvenir shop for buying gifts. It is located on the bank of Richmond River.
Name:Ballina Naval and Maritime Museum
Address:Regatta Ave, Ballina NSW 2478, Australia
Related Site:http://www.ballinamaritimemuseum.org.au/
◎ Closing
Ballina is located very close to Byron Bay and is recommended for a day or two. It is rich in its heritage and history making it one of the best offbeat places to visit in Australia. From whacky architecture to gorgeous coastlines to museums, it has an array of things to offer.