Medellin: Colombia's City of Eternal Spring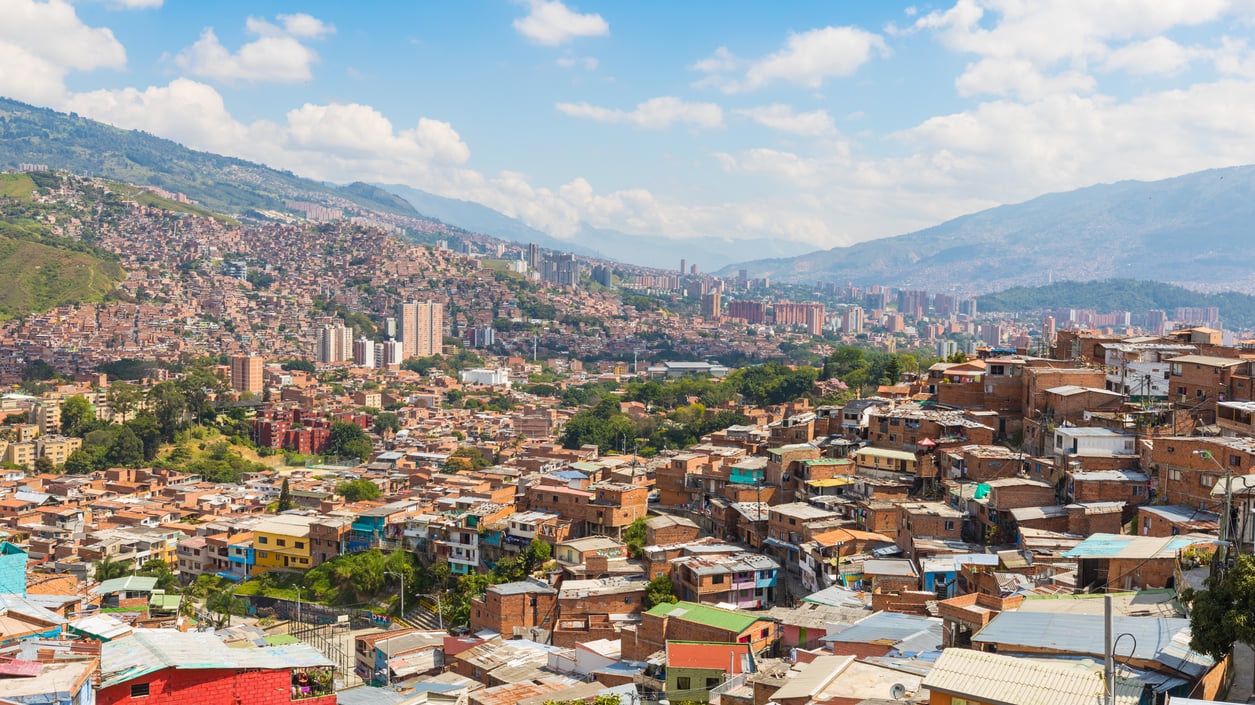 Located in a narrow valley whose skyline reaches the heavens is Medellin city. With buildings and apartments forming a foreground to jagged peaks, this city offers more for tourists and sightseeing enthusiasts alike. The climate is also pleasant, warm all year round with sweltering conditions offset by the adjacent rainforest. Below are some of the best places for sightseeing in Medellin City:

[x] close
Medellin: Colombia's City of Eternal Spring:table of contents
1.Guatape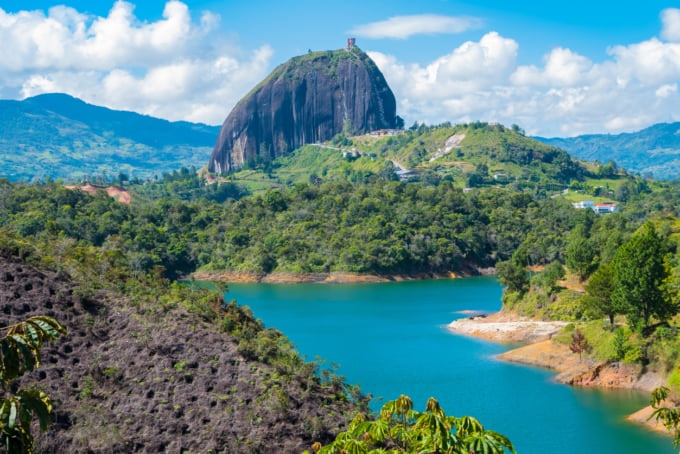 The Guatape is a place with an array of physical features and awesome spots for sightseeing. First on the list of nature's beauty is the El Penol, is a large monolithic rock, about 200 meters long. Mounting the rock forms a good hiking experience. The rock top forms an awesome photography and sightseeing spot of the surrounding areas, and it is equipped with viewing platforms and restaurants. The man-made Guatape reservoir is complemented by hotels and vacationing cottages, yielding a reason to spend more than a day at this place out of the city.

Name : Laguna de Guatape
Address : Loma del Escobero, Medellin 053840, Colombia
Related Site : http://www.municipiodeguatape.gov.co/
2. Jardin Botanico De Medellin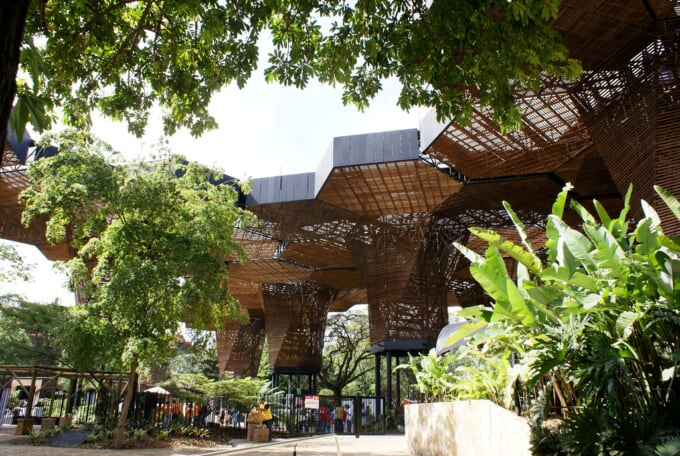 Photo by commons.wikimedia.org
A place filled with nature's gifts is the best place to free the mind. Located in the heart of the city is this botanical garden. It is filled with thousands of plants and animal species. Entrance is also free. There is a butterfly enclosure with various breeds of the planet's most beautiful insect. Within the garden is the Parque Explora, an animal sightseeing park with an aquarium, planetarium and a vivarium, all filled with animal species from the Amazon Basin. Also present is a lagoon, filled with Amazonian reptiles. This garden can be equated to outskirts within the city.

Name : Jardin Botanico de Medellin
Address : Cl. 73 #5114, Medellín, Antioquia, Colombia
Related Site : https://www.botanicomedellin.org/
3. Paragliding Medellin
Paragliding Medellin is one of the best ways to have an aerial view of the city without opting for the costly chopper tours. The trip to the takeoff spot is a sightseeing experience itself, as it involves cable cars leading to Estacion Awora. Tourists may also choose to be picked directly from their hotels, by tour guides. The paragliding tour is commandeered by experienced tour guides who also unload more information about the city. The Paragliders also allow one to take aerial photos and videos, making it so convenient to capture the thrill that comes with the experience.

Name : Paragliding Medellin
Address : KM 6 VIA SAN PEDRO DE LOS MILAGROS, Restaurante EL VOLADERO, La Palma, Bello, Antioquia, Colombia
Related Site : https://paraglidingmedellin.com/
4. Medellin Adventure Trails
This offers an epic way to explore the city's immediate countryside. At the Medellin Adventure Trails, you get to reserve an all-terrain vehicle (ATV) for the expedition and sightseeing itinerary. Tour guides accompany the visitors all through the trip. For safety, pads and helmet are provided. The journey begins along a stream, creating a chance to explore the forests along the waterway. The journey gets slower when you get to an area of tightly spaced trees that make it hard to maneuver. The climax is an open field where the adrenaline can be spiked by racing to the finish.
Name : Medellin Adventure Trails
Address : Vía La Pascuita Vda. La Honda, Guarne, Antioquia, Colombia
Related Site : http://www.medellinadventuretrails.com/
5. Plaza Botero and Museum of Antioquia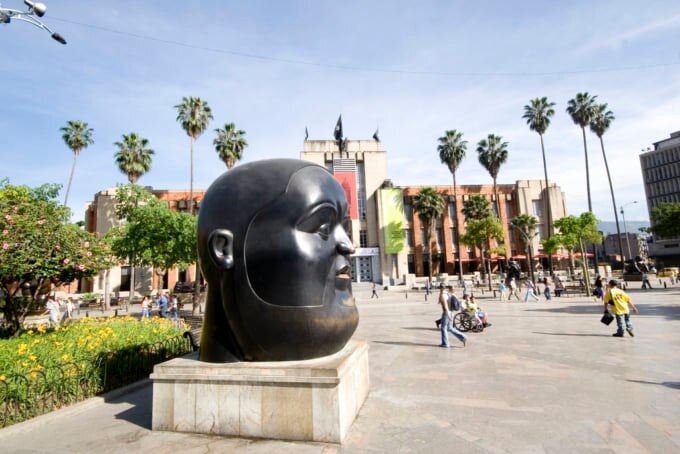 Photo by Guía de Viajes Oficial de Medellín
Located in the "Old Quarter" of the city is the Museum of Antioquia. The museum hosts a variety of artistic works from the pre-Columbian era to the modern times. One such painting is the infamous La Muerte de Pablo Escobar. The Museum is built around the Plaza Botero, which contains 23 epic sculptures donated by Fernando Botero. Some of the sculptures are corpulent Roman legionnaires and rotund animals. The floor setting for the sculptures is heavily ornamented with black and white patterns. The museum offers a great place to learn of the city's history in good light.
Name : Plaza Botero and Museum of Antioquia
Address : Carabobo, Medellín, Antioquia, Colombia
Related Site : http://www.museodeantioquia.co/
6. Comuna 13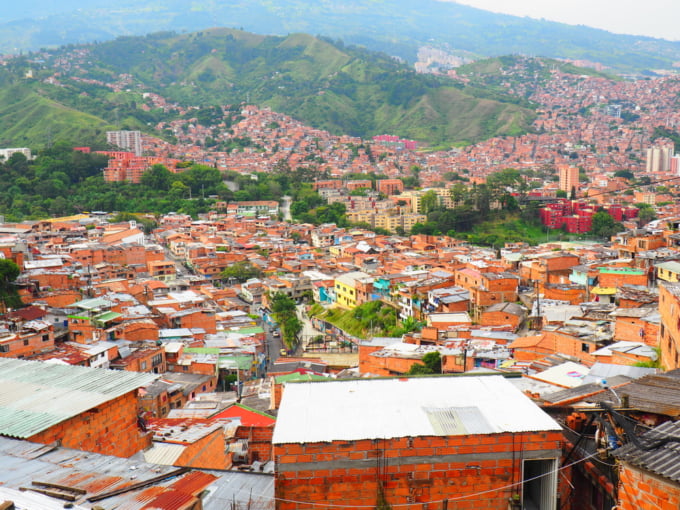 Photo by Kristel Segeren/shutterstock.com
Medellin is a city that carved a glorious path against the dark past of paramilitary and narcotrafficking past. The Comuna 13, was one of the worst-hit suburbs that have turned on a new leaf into a safe haven, suited for sightseeing purposes. Tour guides take you on a visit along graffiti-filled streets as well as housing units painted in various colors. There are also open-air escalators that can be used during the visit, which are also decorated on the edges with murals depicting the city's horrid past while peeking into a hopeful future.
Name : Comuna 13
Address : Carrera 49 # 9-69 El Poblado Metro Station, Medellin, Colombia.
Related Site : https://www.travellifex.com/comuna-13-how-colombias-notorious-neighbourhood-reinvented/
7. Medellin Museum of Modern Art
This Medellin Museum of Modern Art offers ideas on how gentrification can be undertaken in old neighborhoods. Ciudad del Rio is home to this museum. The museum is composed of fine dining places, sculpture decorated gardens, and lofts for artists to display their works. Contemporary artworks and other displays displaying Colombia's famous figures are some notable items. For example, the portrait of Debora Arango, Colombian pop star can be found in this museum. Though dubbed a museum, the museum is more of a way to celebrate the present times and notable recent events that invoke the Colombian spirit.

Name : Medellin Museum of Modern Art
Address : Carrera 44 #19A-100, Avenida de las Vegas Ciudad del Río, Medellín, Antioquia, Colombia
Related Site : http://www.elmamm.org/
8. Pueblito Paisa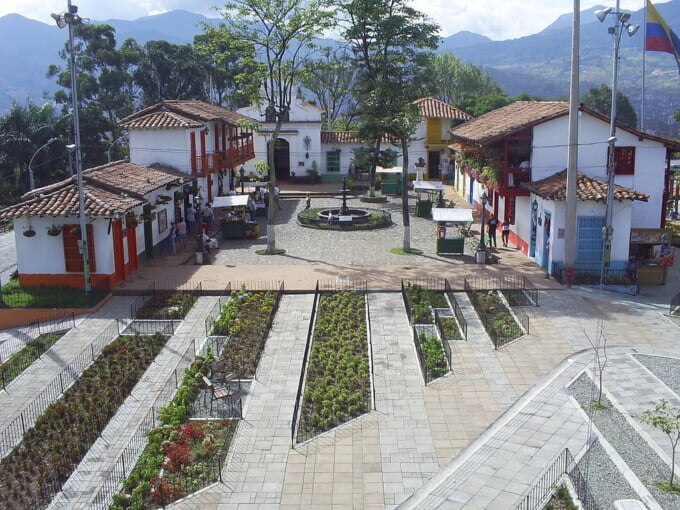 Away from the usual sightseeing adventures is the Pueblito Paisa. Found on the top of Cerro Nutibara, is the model of ancient rural Antioquia. There is a traditional town square with church, old municipality offices, a one-room schoolhouse and a barbershop. The hilltop location is a return gift to sightseeing and photography folks. Souvenirs can be purchased cheaply from handicraft sellers and makers located on the spot. People also get to sample original cuisines of the Colombian Andes region from the restaurants around the vicinity. The place serves as a reminder that the city has its roots deeply anchored on rural past.
Name: Pueblito Paisa
Address: Tunel av nutibara, Medellin 050030, Colombia
Official Website URL: https://www.pueblitopaisarestaurant.com/

9. Parque de los Pies Descalzos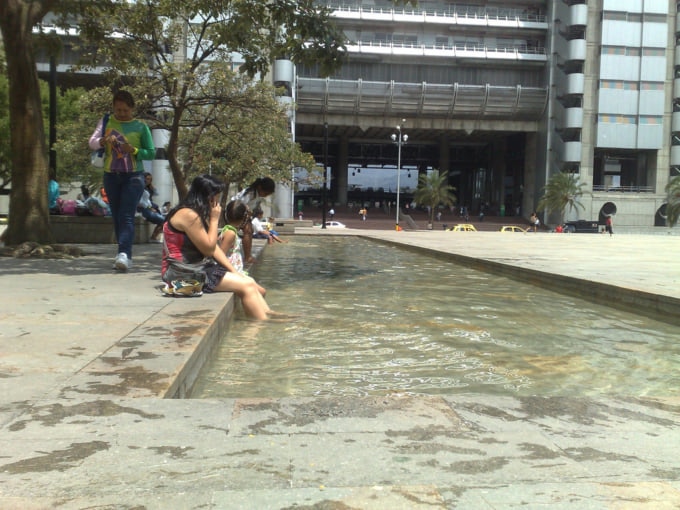 For one to enjoy the gifts of this park, it is advisable to take off footwear. A Zen-inspired place, intent on arousing feelings of pace into the city dwellers by giving them the time and a place to reconnect with nature by experiencing various ground textures. Visitors walk through gravel pits, sand pits and end the short walk in a water fountain where a crash course on foot massage is offered. At the sand stop, people are allowed to play with sand, creating a pseudo-beach. There is also a bamboo groove that feels more like a clean swamp with marvelous greenery.

Name : Parque de los Pies Descalzos
Address : Cra. 58 #42-125, Medellín, Antioquia, Colombia
10. Parque Arvi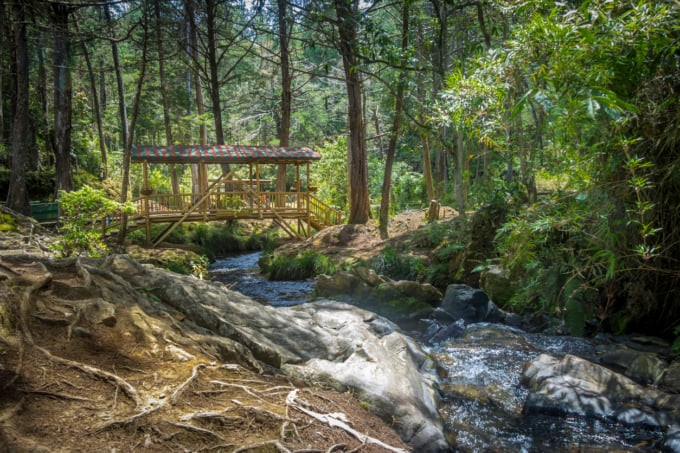 Medellin city is one of the urban areas that get to co-exist with its wildlife, as can be seen through Parque Arvi. The journey to the park itself is a sightseeing trip by the metro cable transportation system. Inside the park are recreational centers, where the fun is guaranteed. A walk along the stream is a heavenly hike since an array of plants and animals can be seen. Picnic and camping sites are also offered along the stream giving excellent opportunities to spend a day, or a couple more, away from the city.
Name :Parque Arvi
Address : Via a Piedras Blancas, Medellín, Antioquia, Colombia
Related Site : https://parquearvi.org/
◎ Closing
For a city that is coming from a dark past, Medellin city has done more than enough to be an easily enticing place. The city coexists with its immediate Amazonian neighborhood. A great deal of history and local pop trends can be learned from the museum. Sightseeing is not a forgotten activity as the city offers a variety of spots with breathtaking views.