Ibiza : An Island of Glistening Beauty and Vibrancy in the Balearic Islands
Spain
Jul 13, 2018
339 views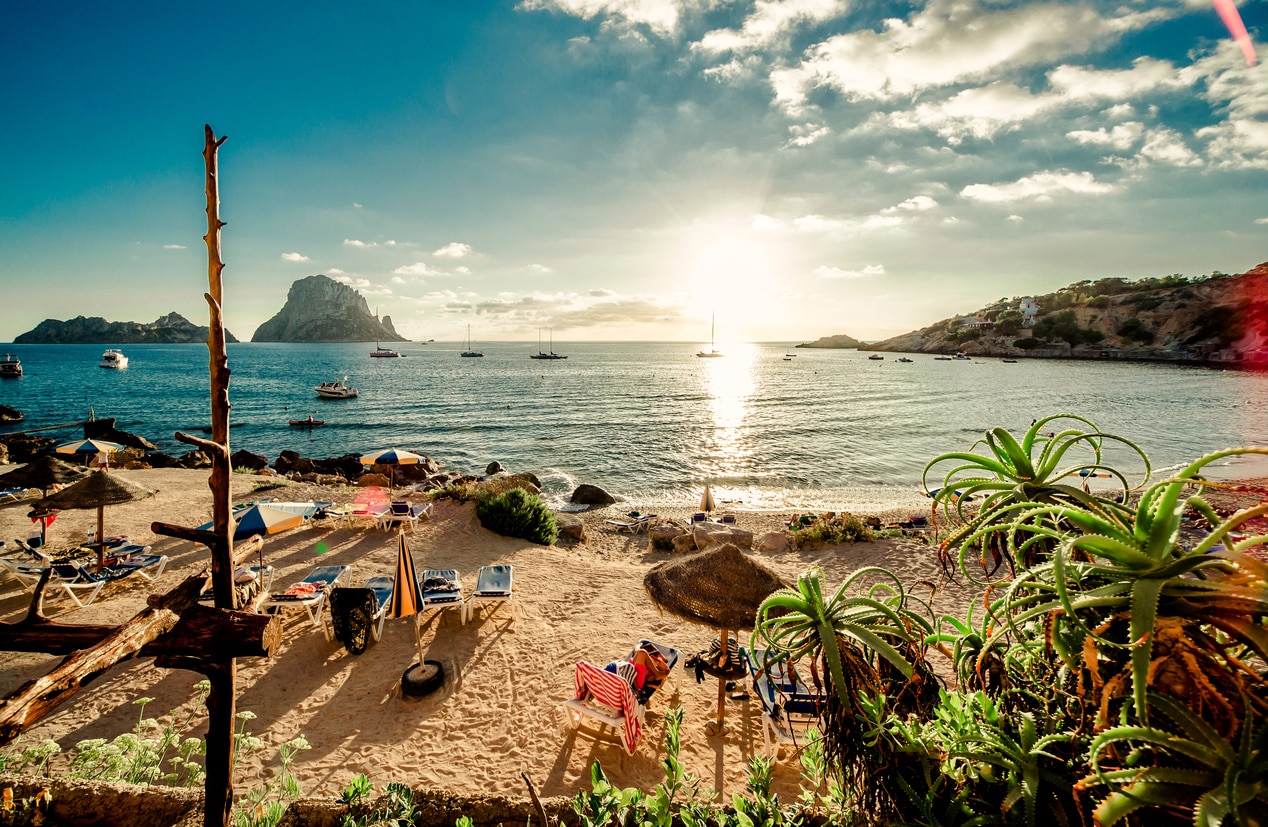 Ibiza, officially known as Eivissa, is one of the Balearic Islands, an archipelago in the Mediterranean Sea specifically off the coast of Spain. Ibiza has become a popular sightseeing destination due to its nightlife and the electronic music that originated on the island. It is also well known for its summer club scene which attracts a large number of tourists every year. Furthermore, Ibiza is home to a lot of attractions which are worth sightseeing.
[x] close
Ibiza : An Island of Glistening Beauty and Vibrancy in the Balearic Islands:table of contents
1. Es Vedra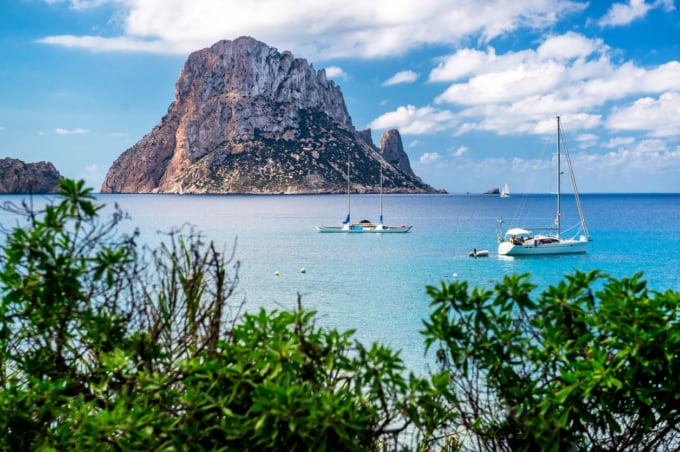 Our first attraction in Ibiza that is worth sightseeing is the Es Vedra. It is a small rocky island off the southwestern seaboard on Ibiza. It belongs to the Cala d'Hort nature reserve which could be found off the coast at Cala d'Hort, a municipality of Sant Josep de a Talaia. While towering at 413 meters tall, Es Vedra is noted for being uninhabited. Due to its distinct form and its Mesozoic limestone material, Ed Vedra is an excellent place to visit once you are sightseeing in Ibiza.
Name:Es Vedra
Address:Cala d'Hort, Ibiza Town, Ibiza, Spain
2. Dalt Vila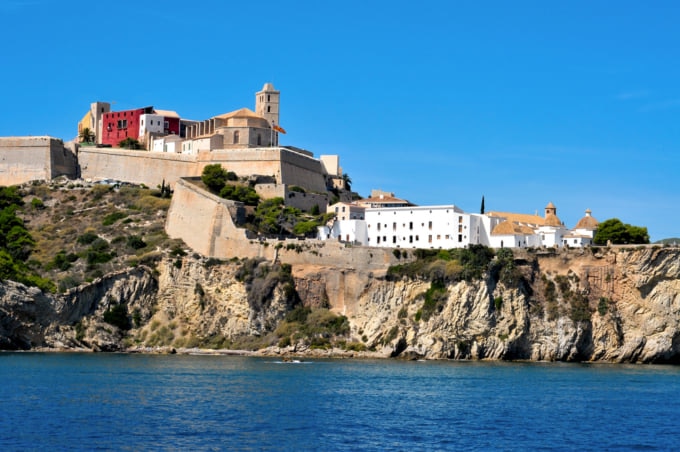 Photo by nito/shutterstock.com
Dalt Vila is another impressive sightseeing destination in Ibiza. Whether you are a first-timer or you are already an experienced explorer, visiting Dalt Vila will still continuously amaze you. You could start by witnessing the fortified walls of the town which has proven to be one of the highlights of sightseeing visitors to Ibiza. You could walk through the maze of cobbled streets where you are welcomed with local Ibiza people going about with their lives. Because of this, you are welcomed by culture and art right in front of your eyes.
Name:Dalt Vila
Address:Old Town, Ibiza Town, Ibiza, Spain
3. Cala Comte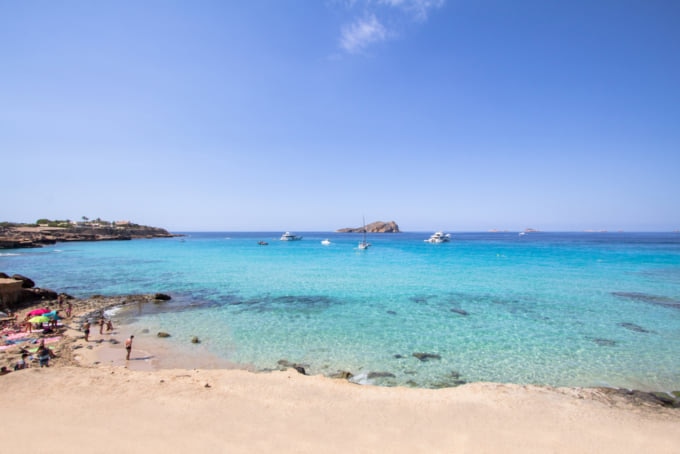 Photo by D.Bond/shutterstock.com
Being located in a coastal area, Ibiza is undoubtedly a home to a lot of beaches. One of these beaches is the Cala Comte. Found in the southwestern portion of Ibiza, Cala Comte is situated in the municipality of Sant Josep de sa Talaia. The Cala Comte is noted for being a small sandy beach with a number of covers found nearby. The waters have a turquoise and blue water that is being kept that way by the constant flow of sea current in the area.
Name:Cala Comte
Address:07830 Sant Josep de sa Talaia, Ibiza, Spain
Related Site : https://www.ibiza-spotlight.com/beach/cala_conta_i.htm
4. Cala Saladeta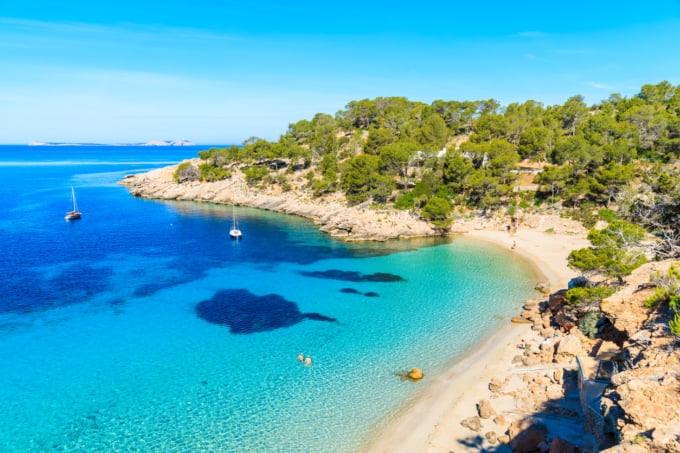 Cala Saladeta is another beautiful beach that you could visit when you are sightseeing in Ibiza. It is a small and quiet beach where tourists could avail of an opportunity to do snorkeling in its blue waters. For a refreshing experience, you could even take a drip into the sea. There are no luxurious amenities that could be found on the beach so you better be ready with your picnic and your umbrella. This way, you could really enjoy them distinctly. It should be noted that the Cala Saladeta could be reached by clambering over the rocky divide.
Name:Cala Saladeta
Address:Sant Antoni de Portmany, Ibiza,Spain
5. Necropolis of Puig des Molins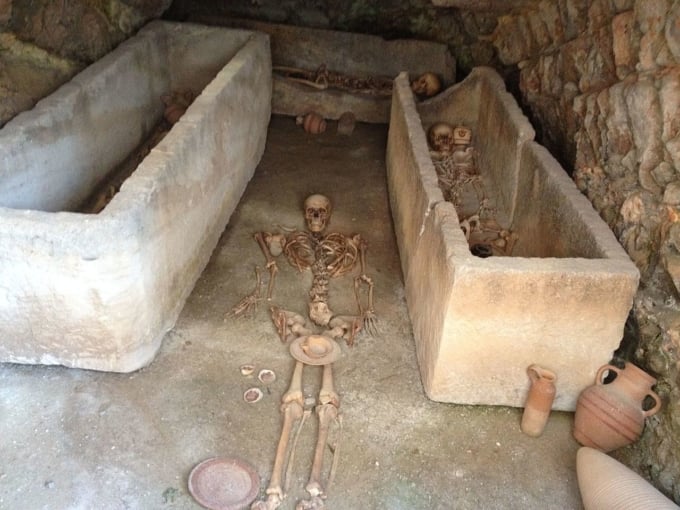 Photo by commons.wikimedia.org
Veering away from the beaches of Ibiza, we arrive at a stunning and distinct sightseeing destination with a historic past. The Necropolis of Puig des Molins is a medieval rural property where we could see archeological wonders such as an ancient cemetery that dates back to 600 BCE. Set up by the Phonecians at the end of the seventh century, this necropolis houses up to 4,000 tombs from all over the Mediterranean area. A part of the UNESCO World Heritage site of Ibiza, this is regarded as the largest necropolis in the world.
Name:Necropolis of Puig des Molins
Address:Via Romana, 31, 07800 Eivissa, Illes Balears, Spain
Related Site : https://www.seeibiza.com/sights/museums/punic-necropolis
6. Cala de Sant Vicent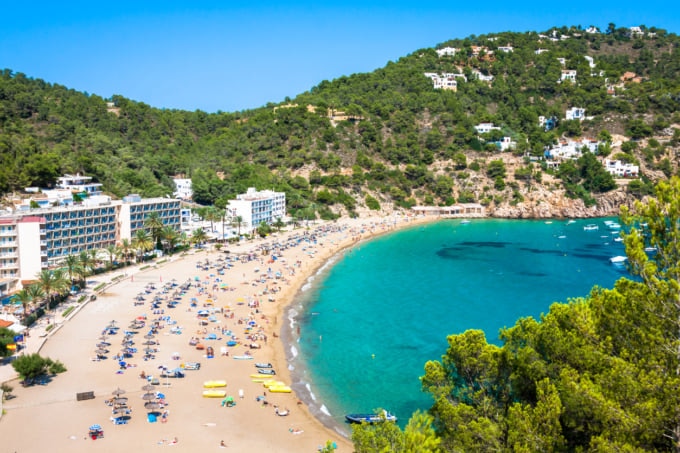 The Cala de Sant Vicent is a beach resort village that could be found in the municipality of Sant Joan de Labritija in Ibiza. It stretches 18.9 miles northeast of Ibiza. Such resort could be reached along the designated roads. It is noted for being relatively quiet and child-friendly with a wide sandy beach. The bay area is further noted for being enclosed by steep cliffs. Sightseeing tourists remark the waters of the beach as clean, clear, and shallow. It would be amazing to be sightseeing in this area.
Name:Cala de San Vicent
Address:Sant Vicent de sa Cala, Ibiza, Spain
7. Puig de Missa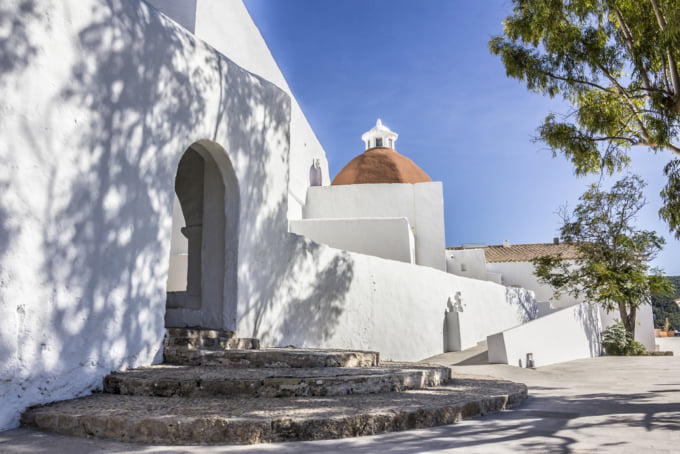 Photo by anandoart/shutterstock.com
The Puig de Missa is a stunning fortified hilltop church that is overlooking the town of Santa Eulalia and the eastern coast of Ibiza.When sightseeing around Ibiza, specifically at Santa Eulalia, you would really not miss this church since it is located at the top of a high hill. Puig de Missa Church is noted for its whitewashed walls and a domed roof. The watchtower attached to it dates back to the 16th century. At around 17th century, the church was extended, allowing its use as a focal point during festivals and as a religious structure.
Name:Puig de Missa
Address:Plaza Lepanto s/n, 07840, Santa Eulalia del Rio, Ibiza, Spain
8. Santa Gertrudis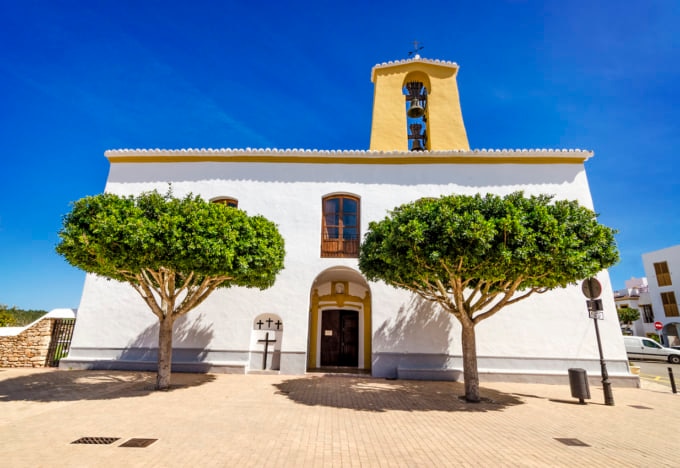 Santa Gertrudis de Fruitera, or simply Santa Gertrudis, is a small village that could be found in the central region of Ibiza. It is filled with a wide range of bars and restaurants which offer everything from local bars to gourmet cuisine. It is also noted for its main square houses and its whitewashed church. In the agricultural area of the village, sightseeing tourists could see live animals all around including sheep, goats, and dairy cows. Santa Gertrudis is also noted for being the home to a great art community.
Name:Santa Gertrudis
Address:Carrer de la Vénda des Poble, 12, 07814 Santa Gertrudis de Fruitera, Illes Balears,Ibiza, Spain
9. Ibiza Cathedral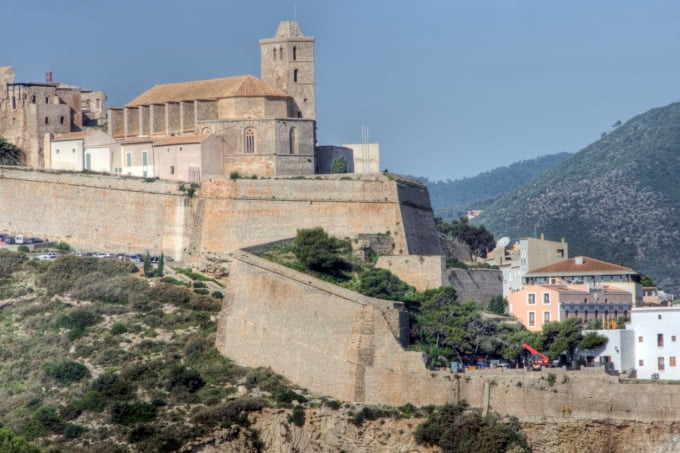 The Ibiza Cathedral, officially called the Cathedral of Our Lady of the Snows or Catedral de Nuestra Senora de las Nieves, is a Roman Catholic Cathedral and the principal church of the city of Ibiza. Construction began in 1234, while its completion was during the 15th century. The Ibiza Cathedral is noted for its many works of art, many of which are a Gothic monstrance of golden silver which was made by Francesc Marti in 1399, Gothic panels of Saint Anthony and Saint Tecla, and another set of panels of Saint Matthew and Saint James.
Name:Ibiza Cathedral
Address:Placa Catedral s/n, 07800, Ibiza Town, Ibiza, Spain
10. Cala Benniras
Our last sightseeing destination on our list is the Cala Benniras or the Benirras Beach. It is popular due to its remarkable hippie drumming Sundays and picturesque sunsets. The beach offers various facilities including parasols, showers, loungers, public toilets, and lifeguards. It is also filled with bars and restaurants if you ever want to satisfy your cravings on local cuisines. Because of the amenities and the things you could do while sightseeing on this beach, the Cala Benniras is regarded as a key beach in the northern portion of Ibiza.
Name:Cala Benniras
Address:Lugar Venda de Benirras, 154, 07815 Sant Joan de Labritja, Illes Balears, Ibiza, Spain
◎ Closing
Being a popular sightseeing destination, it cannot be denied that going to Ibiza would be an enjoyable journey. Be sure to plan your itinerary ahead so that you will not miss out on the things that Ibiza has to offer.