Photo by ShutterOK/shutterstock.com
Hat Yai : Thailand's Popular Travel Destination Famous for Breathtaking Scenery
Hat Yai is a large and amazingly beautiful city located in Thailand. Hat Yai is an extremely popular travel destination famous for its nice and breathtaking sightseeing and scenery. Hat Yai includes varieties of places of attraction but we have picked up the best ones that are open for your choice.
table of contents
[x] close
Hat Yai : Thailand's Popular Travel Destination Famous for Breathtaking Scenery
1. Phra Maha Chedi Tripob Trimongkol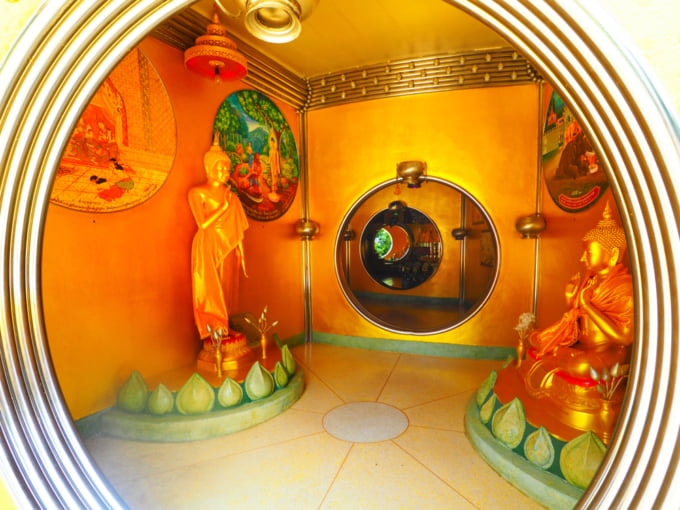 Photo by Sunwand24/shutterstock.com
Let's start our journey in Hat Yai with a very special sightseeing there, which is Phra Maha Chedi Tripob Trimongkol. This is a worth to visit spot in Hat Yai both for its beauty and uniqueness. Phra Maha Chedi Tripob Trimongkol is a nice structure with a beautiful entrance and circular doors. It also includes circular steps that go up to the first floor. Here you have the chance to see the whole structure in detail, including the steel round gates. The time you will spend in this sightseeing will be an impressive period from Hat Yai.
Name:Phra Maha Chedi Tripob Trimongkol
Address:Punnakan Road | Ko Hong subdistrict, Hat Yai, Thailand
2. Hat Yai Municipal Park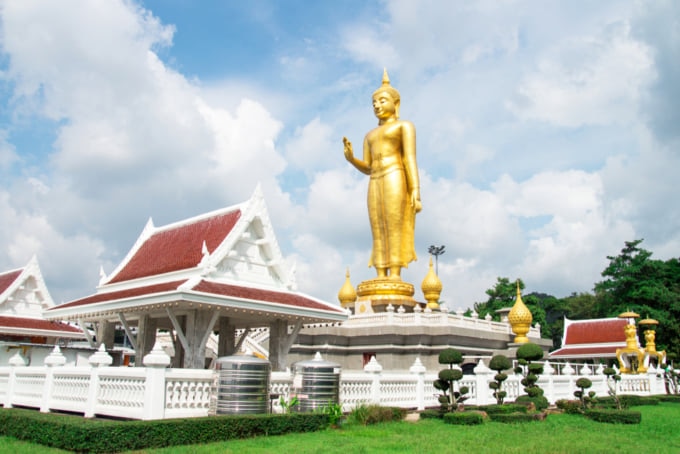 Photo by rachata photography/shutterstock.com
Hat Yai Municipal Park is a maginificant park located in Hat Yai. This is an adorable spot with pleasant atmosphere and nice views. Choose a proper day with pleasant weather to have a highly impressive walk in this spot. The park also includes a lake, which is probably one of the best things you will see there. There are also several statues and generally the area is very proper for taking some good photos. Also, if you go to the hill top, you will catch the nicest scenery of Hat Yai and will get the best impressions from your tour.
Name:Hat Yai Municipal Park
Address:Kanchanawanit Road, Hat Yai, Thailand
Related Site:http://patricklepetit.jalbum.net/SONGKHLA/PHOTOS/HATYAI/Hat%20Yai%20Municipal%20Park/indexb.html
3. Central Festival Hatyai
If you want to have an unforgettable time in Hat Yai and get one of the best memories from your tour, take a visit to CentralFestival Hatyai. This is a rich mall where you can have some dinner and do some shopping. The mall mostly offers a variety of local products, restaurants, bookstores and so on. Everything is high class in this sightseeing, so be aware that the prices may sometimes sound high to you. Anyway the products worth the prices and nowhere else in Hat Yai will you find such items and products as in this sightseeing.
Name:Central Festival Hatyai
Address:1518, 1518/1, 1518/2, Kanchanavanich Road, Hat Yai 90110, Thailand
Related Site:http://www.centralfestival.co.th/index.php
4. Magic Eye Museum
Magic Eye Museum is an incredibly amazing and interesting sightseeing in Hat Yai. Being in Hat Yai and not visiting this sightseeing be sure that you will lose a great piece of entertainment and the chance to enjoy the magic of this museum. This sightseeing is ideal for visiting both with peers and with kids. The latter will also get excited by this spot. The museum also offers you magic shows that will make your day much more full and interesting. This sightseeing of Hat Yai will make you believe in magic and in wonders.
Name:Magic Eye Museum
Address:414 Kanjanavanich Rd | Greenway night market, Hat Yai 90110, Thailand
Related Site:https://www.magiceyemuseum.com/
5. Asean Trade Bazaar
Now we are in a very important spot of Hat Yai, which is Asean Trade Bazaar. Of course this is a sight that will offer you anything necessary for your stay in Hat Yai. This sightseeing includes so many goods and products and all of them are in reasonable prices. By the way, the bazaar frequently announces discounts on some items and products, so you will never meet the problem of overpricing or lack of products. Enjoy your shopping in Hat Yai right in this sightseeing and get the best items suitable for your taste and preferences.
Name:Asean Trade Bazaar
Address:76 Chotevittayakul 3 Rd, Amphoe Hat Yai, Chang Wat Songkhla, Thailand
6. Kim Yong Market
To continue the list of the sights that can provide the tourists with the best and high quality products in Hat Yai, we introduce you the next sightseeing on our list, which is Kim Yong Market. This market is a combination of varieties of products and items that you may need during your tour to Hat Yai. This sightseeing is open since early in the morning and it is always full of people who come shopping. To get the freshest products in Hat Yai you should definitely visit this sightseeing.
Name:Kim Yong Market
Address:Sang Aretit Rd., Hat Yai 90110, Thailand
Related Site:https://www.bangkokpost.com/travel/sightseeing/20439/kim-yong-market-hat-yai
7. Namtok Ton Nga Chang
Now it is high time that we discuss one of the most gorgeous sightseeing in Hat Yai that comes from nature. This sightseeing is Namtok Ton Nga Chang, which is a real piece of wonder given from nature. If you are tired of the noisy and crowd streets of Hat Yai and are eager to enjoy the calmest and quietest sightseeing there, this sightseeing is the ideal choice that you can make. The calm atmosphere of this sightseeing and the wonderful sounds of nature that are made b the trees, the waterfall and the water, will be a completely relaxing experience for you and your family.
Name:Namtok Ton Nga Chang
Address:Ton Nga Chang Wildlife Sanctuary, Amphoe Hat Yai, Hat Yai, Thailand
Related Site:https://www.tourismthailand.org/Attraction/Namtok-Ton-Nga-Chang--5665
8. Songkhla Old Town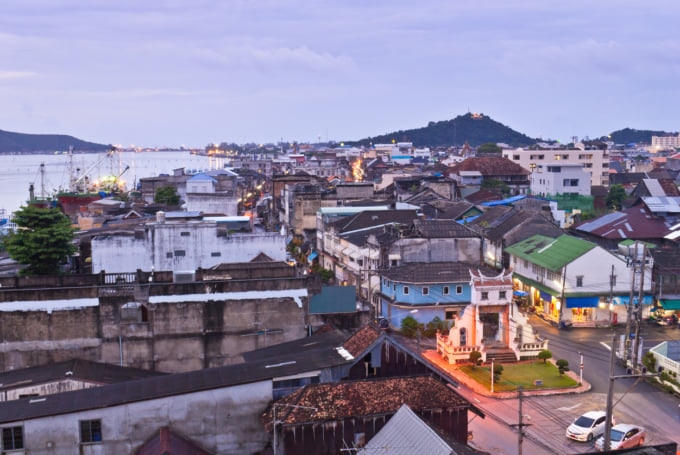 If you are interested in the historical background of Hat Yai visit Songkhla Old Town to get some knowledgeable and informative experiences from your tour to Hat Yai. This sightseeing is visited by thousands of tourists every year, for that they come here to see the charming architecture and the traditional style of Hat Yai. With every single step that you will make in this historical section of Hat Yai, you will feel the breath of its past and background. The town includes small restaurants, cafes, street art and boutique shops.
Name:Songkhla Old Town
Address:Raman, Tambon Bo Yang, Amphoe Mueang Songkhla, Chang Wat Songkhla 90000, Thailand
Related Site:https://www.tourismthailand.org/Songkhla-old-town
9. Wat Hat Yai Nai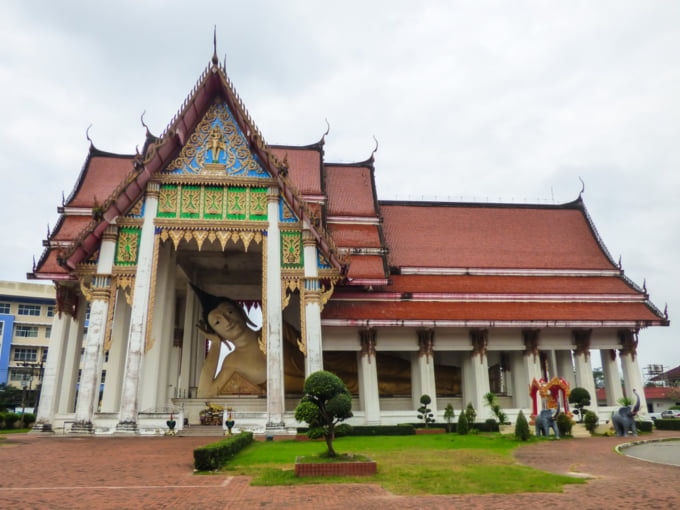 Photo by Helissa Grundemann/shutterstock.com
Wat Hat Yai Nai is another attraction in Hat Yai worth to your visit. This temple is an important cultural value for the country and its inhabitants and thus it well kept and interesting for visiting. Here you will see the sleeping Buddha statue that is majestic with its impression of being blocked by the pillars. The next advantage about his sightseeing is that is close to Hat Yai and it will not take you long time to get there. This wonderful sightseeing is open to its visitors daily from 8 a.m. to 5 p.m.
Name:Wat Hat Yai Nai
Address:Phetkasem Road | near Khlong U Taphao Bridge, Hat Yai, Thailand
Related Site:https://www.tourismthailand.org/Attraction/Wat-Hat-Yai-Nai--5662
10. Lee Garden Plaza
Lee Garden Plaza is a fantastic shopping mall in Hat Yai with all sorts of products and goods. This sightseeing is an ideal spot for civil shopping. This is a sight where you will enjoy not only your shopping but also your walking and your whole time spent there. This mall is always full of visitors and buyers but it becomes even crowdie in the evening. The area kind of comes alive in the evening and at this period of day you will find food stalls and other new things.
Name: Lee Garden Plaza
Address:29, Prachathipat Road, Hat Yai 90110, Thailand

◎ Closing
Hat Yai is a place that you need to and even have to be at least once in your lifetime. Hat Yai has all the necessary spots and corners that will go with anyone's taste and preferences. And, besides, there is always something interesting and exciting to see and to do.