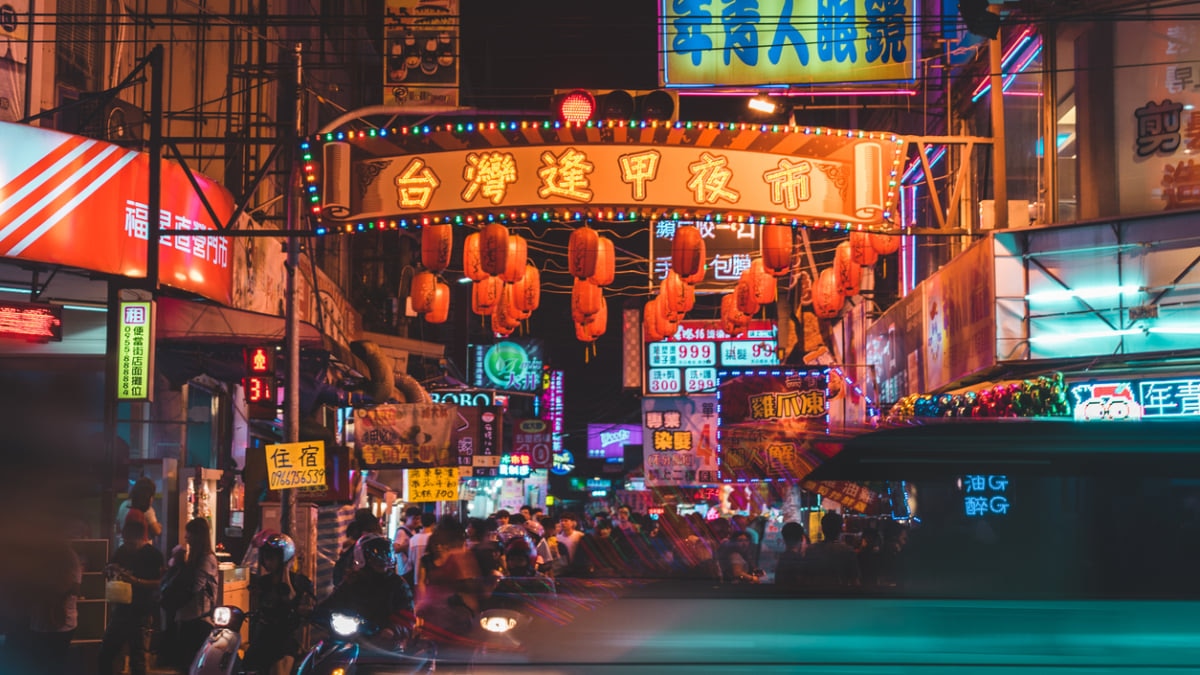 6 Things to Eat at Feng Chia Night Market in Taichung
Street after street lined with food mouthwatering food and shops, Feng Chia Night Market is both a food lover's paradise and shopper's heaven rolled into one. While the night markets in Taipei might be more famous, to really get to know the food scene of Taiwan, you've got to head to Feng Chia.

If you're traveling around Taiwan, also make sure check out these delicious night markets too!
table of contents
[x] close
6 Things to Eat at Feng Chia Night Market in Taichung
Ming Lun Dan Bing
Dan bing, otherwise known as egg pancakes or egg crepes, are a classic Taiwanese food found on almost every street of the country. Having sold hundreds of dan bing every day for over 40 years at Feng Chia Night Market, it's clear Ming Lun Dan Bing offers one of the best. This age-old shop focuses on good quality ingredients, fresh local eggs and flavorsome scallions to edge out the competition. Be warned, they are quite addictive.
Feng Chia Charcoal Grilled Massage Chicken
This succulent and juicy grilled chicken cutlet is somehow even more delicious than the fried version you'll find everywhere in Taiwan. Saving a chunk of calories at the same time, we're certainly not complaining. Unfortunately it's far from a secret in Taichung, locals will queue up for this tasty treat time and time again. It's highly worth a little wait however. The chicken is massaged and marinated before grilling on top of charcoal for the upmost flavor.

Note this shop is currently relocating and has not yet reopened as of February 2021, we'll update here as soon as they reopen.
Chinese name: 馬莎雞-逢甲炭烤按摩雞排
Yi Xin Stinky Tofu
While it's often the bane of most foreigners visiting Taiwan, take note that the taste is vastly different to the nauseating odor that comes from cooking this fermented tofu dish. Yi Xin's is fried until crispy on the outside served with pickled vegetables that suits the dish perfectly.
Feng Chia Sweet Potato Ball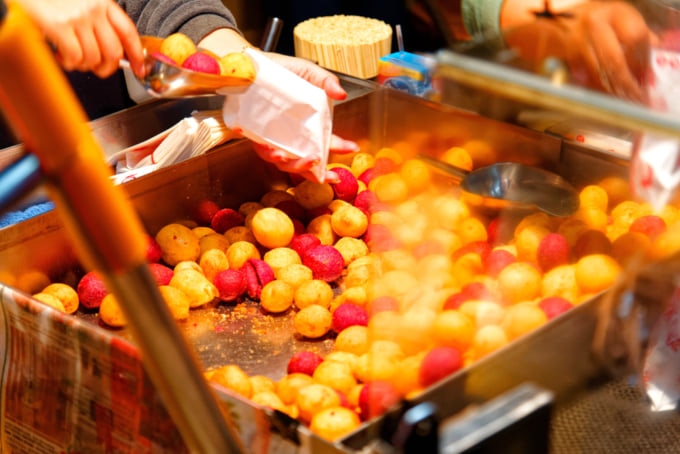 Photo by CHEN MIN CHUN/Shutterstock
Every great night market in Taiwan always offers these addictive deep fried sweet potato balls, but these at Feng Chia are some of the best. Famed for their delicious chewy texture, referred to as QQ amongst locals, once you start eating them it's hard to stop.
Da Chang Bao Xiao Chang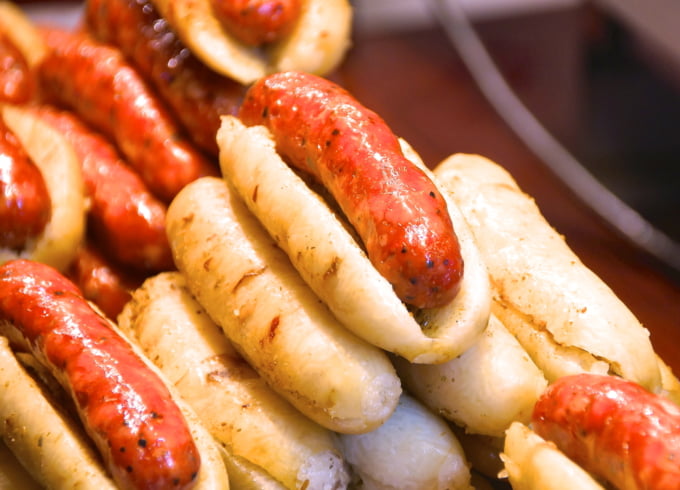 Photo by David Shih/Shutterstock
Literally translating to 'big sausage wraps little sausage' this classic Taiwanese street eat is made with a larger rice sausage stuffed with a Taiwanese style pork sausage inside. It's usually filled with pickled vegetables and garlic or chili for extra flavor, an Taiwanese take on the classic hot dog. Look for the stall with the bright orange sign selling this popular snack, it's the most famous.
Dafeng Stewed Pork
While not a night market food stall, this restaurant has been a culinary institute around Feng Chia for years. Their braised pork is one of the best in the city, if not Taiwan, simmered until a perfect melt-in-the-mouth texture.
Another popular place, Dody Duke's loaded mash potato had a cult following until it's unfortunate closure last year due to lease issues. Luckily they're planning to reopen in the near future, we're awaiting any news so we can update here.
Feng Chia Night Market Information
Opening Hours: Everyday 4 pm until 2 am. (some stalls will open earlier for lunch too)