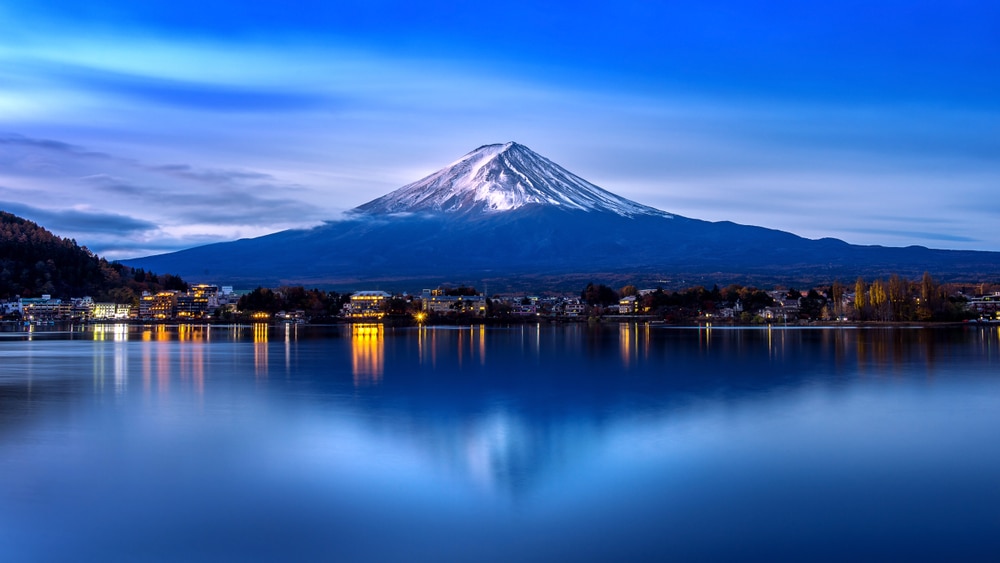 Photo by Guitar Photographer/Shutterstock
The Top 5 Places to View Japan's Iconic Mount Fuji
Located in the Fuji-Hakone-Izu National park, just south-west of Tokyo, stands the solitary, symmetrical and iconic Mount Fuji. There are several locations in the regions surrounding it where you can catch a perfectly picturesque view of this sacred mountain. Rising to 3,776 meters, for centuries Mt Fuji has inspired countless works of art and literature and drawn travelers from all across the globe both for its beauty and for its long history as a sacred site of worship. Listed below are five of the best locations that not only offer a magnificent view of this splendid mountain, but are also beautiful in their own right.
table of contents
[x] close
The Top 5 Places to View Japan's Iconic Mount Fuji
Lake Kawaguchi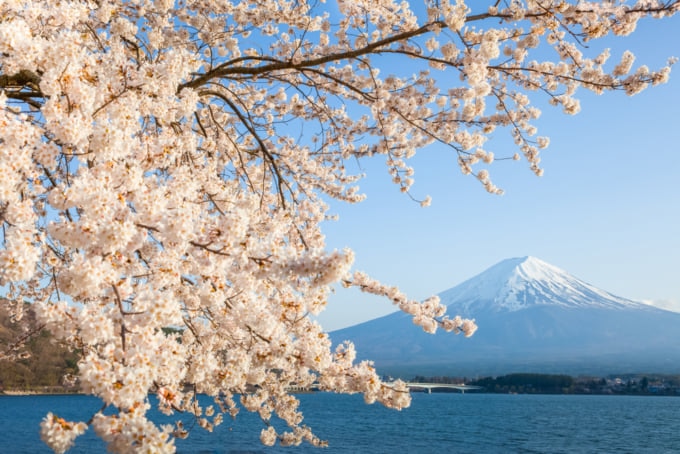 Photo by Sakarin Sawasdinaka/Shutterstock
The most popular of the five lakes formed by past eruptions of Mount Fuji, Lake Kawaguchi located at the base of Mount Fuji in Yamanashi prefecture makes for a stunning view of Mount Fuji. Particularly beautiful alongside the small, charming ripples that sweep across the lake, or on a calm day, mirrored prettily on the surface of the water. Viewing is best in the early mornings or late evenings of a clear, sunny day, and particularly memorable during spring and fall, when surrounded by the soft pink of cherry blossoms in bloom, or the brilliant, rich foliage of fall.
Chureito Pagoda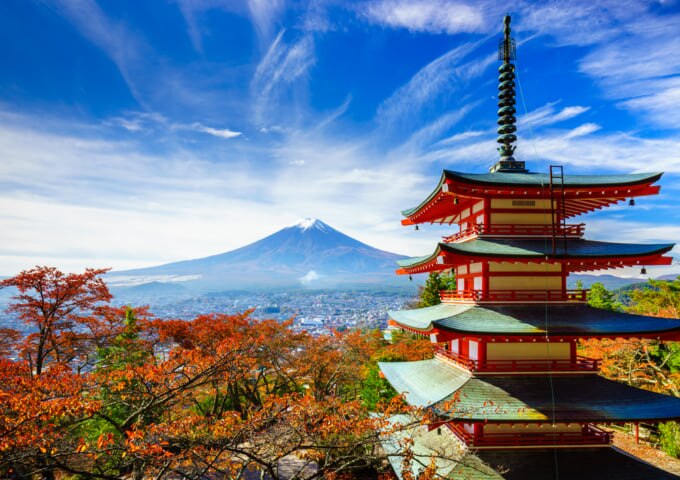 398 steps lead up to this beautiful, red, five-storied pagoda located in Arakura Sengen Park. Here you can experience unobstructed and breathtaking views of Japan's tallest mountain. Just a little beyond the steps, you can observe the pagoda in the same frame as the iconic Mount Fuji and the stretch of city and vibrant canopies that lie between the two. It's a stunning scene captured by countless travelers, that has found its way to the covers of magazines, travel blogs and social media feeds, resulting in the wild popularity of this must-visit location especially in the last decade.

Be sure to plan your visit for a clear day for an excellent view of the mountain as it can often be enshrouded in cloud on most days of the year.
Lake Ashi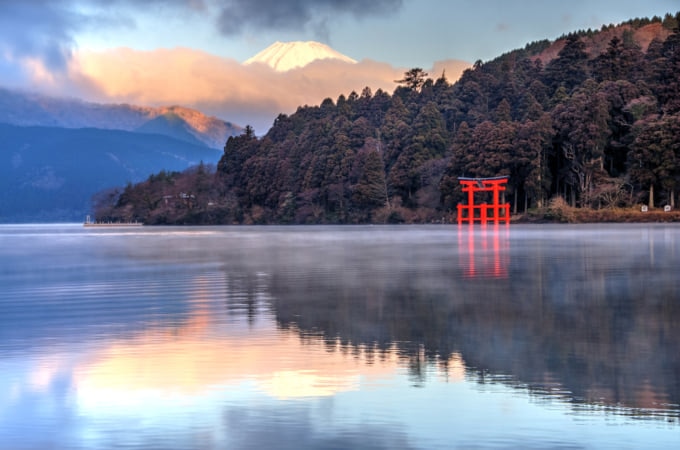 Photo by Krishna Wu/Shutterstock
Located in the Fuji-Hakone-Izu National Park, this exquisite cauldron lake came into being some time after the eruption of Mount Hakone around 3000 years ago. On a clear day, immersed in the abundance of beautiful nature surrounding the lake, you can enjoy a splendid view of the famous peak by going up the Hakone Ropeway, strolling along the shore, or taking a leisurely boat ride across the lake. In the case of the latter two, be sure to keep an eye out for the iconic, bright-red torii gate standing in the middle of the lake which marks the beginning of the path leading into the hidden and incredibly alluring, Hakone Shrine.
Lake Motosuko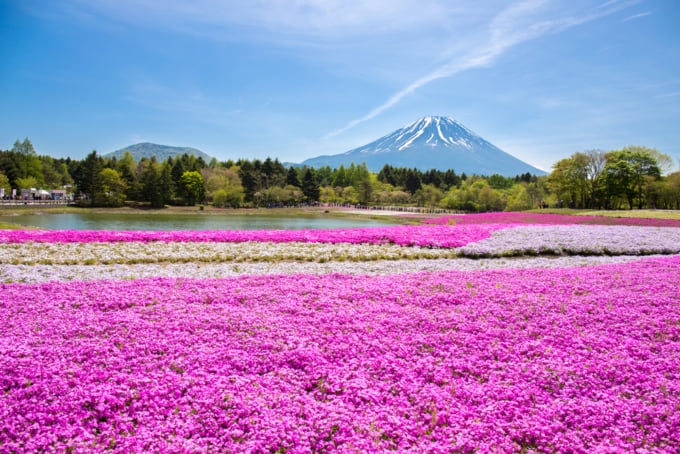 Photo by Pakpoom Phummee/Shutterstock
Despite being one of the more challenging locations to get to, Lake Motosuko, the clearest, deepest, and westernmost of the Fuji Five Lakes is well worth a visit. This magnificently scenic location is famously depicted on the 1000 yen and 5000 yen bill, shot in 1935 by the renowned photographer Okada Koyo.

If you're looking for a particularly unique experience, try planning a visit some time from mid April to early June when thousands of phlox flowers are in full bloom. The flowers stretch across vast fields in various shades of white, pink and purple, standing prominently and brilliantly contrasted to the famous, conical, snow capped peak in the backdrop.
Enoshima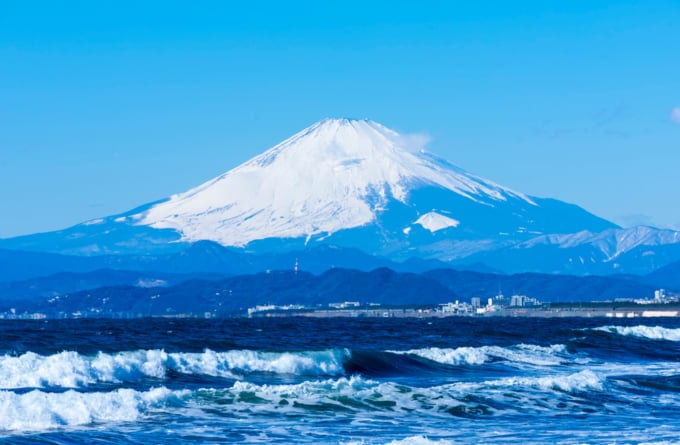 A view of this splendid, solitary blue peak in the backdrop of a vast, tranquil sea can be seen by visiting Enoshima Island on a refreshingly crisp day in winter or fall. As Enoshima is so easily accessible from Tokyo, you can plan a visit in the morning when visibility is quite good and then spend the rest of the day wandering through the small coastal town of Kamakura - famous for its many monuments, temples and shrines.
Conclusion
For centuries, Mount Fuji - a symbol of Japan, has in many ways inspired and drawn countless people, not only domestically, but all across the globe. So much that in 2013 it was listed by UNESCO as a world heritage site, a place with outstanding universal value. To understand the appeal of this iconic peak for yourself, make sure to plan a little time on your next trip to Japan to catch a glimpse of this geologically distinct and culturally significant mountain.

If you're looking for some beautiful resorts with views of the mountain, check out this article Luxury Resorts and Hotels with Views of Mount Fuji to Stay at Near Tokyo.