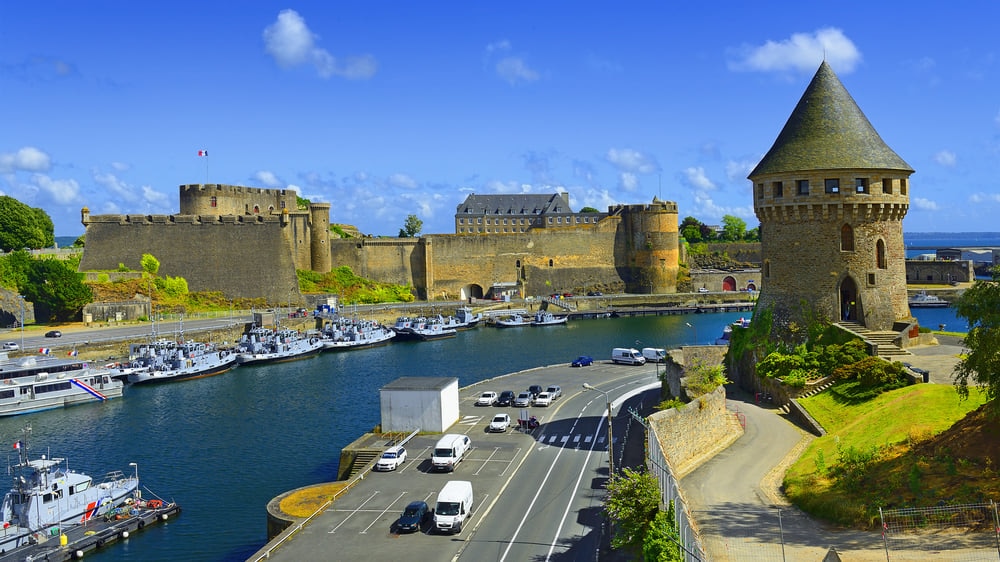 Photo by Pecold/shutterstock.com
Brest : The Center of French Naval History
Brest is indeed a bold and dynamic port city in Brittany that was once destroyed by air attacks during WWII. This lively port city boasts in a utilitarian fashion hosting some amazing sightseeing ventures that wow the tourists that choose to visit it. Aside from being a university town and port city, you will find places like the botanical conservatory, medieval towers among other interesting finds. Below are some of the highlighted sightseeing places you ought not to miss while in Brest:
est:

table of contents
[x] close
Brest : The Center of French Naval History
1. Oceanopolis
Oceanopolis is among the main tourist attractions not only in Brest but the whole of Brittany. It is the largest open-air aquarium in the whole of Europe. The ticket price is steep at 21 euros per adult but it is definitely worth it. Aside from the fish, there is also a polar pavilion and a shark zone. The place is well organized and well marked making the maneuvering easy for all. There are plenty of areas set aside for picnics so one can easily carry food instead of spending much at the venue.
Name : Oceanopolis
Address : rue des Cormorans | Port de Plaisance du Moulin Blanc, 29200, Brest, France
Related Site : http://www.oceanopolis.com/
2. Le Telepherique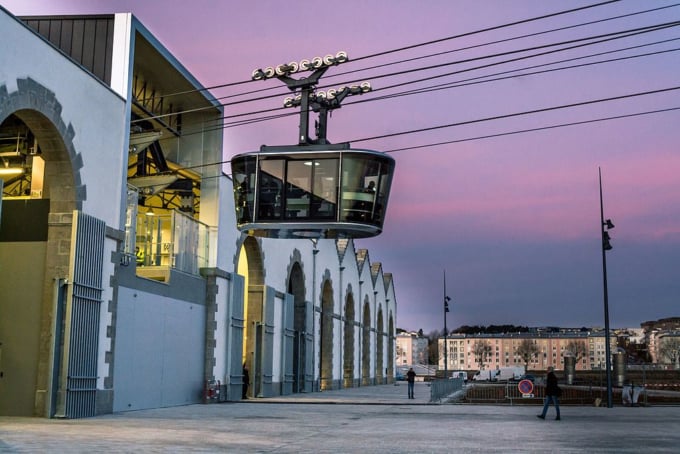 Photo by commons.wikimedia.org
Le Telepherique is an overhead cable car ride alternative to the bus in Bres. The system is a very interesting means of getting around the city as you get views of various places below. It is also the best way to get to Capucins. The design of the gondolas is modern with glass all over. The good thing is that they can take up to 60 passengers so there is no need to worry about missing space. Tickets to board these beautiful rides cost just 1.6 euros which is affordable to most.
Name : Le Telepherique
Address : Capucins, Brest, France
Related Site : https://www.bibus.fr/
3. Jardin du Conservatoire Botanique National de Brest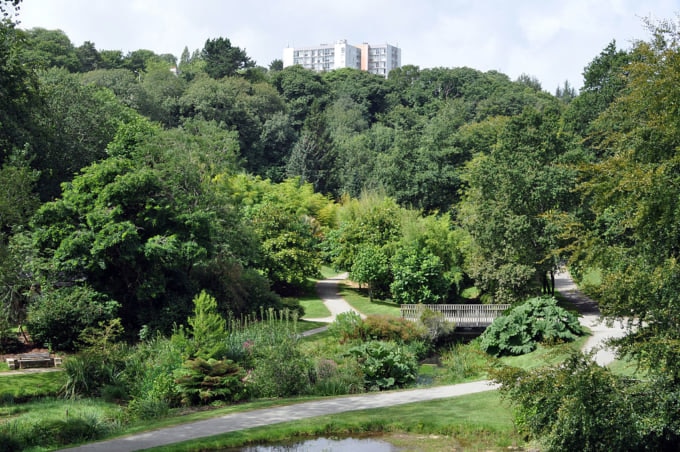 Jardin du Conservatoire Botanique National de Brest is the perfect pastime in Brest when visiting in the months of June and July when the gardens are most pleasant to walk around. The single charged to visit the greenhouses also cover the visit to the gardens at any point even when closed. The landscape is very beautiful with great details such as water running through the gardens. There are many interesting plants like the bamboo too. In addition to the scenery, there is a nice restaurant to stop by for a snack or some food and drink.
Name : Jardin du Conservatoire Botanique National de Brest
Address : Rampe du Stangalar, 29200, Brest, France
Related Site : http://www.cbnbrest.fr/
4. Musee national de la Marine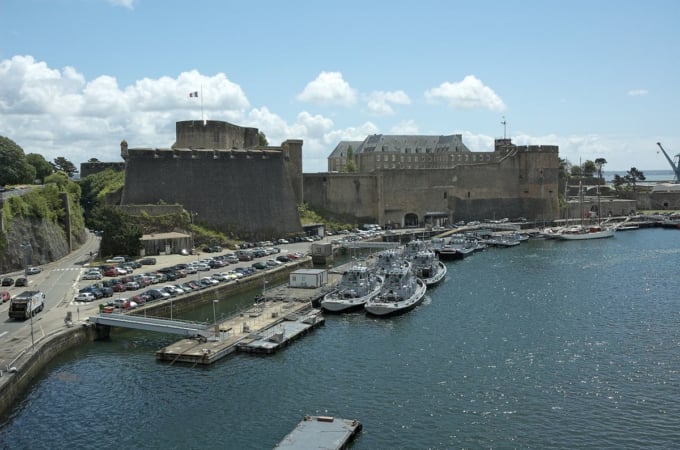 The Musée national de la Marine is an impressive medieval fortress found inside Brest castle. The marine museum holds the history of over 5 centuries. Aside from the German submarine pens used in the WWII, the castle also holds much history to be admired and one can spend 2 to 4 hours exploring the place. Guides are available but audio guides are advised so you can take your time exploring the areas you seem fit. Right next to the French naval museum you will find the French Defence headquarters.
Name : Musee national de la Marine
Address : Rue du Chateau | Château de Brest, 29200, Brest, France
Related Site : http://www.musee-marine.fr/brest
5. Vallon du stang Alar
Vallon du stang Alar is a small valley garden area in the town of Guipavas in Brest. The climate condition of the area is oceanic as it is close to the famous Oceanopolis. There is great fauna comprising of birds, and insects making it a scenic sightseeing attraction. There is also diverse vegetation where you can see endangered plants as well as a variety of ornamental plants. Expect to find springs, streams as well as plenty of ponds. The environment fits the profile for a relaxing escape as well as a great space for children to interact.
Name : Vallon du stang Alar
Address : Rue Pierre Bonnard, 29200, Brest, France
Related Site : https://www.blenoir.com/
6. Fort de Montbarey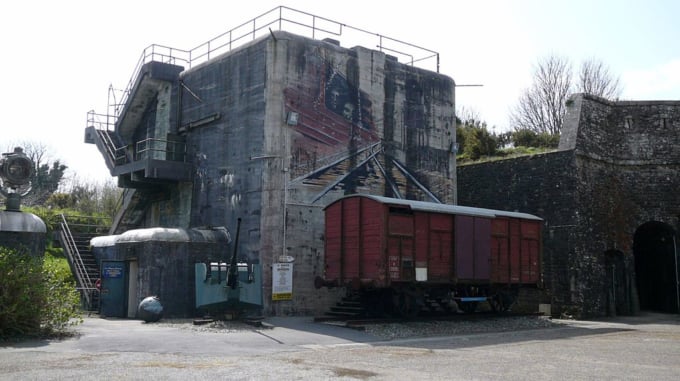 Fort de Montbarey is worth a visit while in Brest. There are plenty of exhibitions as well as memorabilia that are intriguing. There are vintage cars on display as well as a battery belonging to the American DCA. space is double leveled, with a ground area of the bunker comprising of impressive parts that were buried. Before you go round for a visit, there is a 15-minute introductory film that welcomes you. The staff at the place is very friendly ready to help with any kind of information you may need.
Name : Fort de Montbarey
Address : allee de Bir Hakeim, 29200, Brest, France
Related Site : http://montbarey.fr/
7. L'Arbre Empathique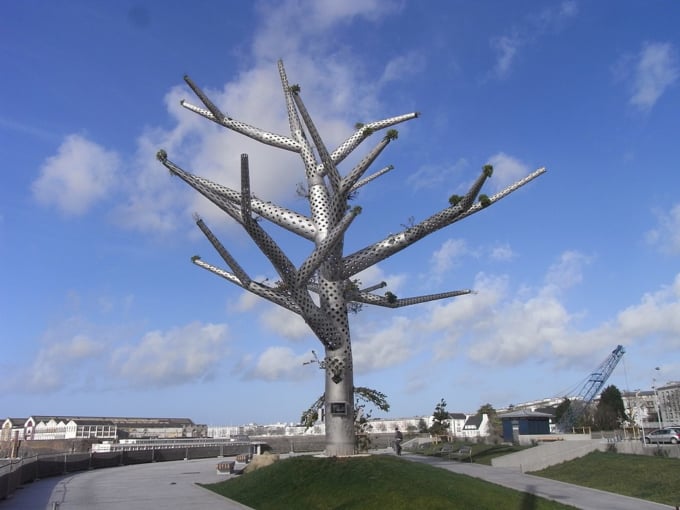 Photo by commons.wikimedia.org
L'Arbre Empathique known as emphatic tree stands tall at 12 meters high. It was a sculpture project by Enric Ruiz Geli the Catalan architect. The main aim was to culture some birds as well as vegetation which was not successful. The tree is situated next to the traditional dockyard. When it gets to evening, the silhouette of the tree seems creepy but still very interesting for photo opportunities. There are plenty of numerous planting holes available for those interested in planting trees.
Name : L'Arbre Empathique
Address : Boulevard des Francais Libres | Boulevard des Français Libres, 29200, Brest, France
8. Rives de la Penfeld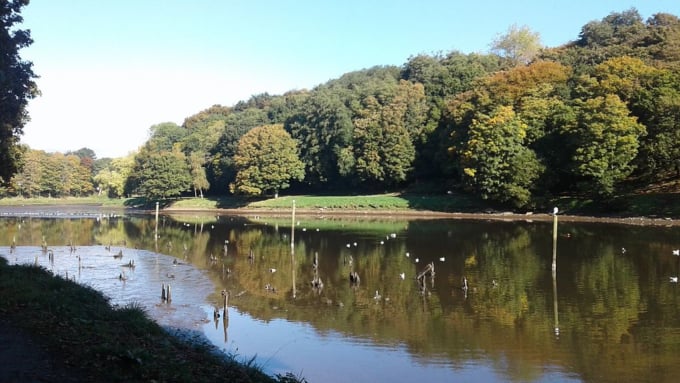 Photo by commons.wikimedia.org
Parc de la Penfeld is a beautiful quiet and peaceful park in the heart of Brest. The place is really beautiful with a collection of rare plants from all over the world. The ideal destination to take strolls and relax as well as do some runs across the park. The activity is inexpensive as the park is a common recreational space. You may spend hours at the park just cloud gazing. Perfect to stop by after a long day sightseeing the city.
Name : Rives de la Penfeld
Address : Rives de la Penfeld 29200, 29820 Brest
9. Eglise Saint-Michel
Eglise Saint-Michel is a beautiful though small church in the heart of Brest. Despite being built in 1911, it has been well maintained and decorated. The architectural aspect is gothic bringing a 13th-century feel. The basilica has some nice finishes including three hulls as well as a coral reef behind the altar area. The windows of the church are the most attractive features as they spread across and have a great ornate color. The church faced some damages during WWII but was rectified completely. There are plenty of abstract photo opportunities not to be missed.
Name : Eglise Saint-Michel
Address : 6 rue d Aboville, 29200, Brest, France
Website : https://messes.info/horaires/BREST+29200
10. Base Navale de Brest
Base Navale de Brest is a great stop to get details on the events that took place during WWII. There is a Chateau that dates to 400 BC but still seems well preserved. One is able to get great harbor views once at the museum which is a plus. The surrounding is enticingly filled with rich history too. There are films and exhibits that showcase more on the role of the navy to Brest. Offering sightseeing tourists an opportunity to leave with extra information. An average tour lasts about 90 minutes which is reasonable. Entrance is free for all as long as you present an ID or passport.
Name : Base Navale de Brest
Address : Route de la Corniche, Brest, France
Related Site : https://www.brest-metropole-tourisme.fr/
◎ Closing
Even though Brest is not as famous as other cities in France, the charm it has is undoubtedly admirable. The sightseeing activities offered within this city are diverse giving a broad spectrum on the type of adventures one is to expect while exploring. From nature-based excursions to historic excursions, the growth of Brest with time is evident in its attractions.