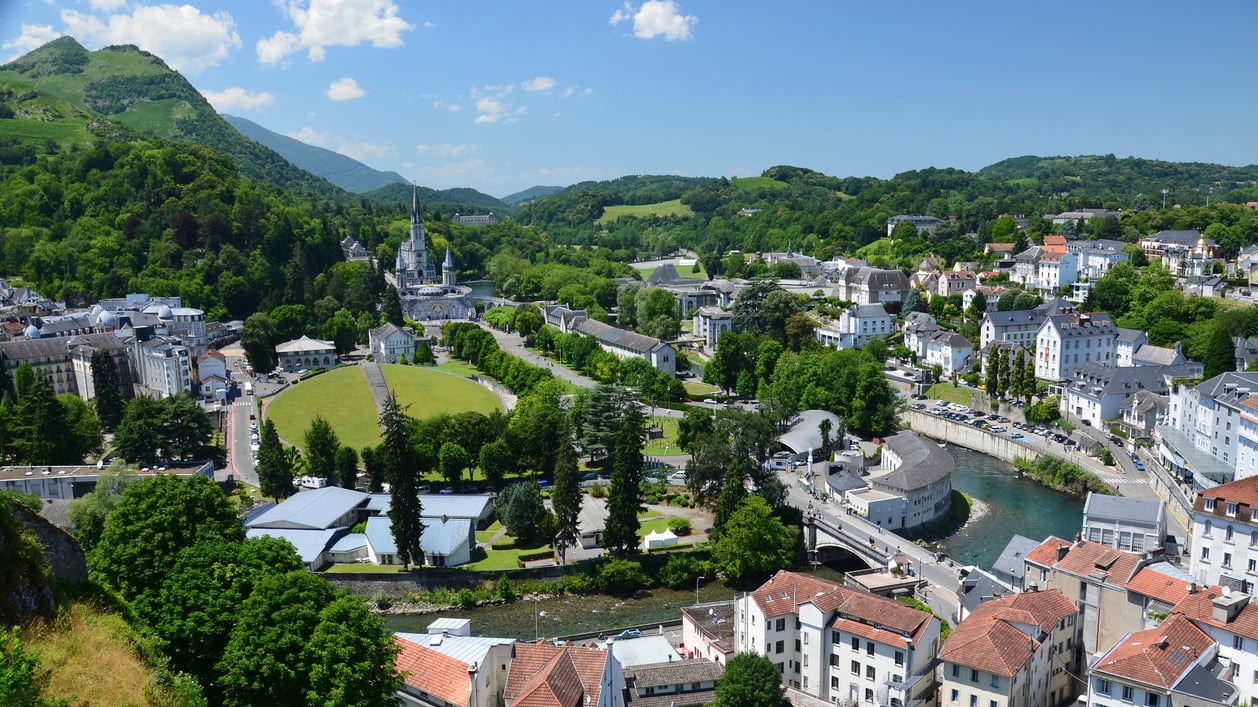 Lourdes: Visit this French City with Rich Religious History
Lourdes is a quaint and small town located in the South-western France along the foothills of Pyrenees Mountains. Known for its exotic and beautiful architecture, gorgeous cathedrals and cobbled alleys, it is a castle town in the stunning French countryside. There are many stories that has brimmed the streets of Lourdes about the apparitions of Virgin Mary in mid 1800s who appeared to peasant girl Bernadette Soubirous. Lourdes soon became one of the most popular pilgrimage places in France.

The sacred pilgrimage sites and the gorgeous landscapes in form of high mountains, green valleys, hidden waterfalls, lakes make it a popular tourist destination with plenty of great things to do in Lourdes.
table of contents
[x] close
Lourdes: Visit this French City with Rich Religious History
1. Sanctuary of our Lady of Lourdes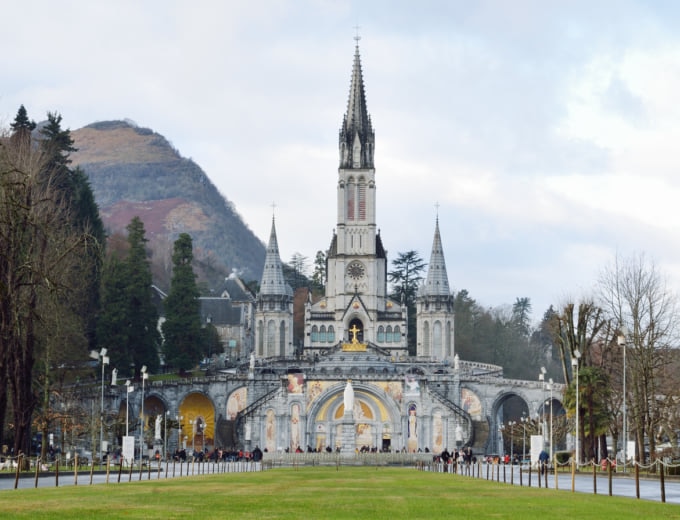 The Sanctuary of Our Lady of Lourdes is a verdant area that surrounds the catholic shrine in the town of Lourdes. It is one of the most important and popular pilgrimage destinations in the city and is known for miraculous healing water. It is managed by Roman Catholic Church. The history of the place lies in the fact that in 1858 a 14-year old girl named Bernadette Soubirous saw apparitions of Virgin Mary who introduced self as Immaculate Conception. The grotto is a hot spot for pilgrims who come to take a dip in the freezing pool or light a candle.
Name:Sanctuary of our Lady of Lourdes
Address:1 Avenue Mgr Theas, 65108, Lourdes, France
Related Site : https://fr.lourdes-france.org/
2. Massabielle Grotto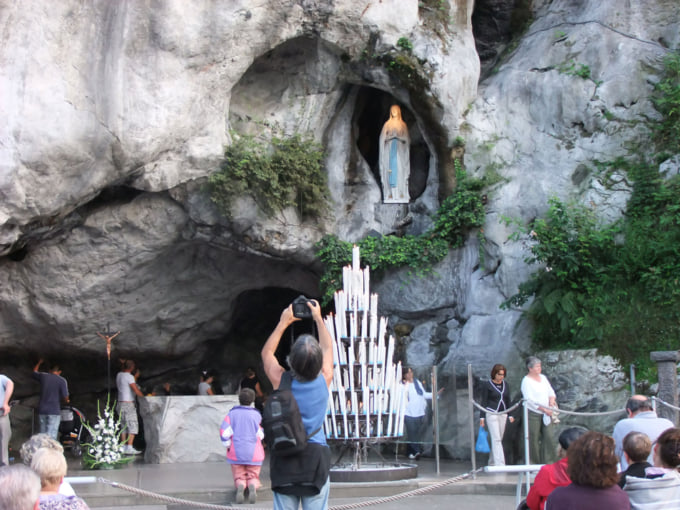 Photo by Ballygally View Images/shutterstock.com
The Grotto of Massabielle is the most sacred site located at the Sanctuary of Our Lady of Lourdes and is known for the caves of apparitions. As per the story, the Virgin Mary pointed out to the spring in the grotto and instructed Bernadette to drink water from it. The Roman Catholic Church is known for its healing power. The faith and trust of millions of people bring them here every year. It is a peaceful and tranquil spot with amazing ambiance and peaceful surroundings.
Name:Massabielle Grotto
Address:1 Route de la Forêt, 65100 Lourdes, France
Related Site : http://www.sacred-destinations.com/france/lourdes-grotto-massabielle
3. Chateau Fort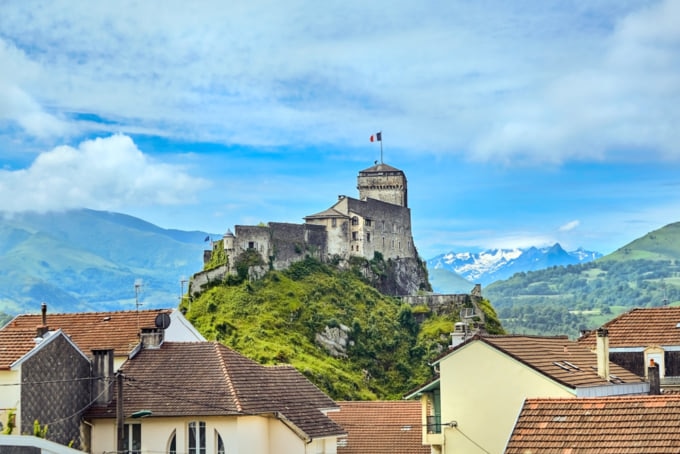 Photo by Mike_O/shutterstock.com
The historic castle of Lourdes is a iconic monument that is located at the entrance to seven valleys of the Lavedan. The castle has its origin from the Roman times and there are many historic remains in form of sculptures, wall foundation etc. There is some fortification work that dates back to 11th and 12th centuries and the castle was reinforced in the 13th and the 14th century. It is a spectacular attraction perched on top of a hill at the edge of the city. It houses a museum showing local art and artifacts.
Name:Chateau Fort
Address:24 Rue du Fort, 65100, Lourdes, France
Related Site:http://www.chateaufort-lourdes.fr
4. Sacre-Coeur Parish Church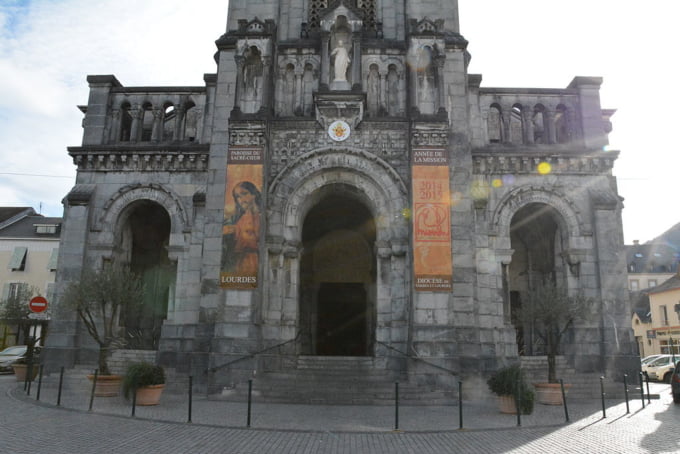 The baroque church is an example of marvelous façade and impressive architecture. The Parish church was built between 1875 and 1903 and bowls people over its intricate detailing and façade design. It is at a certain height and one can reach there with help of a cable car. It opens you to magnificent and absolutely stunning of the city from the top. Sit inside in peace and enjoy the tranquil while admiring the beauty of the architecture. It is a beautiful place to be and great for family outing.
Name:Sacre-Coeur Parish Church
Address:Place L'Eglise, 65100, Lourdes, France
Related Site : https://www.lourdes-paroisse.fr/
5. Pic du Jer
Photo by SarnaFoto/shutterstock.com
The exquisite and overwhelming view of the city of Lourdes is something that one must not miss while on their trip to Lourdes. This gives the best panoramic view of the city along with the Pyrenees mountain range. The big cross that marks Pic du Jer is lit up at night and overlooks the city. A hundred year old funicular takes you to an altitude of 1000 meters while you crush on the awe-inspiring view of the surroundings. There is a walking trail that takes you to the observatory and offers beautiful 360 degree view of Lourdes and the mountain range and valleys.
Name:Pic du Jer
Address:59 Avenue Francis Lagardere, 65100, Lourdes, France
Related Site : https://www.lourdes-infotourisme.com/web/FR/2449-pic-du-jer.php
6. Le Cachot
One of the most iconic historical places in Lourdes that revolves around story of Bernadette Soubirous and her family. It is a dingy prison where the family with imprisoned for a year and it is during this time that Bernadette saw many visions. The family was forced to stay in the prison which is a small room of 16cm2 and the family lived there till 1858. It was from this place that Bernadette goes to Massabielle Cave to collect bones and dry wood where she saw apparition of Virgin Mary.
Name:Le Cachot
Address:12-14 Rue des Petits Fossés, 65100 Lourdes, France
Related Site : https://www.lourdes-infotourisme.com/web/FR/74-le-cachot.php
7. Gouffre D' Esparros
Gouffre D' Esparros is a protected site and gorgeous underground area brimming with limestone stalagmites. The Pyrenean abysses have gained immense popularity for its natural cave and limestone rock formations. It is covered with aragonite, gypsum or calcium and is a beautiful underground mineral garden spread across, half in water. However it is a preserved site and hence there is limited visitors allowed to keep the ecosystem undisturbed.
Name:Gouffre D' Esparros
Address:Route du Gouffre, 65130, Esparros
Related Site:http://gouffre-esparros.fr
8. Moulin de Boly
The birthplace of Bernadette Soubirous that is located in the heart of Lourdes. It was originally a water mill and the girl spent nearly her first 10 years. She was born on the 7th January of 1844 and it was a part of number of water mills that was situated on the edge of the river Lapacca. It is an old structure that was renovated in 2012 and established as museum. It features bedroom, kitchen and water mill. There are many day tours that takes you through the history of the place.
Name:Moulin de Boly
Address:12 Rue Bernadette Soubirous, 65100 Lourdes, France
9. Chemi de Croix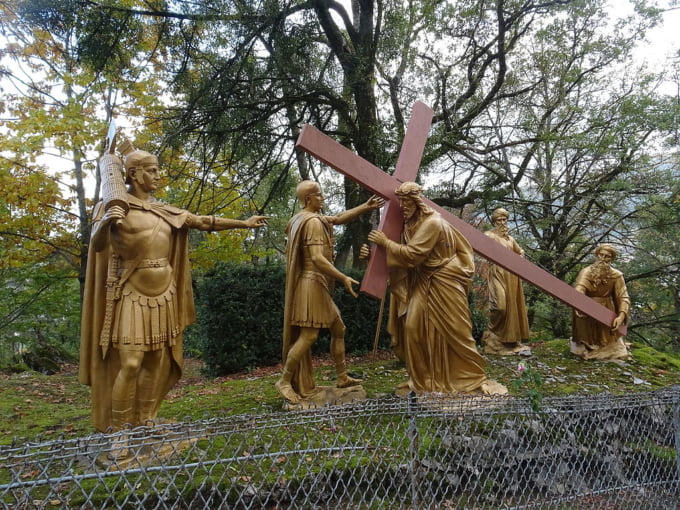 Also known as The Way of the Cross, Chemi de Croix is a popular pilgrimage place in Lourdes. It is a winding route that goes to a hilltop spanning a distance of around 1.5kms. This basically represents the journey that Jesus Christ took with this cross and there are 15 different stations that represent the same. Along the route, there are 115 iron figures and it can be reached even by the differently able through a separate route.
Name:Chemi de Croix
Address:Route De La Foret, Le Sanctuaire, 65100, Lourdes, France
10. Le Ferme du Bon'Air
This is an interesting place to visit away from the pilgrim places and religious side of the city. Here you'll find an animal farm that is set amidst the gorgeous location and scenery where the visitors can pet and see locally reared animals. There are number of farm animals like ponies, guinea pigs etc. It is an excellent place to even enjoy some peace time and picnic with friends and families. It is an especially great place for those visiting with kids.
Name:Le Ferme du Bon'Air
Address:La Ferme du Bon'Air, Route de la Foret, Lourdes, France
Conclusion to Things to Do in Lourdes
Lourdes is a city located in the foothills of Pyrenees Mountains and is naturally blessed with scenic beauty. It is one of the popular pilgrimage destinations in France with huge number of cathedrals and churches and a rich religious history. The iconic architecture and amazing landscape here make Lourdes a unique but popular travel destination.