Luang Prabang : A Colorful Mosaic that Combines World-class Comfort and Spiritual Nourishment with its Many Buddhist Temples
Laos
Oct 16, 2018
234 views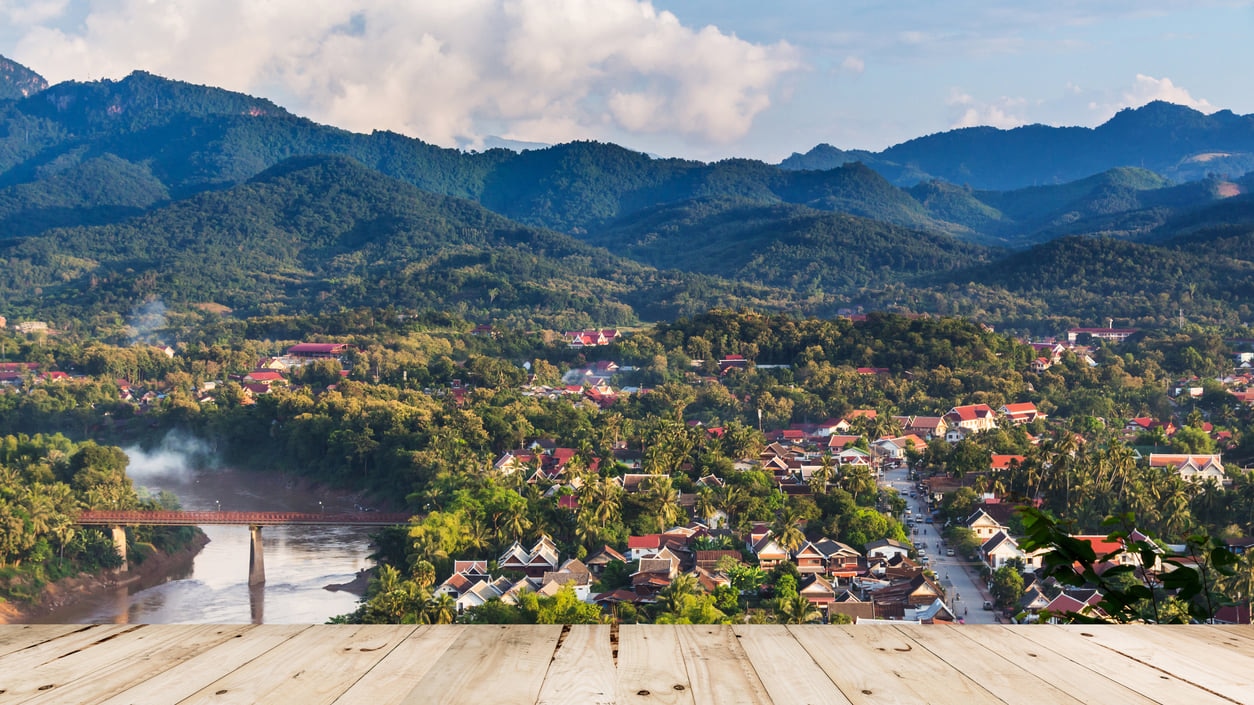 Luang Prabang is the capital of Luang Prabang province situated in southeast Asia. The area is full of heritage and history that awakens your imagination. Although time keeps changing, Luang Prabang has maintained a village charm with its immense natural beauty. This does not mean it does not have many growth opportunities. There are many boutique hotels, with the rise of many great chefs. Below are some of the best sightseeing places around Luang Prabang.
[x] close
Luang Prabang : A Colorful Mosaic that Combines World-class Comfort and Spiritual Nourishment with its Many Buddhist Temples:table of contents
1. Mount Phousi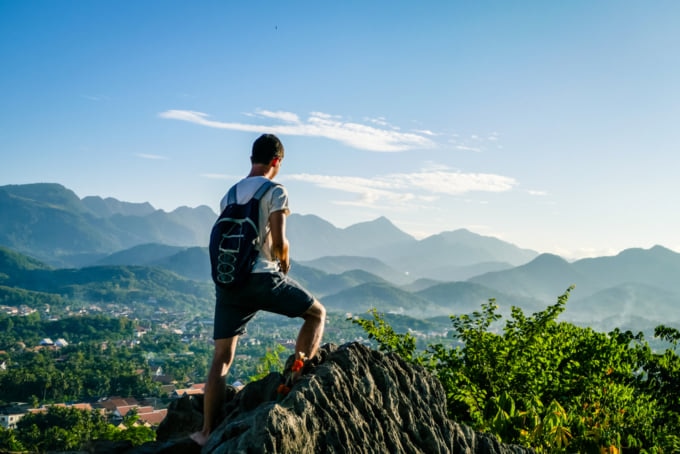 Photo by Craig Hastings/shutterstock.com
Mount Phousi is an important natural feature of Luang Prabang. The mountain is part of the soaring skyline of the area rising 100m above the downtown of Luang Prabang. The steps up the summit are about 300 steps as you get to see people's homes on the way up. The scenery is also very beautiful with a small temple and golden pagoda that cannot be missed. While at the top, you get picturesque views of Luang Prabang as you snack on the delicacies sold at the top. Tourists are advised to wear covering clothes that do not show knees and shoulders. The charge for entry is 20,000K.
Name : Mount Phousi
Address : Sackarin road, Luangprabang, Luang Prabang 0600, Laos
2. Kuang Si Falls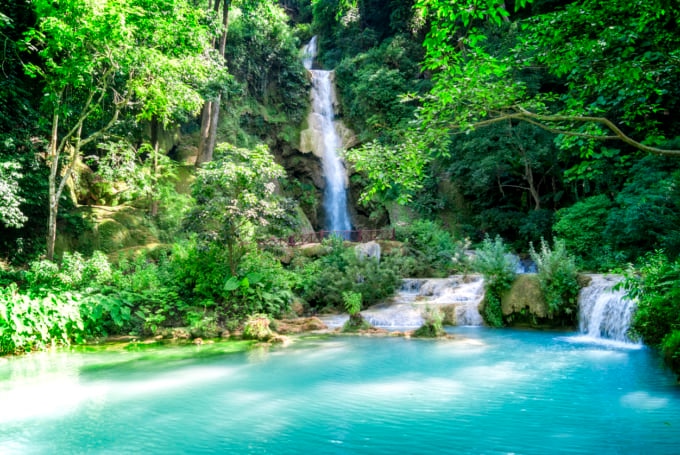 The Kuang Si Falls is a three-level waterfall that is a common sightseeing attraction for tourists in Luang Prabang. Most come to enjoy the gushing waters and swim in the low pools when the water is cool. Getting to the waterfalls can be made easier by hiring a motorbike as it costs 100,000 to 120,000K. However, one is advised to take it slow as the roads are filled with potholes. The ideal time to go sightseeing in this natural beauty is morning hours when tourists are not so many. The weather is also conducive and not too hot.
Name : Kuang Si Falls
Address : Luang Prabang 06000, Laos
3. Old Quarter Luang Prabang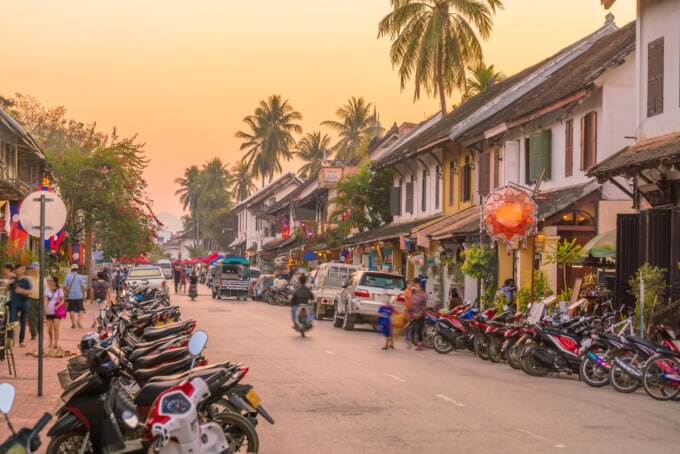 Photo by f11photo/shutterstock.com
Old Quarter Luang Prabang is a great bicycle ride in Luang Prabang. The atmosphere of the area is tranquil with n organic life. The individuals in the area are also very welcoming. There are various temples you can stroll by as you enjoy the beauty. The aura of the area is what attracts sightseeing visitors. This heavenly ground is so scenic that you can go see the meeting of Mekong and Khan rivers. There is no entrance fee to visit the place meaning everyone is welcomed to visit.
Name : Old Quarter Luang Prabang
Address : Luang Prabang 0600, Laos
Related Site : http://whc.unesco.org/en/list/479
4. The Living Land Company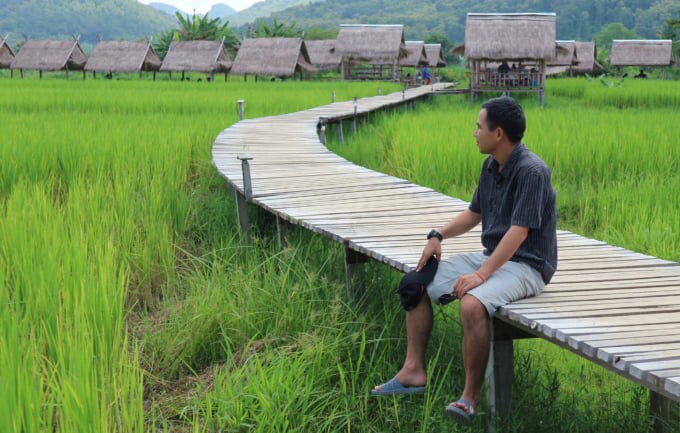 The Living Land Company is a great place to learn about the farming life and the rice crop in particular as it is a rice farm. The whole experience will have you getting close to the traditional Lao rice house which is engulfed with rice terraces. This organic rice farm is very well-equipped getting you up close to the farm folk like of Luang Prabang. The fields also offer accommodation spaces for guest who wish to stay overnight for a small fee. The place is also good for sampling some rice wine or a relaxing massage.
Name : The Living Land Company
Address : Khuangsi Water Fall Road | Ban Pong vang, Luang Prabang 0600, Laos
Related Site : http://www.livinglandlao.org/
5. Royal Palace Museum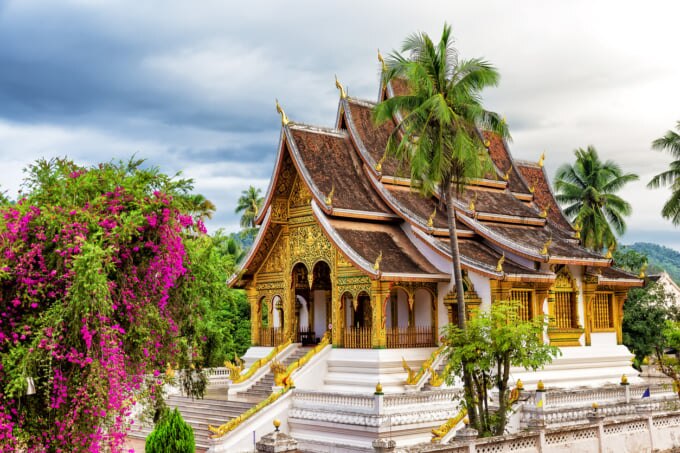 Royal palace museum is a great place to find some great historical collections belonging to King Lao of Luang Prabang. The place was once the abode of King Lao featuring western elements. The house was decorated by his son in a lavish manner making it stand out. One of the main attractions is the 2,000-year-old statue of a Buddha that was made of pure gold. Most of the rooms hold personal items belonging to this king which is interesting. Since it is situated within a temple, a strict dress code is observed and those going sightseeing are expected to adhere to them. The museum usually closes down for lunch break so it would not be an ideal time to visit.
Name : Royal Palace Museum
Address : 27 Ounheun Rd, Luang Prabang 0600, Laos
6. Luang Prabang Library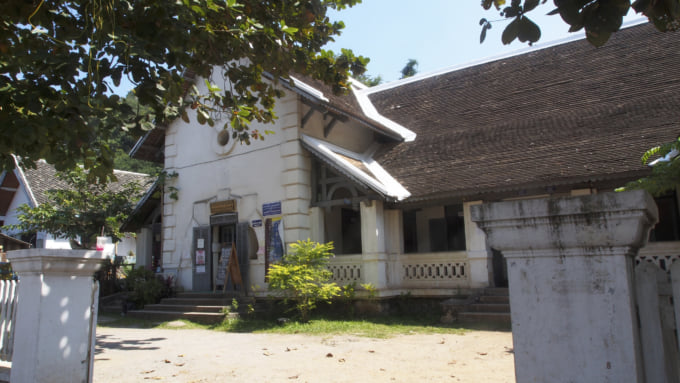 Luang Prabang library is a modes library within the city that is housed in a colonial building. The library has a huge collection of English books together with other languages. One of the most notable projects is what they do with the collected funds. When you pay the 20,000kip for the book swap, the money is given as a donation to the rural children. This raises awareness and provides an opportunity for them to get an education. Aside from having a good read, you will be helping a local child get a modest education.
Name : Luang Prabang Library
Address : Sisavangvong Road, Luang Prabang 0600, Laos
7. Kuang Si Falls Butterfly Park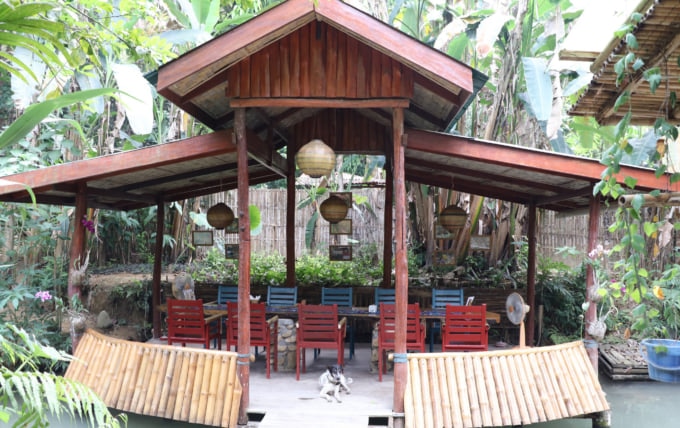 Kuang Si Falls Butterfly Park is a beautiful space to interact with nature's most beautiful insect. These butterflies are all over the park area flying in beautiful shades. If you are into nature photography, you will find so many things to capture as you enjoy the fresh air of the park. The whole place is well-marked making it easy to maneuver. Along with the many variants, are waterfalls nearby that make it scenic. There are tiny fish too that give you a pedicure by eating off your dead skin. Entrance to the park is charged at 30,000 kips per adult.
Name : Kuang Si Falls Butterfly Park
Address : 300 meters before the entrance to Kuang Si Waterfalls, Luang Prabang, Laos
8. Laos Buffalo Dairy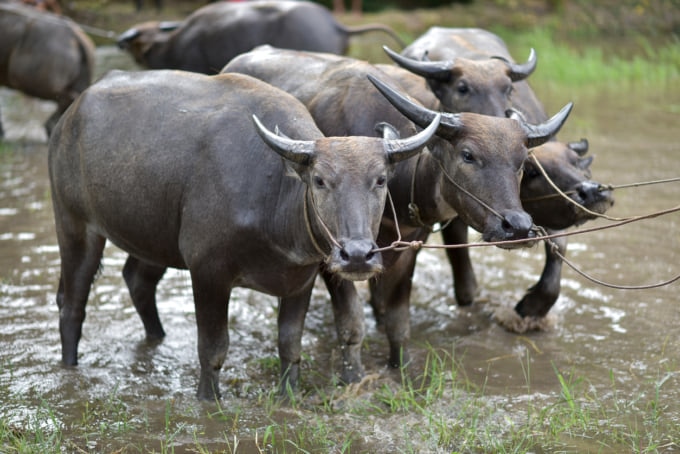 Laos buffalo dairy is a project involving the rearing of buffalos for economic gain within Luang Prabang. The project has done a great deal of good to the local farmers as they are able to create dairy products to sustain themselves. As you go sightseeing, you can sample some of their dairy products which include ice creams, cheese, and yogurt. If you would like to get interactive with the buffalos, you can milk them o simply just take a selfie. The owner of the place has initiated a scientific approach towards improving the breeds within the farm and making them better.
Name : Laos Buffalo Dairy
Address : Ban Muang Khay, Luang Prabang, Laos
Related Site : http://www.laosbuffalodairy.com/
9. Traditional Arts and Ethnology Centre
Traditional Arts and Ethnology Centre opened its doors to the public in 2007. The center houses both temporary and permanent exhibitions which tend to be very interactive. Most of them are collections of the diverse ethnic groups within Laos. Within the permanent exhibitions, expect to find items on the Tai Dam, Akha, Hmong and the Kmhmu. On the various displays, you will find artifacts from Africa, South America, and Asia. There is a shop within the museum that sells handicrafts made by the local artisans. Entrance is charged at 25,000 kips per adult.
Name : Traditional Arts and Ethnology Centre
Address : Dala Market Ban Khamyong LA, Luang Prabang 06000, Laos
Related Site : http://www.taeclaos.org/
10. Luang Prabang Night Market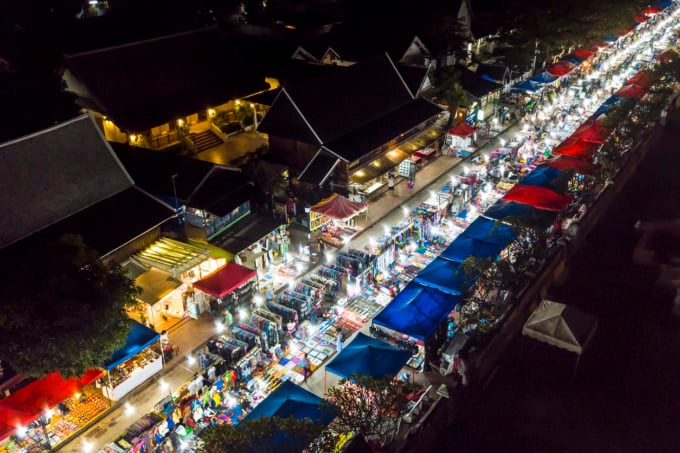 Luang Prabang Night Market is where everything comes to life in the city. There are many merchants selling food, ethnic clothes, jewelry among other merchandise. The main highlight, however, is the food where you can sample some local cuisines by paying a buffet worth 10,000 kips. The coconut pancake seems to be a favorite for many. There are many stalls where you can stop to buy some souvenirs to carry from your trip. It is a good idea to make a stop anytime between 5 pm to 10 pm.
Name : Luang Prabang Night Market
Address : Sisavangvong Road, Luang Prabang, Luang Prabang 0600, Laos
Related Site : https://www.luangprabang-laos.com/The-Caterer-s-Evening-Market.html
◎ Closing
Aside from the many Buddhist temples and great history, Luang Prabang offers tourist great natural escapes from the many aquamarine waterfalls, biking trails, river cruises and other trekking opportunities. It will wow you with the adventures of keeping your thrill satisfied. The sacred Mekong river is among the places that are bound to wow you.