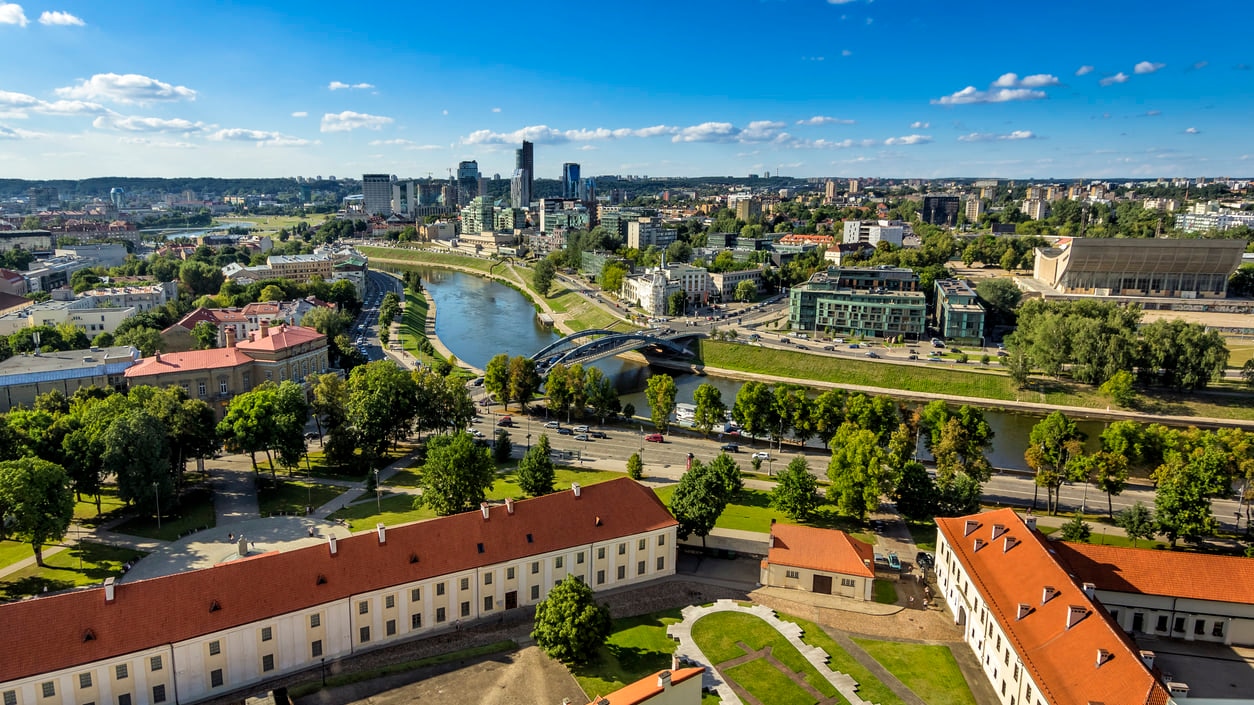 Vilnius : A Small Baroque Old Town with a Dazzling Panorama of the Baltic
Vilnius is Europe's baroque style town that offers a dazzling panorama of the Baltic. It is known to draw numbers of sightseeing tourists to its territory like moths to a flame. There are many things one would love about this city that can be mistaken for a village. Being the country's city of choice, these are some of the sightseeing marvels of Vilnius.
table of contents
[x] close
Vilnius : A Small Baroque Old Town with a Dazzling Panorama of the Baltic
1. Gediminas' Tower
Located on a hill, Gediminas' Tower is one of the city's notable landmarks. It was built back in 1419 by the grand duke of Lithuania hence named after him. The tower is the only part of the old castle that remains standing. From afar, it may seem like three pillows stacked together to form a huge tower. The architecture itself is interesting just as to expect with ancient castles. Made of some wooden fornications and bricks. Sightseeing can be enjoyed especially if you choose to go up the tower to see better city views.
Name : Gediminas' Tower
Address : Arsenalo g. 5, Vilnius 01143, Lithuania
Related Site : http://www.lnm.lt/
2. Gate of Dawn (Ausros Vartai)
The Gate of Dawn is a religious, cultural and historical monument in Vilnius dating back to the early 1500's. It is also the city gate and only part of the city wall that remains standing to date. Locals believe that the gate is protecting the city from all sorts of evil hence the popularity. It also stands in good shape compared to the other four that did not survive. Many tourists enjoy sightseeing this wonder of the city and many faithfuls flock to see the various Virgin Mary paintings.
Name : Gate of Dawn (Ausros Vartai)
Address : Aušros Vartų g. 14, Vilnius 01303, Lithuania
Related Site : http://www.ausrosvartai.lt/
3. Church of St. Anne
St. Anne's Church sits on the bank of rover Vilina. This Roman Catholic church is famous due to its flamboyant architecture and the fact that Napoleon himself had interest in it. It features some brick gothic styles that make it stand out as nothing short of beautiful. Being one of the largest churches in Vilnius, it is hard to miss is during your sightseeing escapades. The Uzupis neighborhood is also close to the church which adds to its remarkable beauty. The church remains open to everyone who wishes to visit.
Name : Church of St. Anne
Address : Maironio g. 8, Vilnius 01124, Lithuania
Related Site : http://www.onosbaznycia.lt/
4. Museum of Occupations and Freedom Fights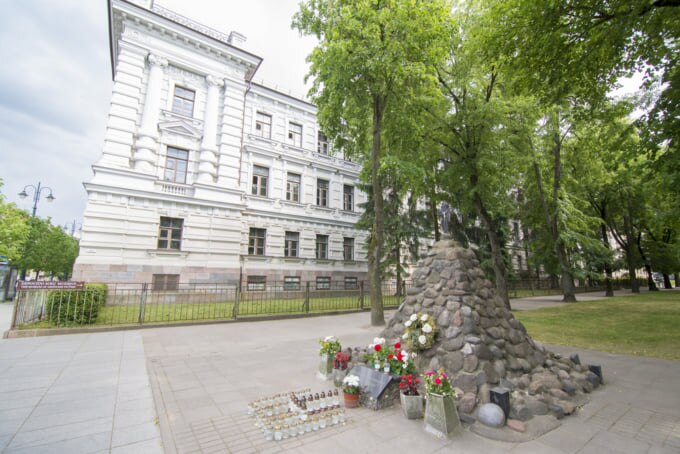 Photo by villorejo/shutterstock.com
The Museum of Occupations and Freedom Fights is an establishment endorsed by the Minister of Culture and Education. It is a very informative museum that came to be in 1992 and one of its kind in Vilnius. The place is used to honor the lives of all the Lithuanians killed after WWII. The rooms are small but hold many exhibits some of which are sad and very emotional. The captions are also available in English making it easy to understand the history in depth. Below the building is the execution chamber and prisoner cells. Entrance is charged at 4 Euros per person and an extra 2 Euros is charged if you wish to take photos.
Name : Museum of Occupations and Freedom Fights
Address : Aukų g. 2A, Vilnius 01400, Lithuania
Related Site : http://genocid.lt/muziejus/
5. Palace of the Grand Dukes of Lithuania
Photo by Cezary Wojtkowski/shutterstock.com
The Palace of the Grand Dukes of Lithuania was constructed in the 15th century but was rebuilt to what it is now. The palace was built to serve the future kings of Poland together with the royalty of the Grand Duchy of Lithuania. The museum has a great collection of historical and archaeological exhibits as well as a variety of art pieces. Even though it does not stand out from the outside, the interior is huge starting from the basement to the many floors housing the various exhibitions. For 3 euros, you are able to tour four floors together with the excavations of the old castle. There is also an observatory deck that is great. An audio guide is also available for hire at 1 euro.
Name : Palace of the Grand Dukes of Lithuania
Address : Katedros a. 4, Vilnius 01143, Lithuania
Related Site : http://www.valdovurumai.lt/
6. Bernardinai Garden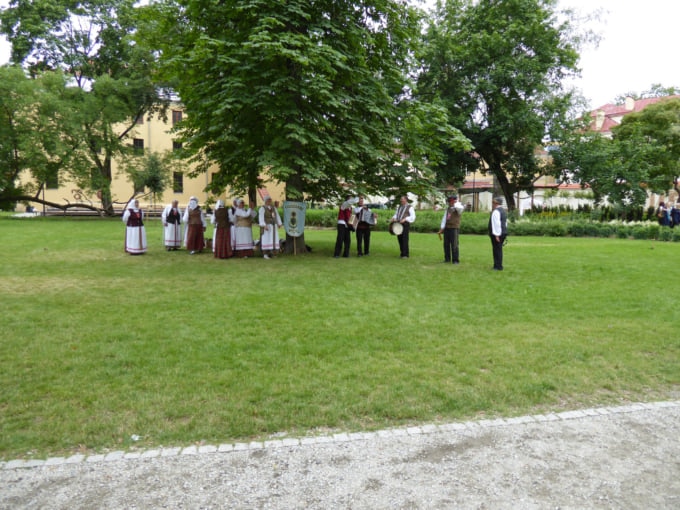 Bernardinai Garden is a public riverfront park covering 9 hectares of land in the city of Vilnius. Sightseeing visitors are able to enjoy all the highlights it has to offer free of charge. Some of the interesting features include the musical fountain shows, chess tables among other things. The park has a cozy and silent atmosphere making it an ideal venue for an afternoon cup of tea. The plant life around the park is very beautiful with well-maintained flowers. The benches facilitate a nice relaxing place where you can just sit and enjoy mother nature at its best.
Name : Bernardinai Garden
Address : B. Radvilaitės g. 8A, Vilnius 01143, Lithuania
Related Site : http://www.vilniausparkai.lt/parkai/sereikiskiu-parko-bernardinu-sodas/
7. Vilnius TV Tower
Photo by Giedrius Akelis/shutterstock.com
Vilnius TV Tower is the center for the SC Lithuanian Radio and Television Centre. It is the tallest structure in not only Vilnius but the whole of Lithuania being 326.5 meters tall. The tower is not very old having been built in 1980. The main significance is the symbolism it portrays as many Lithuanians lost their lives around it during 1991 in the struggle for independence. Entrance to the tower is charged at 7 euros. The rotating restaurant is also a good place to have food and drink as you enjoy the views.
Name : Vilnius TV Tower
Address : Sausio 13-osiosg. 10, Vilnius 04347, Lithuania
Related Site : http://www.tvbokstas.lt/en/tower/explore/
8. Radziwiłł Palace, Vilnius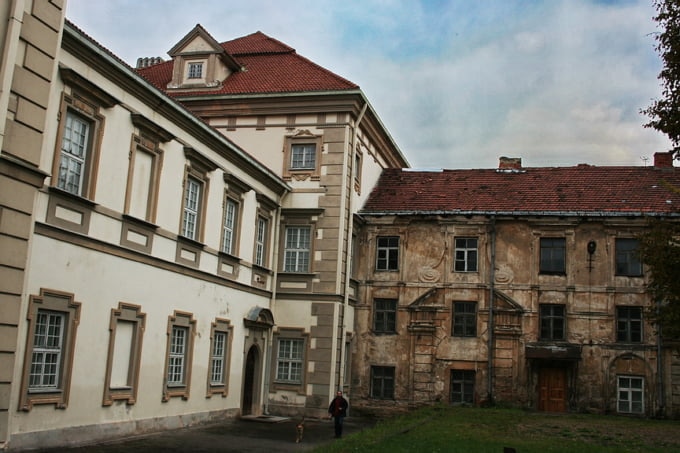 Photo by commons.wikimedia.org
Radziwiłł Palace is a 17th-century palace that is now existing as an art museum in Vilnius. This historic former palace is home to a large collection of Lithuanian art and culture. This is also a good place for sightseeing if you wish to get a glimpse of the Lithuanian government. There are free guided tours offered every Friday and a knowledgeable guide is assigned to you. However, bookings for this tour should be made online prior to your visit. The courtyard is also beautifully lined with sculptured gardens.
Name : Radziwiłł Palace, Vilnius
Address : Vilniaus g. 24, Vilnius 01402, Lithuania
Related Site : http://www.ldm.lt/rrm/
9. Verkiai Palace
Verkiai Palace is a neoclassical mansion that was built in the 18th century on the steep of Neris river. The place was famous with ancient pagans because it was the sight where Magus was born. Predictions about Vilnius city were made by the Magus. The residence is luxuriously decorated with expensive furniture and silk. Rumour has it that 25,000 gold coins were used to equip it. The place has however changed but maintains its architectural aspects with all its 7 halls having different elements. Sightseeing Verkiai place will give you an aesthetic feel.
Name : Verkiai Palace
Address : Žaliųjų Ežerų g. 49, Vilnius 08406, Lithuania
Related Site : http://www.verkiai.lt/Apie-dvaro-rumus-96
10. Vichy Vandens Parkas
Vichy Vandens Parkas is a paradise water park located in Vilnius. The water park sets a chill Polynesian mood. There are various attractions that will keep you going, from water slides, lazy rivers, saunas, and pools. The good thing is that the water park is not overcrowded as expected to be. It was also very well-maintained and clean. There are facilities for hire at a small cost such as hairdryers and towels. Upon entry, you are issued with a wristband to show that you have paid for your entry. Expect to spend about three hours at this park.
Name : Vichy Vandens Parkas
Address : Ozo g. 14C, Vilnius 08200, Lithuania
Related Site : https://www.vandensparkas.lt/
◎ Closing
Vilnius is prevailing with a spirit of freedom and resistance. From its the cobbled alleys, hilltop views, traditional artists' workshops, Vilnius' warm and golden glow that is accompanied by its charm is what warms the hearts of many. This immense allure is what makes it the ideal summer getaway destination.