Tarawa : The Venice of the Pacific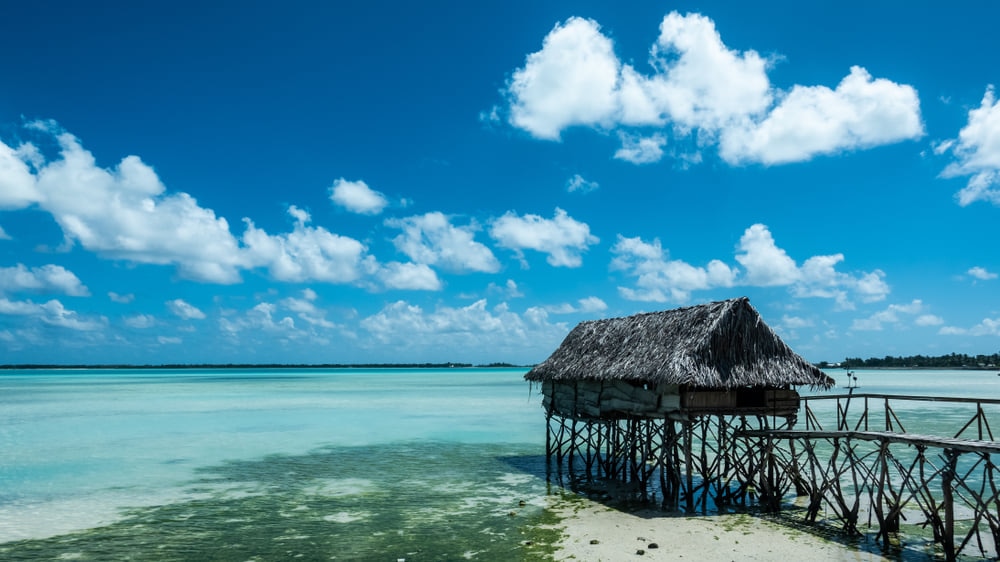 Photo by Kyung Muk Lim/shutterstock.com
Tarawa is the capital city of the Republic of Kiribati located in the central part of the Pacific Ocean. Part of the Pacific islands referred to as Micronesia, the Republic is made up of 33 islands which are clustered into three groups; the Phoenix Islands, Line Islands, and the Gilbert Islands based on their location. Only 21 of the 33 islands are inhabited with almost half of the population residing in Tarawa. The northern part of the Tarawa atoll consists of a number of islets separated by wide channels best crossed during low tide. The southern part is home to the country's main port and airport with a series of artificial causeways that have interconnected many of the islets.
[x] close
Tarawa : The Venice of the Pacific:table of contents
1. Betio Island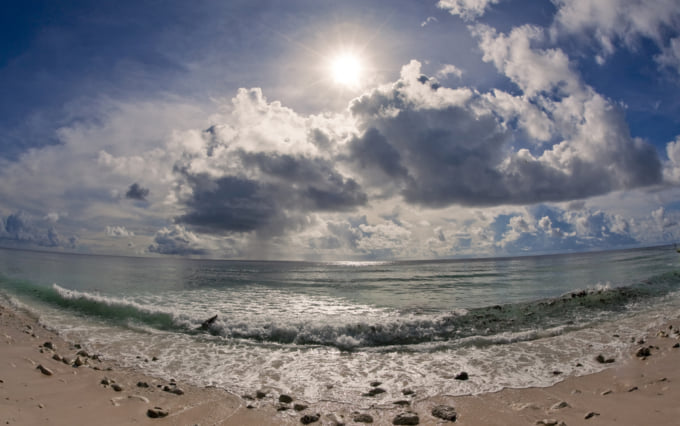 Photo by Shevelev Alexey/shutterstock.com
Betio Island in South Tarawa is a must visit while in Kiribati. It is home to the main port in the country as well as being its main commercial center. It is best known as the location of the bloody Battle of Tarawa during the Second World War when it was captured by the Japanese and consequently liberated by the American Army. Before the 1970s, Phosphate mining on Banaba Island was the main source of foreign exchange for the country. When the mines were shut, Betio Island took over as the hub of economic activity with exports of copra, fishing, and commercial seaweed farming taking over as the main economic activities. The island is among the most densely populated places in the world and the best place to mingle with the locals as you plan your journey to the rest of the Kiribati Islands.
Name:Betio Island
Address:Betio, Tarawa Atoll, Gilbert Islands, Kiribati
Related Site:http://www.kiribatitourism.gov.ki/islands-to-explore/tarawa-island/
2. Kiritimati Island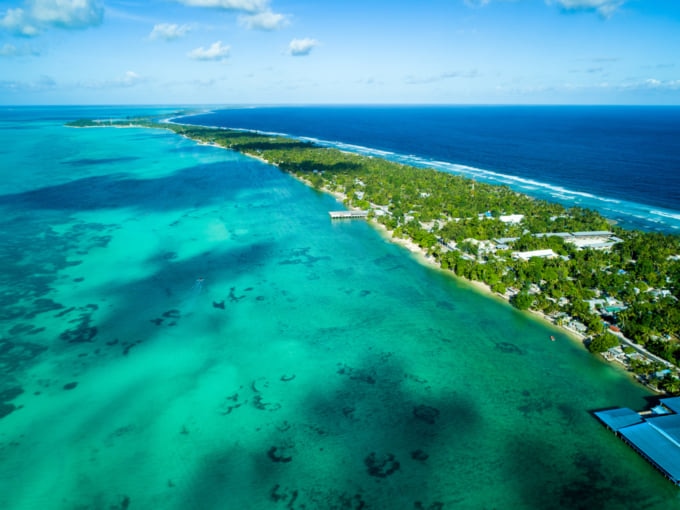 Photo by Kyung Muk Lim/shutterstock.com
Kiritimati is a straightforward pronunciation of Christmas in the Gilbertese language. As such, the island is widely known as Christmas Island and is among the most fascinating places to visit. It has the largest land area of any coral atoll in the world, about 390 square kilometers which is also about 70% of the total surface area of the Republic of Kiribati. The island is in the farthest forward time zone UTC+14 and is a popular destination for New Year's Eve celebrations. The entire island is a protected wildlife sanctuary home to a wide variety of rare and endemic plant and animal species. Apart from being a natural paradise, it offers visitors a recreational haven for a variety of watersports making it a must visit while in Kiribati.
Name:Kiritimati Island
Address:Kiritimati Island, Line Islands, Kiribati
Related Site:http://www.kiribatitourism.gov.ki/islands-to-explore/kiritimati/
3. Tabiteuea Island
Tabiteuea is an atoll in the Gilbert Islands located south of the Tarawa Atoll which consists of two main islands covering 38 square kilometers and home to around 5,000 people. The island is an interesting place to visit not only for its natural beauty but also to learn about its rich historical past. Previously known as Drummond's Island, it was the location of the Battle of Drummond in April of 1841 when a sailor from an American exploration vessel was captured by the Islanders leading to a conflict between the two which left a dozen islanders dead and many more wounded. From learning about the island's history and culture of its people, relaxing, playing, to enjoying the beautiful scenery, you are bound to enjoy every minute at Tabiteuea.
Name:Tabiteuea Island
Address:Tabiteuea Island, Gilbert Islands, Kiribati
Related Site:http://www.kiribatitourism.gov.ki/islands-to-explore/tabiteuea-island/
4. Banaba Island
Banaba Island is located about 400 kilometers west of the Gilbert Islands and is home to the highest point in Kiribati at 87 meters above sea level. It was annexed by Britain in 1900 largely due to its phosphate deposits and mining was started soon after until the 1970s when the deposits were fully exploited. It is now a relatively quiet island with little activity and an ideal place to unwind and relax far from the hassle and bustle of the main island of Tarawa in Kiribati. These attractions coupled with the island's pristine sandy beaches make it a must visit while in Kiribati.
Name:Banaba Island
Address:Banaba Island, Kiribati
Related Site:https://www.britannica.com/place/Banaba
5. Abaiang Island
While in Tarawa, you ought to pay a visit to Abaiang Island, also previously known as Charlotte Island. Situated close to the Tarawa Atoll, it is famous for its pristine sandy beaches and its clear lagoon which are visible on a clear day from Tarawa. There are many historical landmarks from which you can learn about the history of the island including the first church built in Kiribati as well as many other colonial buildings. The island's historical and cultural attractions coupled with its beautiful resorts and its strategic location near the nation's capital make it one of the most marvelous destinations while in Kiribati.
Name:Abaiang Island
Address:Abaiang Island, Kiribati
Related Site:https://en.wikipedia.org/wiki/Abaiang
6. Butaritari Island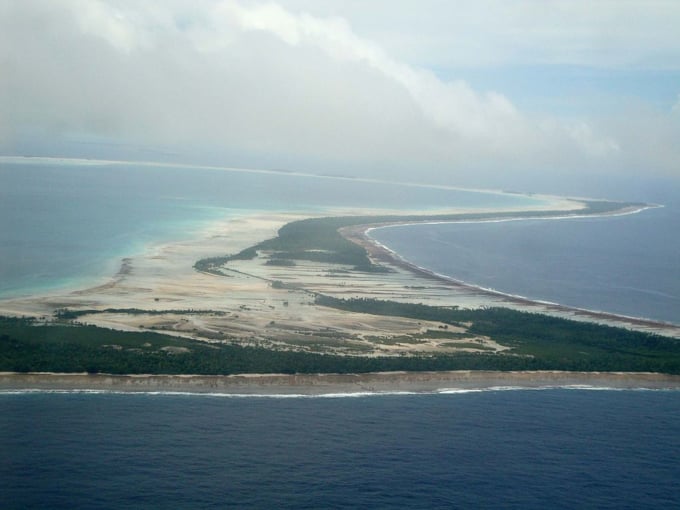 Photo by commons.wikimedia.org
Butaritari Island is one of the larger atolls in the Gilbert group of islands in the Republic of Kiribati. It is best known for being the island where Robert Louis Stevenson lived in the late 1800s. It is an agriculturally rich island exporting bananas, pumpkins, and other foods through its harbor located on its deep lagoon's shores. The lagoon's clear cool waters make it a popular swimming and fishing spot as it is home to a wide variety of fish species. The island is home to over 5000 people who are friendly and eager to share their unique history and culture with visitors. There is plenty to do and see on Butaritari making it a worthy stop on your Kiribati travels.
Name:Butaritari Island
Address:Butaritari Island, Kiribati
Related Site:https://wikitravel.org/en/Butaritari
7. Marakei Island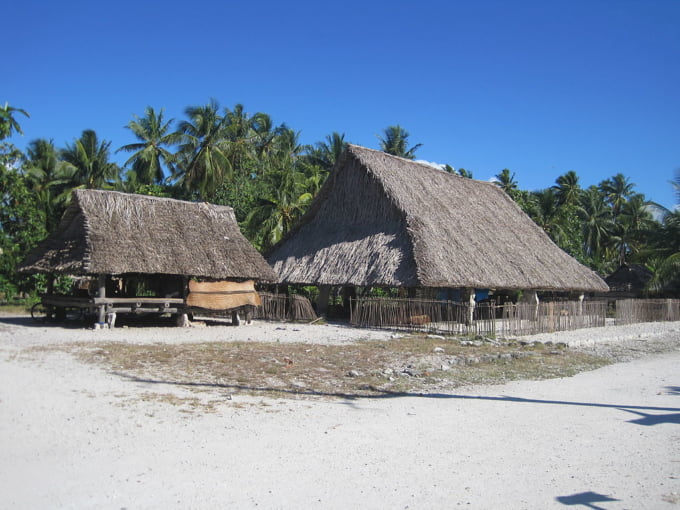 Marakei Island is a beautiful ring-shaped atoll that is part of the Gilbert group of islands in the Pacific Ocean. Unlike other Kiribati islands, it was relatively undisturbed during the World War II with its natural environment and traditional lifestyle largely unchanged. First-time visitors are treated to a welcoming traditional dance known as Te Katabwanin ushering them into the calm island which has a lot of attractions and plenty of things to do. It covers around 13 square kilometers and is only a fifteen-minute flight from Tarawa. There are accommodation facilities, however, it is advisable that you carry additional supplies as the island is remote and communication can at times be a hurdle. If you are looking for a place to unwind, relax, and explore while in Tarawa, Marakei is your best bet.
Name:Marakei Island
Address:Marakei Island, Kiribati
Related Site:https://wikitravel.org/en/Marakei
◎Closing
If you are looking for a tropical island retreat where you can escape the hassle and bustle of our busy cities, Tarawa is among your options for a laidback and exhilarating getaway. Apart from the renowned sandy beaches, the island has a lot to offer visitors with a variety of attractions showcasing its unique natural beauty, rich history, and culture. It is also the best place to plan and prepare for your onward adventure to the other surrounding islands. With an international airport and a famous port, it is easily accessible with a variety of transport options for travel on and off the island. Tarawa is one of those places you just have to visit and witness yourself. Trust me, it will be worth your time and money.